Adult content
This content is marked as Adult/NSFW content. You can toggle your preferences regarding this content type in your account settings.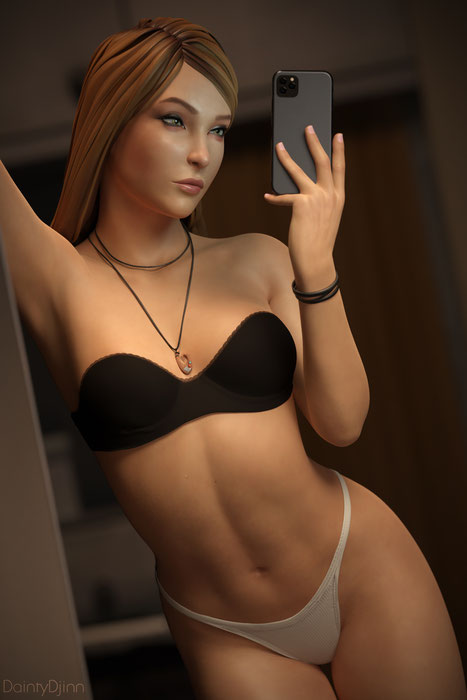 Description
Model uses MHX rig. No addons required - I've included mhx runtime system addon - it's not necessary but highly recommended for features like switching bone layers, switching between FK and IK etc.
More info about the addon here https://diffeomorphic.blogspot.com/p/mhx-runtime-system.html
DO NOT USE NEWER VERSION OF THE MHX ADDON (ABOVE 1.6.2) - IT CAUSES BLENDER TO CRASH - I'LL TRY TO FIND A FIX
---
CHANGELOG
v.2.1 (only .blend file)
v.2.0 (blend file and textures)
v.1.2 (only blend file)
v.1.1
---
Credits:
Some textures from model by isj819 and MagMallow
Rachel picture by DaintyDjinn
SmutBase is a free service. However, it costs about $0.03 to deliver you a 1GB file. With over 20TB of traffic every month and growing, SmutBase needs your help. If only 1% of our users each gave us $5 for a single month, we could keep the site running for several years.
Filename
Downloads
Created
Filesize
Files
RachelAmberRemastered_2.1.7z
1340
2023-04-21 21:21:10
50.09 MB
File contents:

mustard_ui.py
RachelAmberRemastered_2.1.blend




textures_2.0.zip
1447
2023-04-16 19:06:44
252.68 MB
File contents:

textures/EyeRunny2.png
textures/TX_DefaultHair_Strand_M.png
textures/T_RachelPunk_Hair_BC.png
textures/RachelPunk_Head_D.png
textures/G8FBaseLegsMapB_1003.jpg
textures/T_Rachel_Head2_BC.png
textures/Rachel_Head_M.png
textures/Rachel_Arms_N.png
textures/DefaultEye_Sclera_BC.png
textures/Rachel_Eyes_Hazel_BC.png
textures/DefaultFlat_N.tga.png
textures/Rachel_Head_Wrinkles0_N.png
textures/DefaultTeeth_M.png
textures/FingerNails_D.png
textures/G8FBaseTorsoMapB_1002.jpg
textures/T_Rachel_Head_BC.png
textures/G8FBaseArmsMapB_1004.jpg
textures/T_Rachel_Hair_BC.png
textures/TX_DefaultEyelash_BCA.png
textures/Rachel_Legs_D.png
textures/ToeNails_D.png
textures/Rachel_Arms_D.png
textures/DefaultEye_MidPlane_D.png
textures/EyeRunny1.png
textures/DefaultEye_N.png
textures/GoldenPalace_WetMap.jpg
textures/TX_Ramp_BC.png
textures/RachelPunk_Head2_D.png
textures/Rachel_Torso_N.png
textures/Rachel_Torso_R.png
textures/Rachel_Torso_D.png
textures/T_Rachel_Teeth_BC.png
textures/Rachel_Head_D.png
textures/Rachel_Head_N.png
textures/Rachel_Legs_N.png
textures/T_RachelPunk_Hair_Strand.png
textures/Rachel_Torso_S.png
textures/Rachel_Head_B.png
textures/hi-topz/textures/hitops diffuse White clean.jpg
textures/hi-topz/textures/hitops sole displacement.jpg
textures/hi-topz/textures/hitops TNormal.jpg
textures/hi-topz/textures/hitops logo Overlay.jpg
textures/hi-topz/textures/hitops bump.jpg
textures/punk/T_RachelPunk_Body_N.png
textures/punk/T_RachelPunk_Body_Spec.png
textures/punk/T_RachelPunk_Body_BC.png
textures/chloe_deluxe3/T_Chloe_Deluxe03_Body_S.png
textures/chloe_deluxe3/T_Chloe_Deluxe03_Body_N.png
textures/chloe_deluxe3/T_Chloe_Deluxe03_Body_BC.png
textures/thong/XF-Relax Time Thong_M.jpg
textures/thong/XF-Relax Time Thong_R.jpg
textures/thong/XF-Relax Time Thong_D01.jpg
textures/thong/XF-Relax Time Thong_N.jpg
textures/thong/XF-Relax Time Thong_D02.jpg
textures/thong/XF-Relax Time Thong_B.jpg
textures/Red Flannel/Rachel_ClothesRed_N.png
textures/Red Flannel/Rachel_ClothesRed_BC.png
textures/Red Flannel/Rachel_Bracelet_BC.png
textures/Red Flannel/Rachel_Bracelet_N.png
textures/Red Flannel/Rachel_ClothesRed_S.png
textures/sensual/Panty Strap Color 02.jpg
textures/sensual/Panty Normal.png
textures/sensual/Panty Normal.jpg
textures/sensual/SW2 Top R.jpg
textures/sensual/SW2 Top N.jpg
textures/sensual/SW Top Text 01.jpg
textures/sensual/Base Bump.jpg
textures/air jordans/5000 stark.jpg
textures/air jordans/front shoe.png
textures/air jordans/NormalMap3.png
textures/air jordans/stark (hadar).jpg
textures/air jordans/air jorden logo.png
textures/air jordans/normal.png
textures/air jordans/nike air logo no transperent.png
textures/air jordans/Normal-mask.png
textures/air jordans/normal2.png
textures/beach hat/XF_PH_B.jpg
textures/beach hat/XF_PH_N.jpg
textures/beach hat/XF_PH_R.jpg
textures/beach hat/XF_PH_D04.jpg
textures/lv cap/T_L_BusDriver01_Hat_N.png
textures/lv cap/detail1_n.tga
textures/lv cap/louis_vuitton_seamless_pattern_by_bang_a_rang-d3l2zii.png
textures/lv cap/Common_Detail_DenimClean_Normal.png
textures/shoes vans/pl1201_Preps_BodyBottom_NRMR.texout.png
textures/shoes vans/pl1201_Preps_BodyBottom_ATOS.texout.png
textures/shoes vans/shoes_detail.jpg
textures/shoes vans/pl1201_Preps_BodyBottom_ALBMSC.png
textures/girlboxers/dForce_GirlBoxers_03.jpg
textures/girlboxers/dForce_GirlBoxersN.jpg
textures/girlboxers/dForce_GirlBoxers_01B.jpg
textures/shorts/Pants-4_baseTexBaked.jpg
textures/shorts/tiffanycoxclothes_detail.tga
textures/shorts/tiffanycoxclothes_d.tga
textures/shorts/tiffanycoxclothes_n.tga
textures/shorts/Pants-4-N-4k.jpg
textures/easy bra/EasyBras5_Opacity.png
textures/easy bra/EasyBras5_Roughness.png
textures/easy bra/EasyBras5_Normal.png
textures/easy bra/EasyBras5_Gloss.png
textures/easy bra/EasyBras5_BaseColor.png
textures/honeydew top/Honeydew Halter  Top Ribbed Normal.png
textures/honeydew top/Honeydew Halter  Top Ribbed.png
textures/socks/Simple_n.jpg
textures/socks/Simple_tx.jpg
textures/tankini thong/S_wettankini_met1.jpg
textures/tankini thong/S_wettankini_trans_a1.jpg
textures/tankini thong/S_wettankini_rough1.jpg
textures/tankini thong/S_wettankini_tex1.jpg
textures/tankini thong/S_wettankini_bump1.jpg
textures/tankini thong/S_wettankini_norm1.tif
textures/top/Jeans.jpg
textures/top/Jeans_n.png
textures/goddess bikini/GBikiniB.jpg
textures/goddess bikini/GBikiniRed.jpg
textures/goddess bikini/GBikiniN.jpg
textures/leggings/XF-TN Leggins_N.jpg
textures/leggings/leather_bull_01_30_n.png
textures/schoolgirl/p3dSchGirlBraN.png
textures/schoolgirl/p3dSchGirlPantyTR.jpg
textures/schoolgirl/p3dSchGirlPantyN.png
textures/schoolgirl/p3dSchGirlBraTR.jpg
textures/stockings/Normal 4K.jpg
textures/stockings/Color White 512.jpg
textures/stockings/Gloss Color 2K.jpg
textures/stockings/Opacity Shell Base 4K White.jpg
textures/stockings/Rough 2K.jpg
textures/stockings/Opacity 4K White.jpg
textures/Other/Pants-4_baseTexBaked.jpg
textures/Other/Pants-4-N-4k.jpg
textures/Other/Pants-4-Base.fbx




mhx_rts_v1_6_2.zip
575
2023-04-16 19:06:44
26.65 KB
File contents:

mhx_rts/layers.py
mhx_rts/animation.py
mhx_rts/fkik.py
mhx_rts/README.md
mhx_rts/buildnumber.py
mhx_rts/props.py
mhx_rts/__init__.py
mhx_rts/panel.py
mhx_rts/utils.py




textures_1.1.7z
2447
2022-07-05 19:22:20
239.11 MB
File contents:

textures/G8FBaseTorsoMapB_1002.jpg
textures/Rachel_Torso_R.png
textures/G8FBaseArmsMapB_1004.jpg
textures/TX_DefaultHair_Strand_M.png
textures/T_Rachel_Head2_BC.png
textures/Rachel_Head_M.png
textures/DefaultEye_MidPlane_D.png
textures/GoldenPalace_WetMap.jpg
textures/Rachel_Head_D.png
textures/Rachel_Arms_D.png
textures/ToeNails_D.png
textures/DefaultEye_Sclera_BC.png
textures/T_Rachel_Hair_BC.png
textures/T_RachelPunk_Hair_Strand.png
textures/Rachel_Head_N.png
textures/Rachel_Torso_N.png
textures/T_Rachel_Head_BC.png
textures/TX_Ramp_BC.png
textures/Rachel_Eyes_Hazel_BC.png
textures/RachelPunk_Head_D.png
textures/DefaultEye_N.png
textures/DefaultFlat_N.tga.png
textures/DefaultTeeth_M.png
textures/Rachel_Head_Wrinkles0_N.png
textures/Rachel_Head_B.png
textures/T_RachelPunk_Hair_BC.png
textures/Rachel_Legs_D.png
textures/Rachel_Torso_S.png
textures/G8FBaseLegsMapB_1003.jpg
textures/Rachel_Arms_N.png
textures/FingerNails_D.png
textures/Rachel_Legs_N.png
textures/TX_DefaultEyelash_BCA.png
textures/Rachel_Torso_D.png
textures/T_Rachel_Teeth_BC.png
textures/easy bra/EasyBras5_Normal.png
textures/easy bra/EasyBras5_BaseColor.png
textures/easy bra/EasyBras5_Opacity.png
textures/easy bra/EasyBras5_Gloss.png
textures/easy bra/EasyBras5_Roughness.png
textures/socks/Simple_tx.jpg
textures/socks/Simple_n.jpg
textures/thong/XF-Relax Time Thong_R.jpg
textures/thong/XF-Relax Time Thong_B.jpg
textures/thong/XF-Relax Time Thong_D02.jpg
textures/thong/XF-Relax Time Thong_D01.jpg
textures/thong/XF-Relax Time Thong_M.jpg
textures/thong/XF-Relax Time Thong_N.jpg
textures/shoes vans/shoes_detail.jpg
textures/shoes vans/pl1201_Preps_BodyBottom_ATOS.texout.png
textures/shoes vans/pl1201_Preps_BodyBottom_NRMR.texout.png
textures/shoes vans/pl1201_Preps_BodyBottom_ALBMSC.png
textures/hi-topz/textures/hitops sole displacement.jpg
textures/hi-topz/textures/hitops TNormal.jpg
textures/hi-topz/textures/hitops diffuse White clean.jpg
textures/hi-topz/textures/hitops logo Overlay.jpg
textures/hi-topz/textures/hitops bump.jpg
textures/schoolgirl/p3dSchGirlBraN.png
textures/schoolgirl/p3dSchGirlPantyTR.jpg
textures/schoolgirl/p3dSchGirlBraTR.jpg
textures/schoolgirl/p3dSchGirlPantyN.png
textures/stockings/Color White 512.jpg
textures/stockings/Normal 4K.jpg
textures/stockings/Opacity 4K White.jpg
textures/stockings/Opacity Shell Base 4K White.jpg
textures/stockings/Gloss Color 2K.jpg
textures/stockings/Rough 2K.jpg
textures/Red Flannel/Rachel_ClothesRed_BC.png
textures/Red Flannel/Rachel_ClothesRed_S.png
textures/Red Flannel/Rachel_Bracelet_N.png
textures/Red Flannel/Rachel_Bracelet_BC.png
textures/Red Flannel/Rachel_ClothesRed_N.png
textures/lv cap/Common_Detail_DenimClean_Normal.png
textures/lv cap/louis_vuitton_seamless_pattern_by_bang_a_rang-d3l2zii.png
textures/lv cap/detail1_n.tga
textures/lv cap/T_L_BusDriver01_Hat_N.png
textures/air jordans/normal.png
textures/air jordans/Normal-mask.png
textures/air jordans/normal2.png
textures/air jordans/stark (hadar).jpg
textures/air jordans/air jorden logo.png
textures/air jordans/front shoe.png
textures/air jordans/NormalMap3.png
textures/air jordans/nike air logo no transperent.png
textures/air jordans/5000 stark.jpg
textures/chloe_deluxe3/T_Chloe_Deluxe03_Body_N.png
textures/chloe_deluxe3/T_Chloe_Deluxe03_Body_S.png
textures/chloe_deluxe3/T_Chloe_Deluxe03_Body_BC.png
textures/shorts/tiffanycoxclothes_d.tga
textures/shorts/Pants-4_baseTexBaked.jpg
textures/shorts/Pants-4-N-4k.jpg
textures/shorts/tiffanycoxclothes_detail.tga
textures/shorts/tiffanycoxclothes_n.tga
textures/goddess bikini/GBikiniN.jpg
textures/goddess bikini/GBikiniRed.jpg
textures/goddess bikini/GBikiniB.jpg
textures/tankini thong/S_wettankini_tex1.jpg
textures/tankini thong/S_wettankini_met1.jpg
textures/tankini thong/S_wettankini_trans_a1.jpg
textures/tankini thong/S_wettankini_norm1.tif
textures/tankini thong/S_wettankini_bump1.jpg
textures/tankini thong/S_wettankini_rough1.jpg
textures/Other/Pants-4-Base.fbx
textures/Other/Pants-4_baseTexBaked.jpg
textures/Other/Pants-4-N-4k.jpg
textures/honeydew top/Honeydew Halter  Top Ribbed.png
textures/honeydew top/Honeydew Halter  Top Ribbed Normal.png
textures/top/Jeans.jpg
textures/top/Jeans_n.png
textures/punk/T_RachelPunk_Body_Spec.png
textures/punk/T_RachelPunk_Body_N.png
textures/punk/T_RachelPunk_Body_BC.png
textures/beach hat/XF_PH_N.jpg
textures/beach hat/XF_PH_R.jpg
textures/beach hat/XF_PH_B.jpg
textures/beach hat/XF_PH_D04.jpg
textures/sensual/Panty Normal.png
textures/sensual/Panty Normal.jpg
textures/sensual/Base Bump.jpg
textures/sensual/SW2 Top N.jpg
textures/sensual/SW Top Text 01.jpg
textures/sensual/Panty Strap Color 02.jpg
textures/sensual/SW2 Top R.jpg
textures/girlboxers/dForce_GirlBoxers_01B.jpg
textures/girlboxers/dForce_GirlBoxersN.jpg
textures/girlboxers/dForce_GirlBoxers_03.jpg




RachelAmberRemastered_1.2.blend
1688
2022-09-15 22:20:52
47.5 MB