Adult content
This content is marked as Adult/NSFW content. You can toggle your preferences regarding this content type in your account settings.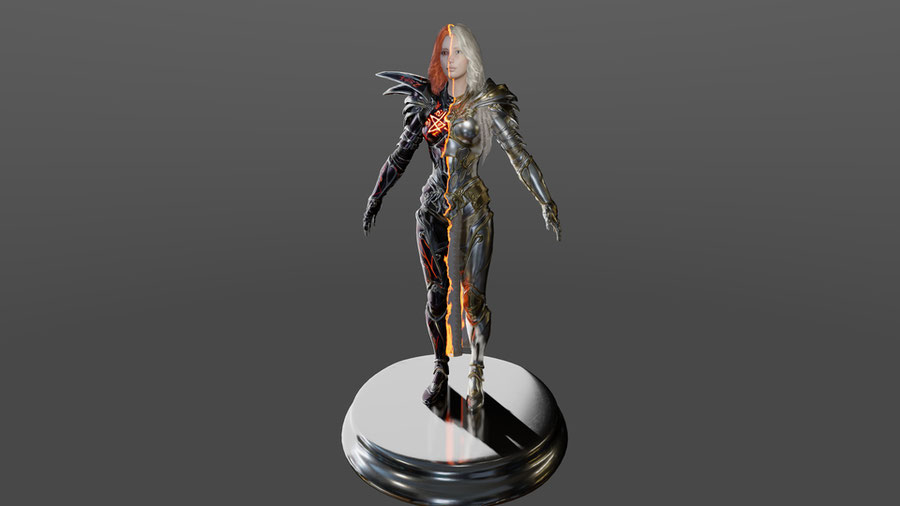 Description
Original version: https://smutba.se/project/166/
Same thing as with the previous model. This one was much more "modern" compared to the previous models, but had quite a bit of fixing to do still with the materials. I also added a shapekey that fixed the clavicular area pouring out of the armor. The wings remain broken as I have no clue how to make them look proper.
Credits go to Epic Games for the original game model and obviously Licentious for the original port.
SmutBase is a free service. However, it costs about $0.03 to deliver you a 1GB file. With over 20TB of traffic every month and growing, SmutBase needs your help. If only 1% of our users each gave us $5 for a single month, we could keep the site running for several years.
Filename
Downloads
Created
Filesize
Files
serath_paragon_fixed.zip
727
2022-03-16 19:03:16
352.63 MB
File contents:

SerathV7.blend
Textures/T_Eye_Wet_Normal.tga
Textures/Sclera color.png
Textures/HeadShoulderArms_Unholy_Bake_D.png
Textures/G8FBaseTorsoMapB_1002.jpg
Textures/T_SerathWings_EvilMask.tga
Textures/Hips_Knees_Feet_Unholy_Bake_E.png
Textures/T_ChestThighForearmMace_AO.tga
Textures/T_ChestThighForearmMace_RGB3_M.png
Textures/Hips_Knees_Feet_Unholy_Bake_D.png
Textures/detailmap_cloth_01.tga
Textures/G8FBaseArmsMapD_1004.jpg
Textures/G8FBaseFaceMapSSS_1001.jpg
Textures/T_HeadShoulderArms_2_R.png
Textures/HeadShoulderArms_Holy_Bake_D.png
Textures/G8FBaseArmsMapB_1004.jpg
Textures/T_SerathWings_HolyMask.tga
Textures/T_HeadShoulderArms_2N.tga
Textures/T_ChestThighForearmMace_Scratches_M.tga
Textures/ChestThigh_ForearmMace_Holy_Bake_N.png
Textures/HeadShoulderArms_Unholy_Bake_R.png
Textures/Hips_Knees_Feet_Holy_Bake_R.png
Textures/T_HeadShoulderArms_RGB1_M.tga
Textures/FallenAngel_Hair_Holy_D.png
Textures/T_ChestThighForearmMace_UNHoly_N.tga
Textures/T_HeadShoulderArms_Spec_M.tga
Textures/GensMapB_Default_1009.jpg
Textures/EyeIrisBaseColor_Example_5.tga
Textures/HeadShoulderArms_Holy_Bake_N.png
Textures/GensMapSSS_Default_1009.jpg
Textures/G8FBaseTorsoMapD_1002.psd
Textures/G8FBaseFaceMapS_1001.jpg
Textures/Eye_Tearduct__normals2.tga
Textures/T_HeadShoulderArms_Grime_M.tga
Textures/detailmap_metal_02.tga
Textures/Hips_Knees_Feet_Holy_Bake_D.png
Textures/G8FBaseTorsoMapD_1002.jpg
Textures/ChestThigh_ForearmMace_Unholy_Bake_N.png
Textures/detailmap_flower_patern_01.tga
Textures/G8FBaseFaceMapB_1001.jpg
Textures/ChestThigh_ForearmMace_Unholy_Bake_D.png
Textures/T_FallenAngel_E.tga
Textures/Hips_Knees_Feet_Unholy_Bake_N.png
Textures/T_FallenAngel_Fabric_Tile2.tga
Textures/chainmail_n01.tga
Textures/G8FBaseTorsoMapSSS_1002.jpg
Textures/T_HeadShoulderArms_2_D.tga
Textures/T_Shoulders_UnHoly_RGB1_M.tga
Textures/T_ChestThighForearmMace_Grime_M.tga
Textures/Sclera bump.png
Textures/ChestThigh_ForearmMace_Unholy_Bake_R.png
Textures/T_FemaleHairBodyWave_Opacity.tga
Textures/Sclera mask.png
Textures/T_HipsKneesFeet_RGB1_M_A.tga
Textures/T_HeadShoulderArms_2_D_A.tga
Textures/T_Universal_Eyelashes_D_2.tga
Textures/EyeScleraBaseColor_Example_2.tga
Textures/T_HipsKneesFeet_N.tga
Textures/T_ChestThighForearmMace_Scratches_M_A.tga
Textures/T_HipsKneesFeet_Scratches_M.tga
Textures/T_FemaleHairBodyWave_Depth.tga
Textures/T_HipsKneesFeet_RGB1_M.tga
Textures/ChestThigh_ForearmMace_Unholy_Bake_E.png
Textures/GensMapS_Default_Dry_1009.jpg
Textures/G8FBaseLegsMapD_1003.jpg
Textures/T_ChestThighForearmMace_RGB3_M.tga
Textures/Tileable metal eroded scratch texture background 01.jpg
Textures/T_Master_Mouth_1_N.tga
Textures/Hips_Knees_Feet_Holy_N.png
Textures/G8FBaseArmsMapSSS_1004.jpg
Textures/G8FBaseLegsMapS_1003.jpg
Textures/T_WingUVMask_Back.tga
Textures/G8FBaseTorsoMapS_1002.jpg
Textures/canada_montreal_pierre_kitchen.exr
Textures/GensMapS_Default_Wet_1009.jpg
Textures/PittedCloth.tga
Textures/HeadShoulderArms_Unholy_Bake_N.png
Textures/assmask.png
Textures/T_Chest_UnHoly_RGB2_M.tga
Textures/T_HeadShoulderArms_2_UnHoly_D.tga
Textures/defaultCamera.xml
Textures/GensMapD1_Default_1009.jpg
Textures/G8FBaseArmsMapS_1004.jpg
Textures/G8FBaseLegsMapSSS_1003.jpg
Textures/T_Master_Mouth_1_COLOR.tga
Textures/G8FBaseLegsMapB_1003.jpg
Textures/ChestThigh_ForearmMace_Holy_Bake_D.png
Textures/T_Hips_Knees_Feet_UnHoly_RGB1_M.tga
Textures/Sphere_EYE_NORMALS.tga
Textures/T_HipsKneesFeet_Grime_M.tga
Textures/ChestThigh_ForearmMace_Holy_Bake_R.png
Textures/T_HeadShoulderArms_Scratches_M.tga
Textures/T_HeadShoulderArms_N.tga
Textures/GoldBump.png
Textures/T_ChestThighForearmMace_Holy_N.tga
Textures/chainmail_d01.tga
Textures/Translucent mask.png
Textures/HeadShoulderArms_Holy_Bake_R.png
Textures/G8FBaseFaceMapD_1001.jpg
Textures/T_HeadShoulderArms_UnHoly_Spec_M.tga