Adult content
This content is marked as Adult/NSFW content. You can toggle your preferences regarding this content type in your account settings.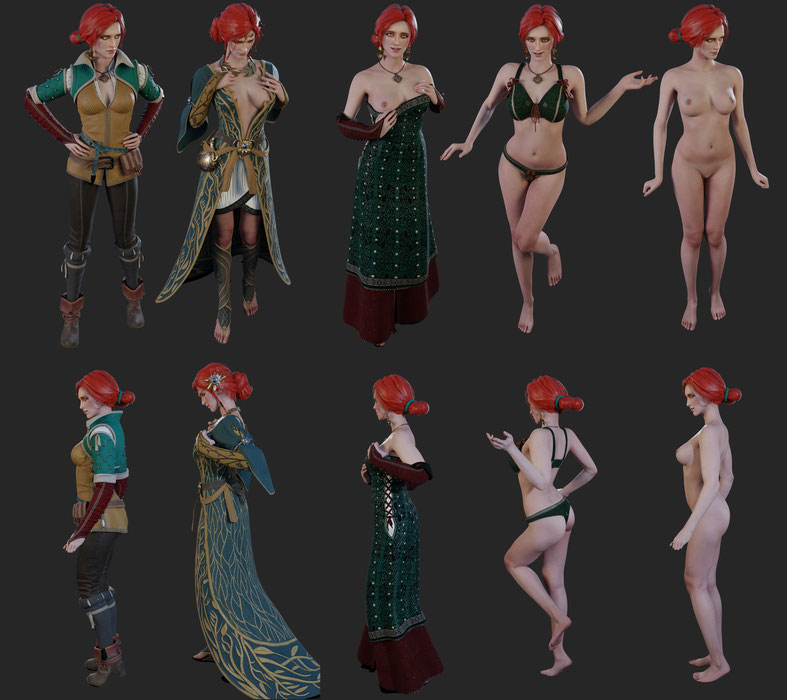 Description
This model was created by DesireReality
This model was once removed from the site, but I kept it. Since there is no Triss model on this site I decided to upload it again with some fixes and new outfit.
Model has a broken ui script, but you can switch outfits in collections.
Includes all in-game oufits
Also: If you want full body, you need to disable all masks in body modifiers.
SmutBase is a free service. However, it costs about $0.03 to deliver you a 1GB file. With over 20TB of traffic every month and growing, SmutBase needs your help. If only 1% of our users each gave us $5 for a single month, we could keep the site running for several years.
Filename
Downloads
Created
Filesize
Files
Triss_BlendFile.rar
2750
2022-03-04 20:42:57
259.13 MB
File contents:

TrissRigScript_YApM9Ho.py
Triss Merigold 2.0.blend




Triss_textures_t6DxSyy.rar
2328
2022-03-04 20:43:11
220.41 MB
File contents:

textures/4k-BodyTrissNormal.png
textures/dlc_clothes_d.tga
textures/BodyTrissGloss.tga
textures/jewelry_mask.tga
textures/lingerie_top_s.tga
textures/skin_mb2.tga
textures/amulet_s.tga
textures/Wrinkles_Factor.png
textures/skirt_s.tga
textures/face_d.tga
textures/hair_d.tga
textures/eye_PARALLAX01.xbm.(45).tga
textures/4k-dress_d.png
textures/dress_s.tga
textures/FaceTrissNormal.tga
textures/amulet_d.tga
textures/TrishHairTrs.jpg
textures/CloakTrissAO.tga
textures/Wrinkles_BrowsUp.png
textures/earring_s.tga
textures/dlc_clothes_s.tga
textures/skin_mb1.tga
textures/leather_mb1.tga
textures/4k-face.png
textures/eye_n.tga
textures/metal_mb2.tga
textures/cloth_mb2.tga
textures/dlc_dress_s.tga
textures/metal_mb1.tga
textures/HdrSkyCloudy004_JPG_HIRES.jpg
textures/TrishHairDif2.jpg
textures/dlc_clothes_mask.tga
textures/clothes_s.tga
textures/ClothesTrissMask.tga
textures/hair_s.tga
textures/4k-body_d.png
textures/cloth_mb1.tga
textures/skirt_d.tga
textures/clothes_fixed_d.tga
textures/marked_eyelashes.tga
textures/leather_mb2.tga
textures/teeth_d.tga
textures/dress_n.tga
textures/jewelry_s.tga
textures/skirt_n.tga
textures/BodyTrissNormal.tga
textures/face_n.tga
textures/Wrinkles_BrowsDown.png
textures/teeth_n.tga
textures/amulet_n.tga
textures/hood_n.tga
textures/dress_mask.tga
textures/TrishHairBump.jpg
textures/jewelry_n.tga
textures/lingerie_top_n.tga
textures/dlc_dress_n.tga
textures/dress_d.tga
textures/jewelry_d.tga
textures/CloakTrissColor.tga
textures/earring_n.tga
textures/hair_diffuse.tga
textures/flatspec.tga
textures/earring_d.tga
textures/clothes_n.tga
textures/dlc_dress_d.tga
textures/amulet_mask.tga
textures/CloakTrissGloss.tga
textures/body_mask.tga
textures/hood_s.tga
textures/ClothesTrissAO.tga
textures/eye_d.tga
textures/FaceTrissSpecular.tga
textures/FaceTrissGloss.tga
textures/teeth_s.tga
textures/body_d.tga
textures/hair_n.tga
textures/4k-clothes_fixed_d.png
textures/dlc_clothes_n.tga
textures/ClothesTrissGloss.tga
textures/TrishHairNM.tif
textures/lingerie_top_d.tga
textures/1l-eye.png
textures/BodyTrissMask.tga
textures/BodyTrissSpecular.tga