Adult content
This content is marked as Adult/NSFW content. You can toggle your preferences regarding this content type in your account settings.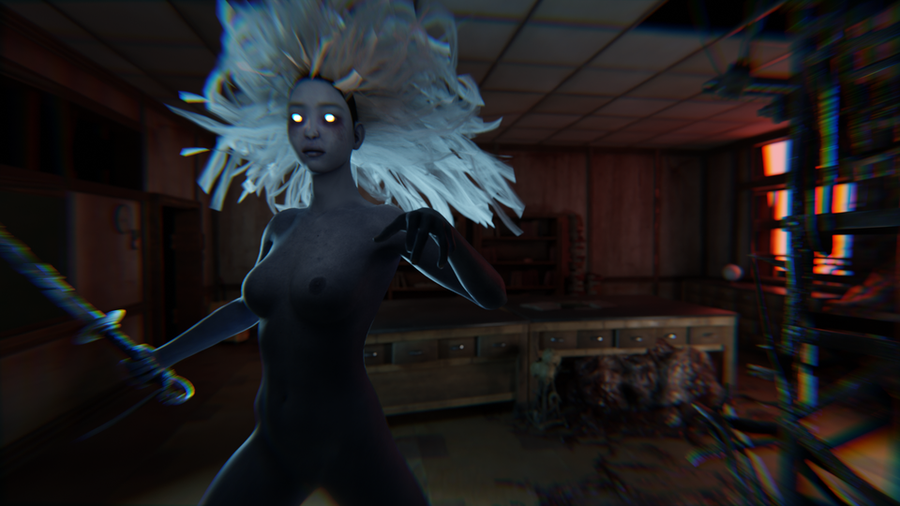 Description
This is my nude model for Spirit from the game Dead By Daylight.
Discord: https://discord.gg/ut6mkyrt6h
How the model was made (this is the suggested method now): https://www.youtube.com/watch?v=NKwD5Yh4Kd0
Requirements
You'll need Diffeomorphic installed in Blender preferably 1.6.1 from here: https://bitbucket.org/Diffeomorphic/import_daz/downloads/
You'll need mhx rts add on installed in Blender from here: https://bitbucket.org/Diffeomorphic/mhx_rts/downloads/
Known issues and how to fix them
How to turn on different bone layers on to turn off stretch for limbs: Once you've made sure you've completed Requirement 2. select the rig > press n to open the properties panel > MHX > Now you have the settings to turn on the different layers and turn off stretch for the limbs.

The head morphs/shape keys do not work: This is a headhack so there's no solution the head morphs will never work because the daz genesis 8 head was completely deleted.
SmutBase is a free service. However, it costs about $0.03 to deliver you a 1GB file. With over 20TB of traffic every month and growing, SmutBase needs your help. If only 1% of our users each gave us $5 for a single month, we could keep the site running for several years.
Filename
Downloads
Created
Filesize
Files
Spirit_Headhack_Tutorial_Final_Packed.blend
769
2022-02-23 09:23:02
172.6 MB
Diffeomorphic-import_daz-93f4a3a58332_UezR7Gv.zip
390
2022-02-23 09:51:10
1.09 MB
File contents:

Diffeomorphic-import_daz-93f4a3a58332/guess.py
Diffeomorphic-import_daz-93f4a3a58332/light.py
Diffeomorphic-import_daz-93f4a3a58332/transfer.py
Diffeomorphic-import_daz-93f4a3a58332/error.py
Diffeomorphic-import_daz-93f4a3a58332/bone.py
Diffeomorphic-import_daz-93f4a3a58332/transform.py
Diffeomorphic-import_daz-93f4a3a58332/facecap.py
Diffeomorphic-import_daz-93f4a3a58332/load_json.py
Diffeomorphic-import_daz-93f4a3a58332/rigify.py
Diffeomorphic-import_daz-93f4a3a58332/render.py
Diffeomorphic-import_daz-93f4a3a58332/cycles.py
Diffeomorphic-import_daz-93f4a3a58332/animation.py
Diffeomorphic-import_daz-93f4a3a58332/utils.py
Diffeomorphic-import_daz-93f4a3a58332/hide.py
Diffeomorphic-import_daz-93f4a3a58332/node.py
Diffeomorphic-import_daz-93f4a3a58332/cgroup.py
Diffeomorphic-import_daz-93f4a3a58332/channels.py
Diffeomorphic-import_daz-93f4a3a58332/pbr.py
Diffeomorphic-import_daz-93f4a3a58332/matedit.py
Diffeomorphic-import_daz-93f4a3a58332/mhx.py
Diffeomorphic-import_daz-93f4a3a58332/merge.py
Diffeomorphic-import_daz-93f4a3a58332/api.py
Diffeomorphic-import_daz-93f4a3a58332/README.md
Diffeomorphic-import_daz-93f4a3a58332/objfile.py
Diffeomorphic-import_daz-93f4a3a58332/modifier.py
Diffeomorphic-import_daz-93f4a3a58332/panel.py
Diffeomorphic-import_daz-93f4a3a58332/dforce.py
Diffeomorphic-import_daz-93f4a3a58332/morphing.py
Diffeomorphic-import_daz-93f4a3a58332/udim.py
Diffeomorphic-import_daz-93f4a3a58332/geometry.py
Diffeomorphic-import_daz-93f4a3a58332/layers.py
Diffeomorphic-import_daz-93f4a3a58332/driver.py
Diffeomorphic-import_daz-93f4a3a58332/LICENSE
Diffeomorphic-import_daz-93f4a3a58332/finger.py
Diffeomorphic-import_daz-93f4a3a58332/store.py
Diffeomorphic-import_daz-93f4a3a58332/__init__.py
Diffeomorphic-import_daz-93f4a3a58332/camera.py
Diffeomorphic-import_daz-93f4a3a58332/convert.py
Diffeomorphic-import_daz-93f4a3a58332/asset.py
Diffeomorphic-import_daz-93f4a3a58332/uilist.py
Diffeomorphic-import_daz-93f4a3a58332/buildnumber.py
Diffeomorphic-import_daz-93f4a3a58332/files.py
Diffeomorphic-import_daz-93f4a3a58332/fileutils.py
Diffeomorphic-import_daz-93f4a3a58332/proxy.py
Diffeomorphic-import_daz-93f4a3a58332/hdmorphs.py
Diffeomorphic-import_daz-93f4a3a58332/main.py
Diffeomorphic-import_daz-93f4a3a58332/settings.py
Diffeomorphic-import_daz-93f4a3a58332/daz.py
Diffeomorphic-import_daz-93f4a3a58332/load_morph.py
Diffeomorphic-import_daz-93f4a3a58332/formula.py
Diffeomorphic-import_daz-93f4a3a58332/tables.py
Diffeomorphic-import_daz-93f4a3a58332/brick.py
Diffeomorphic-import_daz-93f4a3a58332/hair.py
Diffeomorphic-import_daz-93f4a3a58332/material.py
Diffeomorphic-import_daz-93f4a3a58332/globvars.py
Diffeomorphic-import_daz-93f4a3a58332/figure.py
Diffeomorphic-import_daz-93f4a3a58332/propgroups.py
Diffeomorphic-import_daz-93f4a3a58332/fix.py
Diffeomorphic-import_daz-93f4a3a58332/runtime/morph_armature.py
Diffeomorphic-import_daz-93f4a3a58332/data/gizmos.json
Diffeomorphic-import_daz-93f4a3a58332/data/lowpoly/genesis8-female.json
Diffeomorphic-import_daz-93f4a3a58332/data/lowpoly/genesis.json
Diffeomorphic-import_daz-93f4a3a58332/data/lowpoly/genesis3-female.json
Diffeomorphic-import_daz-93f4a3a58332/data/lowpoly/genesis3-male.json
Diffeomorphic-import_daz-93f4a3a58332/data/lowpoly/genesis8-male.json
Diffeomorphic-import_daz-93f4a3a58332/data/lowpoly/genesis2-female.json
Diffeomorphic-import_daz-93f4a3a58332/data/presets/cotton.json
Diffeomorphic-import_daz-93f4a3a58332/data/presets/rubber.json
Diffeomorphic-import_daz-93f4a3a58332/data/presets/silk.json
Diffeomorphic-import_daz-93f4a3a58332/data/presets/leather.json
Diffeomorphic-import_daz-93f4a3a58332/data/presets/denim.json
Diffeomorphic-import_daz-93f4a3a58332/data/ikposes/genesis_8_male.json
Diffeomorphic-import_daz-93f4a3a58332/data/ikposes/genesis_2_female.json
Diffeomorphic-import_daz-93f4a3a58332/data/ikposes/genesis_3_female.json
Diffeomorphic-import_daz-93f4a3a58332/data/ikposes/genesis_8_female.json
Diffeomorphic-import_daz-93f4a3a58332/data/ikposes/genesis.json
Diffeomorphic-import_daz-93f4a3a58332/data/ikposes/genesis_2_male.json
Diffeomorphic-import_daz-93f4a3a58332/data/ikposes/genesis_3_male.json
Diffeomorphic-import_daz-93f4a3a58332/data/parents/genesis_8_male.json
Diffeomorphic-import_daz-93f4a3a58332/data/parents/genesis_2_female.json
Diffeomorphic-import_daz-93f4a3a58332/data/parents/genesis_3_female.json
Diffeomorphic-import_daz-93f4a3a58332/data/parents/genesis_8_female.json
Diffeomorphic-import_daz-93f4a3a58332/data/parents/genesis.json
Diffeomorphic-import_daz-93f4a3a58332/data/parents/genesis_2_male.json
Diffeomorphic-import_daz-93f4a3a58332/data/parents/genesis_3_male.json
Diffeomorphic-import_daz-93f4a3a58332/data/restposes/genesis_8_male.json
Diffeomorphic-import_daz-93f4a3a58332/data/restposes/genesis_2_female.json
Diffeomorphic-import_daz-93f4a3a58332/data/restposes/genesis_3_female.json
Diffeomorphic-import_daz-93f4a3a58332/data/restposes/genesis_8_female.json
Diffeomorphic-import_daz-93f4a3a58332/data/restposes/genesis.json
Diffeomorphic-import_daz-93f4a3a58332/data/restposes/genesis_2_male.json
Diffeomorphic-import_daz-93f4a3a58332/data/restposes/victoria_7.json
Diffeomorphic-import_daz-93f4a3a58332/data/restposes/genesis_3_male.json
Diffeomorphic-import_daz-93f4a3a58332/data/restposes/victoria_8.json
Diffeomorphic-import_daz-93f4a3a58332/data/restposes/cmu.json
Diffeomorphic-import_daz-93f4a3a58332/data/restposes/michael_8.json
Diffeomorphic-import_daz-93f4a3a58332/data/converters/genesis-rigify.json
Diffeomorphic-import_daz-93f4a3a58332/data/converters/genesis-rigify2.json
Diffeomorphic-import_daz-93f4a3a58332/data/converters/genesis-mhx.json
Diffeomorphic-import_daz-93f4a3a58332/data/converters/genesis1-genesis3.json
Diffeomorphic-import_daz-93f4a3a58332/data/converters/genesis2-genesis3.json
Diffeomorphic-import_daz-93f4a3a58332/data/converters/genesis3-genesis2.json
Diffeomorphic-import_daz-93f4a3a58332/data/converters/genesis3-genesis1.json
Diffeomorphic-import_daz-93f4a3a58332/data/softbody/softbody-genesis3-male.json
Diffeomorphic-import_daz-93f4a3a58332/data/softbody/softbody-genesis8-female.json
Diffeomorphic-import_daz-93f4a3a58332/data/softbody/genesis8.json
Diffeomorphic-import_daz-93f4a3a58332/data/softbody/rigify2.json
Diffeomorphic-import_daz-93f4a3a58332/data/softbody/softbody-genesis8-male.json
Diffeomorphic-import_daz-93f4a3a58332/data/softbody/mhx.json
Diffeomorphic-import_daz-93f4a3a58332/data/softbody/softbody-genesis3-female.json
Diffeomorphic-import_daz-93f4a3a58332/data/softbody/genesis3.json
Diffeomorphic-import_daz-93f4a3a58332/data/paths/genesis8-female.json
Diffeomorphic-import_daz-93f4a3a58332/data/paths/genesis.json
Diffeomorphic-import_daz-93f4a3a58332/data/paths/genesis3-female.json
Diffeomorphic-import_daz-93f4a3a58332/data/paths/genesis3-male.json
Diffeomorphic-import_daz-93f4a3a58332/data/paths/genesis8-male.json
Diffeomorphic-import_daz-93f4a3a58332/data/paths/genesis2-female.json
Diffeomorphic-import_daz-93f4a3a58332/data/paths/genesis2-male.json
Diffeomorphic-import_daz-93f4a3a58332/to_daz_studio/Scripts/diffeomorphic.png
Diffeomorphic-import_daz-93f4a3a58332/to_daz_studio/Scripts/Diffeomorphic/readme.png
Diffeomorphic-import_daz-93f4a3a58332/to_daz_studio/Scripts/Diffeomorphic/export_to_blender.dsa
Diffeomorphic-import_daz-93f4a3a58332/to_daz_studio/Scripts/Diffeomorphic/export_to_blender.png
Diffeomorphic-import_daz-93f4a3a58332/to_daz_studio/Scripts/Diffeomorphic/save_root_paths.dsa
Diffeomorphic-import_daz-93f4a3a58332/to_daz_studio/Scripts/Diffeomorphic/export_highdef_to_blender.png
Diffeomorphic-import_daz-93f4a3a58332/to_daz_studio/Scripts/Diffeomorphic/setup_menus.png
Diffeomorphic-import_daz-93f4a3a58332/to_daz_studio/Scripts/Diffeomorphic/save_root_paths.png
Diffeomorphic-import_daz-93f4a3a58332/to_daz_studio/Scripts/Diffeomorphic/setup_menus.dsa
Diffeomorphic-import_daz-93f4a3a58332/to_daz_studio/Scripts/Diffeomorphic/readme.dsa
Diffeomorphic-import_daz-93f4a3a58332/to_daz_studio/Scripts/Diffeomorphic/export_highdef_to_blender.dsa
Diffeomorphic-import_daz-93f4a3a58332/standalone/add_alpha.py
Diffeomorphic-import_daz-93f4a3a58332/standalone/resize.py




Diffeomorphic-mhx_rts-005903e76836_lJbGxCX.zip
340
2022-02-23 09:51:10
26.63 KB
File contents:

Diffeomorphic-mhx_rts-005903e76836/animation.py
Diffeomorphic-mhx_rts-005903e76836/utils.py
Diffeomorphic-mhx_rts-005903e76836/.gitignore
Diffeomorphic-mhx_rts-005903e76836/README.md
Diffeomorphic-mhx_rts-005903e76836/panel.py
Diffeomorphic-mhx_rts-005903e76836/layers.py
Diffeomorphic-mhx_rts-005903e76836/__init__.py
Diffeomorphic-mhx_rts-005903e76836/props.py
Diffeomorphic-mhx_rts-005903e76836/buildnumber.py
Diffeomorphic-mhx_rts-005903e76836/fkik.py