Adult content
This content is marked as Adult/NSFW content. You can toggle your preferences regarding this content type in your account settings.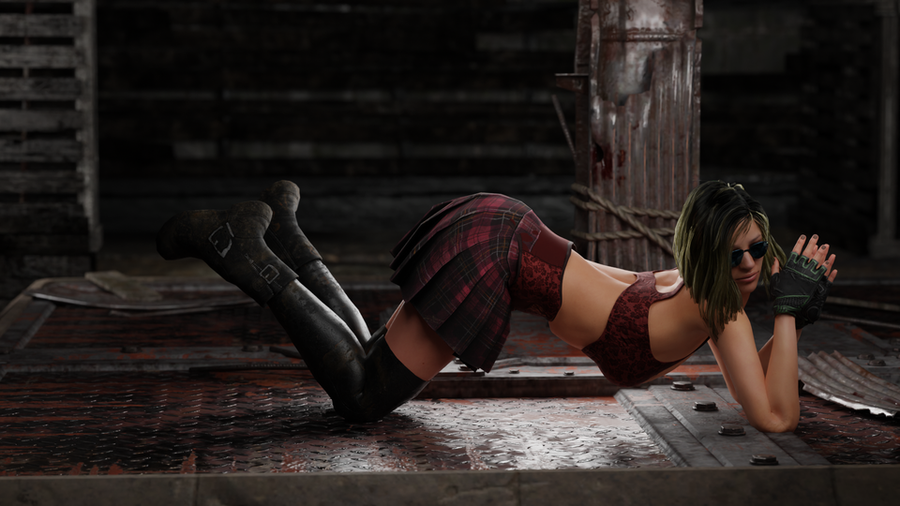 Show more
Description
This is my nude model for Nea from the game Dead By Daylight. This comes with the Dead By Daylight basement mesh textured by me and BenjsArchive.
Discord: https://discord.gg/ut6mkyrt6h
How the model was made: https://www.youtube.com/watch?v=NKwD5Yh4Kd0
How the clothing was attached: https://www.youtube.com/watch?v=Wy6uhFcipq8
Requirements
You'll need Diffeomorphic installed in Blender preferably 1.6.1 from here: https://bitbucket.org/Diffeomorphic/import_daz/downloads/
You'll need mhx rts add on installed in Blender from here: https://bitbucket.org/Diffeomorphic/mhx_rts/downloads/
Known issues and how to fix them
The outfit is clipping with the nude body: Click on the nude genesis 8 body mesh > go to the modifiers tab and turn on viewport visibility and render visibility the mask modifier that will make it not clip. Turn off all the other mask modifier's viewport visiblitys and render visiblitys. You may need to adjust the mesh with sculpt mode and edit mode and if doing animation to take off the clothes you'll need to use a shrink wrap modifier with above surface on so the clothing doesn't clip with the nude mesh.

How to switch to another outfit: In the outliner, turn on the checkbox for a collection to enable a different outfit and then disable another outfit. If you want only pieces go inside the collections and turn off the viewport visibility and render visibility.

The jacket is breaking when I pose the arms in pose mode: There's really no solution, basically turn the jacket viewport visibility and render visibility off or don't rotate the arms as much.

How to turn on different bone layers on to turn off stretch for limbs: Once you've made sure you've completed Requirement 2. select the rig > press n to open the properties panel > MHX > Now you have the settings to turn on the different layers and turn off stretch for the limbs.
SmutBase is a free service. However, it costs about $0.03 to deliver you a 1GB file. With over 20TB of traffic every month and growing, SmutBase needs your help. If only 1% of our users each gave us $5 for a single month, we could keep the site running for several years.
Filename
Downloads
Created
Filesize
Files
Nea_Clothing_Tutorial_Thumbnail_Packed.blend
936
2022-02-23 08:06:54
702.33 MB
Diffeomorphic-import_daz-93f4a3a58332.zip
557
2022-02-23 08:06:56
1.09 MB
File contents:

Diffeomorphic-import_daz-93f4a3a58332/guess.py
Diffeomorphic-import_daz-93f4a3a58332/light.py
Diffeomorphic-import_daz-93f4a3a58332/transfer.py
Diffeomorphic-import_daz-93f4a3a58332/error.py
Diffeomorphic-import_daz-93f4a3a58332/bone.py
Diffeomorphic-import_daz-93f4a3a58332/transform.py
Diffeomorphic-import_daz-93f4a3a58332/facecap.py
Diffeomorphic-import_daz-93f4a3a58332/load_json.py
Diffeomorphic-import_daz-93f4a3a58332/rigify.py
Diffeomorphic-import_daz-93f4a3a58332/render.py
Diffeomorphic-import_daz-93f4a3a58332/cycles.py
Diffeomorphic-import_daz-93f4a3a58332/animation.py
Diffeomorphic-import_daz-93f4a3a58332/utils.py
Diffeomorphic-import_daz-93f4a3a58332/hide.py
Diffeomorphic-import_daz-93f4a3a58332/node.py
Diffeomorphic-import_daz-93f4a3a58332/cgroup.py
Diffeomorphic-import_daz-93f4a3a58332/channels.py
Diffeomorphic-import_daz-93f4a3a58332/pbr.py
Diffeomorphic-import_daz-93f4a3a58332/matedit.py
Diffeomorphic-import_daz-93f4a3a58332/mhx.py
Diffeomorphic-import_daz-93f4a3a58332/merge.py
Diffeomorphic-import_daz-93f4a3a58332/api.py
Diffeomorphic-import_daz-93f4a3a58332/README.md
Diffeomorphic-import_daz-93f4a3a58332/objfile.py
Diffeomorphic-import_daz-93f4a3a58332/modifier.py
Diffeomorphic-import_daz-93f4a3a58332/panel.py
Diffeomorphic-import_daz-93f4a3a58332/dforce.py
Diffeomorphic-import_daz-93f4a3a58332/morphing.py
Diffeomorphic-import_daz-93f4a3a58332/udim.py
Diffeomorphic-import_daz-93f4a3a58332/geometry.py
Diffeomorphic-import_daz-93f4a3a58332/layers.py
Diffeomorphic-import_daz-93f4a3a58332/driver.py
Diffeomorphic-import_daz-93f4a3a58332/LICENSE
Diffeomorphic-import_daz-93f4a3a58332/finger.py
Diffeomorphic-import_daz-93f4a3a58332/store.py
Diffeomorphic-import_daz-93f4a3a58332/__init__.py
Diffeomorphic-import_daz-93f4a3a58332/camera.py
Diffeomorphic-import_daz-93f4a3a58332/convert.py
Diffeomorphic-import_daz-93f4a3a58332/asset.py
Diffeomorphic-import_daz-93f4a3a58332/uilist.py
Diffeomorphic-import_daz-93f4a3a58332/buildnumber.py
Diffeomorphic-import_daz-93f4a3a58332/files.py
Diffeomorphic-import_daz-93f4a3a58332/fileutils.py
Diffeomorphic-import_daz-93f4a3a58332/proxy.py
Diffeomorphic-import_daz-93f4a3a58332/hdmorphs.py
Diffeomorphic-import_daz-93f4a3a58332/main.py
Diffeomorphic-import_daz-93f4a3a58332/settings.py
Diffeomorphic-import_daz-93f4a3a58332/daz.py
Diffeomorphic-import_daz-93f4a3a58332/load_morph.py
Diffeomorphic-import_daz-93f4a3a58332/formula.py
Diffeomorphic-import_daz-93f4a3a58332/tables.py
Diffeomorphic-import_daz-93f4a3a58332/brick.py
Diffeomorphic-import_daz-93f4a3a58332/hair.py
Diffeomorphic-import_daz-93f4a3a58332/material.py
Diffeomorphic-import_daz-93f4a3a58332/globvars.py
Diffeomorphic-import_daz-93f4a3a58332/figure.py
Diffeomorphic-import_daz-93f4a3a58332/propgroups.py
Diffeomorphic-import_daz-93f4a3a58332/fix.py
Diffeomorphic-import_daz-93f4a3a58332/runtime/morph_armature.py
Diffeomorphic-import_daz-93f4a3a58332/data/gizmos.json
Diffeomorphic-import_daz-93f4a3a58332/data/lowpoly/genesis8-female.json
Diffeomorphic-import_daz-93f4a3a58332/data/lowpoly/genesis.json
Diffeomorphic-import_daz-93f4a3a58332/data/lowpoly/genesis3-female.json
Diffeomorphic-import_daz-93f4a3a58332/data/lowpoly/genesis3-male.json
Diffeomorphic-import_daz-93f4a3a58332/data/lowpoly/genesis8-male.json
Diffeomorphic-import_daz-93f4a3a58332/data/lowpoly/genesis2-female.json
Diffeomorphic-import_daz-93f4a3a58332/data/presets/cotton.json
Diffeomorphic-import_daz-93f4a3a58332/data/presets/rubber.json
Diffeomorphic-import_daz-93f4a3a58332/data/presets/silk.json
Diffeomorphic-import_daz-93f4a3a58332/data/presets/leather.json
Diffeomorphic-import_daz-93f4a3a58332/data/presets/denim.json
Diffeomorphic-import_daz-93f4a3a58332/data/ikposes/genesis_8_male.json
Diffeomorphic-import_daz-93f4a3a58332/data/ikposes/genesis_2_female.json
Diffeomorphic-import_daz-93f4a3a58332/data/ikposes/genesis_3_female.json
Diffeomorphic-import_daz-93f4a3a58332/data/ikposes/genesis_8_female.json
Diffeomorphic-import_daz-93f4a3a58332/data/ikposes/genesis.json
Diffeomorphic-import_daz-93f4a3a58332/data/ikposes/genesis_2_male.json
Diffeomorphic-import_daz-93f4a3a58332/data/ikposes/genesis_3_male.json
Diffeomorphic-import_daz-93f4a3a58332/data/parents/genesis_8_male.json
Diffeomorphic-import_daz-93f4a3a58332/data/parents/genesis_2_female.json
Diffeomorphic-import_daz-93f4a3a58332/data/parents/genesis_3_female.json
Diffeomorphic-import_daz-93f4a3a58332/data/parents/genesis_8_female.json
Diffeomorphic-import_daz-93f4a3a58332/data/parents/genesis.json
Diffeomorphic-import_daz-93f4a3a58332/data/parents/genesis_2_male.json
Diffeomorphic-import_daz-93f4a3a58332/data/parents/genesis_3_male.json
Diffeomorphic-import_daz-93f4a3a58332/data/restposes/genesis_8_male.json
Diffeomorphic-import_daz-93f4a3a58332/data/restposes/genesis_2_female.json
Diffeomorphic-import_daz-93f4a3a58332/data/restposes/genesis_3_female.json
Diffeomorphic-import_daz-93f4a3a58332/data/restposes/genesis_8_female.json
Diffeomorphic-import_daz-93f4a3a58332/data/restposes/genesis.json
Diffeomorphic-import_daz-93f4a3a58332/data/restposes/genesis_2_male.json
Diffeomorphic-import_daz-93f4a3a58332/data/restposes/victoria_7.json
Diffeomorphic-import_daz-93f4a3a58332/data/restposes/genesis_3_male.json
Diffeomorphic-import_daz-93f4a3a58332/data/restposes/victoria_8.json
Diffeomorphic-import_daz-93f4a3a58332/data/restposes/cmu.json
Diffeomorphic-import_daz-93f4a3a58332/data/restposes/michael_8.json
Diffeomorphic-import_daz-93f4a3a58332/data/converters/genesis-rigify.json
Diffeomorphic-import_daz-93f4a3a58332/data/converters/genesis-rigify2.json
Diffeomorphic-import_daz-93f4a3a58332/data/converters/genesis-mhx.json
Diffeomorphic-import_daz-93f4a3a58332/data/converters/genesis1-genesis3.json
Diffeomorphic-import_daz-93f4a3a58332/data/converters/genesis2-genesis3.json
Diffeomorphic-import_daz-93f4a3a58332/data/converters/genesis3-genesis2.json
Diffeomorphic-import_daz-93f4a3a58332/data/converters/genesis3-genesis1.json
Diffeomorphic-import_daz-93f4a3a58332/data/softbody/softbody-genesis3-male.json
Diffeomorphic-import_daz-93f4a3a58332/data/softbody/softbody-genesis8-female.json
Diffeomorphic-import_daz-93f4a3a58332/data/softbody/genesis8.json
Diffeomorphic-import_daz-93f4a3a58332/data/softbody/rigify2.json
Diffeomorphic-import_daz-93f4a3a58332/data/softbody/softbody-genesis8-male.json
Diffeomorphic-import_daz-93f4a3a58332/data/softbody/mhx.json
Diffeomorphic-import_daz-93f4a3a58332/data/softbody/softbody-genesis3-female.json
Diffeomorphic-import_daz-93f4a3a58332/data/softbody/genesis3.json
Diffeomorphic-import_daz-93f4a3a58332/data/paths/genesis8-female.json
Diffeomorphic-import_daz-93f4a3a58332/data/paths/genesis.json
Diffeomorphic-import_daz-93f4a3a58332/data/paths/genesis3-female.json
Diffeomorphic-import_daz-93f4a3a58332/data/paths/genesis3-male.json
Diffeomorphic-import_daz-93f4a3a58332/data/paths/genesis8-male.json
Diffeomorphic-import_daz-93f4a3a58332/data/paths/genesis2-female.json
Diffeomorphic-import_daz-93f4a3a58332/data/paths/genesis2-male.json
Diffeomorphic-import_daz-93f4a3a58332/to_daz_studio/Scripts/diffeomorphic.png
Diffeomorphic-import_daz-93f4a3a58332/to_daz_studio/Scripts/Diffeomorphic/readme.png
Diffeomorphic-import_daz-93f4a3a58332/to_daz_studio/Scripts/Diffeomorphic/export_to_blender.dsa
Diffeomorphic-import_daz-93f4a3a58332/to_daz_studio/Scripts/Diffeomorphic/export_to_blender.png
Diffeomorphic-import_daz-93f4a3a58332/to_daz_studio/Scripts/Diffeomorphic/save_root_paths.dsa
Diffeomorphic-import_daz-93f4a3a58332/to_daz_studio/Scripts/Diffeomorphic/export_highdef_to_blender.png
Diffeomorphic-import_daz-93f4a3a58332/to_daz_studio/Scripts/Diffeomorphic/setup_menus.png
Diffeomorphic-import_daz-93f4a3a58332/to_daz_studio/Scripts/Diffeomorphic/save_root_paths.png
Diffeomorphic-import_daz-93f4a3a58332/to_daz_studio/Scripts/Diffeomorphic/setup_menus.dsa
Diffeomorphic-import_daz-93f4a3a58332/to_daz_studio/Scripts/Diffeomorphic/readme.dsa
Diffeomorphic-import_daz-93f4a3a58332/to_daz_studio/Scripts/Diffeomorphic/export_highdef_to_blender.dsa
Diffeomorphic-import_daz-93f4a3a58332/standalone/add_alpha.py
Diffeomorphic-import_daz-93f4a3a58332/standalone/resize.py




Diffeomorphic-mhx_rts-005903e76836.zip
505
2022-02-23 08:06:56
26.63 KB
File contents:

Diffeomorphic-mhx_rts-005903e76836/animation.py
Diffeomorphic-mhx_rts-005903e76836/utils.py
Diffeomorphic-mhx_rts-005903e76836/.gitignore
Diffeomorphic-mhx_rts-005903e76836/README.md
Diffeomorphic-mhx_rts-005903e76836/panel.py
Diffeomorphic-mhx_rts-005903e76836/layers.py
Diffeomorphic-mhx_rts-005903e76836/__init__.py
Diffeomorphic-mhx_rts-005903e76836/props.py
Diffeomorphic-mhx_rts-005903e76836/buildnumber.py
Diffeomorphic-mhx_rts-005903e76836/fkik.py