Adult content
This content is marked as Adult/NSFW content. You can toggle your preferences regarding this content type in your account settings.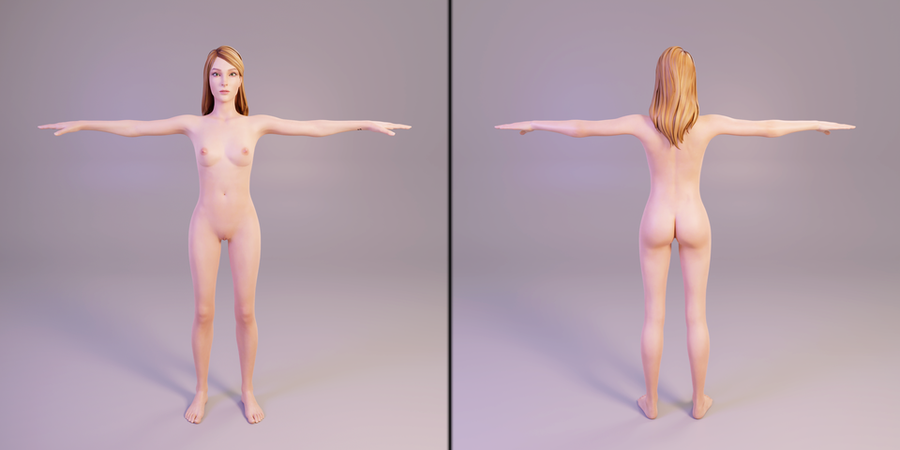 Description
Rachel Amber from Life is Strange: Before the Storm Remastered
---
Includes
-IK Rig with some additional finger curls + tweak bones, in the same style as isj819's original Life is Strange models
-Body morphs and facial expression shape keys
-Shape key and bone driven face wrinkles from the game (enable/disable in body properties)
-All main in game outfits + accessories
-Properties on the body for makeup, genital color adjustments, and pubic hair
-Dr.Dabblur's Ultimate Tongue
---
Credits
Build-a-Bod for the base body
isj819 for the original LiS models I stole bone shapes + knowledge from
---
Check the armature layers for additional bones.
Use Fit Shirt and Fit Shoes shape keys to keep the tits and toes inside when using clothes.
Use property on the body to switch between normal and punk Rachel
Textures aren't packed for filesize reasons, download and unzip next to blend file.
Clothes are auto-weighted, sorry :)
Character is 18+ and was modeled as such.
Any issues, message me @thekoomer on Twitter
---
v01 (2022/2/13) - Initial release
v02 [model only] (2022/2/14) - Remove merge UV maps, select main uv as default
v03 [model only] (2022/3/22) - improve legs bone placement, add mascara property
v04 [model only] (2022/3/23) - fixed the punk hair rig, tweak to collar bone constraint
SmutBase is a free service. However, it costs about $0.03 to deliver you a 1GB file. With over 20TB of traffic every month and growing, SmutBase needs your help. If only 1% of our users each gave us $5 for a single month, we could keep the site running for several years.
Filename
Downloads
Created
Filesize
Files
RachelAmberRM04.blend
1666
2022-03-23 22:20:37
360.36 MB
RachelAmberRM01-textures.zip
1957
2022-02-13 02:20:58
131.69 MB
File contents:

textures/RachelHeadDetail_B.png
textures/RachelTorso_D.png
textures/Gens_D.tga
textures/tongue_toon_color.png
textures/SurfaceImperfections11_var1.jpg
textures/RachelLegs_N.png
textures/RachelArms_D.png
textures/SkinDetail_B.png
textures/RachelArms_N.png
textures/RachelOutfit5_S.png
textures/RachelGums_D.png
textures/RachelHeadDetailMap.png
textures/RachelStarTattoo.png
textures/RachelOutfit2_D.png
textures/RachelOutfit6_D.png
textures/RachelLegs_D.png
textures/RachelTorso_N.png
textures/RachelBracelet_D.png
textures/RachelHead_N.png
textures/RachelOutfitTempest_N.png
textures/tongue_normal.png
textures/RachelHead_Tempest_D.png
textures/Butthole_B.png
textures/RachelOutfit4_N.png
textures/RachelHead_Wrinkles_N.png
textures/RachelHead_D.png
textures/RachelHair_Punk_B.png
textures/RachelOutfit3_S.png
textures/RachelHair_Punk_D.png
textures/RachelOutfit1_D.png
textures/RachelEye_D.png
textures/RachelOutfit1_S.png
textures/RachelTempestStaff_D.png
textures/RachelPubicHair_A.png
textures/Butthole_N.png
textures/RachelOutfit4_D.png
textures/RachelFeetWrinkles_N.png
textures/TorsoDetailMap.png
textures/RachelOutfit5_N.png
textures/RachelFeetWrinkles_D.png
textures/RachelOutfit6_S.png
textures/RachelOutfitTempest_S.png
textures/RachelOutfit2_S.png
textures/RachelHead_WrinklesMap.png
textures/RachelTempestStaff_N.png
textures/SkinDetailMicro_B.png
textures/RachelOutfit3_N.png
textures/RachelOutfit5_D.png
textures/RachelBracelet_N.png
textures/RachelOutfit3_D.png
textures/tongue_color.png
textures/Gens_N.tga
textures/RachelEyeLashes_D.png
textures/RachelHair_B.png
textures/RachelHeadEffectsMap.png
textures/RachelOutfit1_N.png
textures/RachelOutfit2_N.png
textures/RachelOutfitTempest_D.png
textures/RachelHead_Punk_D.png
textures/RachelHair_D.png
textures/RachelOutfit6_N.png