Adult content
This content is marked as Adult/NSFW content. You can toggle your preferences regarding this content type in your account settings.
Show more
Description
Nothing new, I just added a video guide and another preview
---
If you are using cycles don't forget to increases the Volume in Render Properties tab>Light Path>Max Bounces>Volume. Default setting is at 0.
---
Video guide Here:
https://mega.nz/file/JrAQSTCQ#3Z3bN_cEcYyYjqQVmNTrc6sEGAfKBVGLPUYMNLcjxow
If I am going to fast pause and rewind.
Don't forget to set "fake surface tension" object in the GeoCUM, I forgot to show it in the video guide. it should be the body mesh or any mesh that will collide with the particles. you could try to edit it and set it to a collection instead if you have multiple mesh with collision.
---
If the simulation is jagged do this.
Parent it with child of constraint and bake action: visual keying and clear parent and clear constraint
https://blender.stackexchange.com/questions/220254/how-to-subframe-particle-emitter-parented-to-a-bone
and set the object velocity to around 0.015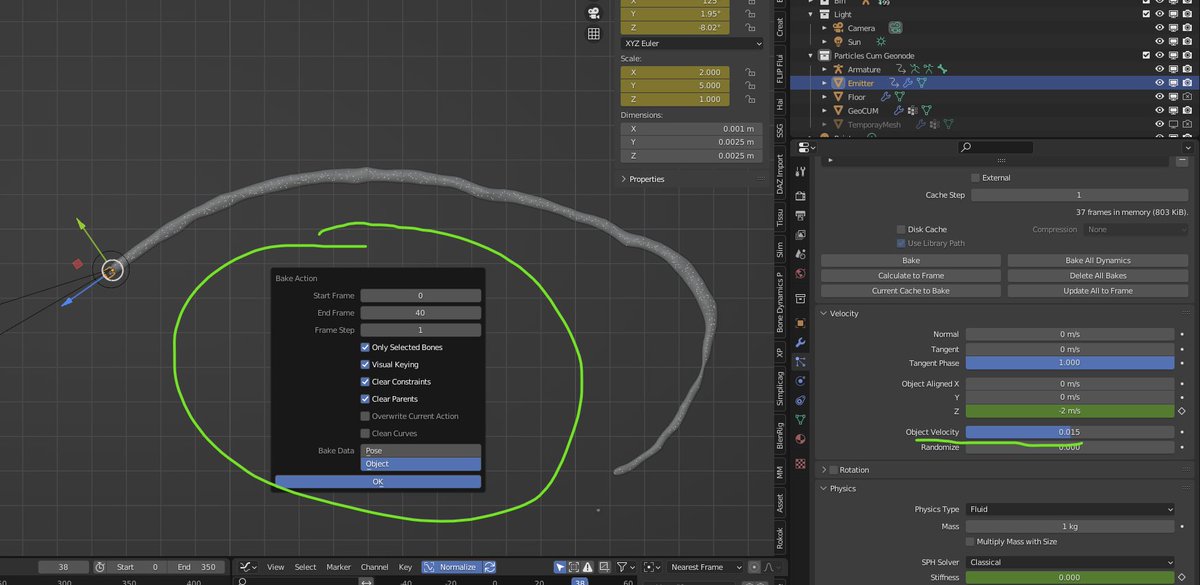 ---
Update:
-2.1
tweaked the settings a bit for moving character
Scaled down the particle size to 0.0025
Stiffness at 1e-08
Viscosity at 1e-08
replaced Suzanne with Mercy by SwurstErotic (textures not included, grab it here:https://smutba.se/project/31521/)
-2.0
longer bake time
Changed SPH sovler back to Classical, after doing a few hundread of tests.
Stiffness should be at 1e-08, it will make it look less thick (Blend file is set at 1e-06, my bad)
Viscosity is between 1e-07 and 5e-07
Cranked up the "Permeability" of the collision modifier
Added a material slot on the geocum to set your own material.
Added another geonode to fake the surface tension (It has a subdiv inside, you might want to turn that off)
More lag
Adjust the stickiness on the collider if you want the fluid to stick. too high will make the fluid slide on the surface. you can animate that value.
-1.2
Keyframmed GeoCum and temporaryMesh to prevent users and blender from moving/rotating/scaling them. and reduced the amount of particles to 250 for performance, feel free to set whatever you want, just don't make your file crash.
-1.1
For some reason I scaled the temporarymesh by 2. Reset/clear the scale no need to re-download.

Added a mesh to kill particles, can be used to control the ejaculation instead of playing with the velocity. It is just a plane with collision and with [kill particles] checked
Features:
I setup this for characters that are around 1.6m to 2m. 1 Blender unit = 1 m. Scaling up will require different settings for the viscosity and stiffness and also the render scale and then you need to adjust the temporaryMesh in edit mode and scale it up too. It may improves performance too. small scale simulation is just too laggy. Don't forget to adjust the geometry node's "point to volume" voxel size/radius
PROS:
-Doesn't take hours to bake.
-Doesn't requires any add-on, you might get better result with molecular add-on, I haven't test it yet.
-Better than the other version that I posted with metaballs, better viewing angle.
-It's free.
-Small pp jizz,it works with big pp too!
-Dripping and Hanging effects(almost).
CONS:
-It's Suzanne, not 2B.
-High CPU usage(smooth modifiers/shrinkwrap can be turn off for preview).
-Adjustment are not beginner friendly
-The last frame doesn't render(no cum), make sure to set an extra frame.
-Laggy as @#$%
Why it works?
-Emitter: particles + liquid effects.

-TemporaryMesh: It tracks the particles position from the emitter with the modiifier: Particle Instance. Then the geometry node will take the vertices and turn them into points>volume> geometry mesh.

-Colliders (meshes with collision turned on): to interact with the particles.

-GeoCum(cum/fluid mesh): Geometry node to create the volume using the temporary mesh
Missing 1 of 4 keys element doesn't render anything, well collider is optional but still.
You can use the good old copy/paste and paste to your scene, by selecting the emitter + TemporaryMesh + GeoCum >copy(ctrl + c)> and paste (ctrl+v)to your scene .
Make sure the GeoCum and temporaryMesh are at the center 0,0,0 and no scaling/rotation for those 2 meshes.
*** Particles visibility are off by default on the emitter you can turn it back on in the particle system's settings> viewport display tab.
---
(Optional)
-You might want to use dynamic paint for better result on the skin or object's surface, not beginner friendly depending on the shader of your model, go watch some tutorial and documentation. I would set the dynamic paint: brush on the particle system, I haven't test it on the geometry node's mesh.
-You can adjust the emitter, my settings are not perfect.
-Setting that are easy to adjust in the emitter:
-Number.
-Frame Start/End.
-Lifetime(how long it will stay visible after cumming out).
-Emit from: Face or Volume
-Velocity 0 to (-)8m/s gives decent results. keyframe this for fun, ok?
-Setting for the colliders:
-you might want to create a proxy collider(smaller than the original one) so the particle can overlap with your mesh.
-you should set your damping and friction to 1 to avoid splash and bounce and high speed sliding.
-Stickiness, not too high and not too low either.
-Set permeability to 1. It makes the particles less shaky.
-Turn off the geometry node for better performance, use the temporary mesh as reference.
Choose your cum shader here: https://smutba.se/project/32844/
---
Feel free to use any cum shader or mayo/ketchup shader, I use the one that is provided by Rigid3D's cum tutorial &Miki3dx's fluid painter.
Mercy by SwurstErotic https://smutba.se/project/31521/
Change material in the geometry node tab
I added a smooth modifier to smooth it down, then I added an optional shrinkwrap modifier to create better looking edge and another smooth modifier, to smooth it again. Optional, we can shrink it down a little bit further with a displace modifier too.
---
Sorry bad grammar and vocabulary and wall of text.
SmutBase is a free service. However, it costs about $0.03 to deliver you a 1GB file. With over 20TB of traffic every month and growing, SmutBase needs your help. If only 1% of our users each gave us $5 for a single month, we could keep the site running for several years.
Filename
Downloads
Created
Filesize
Files
CoomV2.1_with_SwurstErotics_Mercy_93XtSsN.blend
5601
2022-05-30 01:09:22
90.54 MB
Coom_V2.0.blend
2741
2022-05-27 16:15:11
2.18 MB
Fluid_dripping_locked_origin_on_certain_meshes v1.2.blend
3388
2022-01-10 20:07:18
2.1 MB
Fluid_kinda_hanging_but_definitely_dripping_v1.1temporaryMeshScale back to 1.blend
1861
2022-01-10 17:13:16
2.27 MB
Fluid_kinda_hanging_but_definitely_dripping_v1.blend
2346
2022-01-08 11:47:45
2.06 MB