Adult content
This content is marked as Adult/NSFW content. You can toggle your preferences regarding this content type in your account settings.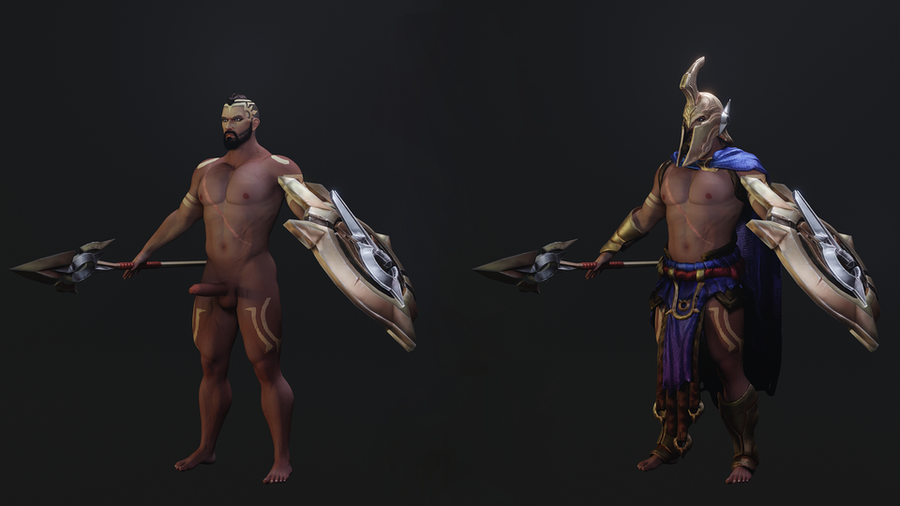 Description
Pantheon...
Requirements for Proper Model Behavior:
Diffeomorphic add-on: Please install to blender addons (http://diffeomorphic.blogspot.com/p/daz-importer-version-15.html) You can also use version 16.
Blender 2.9 (2.93 Recommended)


Outfits: Pantheon comes with his default outfit. This model was made at the request of someone so it's not too much more to add to it. I may make a better rig in V2.
Performance: The model looks best in cycles but with basic settings looks pretty nice in Eevee as well. A few things that will help speed up performance and viewport:
Disable external morphs in the UI
If you are working with just one outfit make sure to disable all other outfits in the viewport. The UI will hide them but double check to make sure all other items that are not in use are hidden from the viewport.
If you want faster speeds, Append the outfit for your project in a separate blend file.


Masks: Pantheon has two mask for his genitals. They automatically turn on and off dependent upon if the outfit is visible or not.
V3 (No Texture Change): Updated weighting for Pantheon's stubble to eliminate stretching. Also, fixed some weights on the sash so they bend better.
V2: Updated Pantheon's hair. He now has two different mohawks to choose from. Changed his rig completely. Fixed weighting issues, added a Rig for the cape with three controller bones. Left, middle, & right portions of the cape can be controlled with ease, and then to control the entire cape there is a Master bone that manipulates all. Sorry, still no chest hair :/ If I need to do a V3, I'll see if I can make that happen.
V1: Pantheon
Support:
Please Tag me on Twitter with your creations, so I can see what has been made :) @PhysXstudios
Follow me on Twitter @PhysXstudios
Follow me on Porn3DX https://porn3dx.com/PhysX
Consider supporting my Patreon so I can continue to grow and provide more models. https://www.patreon.com/PhysX?fan_landing=true
Report bugs here: https://discord.gg/UhwWFGhPRZ


Shout out to Mustard for the amazing UI: https://twitter.com/MustardSFM
If you have any questions or concerns, let me know on my discord.
SmutBase is a free service. However, it costs about $0.03 to deliver you a 1GB file. With over 20TB of traffic every month and growing, SmutBase needs your help. If only 1% of our users each gave us $5 for a single month, we could keep the site running for several years.
Filename
Downloads
Created
Filesize
Files
Pantheon_Public_Release_V3_iKQkY7t.blend
1227
2022-01-15 01:19:45
154.42 MB
Pantheon_Public_Release_V2_bFWxz8x.rar
587
2022-01-11 09:31:42
316.95 MB
File contents:

Pantheon Public Release V2.blend
textures/G8MBaseEyesMapB_1007.jpg
textures/Zombie_Face.png
textures/G8MBaseLegsMapD_1003.jpg
textures/Panteon Arms DiffuseFinal.png
textures/Stand04_Trans.jpg
textures/Darius7FaceB_1001.png
textures/uv4-spearandshield.tga
textures/Michael7LegsMapB_1003.png
textures/Darius7FaceS_1001.png
textures/db xxx-XY C.jpg
textures/Darius7FaceSSS_1001_E.png
textures/Darius7EyesMapB_1007.png
textures/Panteon Head Diffuse Wrap.png
textures/Darius7MouthMapD_1005.jpg
textures/Panteon Torso Diffuse Final.png
textures/EDSH_U2_V1_Normal.jpg
textures/Dicktator_DK_DM02.jpg
textures/Zombie_Arms.png
textures/Darius7TorsoD_1002.jpg
textures/texture1-body.png
textures/G8MBaseEyesMap02D_1007.jpg
textures/G8MBaseFaceMapB01_1001.jpg
textures/Darius7_Torso_NM_1002.png
textures/Darius7_Face_Veins_NM_1001.png
textures/Panteon Torso Diffuse Final2.png
textures/G8MBaseArmsMapD_1004.jpg
textures/G8MBaseFaceMapS01_1001.jpg
textures/Michael7ArmsMapB_1004.png
textures/Dicktator_DK_S1_DifM01a.png
textures/Stand02_Norm.jpg
textures/EDSH_U2_V1_Opacity01.jpg
textures/texture2K-spearandshieldS.png
textures/Dicktator_DK_S1_Zombie.png
textures/Stand04_Norm.jpg
textures/G8MBaseMouthMapD_1005.jpg
textures/Stand03_Norm.jpg
textures/Darius7_Face_NM_1001.png
textures/Darius7LegsS_1003.png
textures/Dicktator_D_Kiss_3.png
textures/Darius7MouthB_1005.png
textures/Darius7Eyelashes_1006.png
textures/texture4-spearandshield.tga
textures/Darius7FaceD_1001.jpg
textures/Zombie_Torso.png
textures/G8MBaseLegsMapS_1003.jpg
textures/Darius7TorsoB_1002.png
textures/Michael7EyesMap02D_1007.png
textures/Dicktator_S.png
textures/Zombie_Legs.png
textures/Darius7EyesMap01D_1007.jpg
textures/Dicktator_DK_S1_DifM04a.jpg
textures/EDSH_U1_V1_Normal.jpg
textures/Michael7FaceMapB01_1001.png
textures/texture2k-bodyB.png
textures/Darius7LegsSSS_1003.png
textures/Panteon Legs Diffuse.png
textures/Dicktator_DK_NM03.jpg
textures/Darius7TorsoSSS_1002.png
textures/Darius7_Arms_NM_1004.png
textures/Darius7_Torso_Veins_NM_1002.png
textures/Michael7FaceMapD01_1001.png
textures/G8MBaseArmsMapS_1004.jpg
textures/Darius7LegsB_1003.png
textures/Darius7_Arms_Veins_NM_1004.png
textures/G8MBaseTorsoMapB_1002.jpg
textures/Panteon Head Diffuse Final2.png
textures/Stand01_Norm.jpg
textures/G8MBaseFaceMapSSS_1001.jpg
textures/HP_HE9.jpg
textures/Dicktator_DK_S1_SSS.jpg
textures/Panteon Torso Diffuse.png
textures/G8MBaseArmsMapSSS_1004.jpg
textures/db xxx-XY N.png
textures/db xxx-XY Shell.jpg
textures/Michael7_Face_NM_1001.png
textures/G8MBaseEyelashesMapTR_1006.jpg
textures/EDSH_U1_V1_ColorVariation.jpg
textures/Dicktator_DK_NM01.jpg
textures/Dicktator_DK_TM.png
textures/Michael7LegsMapD_1003.png
textures/Michael7TorsoMapD_1002.png
textures/Stand01_Trans.jpg
textures/G8MBaseMouthMapB_1005.jpg
textures/Dicktator_DK_NM02.jpg
textures/Michael7TorsoMapB_1002.png
textures/Stand03_Trans.jpg
textures/EDSH_U1_V1_Opacity01.jpg
textures/Stand02_Trans.jpg
textures/G8MBaseFaceMapD01_1001.jpg
textures/G8MBaseTorsoMapD_1002.jpg
textures/Darius7_Legs_NM_1003.png
textures/EDSH_U2_V1_ColorVariation.jpg
textures/texture2K-spearandshieldB.png
textures/G8MBaseArmsMapB_1004.jpg
textures/Darius7TorsoS_1002.png
textures/G8MBaseTorsoMapSSS_1002.jpg
textures/Darius7_Legs_Veins_NM_1003.png
textures/db xxx-XY CH.jpg
textures/Darius7ArmsB_1004.png
textures/Dicktator_B.png
textures/texture2k-bodyS.png
textures/Darius7ArmsD_1004.jpg
textures/uv1-body.tga
textures/Darius7ArmsS_1004.png
textures/db xxx-XY B.jpg
textures/G8MBaseLegsMapSSS_1003.jpg
textures/Darius7ArmsSSS_1004.png
textures/db xxx-XY SP.jpg
textures/Panteon Arms Diffuse.png
textures/G8MBaseTorsoMapS_1002.jpg
textures/G8MBaseLegsMapB_1003.jpg
textures/Darius7LegsD_1003.jpg
textures/db xxx-XXY DP.jpg
textures/Dicktator_DK_NM04.jpg
textures/Panteon Legs DiffuseFinal.png
textures/Dicktator_DK_NM00.jpg
textures/Michael7ArmsMapD_1004.png




Pantheon_Public_Release_V1.rar
525
2022-01-07 22:29:36
303.95 MB
File contents:

Pantheon Public Release V1.blend
textures/G8MBaseEyesMapB_1007.jpg
textures/Zombie_Face.png
textures/Panteon Arms DiffuseFinal.png
textures/Darius7FaceB_1001.png
textures/uv4-spearandshield.tga
textures/Michael7LegsMapB_1003.png
textures/Darius7FaceS_1001.png
textures/db xxx-XY C.jpg
textures/Darius7FaceSSS_1001_E.png
textures/Darius7EyesMapB_1007.png
textures/Panteon Head Diffuse Wrap.png
textures/Darius7MouthMapD_1005.jpg
textures/Panteon Torso Diffuse Final.png
textures/EDSH_U2_V1_Normal.jpg
textures/Dicktator_DK_DM02.jpg
textures/Zombie_Arms.png
textures/Darius7TorsoD_1002.jpg
textures/texture1-body.png
textures/G8MBaseEyesMap02D_1007.jpg
textures/Darius7_Torso_NM_1002.png
textures/Darius7_Face_Veins_NM_1001.png
textures/Panteon Torso Diffuse Final2.png
textures/G8MBaseFaceMapS01_1001.jpg
textures/Michael7ArmsMapB_1004.png
textures/Dicktator_DK_S1_DifM01a.png
textures/EDSH_U2_V1_Opacity01.jpg
textures/texture2K-spearandshieldS.png
textures/Dicktator_DK_S1_Zombie.png
textures/G8MBaseMouthMapD_1005.jpg
textures/Darius7_Face_NM_1001.png
textures/Darius7LegsS_1003.png
textures/Dicktator_D_Kiss_3.png
textures/Darius7MouthB_1005.png
textures/Darius7Eyelashes_1006.png
textures/texture4-spearandshield.tga
textures/Darius7FaceD_1001.jpg
textures/Zombie_Torso.png
textures/G8MBaseLegsMapS_1003.jpg
textures/Darius7TorsoB_1002.png
textures/Michael7EyesMap02D_1007.png
textures/Dicktator_S.png
textures/Zombie_Legs.png
textures/Darius7EyesMap01D_1007.jpg
textures/Dicktator_DK_S1_DifM04a.jpg
textures/EDSH_U1_V1_Normal.jpg
textures/Michael7FaceMapB01_1001.png
textures/texture2k-bodyB.png
textures/Darius7LegsSSS_1003.png
textures/Panteon Legs Diffuse.png
textures/Dicktator_DK_NM03.jpg
textures/Darius7TorsoSSS_1002.png
textures/Darius7_Arms_NM_1004.png
textures/Darius7_Torso_Veins_NM_1002.png
textures/Michael7FaceMapD01_1001.png
textures/G8MBaseArmsMapS_1004.jpg
textures/Darius7LegsB_1003.png
textures/Darius7_Arms_Veins_NM_1004.png
textures/Panteon Head Diffuse Final2.png
textures/HP_HE9.jpg
textures/Dicktator_DK_S1_SSS.jpg
textures/Panteon Torso Diffuse.png
textures/db xxx-XY N.png
textures/db xxx-XY Shell.jpg
textures/Michael7_Face_NM_1001.png
textures/G8MBaseEyelashesMapTR_1006.jpg
textures/EDSH_U1_V1_ColorVariation.jpg
textures/Dicktator_DK_NM01.jpg
textures/Dicktator_DK_TM.png
textures/Michael7LegsMapD_1003.png
textures/Michael7TorsoMapD_1002.png
textures/G8MBaseMouthMapB_1005.jpg
textures/Dicktator_DK_NM02.jpg
textures/Michael7TorsoMapB_1002.png
textures/EDSH_U1_V1_Opacity01.jpg
textures/Darius7_Legs_NM_1003.png
textures/EDSH_U2_V1_ColorVariation.jpg
textures/texture2K-spearandshieldB.png
textures/Darius7TorsoS_1002.png
textures/Darius7_Legs_Veins_NM_1003.png
textures/db xxx-XY CH.jpg
textures/Darius7ArmsB_1004.png
textures/Dicktator_B.png
textures/texture2k-bodyS.png
textures/Darius7ArmsD_1004.jpg
textures/uv1-body.tga
textures/Darius7ArmsS_1004.png
textures/db xxx-XY B.jpg
textures/Darius7ArmsSSS_1004.png
textures/db xxx-XY SP.jpg
textures/Panteon Arms Diffuse.png
textures/G8MBaseTorsoMapS_1002.jpg
textures/Darius7LegsD_1003.jpg
textures/db xxx-XXY DP.jpg
textures/Dicktator_DK_NM04.jpg
textures/Panteon Legs DiffuseFinal.png
textures/Dicktator_DK_NM00.jpg
textures/Michael7ArmsMapD_1004.png