Adult content
This content is marked as Adult/NSFW content. You can toggle your preferences regarding this content type in your account settings.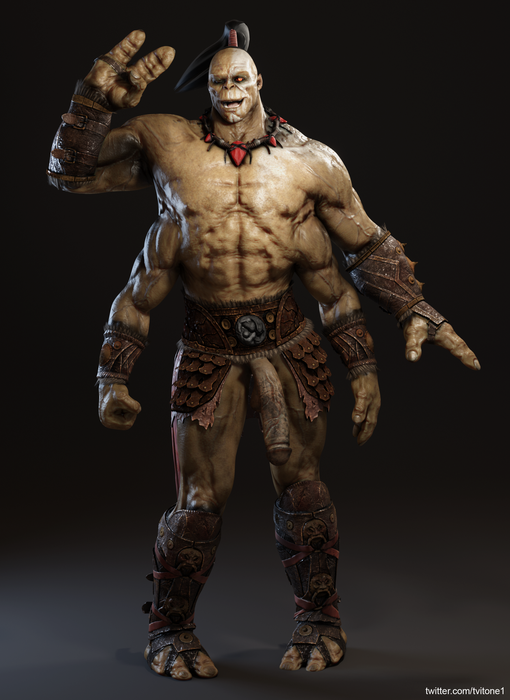 Show more
Description
This is Goro from Mortal Kombat X.
The model was ripped and set up for XPS by romero1718 with its original bones and weights https://www.deviantart.com/romero1718/art/Goro-Default-546490029
I added the naughty parts and his missing lower torso and set it up for blender with mirrored bone names, controls etc. The rig is not perfect though around said area.
Select the rig and you can find an UI on the properties panel under Item tab with toggles for clothes, emission stuff etc.
UPDATE v1.1: Fixed deformations around the groin area. Still not perfect, but much better than before.
UPDATE v1.2: Added a toggle to activate a double schlong version! (Just make sure to select the rig that is activated and enable the toggle on that one too, in order to prevent possible fuck-ups because the two rigs share the same script). Also, a few other fixes. Re-download textures as well.
UPDATE v1.3: Added foreskin controller bones :)
UPDATE v1.4: Fixed a tiny problem with right toes.
Bugs etc at https://twitter.com/tvitone1
SmutBase is a free service. However, it costs about $0.03 to deliver you a 1GB file. With over 20TB of traffic every month and growing, SmutBase needs your help. If only 1% of our users each gave us $5 for a single month, we could keep the site running for several years.
Filename
Downloads
Created
Filesize
Files
GoroMKX_textures_y11ysYP.7z
2588
2022-01-09 11:49:38
145.7 MB
File contents:

GoroMKX_textures/GoroTraitMask_Norm.tga
GoroMKX_textures/metal_pattern2.png
GoroMKX_textures/Goro_skin_n.png
GoroMKX_textures/Goro_gen_spec_DD.png
GoroMKX_textures/Goro_gen_n_DD.png
GoroMKX_textures/Goro_A1_Fur_Spec.png
GoroMKX_textures/GoroCape_A_Norm.tga
GoroMKX_textures/GoroCape_A_Light.png
GoroMKX_textures/GoroCape_A_Diff.tga
GoroMKX_textures/Goro_A1_Norm.tga
GoroMKX_textures/DNM_LeatherComp.png
GoroMKX_textures/Goro_A1_Fur_Diff.tga
GoroMKX_textures/blank.png
GoroMKX_textures/GoroCape_A_Spec.png
GoroMKX_textures/GoroTraitGaunlet_Diff.tga
GoroMKX_textures/Goro_gen_ao_DD.png
GoroMKX_textures/CHAR_Hair_Diffuse.tga
GoroMKX_textures/TigrarFury_Emission.tga
GoroMKX_textures/hotel_room.jpg
GoroMKX_textures/TigrarFury_Emission_gen.png
GoroMKX_textures/DNM_Metal_Groovy.png
GoroMKX_textures/GoroTraitMask_Mask.png
GoroMKX_textures/GoroTraitGaunlet_Spec.png
GoroMKX_textures/Goro_gen_d_DD.png
GoroMKX_textures/Goro_A1_EyesMouth_Spec.png
GoroMKX_textures/Goro_skin_d.png
GoroMKX_textures/Goro_A1_Fur_Norm.tga
GoroMKX_textures/DNM_Cloth_Burlap.png
GoroMKX_textures/CHAR_Hair_Normal.tga
GoroMKX_textures/GoroTraitGaunlet_Light.png
GoroMKX_textures/Goro_gen_n.png
GoroMKX_textures/DNM_Skin_Microgeometry.png
GoroMKX_textures/Goro_A1_Spec.png
GoroMKX_textures/GoroTraitMask_Diff.tga
GoroMKX_textures/TigrarFury_Emission_gen_DD.png
GoroMKX_textures/Goro_gen_d.png
GoroMKX_textures/GoroTraitGaunlet_Norm.tga
GoroMKX_textures/reflection.tga
GoroMKX_textures/GoroTraitMask_Spec.png
GoroMKX_textures/Goro_A1_Light.png
GoroMKX_textures/Goro_skin_n_DD.png
GoroMKX_textures/Goro_gen_ao.png
GoroMKX_textures/Goro_skin_spec.png
GoroMKX_textures/Goro_A1_Diff.tga
GoroMKX_textures/Goro_A1_EyesMouth_Norm.tga
GoroMKX_textures/Goro_skin_ao.png
GoroMKX_textures/Goro_A1_EyesMouth_Diff.tga
GoroMKX_textures/GoroTraitMask_Light.png
GoroMKX_textures/Goro_A1_EyesMouth_Light.png
GoroMKX_textures/Goro_A1_Fur_Light.png
GoroMKX_textures/Goro_gen_spec.png
GoroMKX_textures/Goro_A1_EyesMouth_Emiss.png




GoroMKX_v1.4.rar
471
2023-07-30 10:11:32
3.73 MB
File contents:

GoroMKX_v1.4.blend