Adult content
This content is marked as Adult/NSFW content. You can toggle your preferences regarding this content type in your account settings.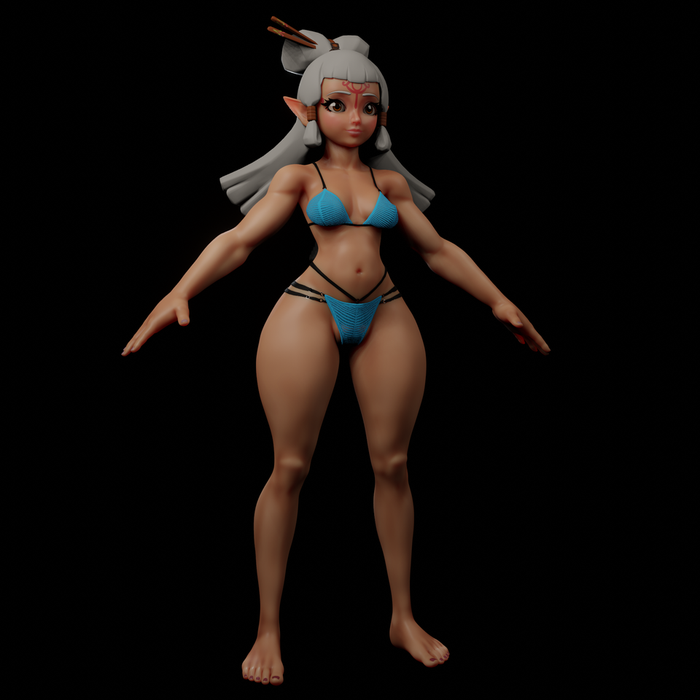 Show more
Description
I never seen Paya around here, so I deicide to make her!! she has her default oufit and a buch of clothes to dress her like you want, also in this month im making Impa and Purah and a lot of characters of BOTW if you wanna suppor me and use my characters!!
Since her eyes are big, the eyes "pop off" the face if you move them extremely in the sides, please use the bones of her yes( yeah that sounds weird) to "fix" temporaly while I find a solution
the bones to manipulate her dresses are in the second box in the rig layers
Here is my Twitter if you found something weird in the model(beside her eyes) or you wanna tag in your works. I will happily see you works C:
and my Patreon if you wanna support me, Im making a exclusive characters from my page if you wanna support me and try my models C:
you will nedd this aawsome addon!!!( I use version 1.6, but you can try use ver 1.5) http://diffeomorphic.blogspot.com/p/daz-importer-version-16.html
*Please do not reupload in other places or port in other places and dont take part of the character, I really appreciate it(Seriously respect this, just because its free doesn't mean you can do whatever you want with it)
SmutBase is a free service. However, it costs about $0.03 to deliver you a 1GB file. With over 20TB of traffic every month and growing, SmutBase needs your help. If only 1% of our users each gave us $5 for a single month, we could keep the site running for several years.
Filename
Downloads
Created
Filesize
Files
Paya.blend
2413
2021-12-23 03:38:51
93.4 MB
textures_6oCEnkZ.rar
1977
2021-12-23 03:39:07
270.19 MB
File contents:

textures/3duG8FStylized_DF_Eyes_MedGreen_1006.jpg
textures/sSQGloves01N.jpg
textures/XF_LightWeight Top_M.jpg
textures/shorts01_bump04.jpg
textures/G8_1TearOpacity.jpg
textures/XF_LightWeight Bottom_R.jpg
textures/1.png
textures/XF-Dainty Lace Top_B.jpg
textures/XF-Dainty Lace Top_O01.jpg
textures/XF-Dainty Lace Top_N.jpg
textures/XF-Eva Top_B.jpg
textures/Paya_Head_D.png
textures/3duG8FStylized_SP_Legs_1003.jpg
textures/3duG8FStylized_SP_Torso_1002.jpg
textures/Victoria8_1_EyelashesO.jpg
textures/XF-Eva Bottom_Tr.jpg
textures/Normal.png
textures/hair.png
textures/Impa_Body_D.png
textures/Wendy_eyes.jpg
textures/3duG8FStylized_DF_Mouth_1005.jpg
textures/XF-Eva Bottom_N.jpg
textures/Pure_Cotton_B.jpg
textures/GensMapDisp_Default_1009.tif
textures/SlinkySass1_Roughness.jpg
textures/clothes.png
textures/3duG8FStylized_SP_Face_1001.jpg
textures/sSQGloves02.jpg
textures/Pure_Cotton.jpg
textures/02SexyLoinDress_SP_SexyLoinDress_Roughness_4k.jpg
textures/GensMapB_Default_1009.jpg
textures/GensMapNM_Default_1009.png
textures/3duG8FStylized_TW_Mouth_1005.jpg
textures/02SexyLoinDress_SP_SexyLoinDress_BaseColor_4k.jpg
textures/XF-Eva Top_N.jpg
textures/Sneaker_Shade__Insole.jpg
textures/2 Color.png
textures/Sneaker_Shade__Boot.jpg
textures/XF-Dainty Lace Bottom_O01.jpg
textures/XF_LightWeight Top_D04.jpg
textures/XF-Eva Top_R.jpg
textures/XF-Dainty Lace Bottom_N.jpg
textures/XF-Dainty Lace Bottom_B.jpg
textures/Npc_Shiekah_Heir_Body_nrm.png
textures/sylm_outfit02_NM.jpg
textures/Bottom_N.jpg
textures/3duG8FStylized_SP_Arms_1004.jpg
textures/sylm_rope_BMP.jpg
textures/XF-Eva Bottom_B.jpg
textures/XF_LightWeight Top_B.jpg
textures/shorts01_displace.jpg
textures/Sneakers_Tape.jpg
textures/SlinkySass1_Gloss.jpg
textures/3duG8FStylized_DF_Arms_1004.jpg
textures/XF-Eva Top_M.jpg
textures/sylm_outfit02_DIFF.jpg
textures/GensMapD_Default_P_1009.jpg
textures/XF_LightWeight Bottom_D04.jpg
textures/XF_LightWeight Bottom_B.jpg
textures/3duG8FStylized_SP_Mouth_1005.jpg
textures/XF_LightWeight Top_N.jpg
textures/XF_LightWeight Bottom_O.jpg
textures/GensMapS_Default_Dry_1009.jpg
textures/02SexyLoinDress_SP_SexyLoinDress_Height_4k.jpg
textures/3duG8FStylized_DF_Legs_1003.jpg
textures/XF_LightWeight Top_O.jpg
textures/XF-Eva Bottom_M.jpg
textures/XF_LightWeight Bottom_N.jpg
textures/shorts_polyester_color01.jpg
textures/XF_LightWeight Top_R.jpg
textures/1001_Roughness.jpg
textures/GensMapT_Default_1009.jpg
textures/npc_shiekah_heir_hair_alb.png
textures/Laces Bump.jpg
textures/SlinkySass1_Normal.jpg
textures/sylm_outfit02_RM.jpg
textures/Top_N.jpg
textures/XF-Eva Top_Tr.jpg
textures/SlinkySass1_Opacity.jpg
textures/XF-Eva Bottom_D05.jpg
textures/02SexyLoinDress_SP_SexyLoinDress_Normal_4k.jpg
textures/Impa_Arms_D.png
textures/Victoria8_1_EyelashesNM.jpg
textures/XF-Eva Bottom_D01.jpg
textures/Sneaker_Sole Bump.jpg
textures/SlinkySass1_BaseColor.jpg
textures/Max_N.jpg
textures/Sneaker_Shade__Sole.001.jpg
textures/Sneaker_Shade__Laces.jpg
textures/Roughness.png
textures/npc_shiekah_heir_body_alb.png
textures/XF-Eva Top_D05.jpg
textures/02SexyLoinDress_SP_SexyLoinDress_Metallic_4k.jpg
textures/XF-Eva Bottom_R.jpg
textures/Impa_Legs_D.png
textures/sSQGloves01B.jpg
textures/GensMapSSS_Default_P_1009.jpg
textures/Logo.jpg
textures/XF-Eva Top_D01.jpg
textures/Npc_Shiekah_Heir_Hair_nrm.png
textures/Spandex Glossiness.jpg
textures/Sneakers Bump.jpg
textures/XF-Dainty Lace Top_D11.jpg
textures/XF-Dainty Lace Bottom_D11.jpg