Adult content
This content is marked as Adult/NSFW content. You can toggle your preferences regarding this content type in your account settings.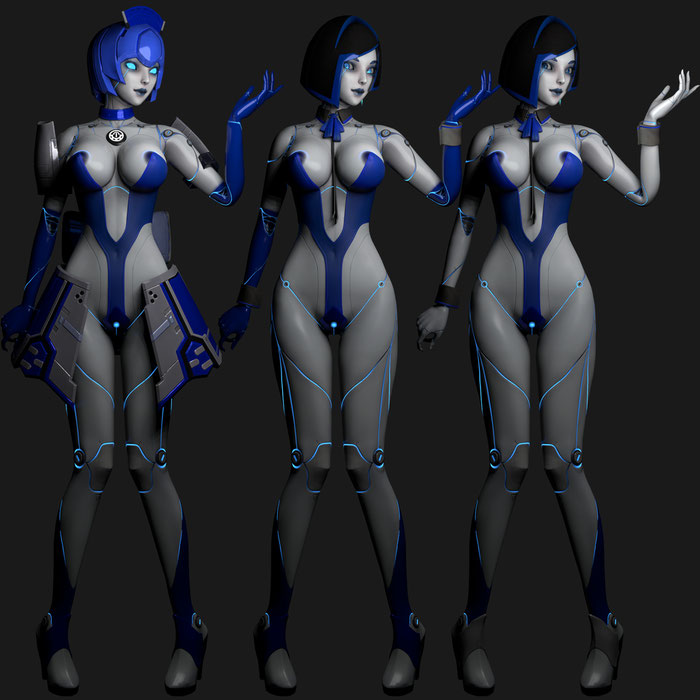 Show more
Description
Intro
---
Update 2.0: I rebranded the model as DEMI-CAST.
You can use the ui "characters preset" to quickly change between DEMI and Elenor Camuel appearance. (and/or mix/extra)
Elenor Camuel is a character from the first Phantasy Star Online. (sega dreamcast era)
It was created using the Demi model of FiaVoidWolf as base.
I Spent near all my free time from september to december 2021 on this. (Sure thing, I didn't play any game during that time)
Textures are in a external zip.
About 90% of the model have been converted to quad.(also removed some edge/vertex that wasn't part of any face)
Now, subdivision modifier have almost no impact on render time.
Recreated the materials.
Redone the rig. (no drivers, no property, way less bones, etc and is/do not require autorig pro anymore.)
Fk/Ik switch control via ui script file.
Model has same nipple than other subverse character. (texture, uv, shape "transfered" from Killi)
Nipple control via ui script file.
Has pose asset. (require blender 3.0 or higher)
Edited the body normal map texture to fix "dark spot". (fingers,crotch area, scratch on boob)
Edited the weight of some faulty vertex on the face. (brow/eyelid, teeth)
Added some Smooth Corrective modifier. (because armature "preserve volume" don't do great on this model)
Upscaled PSO2 texture with Cupscale. (were causing "pixelated" issue)
Mesh from PSO2 are lower poly and should have a subdivision one level higher than subverse mesh. (to keep same density)
The "lights" on the model are auto-animated.
Model has the 52 ARKit Face Blendshapes.
Note I can't test them because I do not own an iphone.
Custom ui file.
Getting started
---
If not already, enable the "Pose Library" Add-ons.
Create a new Asset Library (or use the default one). (In blender, Edit/Preferences.../File Paths/Asset Libraries)
Add "DEMI-CAST_v#.blend" and "blender_assets.cats.txt" to the Asset Library folder.
In the Asset Browser, change the "Current File" toolbox to your Asset Library.
Append the "DEMI-CAST" collection to your blend. (In blender, File/Append.../?/DEMI-CAST_v#.blend/Collection/DEMI-CAST)
Extract "DEMI-CAST_textures" zip and place the "textures" folder in the same place of your blend.
Make blender find the textures. (In blender, File/External Data/Find Missing Files/ Select same folder than your blend)
If not already there, add the "DEMI-CAST_ui.py" text to your blend.
If needed, Turn on auto-run for "DEMI-CAST_ui.py". (In blender, go to the Text editor(scripting). In the drop-down menu select "DEMI-CAST_ui.py". Check the Text/Register box.)
Troubleshooting
---
Model is purple?
This is because the textures files are missing.
Please read the "Getting started".
Lowered the speed of the Emission line on body and/or face but they went wild instead?
This is because this node will work with only a few specific speed value or else it go crazy. (At least if you want to go "slow" and I don't know why)
1, 1/2, 1/4, 1/16, 1/128, 1/256, 1/512, 1/1024, 1/2048, 1/4096...
Posing the model caused twist?(like limb)
Use "Helper" bones to fix it.
How to quickly change character from/to "DEMI" to/from "Elenor Camuel"?
Simply use the "Characters Preset" spinbox in the "Body" tab of the provided ui(DEMI-CAST).
About Pose Assets
---
Converted daz3d base head/expression pose to pose asset.
Converted daz3d base hand/finger pose to pose asset.
Converted daz3d "all hands" pose to pose asset.
Changed tongue bones roll so they work correctly with "pose flip". (from 90 to 0)
There is a couple of "default" pose. (pose that will set the bone transform back at default)
"AH Pose00" default the whole hand.
"Brow" default the eyebrows.
"Cheek" default the cheeks.
"Expression" default the whole face. (mouth, tongue, eyebrows, etc)
"Eye" default the upper eyelid and squint.
"Fingers" default all the fingers except the thumb.
"Hand" default the whole hand.
"Jaw" default the jaw.
"Lip" default the lips.
"Nose" default the nose.
"Thumb" default the thumb.
"Tongue" default the tongue.
"Viseme" default the whole lower face. (everything except upper eyelid and eyebrow)
Note that some of the pose asset may affect more bone than their equivalent "default" pose.
For exemple, some cheeks pose also use squint, nose and lips bone.
Model have some "unusual" fingers rig.
If following conventional rotation of the fingers bones, you end up with all pose looking like "claw grip", finger collapsing into each other, etc.(short, will never go even close to match daz3d pose)
By going unconventional, you can get pretty close result to daz3d.
The "default" pose asset relating to hands do not actually clear the bone rotation transform, but rather change it back to match daz3d model default.
If you need to "reset" a finger bone, I recommend that you apply one of the default pose asset rather than using blender clear rotation.
Changelog
---
V 2.1 (2022/07/18)
Moved the two master toes bone on the main layers.
Added a "Toes" layers to the ui and moved all the toes bone to it(except the two master).
Reworked position/text of some button on the ui.
Fixed materials image texture nodes error. (node name and path)
Renamed body vertex color. (caused attribute conflict error with vertex group)
Removed body from "DEMI-CAST Shared" collection. (now use the same collection than the armature)
Fixed error in the ui that was causing it to unsync/remove element.
Fixed error on one of the arm ik/fk button.
---
V 2.0 (2022/06/23)
Rebranded the model as DEMI-CAST.
Created my own ui file.
Reworked "RAcaseal Collar" shape/weight(should get ride of weird deform and clipping).
Small rework of "RAcaseal Hair". (edge crease)
Added DEMI Hair, Eyebrow, Eye, Collar and Sleeve.
Renamed a bunch of textures.
Added DEMI original color textures.
Removed ElenorCamuel color textures.(replaced by hsv node)
Reworked the body emission light.(should look closer to the game)
Removed all property and drivers from armature(replaced by ui file).
Renamed some bones that weren't matching the overall naming convention of the rig.
Changed the roll value of many bones.(didn't touch face and fingers since this will break the already created pose asset)
Renamed pretty much all materials, objects and collections.
Added the 52 ARKit Face Blendshapes.
Added eyes aim target.
For each facial/tongue pose asset, muted the fcurves channels that weren't contributing to the pose. (should fix problem like tongue poses that were cancelling each other)
Added back "Mascara Smudge" and "Barcode"(redone barcode uvmap so it display correctly=no cropping).
Removed junk uvmap.
Updated the texture zip.
Fixed Body vertex colors.
To do?
---
Model do not have physic I'm not good at figuring out value to use for blender physic/jiggle breast/butt bones.
If someone already made it, will be nice if they could share with everyone.
Credit / Special Thanks
---
Sega
Studio FOW
That friend of mine that sent me the PSO2 files I requested
SmutBase is a free service. However, it costs about $0.03 to deliver you a 1GB file. With over 20TB of traffic every month and growing, SmutBase needs your help. If only 1% of our users each gave us $5 for a single month, we could keep the site running for several years.
Filename
Downloads
Created
Filesize
Files
DEMI-CAST_v2.1.7z
1597
2022-07-18 19:05:55
5.62 MB
File contents:

DEMI-CAST_v2.1/blender_assets.cats.txt
DEMI-CAST_v2.1/DEMI-CAST_ui.py
DEMI-CAST_v2.1/thumb.jpg
DEMI-CAST_v2.1/DEMI-CAST_v2.1.blend




DEMI-CAST_textures.7z
2129
2022-06-23 20:25:56
59.22 MB
File contents:

textures/T_Demi_Face_BC.tga
textures/T_DEMI_Eye_N.tga
textures/T_Demi_Acc_BC_Alt.tga
textures/T_Demi_Hair_REM.tga
textures/T_Demi_Body_N.tga
textures/T_Demi_Face_REM.tga
textures/T_Demi_Face_N.tga
textures/T_Demi_Acc_REM.tga
textures/RAcaseal_C.tga
textures/T_Demi_Acc_BC.tga
textures/T_Nipple_01_N.tga
textures/T_Demi_Eye_BC.tga
textures/T_Nipple_01_R.tga
textures/DEMI_Mascara.tga
textures/T_Demi_Body_BC.tga
textures/T_Demi_Hair_N.tga
textures/T_Demi_Acc_N.tga
textures/T_Nipple_01_BC.tga
textures/T_Demi_Body_REM.tga
textures/T_Demi_Hair_BC.tga
textures/Demi_BodyCM.tga
textures/RAcaseal_N.tga