Adult content
This content is marked as Adult/NSFW content. You can toggle your preferences regarding this content type in your account settings.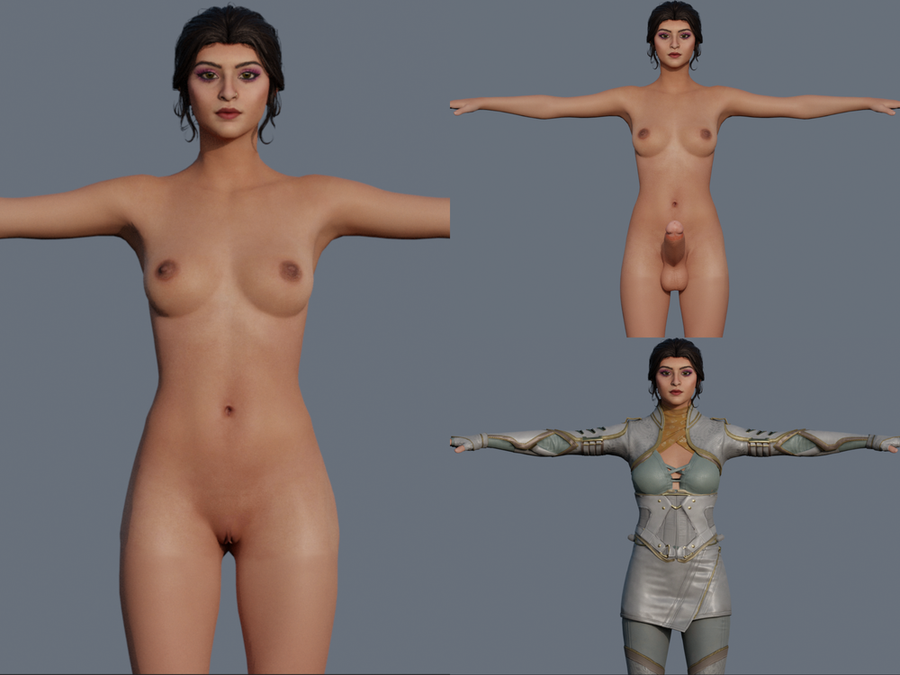 Description
Download both the Textures zip and the blend file, export the Textures zip next to the blend file.
Model with a futa variant is in Same .blend file as a separate mesh.
Added Ripple bone which creates a ripple effect on butt.
If you want to use outfit, make sure to enable "Hide Lower body" & "Hide arm" in modifier properties to avoid clipping.
You'll have to increase the Transparency path to 21. otherwise her Eyebrows & hair will look Black in Cycles.
You can tag me on twitter so I can see what you create with her
Support me : https://www.patreon.com/gamingarzia
SmutBase is a free service. However, it costs about $0.03 to deliver you a 1GB file. With over 20TB of traffic every month and growing, SmutBase needs your help. If only 1% of our users each gave us $5 for a single month, we could keep the site running for several years.
Filename
Downloads
Created
Filesize
Files
Textures.7z
1046
2021-12-01 19:41:06
165.72 MB
File contents:

Textures/Legs.jpg.001.png
Textures/Torso2.jpg.002.png
Textures/hotdog_specular.png
Textures/Legs_normal.jpg.002.png
Textures/Hotdog Shaft Veins Small.jpg
Textures/Head_spec.jpg.001.png
Textures/Body_N.tga
Textures/EyeLashes_1006.jpg
Textures/Arm.jpg.001.png
Textures/Arm_normal.jpg
Textures/Gens_spec.jpg
Textures/morning01_EXR.exr
Textures/Arm_spec.jpg
Textures/Mouth_1005_spec.jpg
Textures/Legs_N.tga
Textures/Torso2_spec.jpg.001.png
Textures/Hotdog Balls Veins.jpg
Textures/Torso2_spec.png
Textures/Mouth_1005.jpg
Textures/Torso2_normal.jpg.002.png
Textures/Body_D.tga
Textures/Legs_S.tga
Textures/Head_normal.png
Textures/Hotdog Shaft Veins Large.jpg
Textures/Legs.jpg.002.png
Textures/Head_spec.png
Textures/Torso2_normal.png
Textures/hotdog_normal_veins_v2.png
Textures/Gens_normal.jpg
Textures/Arm.jpg.002.png
Textures/hotdog_albedo3.png
Textures/morning01_medium.jpg
Textures/Head_spec.jpg.002.png
Textures/hotdog_specular.jpg.002.png
Textures/Eye_D.tga
Textures/Torso2.png
Textures/Legs_D.tga
Textures/Legs_spec.jpg.001.png
Textures/Legs_spec.jpg.002.png
Textures/Legs_spec.jpg.003.png
Textures/hotdog_albedo2.jpg.001.png
Textures/hotdog_normal_veins_foreskin.jpg
Textures/Hair.tga
Textures/Head2.png
Textures/Arm.png
Textures/Gens.png
Textures/Head_normal.jpg.002.png
Textures/Torso2_spec.jpg.002.png
Textures/Legs_normal.jpg.001.png
Textures/Gens.jpg.001.png
Textures/Body_S.tga
Textures/Torso2_normal.jpg.001.png
Textures/Mouth_1005_normal.jpg
Textures/Legs.jpg.003.png
Textures/Head_normal.jpg.001.png
Textures/Torso2.jpg.001.png
Textures/Legs_normal.jpg.003.png




Kestrel.blend
1056
2021-12-01 19:41:14
167.23 MB