Adult content
This content is marked as Adult/NSFW content. You can toggle your preferences regarding this content type in your account settings.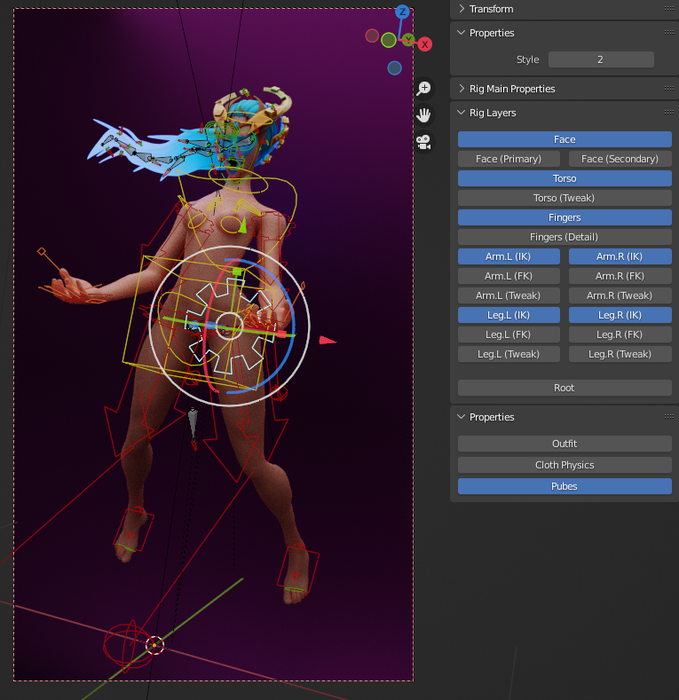 Show more
Description
The cube queen from Fortnite rigged with rigify. To change the outfit style just select the cog bone and change the property from there. All other special properties like outfit toggle and cloth physics can be enabled directly from the rig, if the buttons are not there just re-run the rig script.
Made in blender 3.0 but should work from 2.8 forward.
Be sure to report any problems in the comments or in my dms on twitter. Be sure to tag me in the goodies you make, can't wait to see what you make.
1.0.1, fixed an issue with the eyes not being parented to the correct eye bones
SmutBase is a free service. However, it costs about $0.03 to deliver you a 1GB file. With over 20TB of traffic every month and growing, SmutBase needs your help. If only 1% of our users each gave us $5 for a single month, we could keep the site running for several years.
Filename
Downloads
Created
Filesize
Files
cube_queen_eye_fix.7z
836
2021-12-15 01:06:38
10.32 MB
File contents:

cube queen.blend




cube_queen.7z
741
2021-11-28 03:18:53
10.3 MB
File contents:

cube queen.blend




cube_queen_textures.7z
911
2021-11-28 03:18:55
62.38 MB
File contents:

textures/T_Cube_Queen_Vibrant_FaceAcc_E.png
textures/T_Cube_Queen_Body_N.png
textures/limbs arms queen.jpg
textures/T_Cube_Queen_Vibrant_Body_N.png
textures/T_Cube_Queen_Vibrant_Body_FX.png
textures/T_Cube_Queen_Vibrant_Head_D.png
textures/Thinfilm2.jpg
textures/Gens queen.jpg
textures/T_Cube_Queen_FaceAcc_E.png
textures/torso queen.jpg
textures/T_Cube_Queen_Vibrant_FaceAcc_D.png
textures/T_Cube_Queen_Head_M.png
textures/T_Cube_Queen_Body_FX.png
textures/T_Cube_Queen_Dark_Body_D.png
textures/T_Cube_Queen_Dark_FaceAcc_D.png
textures/T_Cube_Queen_Head_E.png
textures/T_Cube_Queen_Body_D.png
textures/T_Cube_Queen_FaceAcc_N.png
textures/T_Cube_Queen_FaceAcc_D.png
textures/T_Cube_Queen_Head_D.png
textures/T_Cube_Queen_Dark_Head_D.png
textures/T_Cube_Queen_Head_N.png
textures/T_Cube_Queen_Body_M.png
textures/T_Cube_Queen_Dark_Head_E.png
textures/T_Cube_Queen_Dark_Head_S.png
textures/queen arm extra.png
textures/T_Cube_Queen_Vibrant_Body_S.png
textures/T_Cube_Queen_FaceAcc_M.png
textures/T_Cube_Queen_Vibrant_FaceAcc_N.png
textures/T_Cube_Queen_Dark_FaceAcc_S.png
textures/T_Cube_Queen_Vibrant_Head_S.png
textures/T_Cube_Queen_Vibrant_Body_D.png
textures/T_Cube_Queen_Dark_FaceAcc_FX.png
textures/T_Cube_Queen_Body_S.png
textures/T_Cube_Queen_FaceAcc_S.png
textures/T_Cube_Queen_Dark_Body_FX.png
textures/T_Cube_Queen_FaceAcc_FX.png
textures/T_Cube_Queen_Vibrant_FaceAcc_S.png
textures/T_Cube_Queen_Head_S.png
textures/limbs legs queen.jpg
textures/T_Cube_Queen_Dark_Body_S.png




rig_ui_AtaDM59.py
789
2021-11-28 03:18:55
87.58 KB