Adult content
This content is marked as Adult/NSFW content. You can toggle your preferences regarding this content type in your account settings.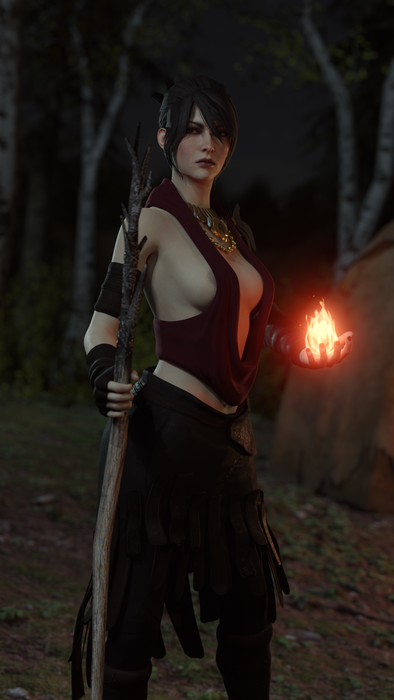 Show more
Description
The Witch of the Wilds!
She's a head swap with a nude base model from Daz Studio and Morrigan from Bioware's Dragon Age: Inquisition.
Her shaders are compatible with Eevee and Cycles.
I've created a large set of shape keys for various facial expressions. In addition to that, there are many corrective shape keys for the model and clothing.
In the properties panel for the armature, you have the ability to swap IK/FK controls.
In the properties panel for the model itself, you have a wetness control slider, various body shape sliders, and a couple of masks for when she is wearing clothes.
Bone layers. Layer 1 is the main rig. Layer 2 has butt bones. Layer 3 is the original face bones. Layer 4 is hair bones. Layer 8 is custom skirt bones.
The last thing that needs explanation is the skirt setup. You'll notice there are 3 models in the clothing collection for skirts. The first skirt is easiest to use and enabled by default. It'll more or less work with the model's main rig. It uses the Proxy Skirt model to help with deformations, corrective shape keys, and cloth simulation. You don't need to do anything with the proxy skirt, but you will need it there for the main skirt to work properly. The physics properties tab has the cloth simulation settings for the proxy skirt. Cloth simulation is off in the viewport by default but on for render.
The second skirt, labelled "manual", is an attempt to weight paint the skirt from scratch to reduce as much stretching and shrinking as possible. The result is that there are loads of bones, mainly for the belts. These bones are on bone layer 8 as mentioned. I have a series of constraints set up so the bones will keep up with the legs a little, but you will need to do some manual posing to finish it. If you like the first skirt option, you do not need to keep this one.
I think that's everything. Questions and feedback are welcome.
Thanks to Rigid3D and IceDev for help testing the model. Many more thanks to Rigid for all the support with Blender.
Follow me on Twitter and Patreon
https://twitter.com/BlueLightSFM
SmutBase is a free service. However, it costs about $0.03 to deliver you a 1GB file. With over 20TB of traffic every month and growing, SmutBase needs your help. If only 1% of our users each gave us $5 for a single month, we could keep the site running for several years.
Filename
Downloads
Created
Filesize
Files
Morrigan.zip
3427
2021-11-25 05:50:08
232.53 MB
File contents:

Morrigan/Morrigan Release v1.blend
Morrigan/textures/TrishLegsMapB_1003.jpg
Morrigan/textures/hf_hed_mor_d.png
Morrigan/textures/hf_hed_mor_n.png
Morrigan/textures/TrishTorsoMapS_1002.jpg
Morrigan/textures/GensMapT_Anus_Base Female_1009.jpg
Morrigan/textures/TrishArmsMapS_1004.jpg
Morrigan/textures/TrishLegsMapD_1003.png
Morrigan/textures/hf_hed_mor_sss.png
Morrigan/textures/skin02_dtl.texout.dds
Morrigan/textures/uh_eye_dark_n.png
Morrigan/textures/GensMapD1_Default_P_1009.png
Morrigan/textures/uh_eye_dark_s.png
Morrigan/textures/GensMapDisp_Default_1009.tif
Morrigan/textures/TrishLegsMapSSS_1003.jpg
Morrigan/textures/TrishArmsMapB_1004.jpg
Morrigan/textures/GensMapNM_Default_1009.png
Morrigan/textures/TrishTorsoMapD_1002.png
Morrigan/textures/hf_hed_mor_s.png
Morrigan/textures/uh_lash_d.png
Morrigan/textures/Wet_Legs.jpg
Morrigan/textures/bdy_hf_morrigan01_n.png
Morrigan/textures/hf_hed_mor_wet.png
Morrigan/textures/TrishArmsMapSSS_1004.jpg
Morrigan/textures/TrishLegs_NM_1003.tif
Morrigan/textures/dirt_null.png
Morrigan/textures/Wet_Arms.jpg
Morrigan/textures/bdy_hf_morrigan01_s.png
Morrigan/textures/hf_hed_mor_b.png
Morrigan/textures/hair_faded_straight_n.png
Morrigan/textures/bdy_hf_morrigan01_d.png
Morrigan/textures/GensMapT_Default_1009.jpg
Morrigan/textures/TrishTorsoMapSSS_1002.jpg
Morrigan/textures/GensMapS_Default_Wet_1009.jpg
Morrigan/textures/uh_eye_dark_d.png
Morrigan/textures/TrishArms_NM_1004.tif
Morrigan/textures/Wet_Torso.jpg.002
Morrigan/textures/TrishTorsoMapB_1002.jpg
Morrigan/textures/cotton01_dtl.texout.dds
Morrigan/textures/hair_faded_straight_s.png
Morrigan/textures/hair_faded_straight_d.png
Morrigan/textures/TrishLegsMapS_1003.jpg
Morrigan/textures/TrishArmsMapD_1004.png
Morrigan/textures/GensMapSSS_Default_P_1009.jpg
Morrigan/textures/Wet_Torso.jpg
Morrigan/textures/leather_detail_nrm.texout.dds
Morrigan/textures/GensMapT_Swelling_1009.jpg
Morrigan/textures/TrishTorso_NM_1002.tif