Adult content
This content is marked as Adult/NSFW content. You can toggle your preferences regarding this content type in your account settings.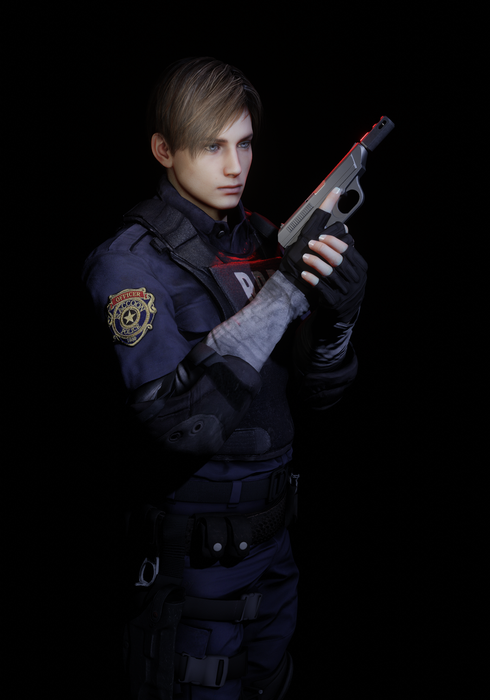 Show more
Description
---
This model uses Autorig-Tools so it requires the Rig-Tools Add-on.
---
This model Includes:
Menu options for attires and hair styles + skin materials and morph body shapes as shown in the screenshots.

AutoRigPro armature

Custom skin shaders

"Curve" based genital rig
Extra instructions:
Extract the texture folder in the same folder you save this blend file.

Install the rig-tools add-on if you haven't yet.

To see the menu when you append the model to a new save file, just select Leon's armature.

Don't drink bleach, you'll die.
Credits to:
MustardSFM for the UI menu.
Shinteo for the base Leon used for this model.
SmutBase is a free service. However, it costs about $0.03 to deliver you a 1GB file. With over 20TB of traffic every month and growing, SmutBase needs your help. If only 1% of our users each gave us $5 for a single month, we could keep the site running for several years.
Filename
Downloads
Created
Filesize
Files
LeonSKennedy_by_MokujinH.blend
3598
2021-11-24 22:57:08
32.74 MB
Leon_textures.7z
3322
2021-11-24 22:57:18
213.93 MB
File contents:

textures/wp0000_vp70_ALBM.png
textures/HeadAO.jpg
textures/Dicktator_DK_S1_SM.jpg
textures/wp0000_PowerUp_NRMR.png
textures/pl0050_Face_ALBM.jpg
textures/pl0050_Eyebrowse_ATOS.png
textures/Dicktator_DK_S1_DifM01a.jpg
textures/pl0050_Eyebrowse_ALBM.png
textures/wp0000_vp70_NRMR.png
textures/tex_0002_pl0000_wetmask_0002_MSK1.png
textures/Leon Arm D.png
textures/G8MBaseFaceMapB01_1001.jpg
textures/Leon Torso D.png
textures/pl0070_Hair_ATOS.png
textures/Dicktator_DK_S1_DifM01a.png
textures/wp4500_CombatKnife_ALBM.png
textures/leon_vp70_n.png
textures/G8MBaseMouthMapD_1005.jpg
textures/leon_pants_n.png
textures/Leon Head N.png
textures/pl0050_Face_A.jpg
textures/leon_vp70_l.png
textures/pl0070_Hair_NRMR.png
textures/ArmsS.jpg
textures/leon_vp70_m.png
textures/wp4500_Cover_ALBM.png
textures/Dicktator_DK_TM.jpg
textures/leon_pants_l.png
textures/cotton01_dtl.png
textures/Leon_Body_L.tga
textures/leon_body_n.png
textures/Sweat M Head OP NG F2.jpg
textures/Dicktator_DK_NM03.jpg
textures/pl0000_items_albm.tex.png
textures/leon_body_s.png
textures/leon_vp70_d.png
textures/Dicktator_DK_DM03.jpg
textures/G8MBaseTorsoMapB_1002.jpg
textures/leon_vp70_s.png
textures/wp0100_VP70Custom_ALBM.png
textures/Torso_NM.png
textures/leon_body_m.png
textures/wp0000_PowerUp_ALBM.png
textures/HairLim01_ALB.png
textures/Leon_Body_S.tga
textures/leon_body_l.png
textures/Legs_NM.png
textures/G8MBaseEyelashesMapTR_1006.jpg
textures/Face01S.jpg
textures/pl0050_Face_ALBM.png
textures/pl0000_items_nrmr.tex.png
textures/leon_pants_s.png
textures/G8MBaseMouthMapB_1005.jpg
textures/polyester00_dtl.png
textures/pl0000_body_albm.tex.png
textures/Sweat M Torso BM.jpg
textures/pl0070_Hair_ALBM.png
textures/wp4500_Cover_NRMR.png
textures/micro5_n.tga
textures/Dicktator_DK_S1_BM.jpg
textures/pl0050_Face_NRMR.png
textures/pl0050_Eye_Out_NRMR.png
textures/pl0050_Face_RGH.png
textures/G8MBaseArmsMapB_1004.jpg
textures/nilon_dtl.png
textures/Leon Head D.png
textures/cotton00_dtl.png
textures/AK_ED5esoc1.jpg
textures/Leon Leg D.png
textures/leon_pants_m.png
textures/LegsS.jpg
textures/pl0050_Eyebrowse_NRMR.png
textures/skin02_dtl.texout.png
textures/Sweat M Legs BM.jpg
textures/pl0000_body_nrmr.tex.png
textures/TorsoS.jpg
textures/Sweat M Arms OP HG F0.jpg
textures/leon_body_d.png
textures/detail_niron_nrm.texout.png
textures/Arms_NM.png
textures/G8MBaseLegsMapB_1003.jpg
textures/leon_pants_d.png
textures/wp4500_CombatKnife_NRMR.png
textures/wp0100_VP70Custom_NRMR.png
textures/AK_ED5esocBUM.jpg