Adult content
This content is marked as Adult/NSFW content. You can toggle your preferences regarding this content type in your account settings.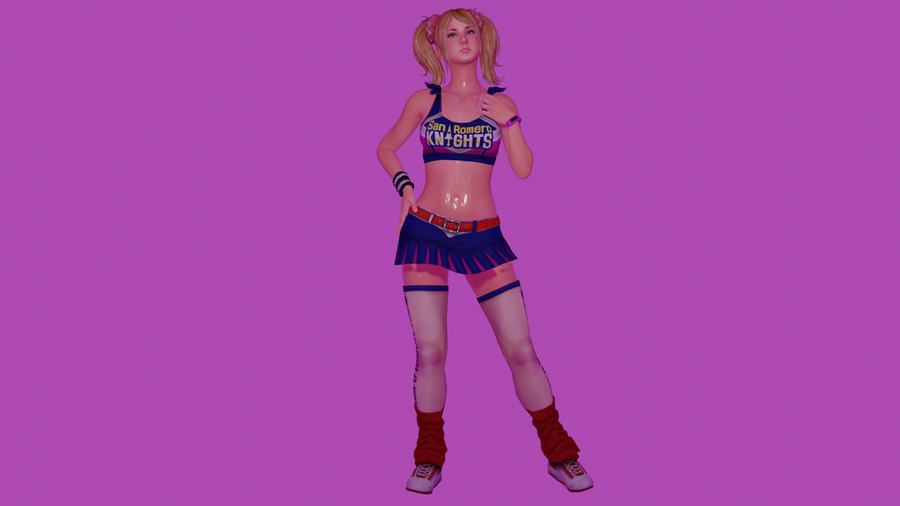 Show more
Description
Plugin you must have installed in Blender https://diffeomorphic.blogspot.com/p/daz-importer-version-15.html
This model have Genital Shape Keys And Body Morphs You can find them at Click The Mesh Object Data Properties Shape Keys
Chainsaw And Pistol Are included
I Have turned on Simplify For people who dont know how to get a better perfformance on Viewport For Posing And Animating
You can make Good Jiggle Bones ( Butt And Boobs) Using Spring Bones addon
https://github.com/artellblender/springbones
If You get Pink Textures Go to File External Data Find missing Files And Find The Folder Textures
          **New Update !!! Fixed Cliping Hair when moving the head**


A small problem has been fixed when moving the head the hair clips inside the head
      !!!1  New Update 2  !!!! 2 Bikinis Have Been Added + New Hair Rigged) !!!!



https://www.patreon.com/JucyPook Support me if you want
SmutBase is a free service. However, it costs about $0.03 to deliver you a 1GB file. With over 20TB of traffic every month and growing, SmutBase needs your help. If only 1% of our users each gave us $5 for a single month, we could keep the site running for several years.
Filename
Downloads
Created
Filesize
Files
Juliet_Starling_New_Update_v2.rar
1483
2021-11-24 14:08:09
102.63 MB
File contents:

Juliet Starling Update v2.blend
textures/G8FBaseTorsoMapB_1002.jpg
textures/3duG8FKennedyHair_BM.jpg
textures/GoldenPalace_Specularity.jpg
textures/GoldenPalace_Color.jpg
textures/GoldenPalace_Translucency.jpg
textures/3duG8FKennedyHair_NM.png
textures/Juliet_Torso_D.jpg
textures/Juliet_Legs_D.jpg
textures/Dreamy Dress_roughness01.jpg
textures/gl_Frame_Black.png
textures/G8FBaseFaceMapSSS_1001.jpg
textures/G8FBaseArmsMapB_1004.jpg
textures/BBO 001 Arms TCBM1.jpg
textures/G8FBaseEyelashes_1006.jpg
textures/3duG8FKennedyHair_GlossyTL.jpg
textures/gl_Slide.png
textures/3duG8FKennedyHair_Blonde_DF.jpg
textures/Dreamy Dress_diff10.jpg
textures/GoldenPalace_WetMap.jpg
textures/Pure_Cotton_B.jpg
textures/GoldenPalace_Trasparency.jpg
textures/Blank.jpg
textures/DashBikini_BottomN1.jpg
textures/TX_CH_Main_Juliet_Cloth_D.png
textures/3duG8FKennedyHairStrand_OP.jpg
textures/Pure_Cotton.jpg
textures/3duG8FKennedyHairTail_OP.jpg
textures/G8FBaseEyes01_1007.jpg
textures/BBO 003 Torso OP3b.jpg
textures/G8FBaseFaceMapS_1001.jpg
textures/Dreamy Dress_bump01.jpg
textures/TX_WP_Chainsaw_D.png
textures/G8FBaseMouthMapB_1005.jpg
textures/3duG8FKennedyHairSC_OP.jpg
textures/G8FBaseFaceMapB_1001.jpg
textures/DBikiniBra_B1.jpg
textures/gl_Mag.png
textures/Dreamy Dress_glossy01.jpg
textures/DBraStitching1.jpg
textures/Bottom_N.jpg
textures/GoldenPalace_Displacement.jpg
textures/Dreamy Dress_metallic01.jpg
textures/Juliet_Arms_D.jpg
textures/GoldenPalace_NormalMap.jpg
textures/TX_CH_Main_Juliet_Cloth_N.png
textures/G8FBaseEyesB_1007.jpg
textures/Juliet_Eyes.jpg
textures/G8FBaseLegsMapS_1003.jpg
textures/G8FBaseTorsoMapS_1002.jpg
textures/Top_N.jpg
textures/DBikiniBottom_B1.jpg
textures/BBO 002b Torso BMDM.jpg
textures/BBO 002 Legs TCBM.jpg
textures/BottomStitching1.jpg
textures/G8FBaseArmsMapS_1004.jpg
textures/BBO 002 Torso TCBM.jpg
textures/Max_N.jpg
textures/G8FBaseLegsMapB_1003.jpg
textures/BBO 003 Legs OP1.jpg
textures/Dreamy Dress_diff16.jpg
textures/BBO 001 Arms OP1.jpg
textures/BBO 002 Legs BMDM.jpg
textures/DBikiniBra_N2.jpg
textures/Juliet_Face_D.jpg
textures/Dreamy Dress_normal01.jpg
textures/3duG8FKennedyHair_SP2.jpg
textures/G8FBaseMouthMapD_1005.jpg
textures/3duG8FKennedyHair_SP.jpg
textures/G8FBaseFaceMapD_1001.jpg




Juliet_Starling_Update.rar
813
2021-11-21 01:33:10
80.06 MB
File contents:

Juliet Starling Update.blend
textures/G8FBaseTorsoMapB_1002.jpg
textures/GoldenPalace_Specularity.jpg
textures/GoldenPalace_Color.jpg
textures/GoldenPalace_Translucency.jpg
textures/Juliet_Torso_D.jpg
textures/Juliet_Legs_D.jpg
textures/Dreamy Dress_roughness01.jpg
textures/TX_CH_Main_Juliet_Hair_D_t.png
textures/gl_Frame_Black.png
textures/G8FBaseFaceMapSSS_1001.jpg
textures/G8FBaseArmsMapB_1004.jpg
textures/BBO 001 Arms TCBM1.jpg
textures/G8FBaseEyelashes_1006.jpg
textures/gl_Slide.png
textures/Dreamy Dress_diff10.jpg
textures/GoldenPalace_WetMap.jpg
textures/GoldenPalace_Trasparency.jpg
textures/Blank.jpg
textures/TX_CH_Main_Juliet_Cloth_D.png
textures/TX_CH_Main_Juliet_Hair_N.png
textures/G8FBaseEyes01_1007.jpg
textures/BBO 003 Torso OP3b.jpg
textures/G8FBaseFaceMapS_1001.jpg
textures/Dreamy Dress_bump01.jpg
textures/TX_WP_Chainsaw_D.png
textures/G8FBaseMouthMapB_1005.jpg
textures/G8FBaseFaceMapB_1001.jpg
textures/gl_Mag.png
textures/Dreamy Dress_glossy01.jpg
textures/GoldenPalace_Displacement.jpg
textures/Dreamy Dress_metallic01.jpg
textures/Juliet_Arms_D.jpg
textures/GoldenPalace_NormalMap.jpg
textures/TX_CH_Main_Juliet_Cloth_N.png
textures/G8FBaseEyesB_1007.jpg
textures/Juliet_Eyes.jpg
textures/G8FBaseLegsMapS_1003.jpg
textures/G8FBaseTorsoMapS_1002.jpg
textures/BBO 002b Torso BMDM.jpg
textures/BBO 002 Legs TCBM.jpg
textures/G8FBaseArmsMapS_1004.jpg
textures/BBO 002 Torso TCBM.jpg
textures/G8FBaseLegsMapB_1003.jpg
textures/BBO 003 Legs OP1.jpg
textures/Dreamy Dress_diff16.jpg
textures/BBO 001 Arms OP1.jpg
textures/BBO 002 Legs BMDM.jpg
textures/Juliet_Face_D.jpg
textures/TX_CH_Main_Juliet_Hair_D.png
textures/Dreamy Dress_normal01.jpg
textures/G8FBaseMouthMapD_1005.jpg
textures/G8FBaseFaceMapD_1001.jpg




Juliet_Starling.rar
625
2021-11-20 20:17:53
84.05 MB
File contents:

Juliet Starling.blend
textures/G8FBaseTorsoMapB_1002.jpg
textures/GoldenPalace_Specularity.jpg
textures/GoldenPalace_Color.jpg
textures/GoldenPalace_Translucency.jpg
textures/Juliet_Torso_D.jpg
textures/Juliet_Legs_D.jpg
textures/Dreamy Dress_roughness01.jpg
textures/TX_CH_Main_Juliet_Hair_D_t.png
textures/gl_Frame_Black.png
textures/G8FBaseFaceMapSSS_1001.jpg
textures/G8FBaseArmsMapB_1004.jpg
textures/BBO 001 Arms TCBM1.jpg
textures/G8FBaseEyelashes_1006.jpg
textures/gl_Slide.png
textures/Dreamy Dress_diff10.jpg
textures/GoldenPalace_WetMap.jpg
textures/GoldenPalace_Trasparency.jpg
textures/Blank.jpg
textures/TX_CH_Main_Juliet_Cloth_D.png
textures/Lips Gloss Bump 1.jpg
textures/TX_CH_Main_Juliet_Hair_N.png
textures/G8FBaseEyes01_1007.jpg
textures/BBO 003 Torso OP3b.jpg
textures/G8FBaseFaceMapS_1001.jpg
textures/Dreamy Dress_bump01.jpg
textures/TX_WP_Chainsaw_D.png
textures/G8FBaseMouthMapB_1005.jpg
textures/G8FBaseFaceMapB_1001.jpg
textures/gl_Mag.png
textures/Dreamy Dress_glossy01.jpg
textures/GoldenPalace_Displacement.jpg
textures/Dreamy Dress_metallic01.jpg
textures/Juliet_Arms_D.jpg
textures/GoldenPalace_NormalMap.jpg
textures/TX_CH_Main_Juliet_Cloth_N.png
textures/Lips Gloss OP 1.jpg
textures/G8FBaseEyesB_1007.jpg
textures/Juliet_Eyes.jpg
textures/G8FBaseLegsMapS_1003.jpg
textures/G8FBaseTorsoMapS_1002.jpg
textures/BBO 002b Torso BMDM.jpg
textures/BBO 002 Legs TCBM.jpg
textures/G8FBaseArmsMapS_1004.jpg
textures/BBO 002 Torso TCBM.jpg
textures/G8FBaseLegsMapB_1003.jpg
textures/BBO 003 Legs OP1.jpg
textures/Dreamy Dress_diff16.jpg
textures/BBO 001 Arms OP1.jpg
textures/BBO 002 Legs BMDM.jpg
textures/Juliet_Face_D.jpg
textures/TX_CH_Main_Juliet_Hair_D.png
textures/Dreamy Dress_normal01.jpg
textures/G8FBaseMouthMapD_1005.jpg
textures/G8FBaseFaceMapD_1001.jpg