Adult content
This content is marked as Adult/NSFW content. You can toggle your preferences regarding this content type in your account settings.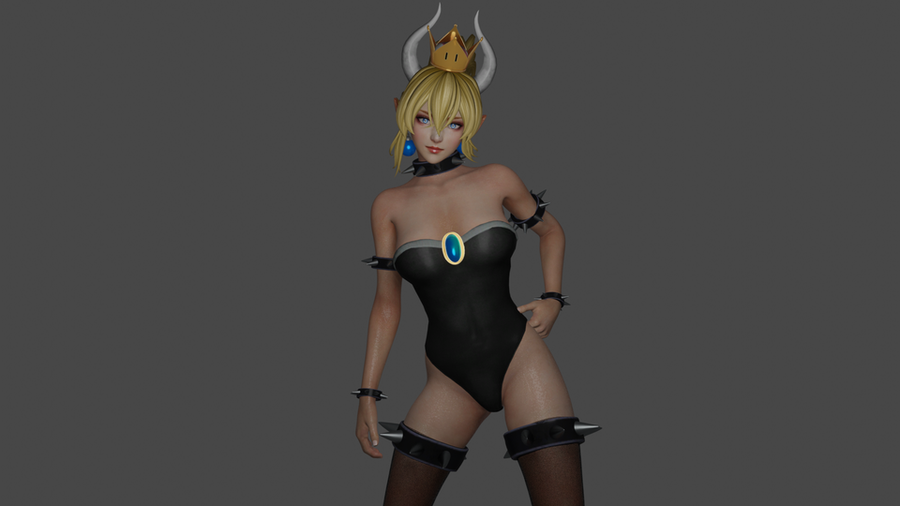 Show more
Description
Plugin you must have installed in Blender https://diffeomorphic.blogspot.com/p/daz-importer-version-15.html
This model have *Genital* And *Body Morphs* Shape Keys You can find them at Click The Mesh Object Data Properties Shape Keys
You can make Good Jiggle Bones ( Butt And Boobs) Using Spring Bones addon
https://github.com/artellblender/springbones
If You get Pink Textures Go to *File External Data Find missing Files And Find The Folder Textures
!!!!!!!!!
Tail and Skirt Are included But the tail is not rigged i will upload another blender file for those who dont know how to rigg stuff ....for others who know how to rrig things dont need to download the new upload !!!!!!
https://www.patreon.com/JucyPook Support me if you want
SmutBase is a free service. However, it costs about $0.03 to deliver you a 1GB file. With over 20TB of traffic every month and growing, SmutBase needs your help. If only 1% of our users each gave us $5 for a single month, we could keep the site running for several years.
Filename
Downloads
Created
Filesize
Files
Bowsette_kz4IH8X.blend
2093
2021-11-10 00:39:38
90.75 MB
Bowsette_Tail_Bones.blend
1257
2021-11-10 14:47:38
90.99 MB
Textures_FhmCXNv.rar
1842
2021-11-10 00:15:05
75.53 MB
File contents:

Textures/All_front_base_T.png
Textures/L_3.png
Textures/Soak Med Leg BM.jpg
Textures/Bowsette_Legs_C.jpg
Textures/G8FBaseTorsoMapB_1002.jpg
Textures/GoldenPalace_Specularity.jpg
Textures/L_20.png
Textures/GoldenPalace_Color.jpg
Textures/GoldenPalace_Translucency.jpg
Textures/All_tails_01_spe.dds
Textures/Soak Med Arm BM.jpg
Textures/L_8.png
Textures/G8FBaseArmsMapD_1004.jpg
Textures/Bowsette_Face_D.jpg
Textures/L_4.png
Textures/L_2.png
Textures/All_pony_base.dds
Textures/L_17.png
Textures/L_36.png
Textures/Soak Med Torso BM.jpg
Textures/G8FBaseArmsMapB_1004.jpg
Textures/G8FBaseEyelashes_1006.jpg
Textures/L_31.png
Textures/L_27.png
Textures/L_32.png
Textures/Bowsette_Head_D.jpg
Textures/GoldenPalace_WetMap.jpg
Textures/GoldenPalace_Trasparency.jpg
Textures/L_21.png
Textures/All_tails_01_base_T.png
Textures/Soak Med Face OP HG.tif
Textures/Lips Gloss Bump 1.jpg
Textures/All_horns_base.dds
Textures/All_pony_nrm.dds
Textures/L_33.png
Textures/L_10.png
Textures/L_35.png
Textures/G8FBaseEyes01_1007.jpg
Textures/L_24.png
Textures/G8FBaseFaceMapS_1001.jpg
Textures/Bowsette_Arms_C.jpg
Textures/All_front_spe.dds
Textures/All_tights_base.dds
Textures/G8FBaseMouthMapB_1005.jpg
Textures/L_38.dds
Textures/L_18.png
Textures/G8FBaseFaceMapB_1001.jpg
Textures/L_9.png
Textures/L_23.png
Textures/L_19.png
Textures/GoldenPalace_Displacement.jpg
Textures/All_pony_base_T.png
Textures/Bowsette_Eyes.jpg
Textures/All_tights_spe.dds
Textures/L_22.png
Textures/L_6.png
Textures/GoldenPalace_NormalMap.jpg
Textures/Lips Gloss OP 1.jpg
Textures/L_1.png
Textures/L_7.png
Textures/All_front_base.dds
Textures/G8FBaseLegsMapD_1003.jpg
Textures/All_tails_01_base.dds
Textures/L_34.png
Textures/G8FBaseEyesB_1007.jpg
Textures/L_16.png
Textures/L_37.dds
Textures/L_26.png
Textures/Soak Med Face OP HG.jpg
Textures/All_front_nrm.dds
Textures/All_tails_02_spe.dds
Textures/L_25.png
Textures/G8FBaseLegsMapS_1003.jpg
Textures/G8FBaseTorsoMapS_1002.jpg
Textures/Soak Med Arm OP HG.tif
Textures/All_tails_01_nrm.dds
Textures/Soak Med Leg OP HG.jpg
Textures/All_tails_02_nrm.dds
Textures/Soak Med Torso OP HG.jpg
Textures/All_eyes_base.dds
Textures/G8FBaseArmsMapS_1004.jpg
Textures/G8FBaseLegsMapB_1003.jpg
Textures/L_12.png
Textures/Soak Med Torso OP HG.tif
Textures/L_39.dds
Textures/All_horns_base.png
Textures/Soak Med Leg OP HG.tif
Textures/L_5.png
Textures/L_11.png
Textures/Soak Med Face BM.jpg
Textures/Bowsette_Torso_C.jpg
Textures/All_tights_nrm.dds
Textures/All_pony_spe.dds
Textures/G8FBaseMouthMapD_1005.jpg
Textures/All_tails_02_base.dds
Textures/G8FBaseFaceMapD_1001.jpg
Textures/Soak Med Arm OP HG.jpg