Adult content
This content is marked as Adult/NSFW content. You can toggle your preferences regarding this content type in your account settings.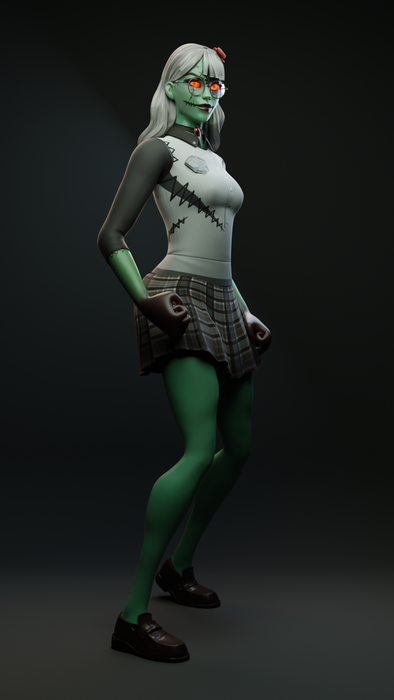 Show more
Description
Voted "Most Likely to Crave Cock... or Haunt the Place Forever."
Grisabelle model fitted out with Full rigify support
if you find any issues/bugs with the model be sure to comment them here or dm them to me on my twitter.
BE SURE TO CREDIT ME WHEN YOU USE MY MODEL AS PER CC BY 4.0
SmutBase is a free service. However, it costs about $0.03 to deliver you a 1GB file. With over 20TB of traffic every month and growing, SmutBase needs your help. If only 1% of our users each gave us $5 for a single month, we could keep the site running for several years.
Filename
Downloads
Created
Filesize
Files
GRISSABELLE.zip
1025
2021-10-29 01:52:15
47.01 MB
File contents:

GRISSABELLE.blend




texturesGrisabelle_.zip
881
2021-10-29 01:52:16
42.65 MB
File contents:

textures/T_F_MED_Scholar_Ghoul_Body_M.png
textures/fortnite tears_dripping_b.png
textures/T_F_MED_Scholar_Ghoul_Acc_S.png
textures/T_F_MED_Scholar_Ghoul_Pink_Head_E.png
textures/grisabelle armss.png
textures/T_F_MED_Scholar_Ghoul_Pink_Hair_D.png
textures/T_F_MED_Scholar_Ghoul_Head_E.png
textures/Gens pink.jpg
textures/pink arms.png
textures/torso griss.jpg
textures/T_F_MED_Scholar_Ghoul_Pink_Head_N.png
textures/Thinfilm2.jpg
textures/T_F_MED_Scholar_Ghoul_Hair_S.png
textures/limbs arms pink.jpg
textures/limbs legs pink.jpg
textures/T_F_MED_Scholar_Ghoul_Body_N.png
textures/limbs arms griss.jpg
textures/T_F_MED_Scholar_Ghoul_Body_D.png
textures/T_F_MED_Scholar_Ghoul_Head_N.png
textures/T_F_MED_Scholar_Ghoul_Body_FX.png
textures/T_F_MED_Scholar_Ghoul_Hair_M.png
textures/T_F_MED_Scholar_Ghoul_Hair_FX.png
textures/T_F_MED_Scholar_Ghoul_Pink_Body_S.png
textures/T_F_MED_Scholar_Ghoul_Pink_Body_D.png
textures/limbs legs griss.jpg
textures/T_F_MED_Scholar_Ghoul_Acc_M.png
textures/torso pink.jpg
textures/T_F_MED_Scholar_Ghoul_Pink_Body_M.png
textures/Gens griss.jpg
textures/T_F_MED_Scholar_Ghoul_Hair_N.png
textures/T_F_MED_Scholar_Ghoul_Pink_Hair_M.png
textures/T_F_MED_Scholar_Ghoul_Acc_N.png
textures/fortnite mascara_dripping_b.png
textures/T_F_MED_Scholar_Ghoul_Pink_Hair_N.png
textures/T_F_MED_Scholar_Ghoul_Pink_Head_S.png
textures/T_F_MED_Scholar_Ghoul_Acc_FX.png
textures/test mask3.png
textures/T_F_MED_Scholar_Ghoul_Body_S.png
textures/T_F_MED_Scholar_Ghoul_Pink_Head_D.png
textures/fortnite mascara_smudged_a.png
textures/T_F_MED_Scholar_Ghoul_Head_S.png
textures/T_F_MED_Scholar_Ghoul_Pink_Body_N.png
textures/T_F_MED_Scholar_Ghoul_Hair_D.png
textures/T_F_MED_Scholar_Ghoul_Pink_Hair_S.png
textures/T_F_MED_Scholar_Ghoul_Pink_Head_M.png
textures/T_F_MED_Scholar_Ghoul_Head_D.png
textures/T_F_MED_Scholar_Ghoul_Head_M.png
textures/T_F_MED_Scholar_Ghoul_Acc_D.png
textures/T_F_MED_Scholar_Ghoul_Head sss.png