Adult content
This content is marked as Adult/NSFW content. You can toggle your preferences regarding this content type in your account settings.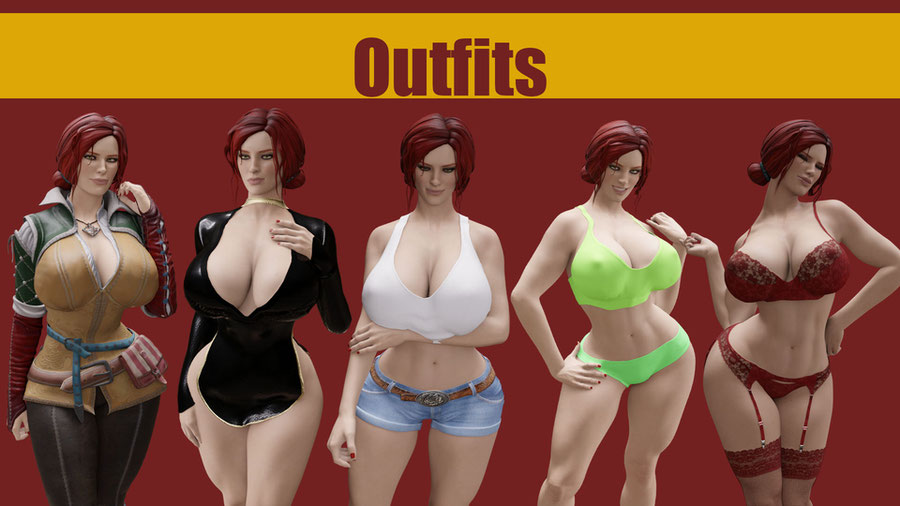 Show more
Description
Please Read!
!! The download contains an addon, please install it, it is used for controlling various features of the model. You don't need to install this again if you have installed the same previously, from my models (with file name '[boop]addon.zip').
Features
Pre-built expression sliders like Angry, Confused, Happy etc.
note: mophs in the FACS category do not work for this model.
New Facial Rig, easily animate faces, and make new expressions.
go to MHX Layers in the addon and enable custom to use facial rig.
Sliders for facial controls, no need to fiddle around with bones :)
Many morphs to customize her body including muscles, nipples etc.
Many outfits.
Futa option available, disabled by default.
see preview images
Notes & Tips
Turn viewport subdivision to 0 by enabling simplify in the render settings. Increases viewport performance, however keep the render subdivision at least 1.
In the viewport the body will clip through the clothing in some areas, but in the render it will be fine.
Use the 'Boobs Fit in Clothes' shape key of the body if the clothing is visible, it makes the boobs fit inside.
Body mesh has mask modifiers to hide arms and feet, enable them if arms or feet clip through clothing in some cases.
Known Issues
The Eyes Up-Down and Eyes Side-Side sliders don't work in the face units panel, but you can control the eyes from the rig by enabling the Head bone layer from MHX Layer (in the addon panel).
Got questions, suggestions or want to report bugs?
DM me on Twitter. You can also tag me in whatever you make with my models, would love to see them :)
---
Like my models? Buy me a coffee :)
---
Changelog
30-09-2021 : Initial upload.
SmutBase is a free service. However, it costs about $0.03 to deliver you a 1GB file. With over 20TB of traffic every month and growing, SmutBase needs your help. If only 1% of our users each gave us $5 for a single month, we could keep the site running for several years.
Filename
Downloads
Created
Filesize
Files
boopTriss_Merigold.rar
4060
2021-09-30 00:07:00
104.99 MB
File contents:

[boop]Triss Merigold/[boop]addon.zip
[boop]Triss Merigold/[boop]TrissMerigold.blend
[boop]Triss Merigold/textures 2k/TrishArmsMapD_1004.jpg
[boop]Triss Merigold/textures 2k/Eyes04.jpg
[boop]Triss Merigold/textures 2k/TrishLegsMapB_1003.jpg
[boop]Triss Merigold/textures 2k/p3dBLingerieGarterB.jpg
[boop]Triss Merigold/textures 2k/G8FBaseTorsoMapB_1002.jpg
[boop]Triss Merigold/textures 2k/GoldenPalace_Specularity.jpg
[boop]Triss Merigold/textures 2k/Dicktator_DK_S1_SM.jpg
[boop]Triss Merigold/textures 2k/GoldenPalace_Color.jpg
[boop]Triss Merigold/textures 2k/GoldenPalace_Translucency.jpg
[boop]Triss Merigold/textures 2k/G8_1TearOpacity.jpg
[boop]Triss Merigold/textures 2k/Triss Merigold Torso D.jpg
[boop]Triss Merigold/textures 2k/FRLavinia_EyesBump_1007.jpg
[boop]Triss Merigold/textures 2k/hair_red1_n.png
[boop]Triss Merigold/textures 2k/Dicktator_DK_DM02.jpg
[boop]Triss Merigold/textures 2k/Dicktator_DK_S1_DifM01a.jpg
[boop]Triss Merigold/textures 2k/Dicktator_DK_DM04.jpg
[boop]Triss Merigold/textures 2k/TrishTorsoMapS_1002.jpg
[boop]Triss Merigold/textures 2k/G8FBaseArmsMapB_1004.jpg
[boop]Triss Merigold/textures 2k/V8 EyesBump.jpg
[boop]Triss Merigold/textures 2k/p3dBLingeriePantyB.jpg
[boop]Triss Merigold/textures 2k/p3dBLingeriePantyTR.jpg
[boop]Triss Merigold/textures 2k/TrishArmsMapS_1004.jpg
[boop]Triss Merigold/textures 2k/p3dBLingerieStockingsS.jpg
[boop]Triss Merigold/textures 2k/hair_red1.jpg
[boop]Triss Merigold/textures 2k/Triss Merigold Face N.jpg
[boop]Triss Merigold/textures 2k/TrishTorsoMapD_1002.jpg
[boop]Triss Merigold/textures 2k/Triss Merigold Face D.jpg
[boop]Triss Merigold/textures 2k/Triss Merigold Torso N.jpg
[boop]Triss Merigold/textures 2k/p3dBLingeriePantyTX.jpg
[boop]Triss Merigold/textures 2k/GoldenPalace_WetMap.jpg
[boop]Triss Merigold/textures 2k/GoldenPalace_Trasparency.jpg
[boop]Triss Merigold/textures 2k/TrishLegsMapSSS_1003.jpg
[boop]Triss Merigold/textures 2k/Dicktator_DK_TM.jpg
[boop]Triss Merigold/textures 2k/G8_1FEyelashesNM.jpg
[boop]Triss Merigold/textures 2k/p3dBLingerieStockingsN.png
[boop]Triss Merigold/textures 2k/triss__b1_DXT1.png
[boop]Triss Merigold/textures 2k/TrishArmsMapB_1004.jpg
[boop]Triss Merigold/textures 2k/TrishMouthMapSSS_1005.jpg
[boop]Triss Merigold/textures 2k/CFresh_Shorts1b.jpg
[boop]Triss Merigold/textures 2k/TrishFaceMapSSS01_1001.jpg
[boop]Triss Merigold/textures 2k/TrishFace_NM_1001.tif
[boop]Triss Merigold/textures 2k/CFresh_Bootsb.jpg
[boop]Triss Merigold/textures 2k/Dicktator_DK_NM03.jpg
[boop]Triss Merigold/textures 2k/TrishMouthMapS_1005.jpg
[boop]Triss Merigold/textures 2k/p3dBLingerieBraTX.jpg
[boop]Triss Merigold/textures 2k/triss__b1_s_DXT5.png
[boop]Triss Merigold/textures 2k/p3dBLingerieGarterS.jpg
[boop]Triss Merigold/textures 2k/Dicktator_DK_DM03.jpg
[boop]Triss Merigold/textures 2k/p3dBLingerieGarterN.png
[boop]Triss Merigold/textures 2k/body_01_wa__triss_d01.xbm.(2988).png
[boop]Triss Merigold/textures 2k/G8FBaseMouthMapB_1005.jpg
[boop]Triss Merigold/textures 2k/G8FBaseFaceMapB_1001.jpg
[boop]Triss Merigold/textures 2k/FRLavinia_EyesNM.jpg
[boop]Triss Merigold/textures 2k/CFreshTankb.jpg
[boop]Triss Merigold/textures 2k/Dicktator_DK_DM01.jpg
[boop]Triss Merigold/textures 2k/CFresh_Shorts1.jpg
[boop]Triss Merigold/textures 2k/GoldenPalace_Displacement.jpg
[boop]Triss Merigold/textures 2k/TrishEyeMapB_1007.jpg
[boop]Triss Merigold/textures 2k/Dicktator_DK_NM01.jpg
[boop]Triss Merigold/textures 2k/TrishArmsMapSSS_1004.jpg
[boop]Triss Merigold/textures 2k/TrishLegs_NM_1003.tif
[boop]Triss Merigold/textures 2k/p3dBLingerieGarterTR.jpg
[boop]Triss Merigold/textures 2k/p3dBLingerieBraB.jpg
[boop]Triss Merigold/textures 2k/CFreshTank_White.jpg
[boop]Triss Merigold/textures 2k/Dicktator_DK_DM00.jpg
[boop]Triss Merigold/textures 2k/MTT_IO CUTO DR 01.jpg
[boop]Triss Merigold/textures 2k/Triss Merigold Arm N.jpg
[boop]Triss Merigold/textures 2k/G8_1FEyelashesO.jpg
[boop]Triss Merigold/textures 2k/GoldenPalace_NormalMap.jpg
[boop]Triss Merigold/textures 2k/MTT_IO CUTO DR 05N1.jpg
[boop]Triss Merigold/textures 2k/Dicktator_DK_NM02.jpg
[boop]Triss Merigold/textures 2k/MTT_IO CUTO DR 00 STn.jpg
[boop]Triss Merigold/textures 2k/p3dBLingerieStockingsTX.jpg
[boop]Triss Merigold/textures 2k/Triss Merigold Leg D.jpg
[boop]Triss Merigold/textures 2k/Dicktator_DK_S1_BM.jpg
[boop]Triss Merigold/textures 2k/necklace_02_wa__triss_n01.xbm.(3002).png
[boop]Triss Merigold/textures 2k/p3dBLingerieStockingsTR.jpg
[boop]Triss Merigold/textures 2k/Triss Merigold Arm D.jpg
[boop]Triss Merigold/textures 2k/necklace_02_wa__triss_d01.xbm.(3002).png
[boop]Triss Merigold/textures 2k/body_01_wa__triss_n01.xbm.(2988).png
[boop]Triss Merigold/textures 2k/Triss Merigold Leg N.jpg
[boop]Triss Merigold/textures 2k/TrishLegsMapD_1003.jpg
[boop]Triss Merigold/textures 2k/COG_Sports_Sneakers_BC.jpg
[boop]Triss Merigold/textures 2k/TrishTorsoMapSSS_1002.jpg
[boop]Triss Merigold/textures 2k/p3dBLingeriePantyN.png
[boop]Triss Merigold/textures 2k/COG_Sports_Sneakers_NM.jpg
[boop]Triss Merigold/textures 2k/p3dBLingeriePantyS.jpg
[boop]Triss Merigold/textures 2k/TrishArms_NM_1004.tif
[boop]Triss Merigold/textures 2k/TrishMouthMapB_1005.jpg
[boop]Triss Merigold/textures 2k/TrishFaceMapB_1001.jpg
[boop]Triss Merigold/textures 2k/TrishFaceMapS_1001.jpg
[boop]Triss Merigold/textures 2k/Dicktator_DK_NM07.jpg
[boop]Triss Merigold/textures 2k/TrishFaceMap09D_1001.jpg
[boop]Triss Merigold/textures 2k/p3dBLingerieStockingsB.jpg
[boop]Triss Merigold/textures 2k/p3dBLingerieBraS.jpg
[boop]Triss Merigold/textures 2k/TrishMouthMapD_1005.jpg
[boop]Triss Merigold/textures 2k/p3dBLingerieBraN.png
[boop]Triss Merigold/textures 2k/CFresh_Boots.jpg
[boop]Triss Merigold/textures 2k/G8FBaseLegsMapB_1003.jpg
[boop]Triss Merigold/textures 2k/TrishTorsoMapB_1002.jpg
[boop]Triss Merigold/textures 2k/body_01_wa__triss_s01.xbm.(2988).png
[boop]Triss Merigold/textures 2k/p3dBLingerieBraTR.jpg
[boop]Triss Merigold/textures 2k/hair_red1_s.png
[boop]Triss Merigold/textures 2k/TrishLegsMapS_1003.jpg
[boop]Triss Merigold/textures 2k/TrishCorneaMapC_1007.jpg
[boop]Triss Merigold/textures 2k/p3dBLingerieGarterTX.jpg
[boop]Triss Merigold/textures 2k/hair_red1.png
[boop]Triss Merigold/textures 2k/FRLavinia_Eyes04_1007.jpg
[boop]Triss Merigold/textures 2k/Dicktator_DK_NM04.jpg
[boop]Triss Merigold/textures 2k/Dicktator_DK_NM00.jpg
[boop]Triss Merigold/textures 2k/TrishTorso_NM_1002.tif
[boop]Triss Merigold/textures 2k/TrishEyeMapD03_1007.jpg
[boop]Triss Merigold/textures 2k/G8FBaseMouthMapD_1005.jpg
[boop]Triss Merigold/textures 2k/triss__b1_n_DXT5.png