Adult content
This content is marked as Adult/NSFW content. You can toggle your preferences regarding this content type in your account settings.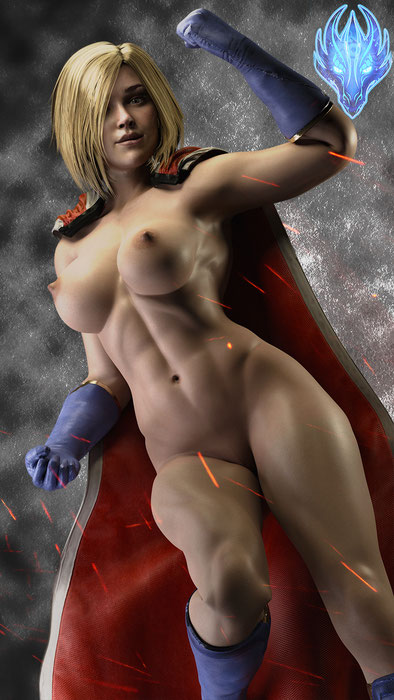 Description
Power girl from injustice 2 ~
Got paid via commission to do this up.
The commissioner has been generous to release it to the public as well.
So here we are
1.1:
updated boob + butt physics values!
1.2:
Fixed scale to rotate on IK fingers. Bending wrong way

Fixed scaling down root bone causing a neck bone to stretch

Added summer outfit

Improved weighting in some areas of her

Warning new outfit contains slightly high polys. Recommended to have them disabled for use until rendering/final stage of your workflow
Credits:
its-gergless:
https://twitter.com/its_gergless
Okazaki (textures, materials fixed up):
https://twitter.com/OkazakiModels
If any problems occur, please let me know :D. DO NOT PUT IT IN THE COMMENTS
DM ME DIRECTLY!
FORGOT TO MENTION, DRIVERS ARE IN USE. SEE THE ROOT BONES PROPERTIES FOR DETAILS!
CURRENT BUG! FILE IS CORRUPT FOR BLENDER 2.93. THIS PROJECT WAS MADE IN 3.0 RECOMMENDED. I CAN'T FIND A FIX, YOU MAY HAVE TO UPDATE YOUR BLENDER TO 3.0 FOR USE
SmutBase is a free service. However, it costs about $0.03 to deliver you a 1GB file. With over 20TB of traffic every month and growing, SmutBase needs your help. If only 1% of our users each gave us $5 for a single month, we could keep the site running for several years.
Filename
Downloads
Created
Filesize
Files
PowerGirlCommissionFinal_1.2.blend
2975
2021-11-12 15:45:32
65.98 MB
POWERGIRLTEXTURES_1.2.zip
2550
2021-11-12 15:45:46
254.4 MB
File contents:

textures/LNA_IASumM1_Navy_gloss.png
textures/LNA_IASumM3_Navy_metalness.png
textures/MbM--MollyFull--TorsoS_1002.jpg
textures/MouthS.png
textures/MbM--MollyAnatomy--Gens_1009.jpg
textures/SuitS.png
textures/MbM--MollyFull--TorsoSSS_1002.jpg
textures/MbM--MollyFull--Legs_1003.jpg
textures/CapeS.png
textures/MbM--MollyFull--TorsoB_1002.jpg
textures/LNA_IASumM3_Navy_normal.png
textures/MbM--MollyFull--Torso_1002.jpg
textures/HairN.png
textures/Pei Torso Normals 00.jpg
textures/CapeN.png
textures/Suit.png
textures/LNA_IASumM3_Navy_specular.png
textures/MbM--MollyFull--ArmsSSS_1004.jpg
textures/HairS.png
textures/MbM--MollyFull--Arms_1004.jpg
textures/MbM--MollyFull--LegsSSS_1003.jpg
textures/LNA_IASumM3_Navy_gloss.png
textures/LNA_IASumM1_Bl_normal.png
textures/LNA_IASumM2_Bl_albedo.png
textures/LNA_IASumM1_Bl_albedo.png
textures/Pei Arms Normals 00.jpg
textures/MbM--MollyFull--LegsB_1003.jpg
textures/EyesMouth_SM.png
textures/HeadS.png
textures/MbM--MollyAnatomy--GensS_1009.jpg
textures/HeadN.png
textures/EyesMouth_D.png
textures/LNA_IASumM3_Bl_albedo.png
textures/Mouth.png
textures/LNA_IASumM2_Bl_normal.png
textures/Cape.png
textures/Head.png
textures/Hair.tga
textures/LNA_IASumM2_Navy_specular.png
textures/PG_Hair_Alpha.png
textures/MbM--MollyFull--ArmsS_1004.jpg
textures/MbM--MollyFull--LegsS_1003.jpg
textures/Hair.png
textures/MouthN.png
textures/SuitN.png
textures/MbM--MollyAnatomy--GensB_1009.jpg
textures/SuitL.png
textures/LNA_IASumM2_Navy_gloss.png
textures/MbM--MollyAnatomy--GensSSS_1009.jpg
textures/MbM--MollyFull--ArmsB_1004.jpg
textures/Pei Legs Normals 00.jpg
textures/LNA_IASumM1_Navy_specular.png