Adult content
This content is marked as Adult/NSFW content. You can toggle your preferences regarding this content type in your account settings.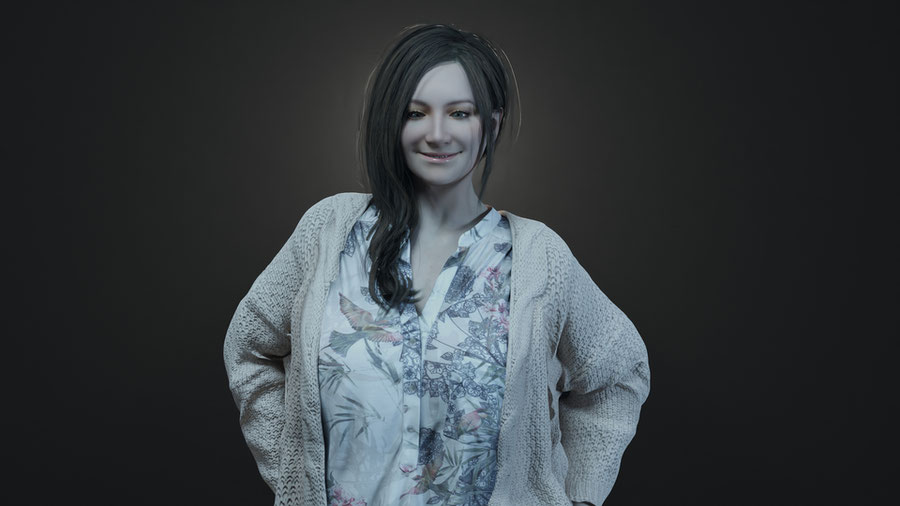 Show more
Description
PLEASE READ description:
Mia Winters...
Requirements for Proper Model Behavior:
Outfits & Hair: She comes with 8 outfits to choose from. May add more in the future. Mia's Default outfit is functional and provides shapekeys to open blouse and open blouse fully. If you decide to only use cardigan there is a shapekey to fit her nude body more accurately. Do keep in mind that it is functional but not perfect. There will be weight issues that I will address soon. All of her additional outfits should work just fine. The model also includes shapekeys for almost each outfit. There are two hairstyles to utilize one which has shapekeys that manipulate the hair in a lot of different ways.
Mia Model: Has a lot of morphing features. Emotion morphs, posing morphs and drivers. Next update I will try to include body morphs.
RIG: There are custom bones that control all portions of the breast and glutes. There is also a displacement bone to utilize for impact on the glute area. The default hair has been re-rigged but works fine. This will be improved upon next release along with rig for the lower portion of her cardigan. I would recommend using shapekeys until then. There are also genital bone controllers as well as shape keys to gain realistic manipulations.
Performance: The model looks best in cycles but with basic settings looks pretty nice in Eevee as well. A few things that will help speed up performance and viewport:
Make sure sub surf modifiers are off on both hair models
Disable external morphs in the UI
If you are working with just one outfit make sure to disable all other outfits in the viewport. The UI will hide them but double check to make sure all other items that are not in use are hidden from the viewport.
Turn off displacement in the modifiers tab. Make sure to disable the vertex weight modifiers, the displace, and corrective smooth modifier if you are not going to use them.
If you want faster speeds with Version 3, Append the outfit for your project in a separate blend file. Or shape the body with the shape key morphs and convert it into one shape and delete the shape keys on the out fits to weigh the file down less.
Masks: Do remember to turn off according mask in the modifiers panel if you will utilize open blouse or raised shirts shapekeys. Also recommend using turning on subsurf for those shapekeys. You will need to manually enable the mask for the stockings if you will be utilizing the Pumps (Heels). Will add a driver soon.
Update: Version 5 (Updated Body's Mask Modifier Black Artifacts. Updated shaders so they would not produce the black artifacts when masks are enabled.The site's uploader is currently down so here is a link to the fix. https://mega.nz/folder/ztl0VIDI#xbPFg7vBy1DoRjpmjK8s5Q
Update: Version 6 Textures have been updated. Reported missing textures fixed.
Update: Version 6 (No texture changes, updated Weights to fix blouse and pants not following rig and body).
Update: Version 5 (No Texture changes, updated Pants shapekeys and blouse mask modifier).
Update: Version 4 (Updated textures included all in one download)
Added Mia Default RE7 Outfit

Fixed Minor issues

Added Drivers for Stocking and Heels Masks

Decreased some of the textures file size without sacrificing quality to hopefully help blender run a bit smoother.
Also since for some reason it still didn't save the parenting fix, please parent Main Stomach Jiggle bone to hip and then parent the upper, lower, left and right jiggle bone to the main bone. That will fix the stomach Jiggles. A simple fix. No need to upload a fix and download new files.
Update: Version 3 (Highly recommend downloading this version, no need to re-download textures, only the quick fix if you haven't already).
Added body morphs for body and all outfits.

Fixed Stomach parenting issues
Update: Texture Quick Fix
Added textures fixes Mia's shoes and wedding ring on the default outfit. The textures were missing. This fix is a small download so it will not take a long time. Please just copy and paste into your original Mia Winters textures folder.
Update: version 2
Fixed Eevee eyelash issue, eyelashes would not be visible from certain angles

Fixed Eevee skin shader, vein texture misbehaving, so I turned it off. A full fix for it in due time.

Added Brighter Iris and Sclera texture for cycles. Eyes were a bit dark. ONLY REPLACE IRIS AND SCLERA TEXTURES WITH THE ACCORDING NEW EYE TEXTURES. In the node section make sure you only change Mia Winters - Eye Diffuse node. Note the textures only need to be downloaded if you are not happy with the current brightness level of the eyes.
Support:
Shout out to Mustard for the amazing UI: https://twitter.com/MustardSFM
Mother Miranda will be uploaded in due time...
SmutBase is a free service. However, it costs about $0.03 to deliver you a 1GB file. With over 20TB of traffic every month and growing, SmutBase needs your help. If only 1% of our users each gave us $5 for a single month, we could keep the site running for several years.
Filename
Downloads
Created
Filesize
Files
mia_winters_public_release_V6_Textures_Update.rar
2383
2022-01-22 09:43:30
289.6 MB
File contents:

textures/G3M face_Schweiss von Hand 1 opacity.jpg
textures/Mia-Winters-Torso-Diffuse2.png
textures/Mia_Eyelashes_D-cut.png
textures/Stocking Cutout.png
textures/Metal_Height.png
textures/PL_u1v1_rough.jpg
textures/Panties Bump.png
textures/Stocking Bump.png
textures/G8FBaseTorsoMapB_1002.jpg
textures/GoldenPalace_Specularity.jpg
textures/Metal_Metallic.png
textures/GoldenPalace_Color.jpg
textures/Stocking1_BaseColor.png
textures/GoldenPalace_Translucency.jpg
textures/PL_u2v1_opacity1.jpg
textures/Default_Height.png
textures/Mia_LowerBody_D.png
textures/Stocking Transparency.jpg
textures/G3M legs_Schweiss opa.jpg
textures/Stocking1_Height.png
textures/G8FBaseArmsMapB_1004.jpg
textures/G8FBaseEyelashes_1006.jpg
textures/Mia_LowerBody_N.png
textures/Garter Roughness.png
textures/Mia Winters Head L.png
textures/G3M arms_Schweiss disp.jpg
textures/Metal_Roughness.png
textures/Mia Winters Head Normal.png
textures/Mia_Ring_L.png
textures/Mia_UpperBody_D.png
textures/tartan_skirt_tex.jpg
textures/Mia_HairB_S.png
textures/Panties Cutout.png
textures/GoldenPalace_WetMap.jpg
textures/GoldenPalace_Trasparency.jpg
textures/Bra Roughness.png
textures/G3M torso_Schweiss disp.jpg
textures/Mia_UpperBody_N.png
textures/Garter Cutout.png
textures/SSRH_u1_v1_normal.png
textures/Stocking1_Normal.png
textures/em2000_body_atlas_nrmr.tex2.tif
textures/Stomach.png
textures/G8FBaseEyes01_1007.jpg
textures/Metal_Normal.png
textures/Stocking1_Metallic.png
textures/PL_u1v1_normal.jpg
textures/G8FBaseFaceMapS_1001.jpg
textures/em2000_body_atlas_specm.tex2.tif
textures/SSRH_u1_v1_opacity.png
textures/Default_BaseColor.png
textures/schwarz.jpg
textures/G8FBaseMouthMapB_1005.jpg
textures/G8FBaseFaceMapB_1001.jpg
textures/Legs_Displacement.jpg
textures/Fabric_BaseColor.png
textures/Aubrey8_Legs_NM_1003.tif
textures/pl2100_body_albm2.tex.tif
textures/Default_Roughness.png
textures/pl2100_body_nrmr.tex.tif
textures/em2000_body_atlas_albm.tex3.png
textures/Default_Metallic.png
textures/GoldenPalace_Displacement.jpg
textures/Mia Winters Arms Diffuse.png
textures/G3M face_Schweiss von Hand.jpg
textures/GoldenPalace_NormalMap.jpg
textures/Fabric_Metallic.png
textures/Mia_Ring_N.png
textures/Mia_UpperBody_S.png
textures/PL_u1v1_overlayMask.jpg
textures/Bra Cutout.png
textures/Metal_BaseColor.png
textures/Aubrey8_Arms_NM_1004.tif
textures/Mia Winters Head Diffuse.png
textures/G8FBaseEyesB_1007.jpg
textures/Default_Normal.png
textures/Fabric_Height.png
textures/StomachT.png
textures/Mia_LowerBody_S.png
textures/G8FBaseLegsMapS_1003.jpg
textures/Mia Winters Head Roughness.png
textures/G8FBaseTorsoMapS_1002.jpg
textures/Stocking1_Roughness.png
textures/Gloves Transparency.jpg
textures/Fabric_Normal.png
textures/G3M arms_Schweiss opa.jpg
textures/Mia_Ring_R.png
textures/Panties Roughness.png
textures/Torso_Displacement.jpg
textures/G8FBaseArmsMapS_1004.jpg
textures/Fabric_Roughness.png
textures/Stocking Roughness.png
textures/Mia_Ring_D.png
textures/SSRH_u1_v1_baseDiffuse.jpg
textures/G8FBaseLegsMapB_1003.jpg
textures/Mia_HairB_D-cut.png
textures/Mia_Ring_S.png
textures/PL_u2v1_Bump1.jpg
textures/Mia Winters Legs Diffuse.png
textures/PL_u1v1_color.jpg
textures/G3M torso_Schweiss opa.jpg
textures/Body Transparency.jpg
textures/Mia-Winters-Eye-Diffuse.jpg
textures/Mia-Winters-Head-Diffuse2.png
textures/Aubrey8_Torso_NM_1002.tif
textures/Mia Winters Torso Diffuse.png
textures/Mia_Eyelashes_O.png
textures/Mia_LowerBody_L.png
textures/Garter Bump.png
textures/Mia_Ring_M.png
textures/Mia_HairB_N.png
textures/Bra Bump.png
textures/Mia_UpperBody_L.png
textures/em2000_body_atlas_albm.tex2.tif
textures/pl2100_body_specm.tex.tif
textures/G8FBaseMouthMapD_1005.jpg
textures/G3M legs_Schweiss disp.jpg




mia_winters_public_release_V6.rar
2140
2021-12-18 23:20:36
110.74 MB
File contents:

mia winters public release V6.blend




mia_winters_public_release_V5_Hk2ZFFd.rar
732
2021-12-17 17:24:16
111.0 MB
File contents:

mia winters public release V5.blend




Body_Mask_Modifiers_Black_Artifact_Fix.rar
820
2021-11-18 01:16:00
158.95 KB
File contents:

Body Mask Modifier's Black Artifact Fix/Body Mask Modifier's Black Artifact Fix/Reference 1.jpg
Body Mask Modifier's Black Artifact Fix/Body Mask Modifier's Black Artifact Fix/Reference 2.jpg
Body Mask Modifier's Black Artifact Fix/Body Mask Modifier's Black Artifact Fix/Fix!!!Readme.txt




Mia_Winters_Public_Release_V4.rar
1524
2021-10-10 09:08:10
371.23 MB
File contents:

mia winters public release V4.blend
Textures All.rar




Textures_Quick_Fix.rar
1432
2021-09-22 16:29:44
19.4 MB
File contents:

Textures_Quick_Fix/Extras/Mia_UpperBody_M.png
Textures_Quick_Fix/Extras/Mia_UpperBody_C.png
Textures_Quick_Fix/Extras/Mia_UpperBody_R.png
Textures_Quick_Fix/Extras/Mia_LowerBody_R.png
Textures_Quick_Fix/Extras/Mia_LowerBody_ATO.png
Textures_Quick_Fix/Extras/Mia_UpperBody_ATO.png
Textures_Quick_Fix/Extras/Mia_UpperBody_O.png
Textures_Quick_Fix/Extras/Mia_UpperBody_MSK.png
Textures_Quick_Fix/Extras/Mia_UpperBody_L.png
Textures_Quick_Fix/Fix/Mia_Ring_L.png
Textures_Quick_Fix/Fix/Mia_Ring_N.png
Textures_Quick_Fix/Fix/Mia_Ring_R.png
Textures_Quick_Fix/Fix/Mia_Ring_D.png
Textures_Quick_Fix/Fix/Mia_Ring_ATO.png
Textures_Quick_Fix/Fix/Mia_Ring_S.png
Textures_Quick_Fix/Fix/Mia_LowerBody_L.png
Textures_Quick_Fix/Fix/Mia_Ring_M.png




mia_winters_public_release_V3.rar
976
2021-09-22 22:49:43
197.58 MB
File contents:

mia winters public release V3.blend




Textures_V2.rar
1293
2021-09-21 22:11:11
200.93 MB
File contents:

Textures/Mia Winters Textures/G3M face_Schweiss von Hand 1 opacity.jpg
Textures/Mia Winters Textures/Mia_Eyelashes_D-cut.png
Textures/Mia Winters Textures/Stocking Cutout.png
Textures/Mia Winters Textures/PL_u1v1_rough.jpg
Textures/Mia Winters Textures/Panties Bump.png
Textures/Mia Winters Textures/Stocking Bump.png
Textures/Mia Winters Textures/G8FBaseTorsoMapB_1002.jpg
Textures/Mia Winters Textures/GoldenPalace_Specularity.jpg
Textures/Mia Winters Textures/GoldenPalace_Color.jpg
Textures/Mia Winters Textures/Stocking1_BaseColor.png
Textures/Mia Winters Textures/GoldenPalace_Translucency.jpg
Textures/Mia Winters Textures/PL_u2v1_opacity1.jpg
Textures/Mia Winters Textures/Default_Height.png
Textures/Mia Winters Textures/Mia_LowerBody_D.png
Textures/Mia Winters Textures/Stocking Transparency.jpg
Textures/Mia Winters Textures/G3M legs_Schweiss opa.jpg
Textures/Mia Winters Textures/Mia Winters Head Normal Wrap.png
Textures/Mia Winters Textures/Stocking1_Height.png
Textures/Mia Winters Textures/G8FBaseArmsMapB_1004.jpg
Textures/Mia Winters Textures/Mia_LowerBody_N.png
Textures/Mia Winters Textures/Garter Roughness.png
Textures/Mia Winters Textures/G8FBaseEyes01_1007-Iris-Brighter.jpg
Textures/Mia Winters Textures/G3M arms_Schweiss disp.jpg
Textures/Mia Winters Textures/PL_u1v1_color2.jpg
Textures/Mia Winters Textures/Mia_UpperBody_D.png
Textures/Mia Winters Textures/PL_u2v1_normal2.jpg
Textures/Mia Winters Textures/tartan_skirt_tex.jpg
Textures/Mia Winters Textures/Mia_HairB_S.png
Textures/Mia Winters Textures/Panties Cutout.png
Textures/Mia Winters Textures/Arms_Displacement.jpg
Textures/Mia Winters Textures/GoldenPalace_WetMap.jpg
Textures/Mia Winters Textures/GoldenPalace_Trasparency.jpg
Textures/Mia Winters Textures/Bra Roughness.png
Textures/Mia Winters Textures/G3M torso_Schweiss disp.jpg
Textures/Mia Winters Textures/Mia_UpperBody_N.png
Textures/Mia Winters Textures/Garter Cutout.png
Textures/Mia Winters Textures/Stocking1_Normal.png
Textures/Mia Winters Textures/Stomach.png
Textures/Mia Winters Textures/G8FBaseEyes01_1007.jpg
Textures/Mia Winters Textures/PL_u1v1_Metal.jpg
Textures/Mia Winters Textures/Stocking1_Metallic.png
Textures/Mia Winters Textures/PL_u1v1_normal.jpg
Textures/Mia Winters Textures/G8FBaseFaceMapS_1001.jpg
Textures/Mia Winters Textures/PL_u1v1_Glitter.jpg
Textures/Mia Winters Textures/PL_u2v1_Bump2.jpg
Textures/Mia Winters Textures/Default_BaseColor.png
Textures/Mia Winters Textures/schwarz.jpg
Textures/Mia Winters Textures/G8FBaseMouthMapB_1005.jpg
Textures/Mia Winters Textures/G8FBaseFaceMapB_1001.jpg
Textures/Mia Winters Textures/Legs_Displacement.jpg
Textures/Mia Winters Textures/Fabric_BaseColor.png
Textures/Mia Winters Textures/Default_Roughness.png
Textures/Mia Winters Textures/Default_Metallic.png
Textures/Mia Winters Textures/GoldenPalace_Displacement.jpg
Textures/Mia Winters Textures/Mia Winters Arms Diffuse.png
Textures/Mia Winters Textures/PL_u1v1_color_mask.jpg
Textures/Mia Winters Textures/G3M face_Schweiss von Hand.jpg
Textures/Mia Winters Textures/GoldenPalace_NormalMap.jpg
Textures/Mia Winters Textures/Fabric_Metallic.png
Textures/Mia Winters Textures/Mia_UpperBody_S.png
Textures/Mia Winters Textures/G3M gens_Schweiss disp.jpg
Textures/Mia Winters Textures/PL_u1v1_overlayMask.jpg
Textures/Mia Winters Textures/Bra Cutout.png
Textures/Mia Winters Textures/Mia Winters Head Diffuse.png
Textures/Mia Winters Textures/G8FBaseEyesB_1007.jpg
Textures/Mia Winters Textures/Default_Normal.png
Textures/Mia Winters Textures/Fabric_Height.png
Textures/Mia Winters Textures/StomachT.png
Textures/Mia Winters Textures/Face_Displacement.jpg
Textures/Mia Winters Textures/Mia_LowerBody_S.png
Textures/Mia Winters Textures/G8FBaseLegsMapS_1003.jpg
Textures/Mia Winters Textures/G8FBaseTorsoMapS_1002.jpg
Textures/Mia Winters Textures/Stocking1_Roughness.png
Textures/Mia Winters Textures/Tropfen disp.jpg
Textures/Mia Winters Textures/Gloves Transparency.jpg
Textures/Mia Winters Textures/Fabric_Normal.png
Textures/Mia Winters Textures/G3M arms_Schweiss opa.jpg
Textures/Mia Winters Textures/PL_u2v1_opacity2.jpg
Textures/Mia Winters Textures/Panties Roughness.png
Textures/Mia Winters Textures/Torso_Displacement.jpg
Textures/Mia Winters Textures/Tropfen opa.jpg
Textures/Mia Winters Textures/G8FBaseArmsMapS_1004.jpg
Textures/Mia Winters Textures/GoldenPalace_Trasparency2.jpg
Textures/Mia Winters Textures/Fabric_Roughness.png
Textures/Mia Winters Textures/Stocking Roughness.png
Textures/Mia Winters Textures/G8FBaseLegsMapB_1003.jpg
Textures/Mia Winters Textures/Mia_HairB_D-cut.png
Textures/Mia Winters Textures/PL_u2v1_Bump1.jpg
Textures/Mia Winters Textures/GoldenPalace_Trasparency1.jpg
Textures/Mia Winters Textures/Mia Winters Legs Diffuse.png
Textures/Mia Winters Textures/PL_u1v1_color.jpg
Textures/Mia Winters Textures/G3M torso_Schweiss opa.jpg
Textures/Mia Winters Textures/Body Transparency.jpg
Textures/Mia Winters Textures/G3M gens_Schweiss opa.jpg
Textures/Mia Winters Textures/Mia-Winters-Eye-Diffuse.jpg
Textures/Mia Winters Textures/Mia Winters Torso Diffuse.png
Textures/Mia Winters Textures/G8FBaseEyes01_1007-Sclera-Brighter.jpg
Textures/Mia Winters Textures/Mia_Eyelashes_O.png
Textures/Mia Winters Textures/Garter Bump.png
Textures/Mia Winters Textures/Mia_HairB_N.png
Textures/Mia Winters Textures/Mia_Eyelashes_D.png
Textures/Mia Winters Textures/Bra Bump.png
Textures/Mia Winters Textures/G8FBaseMouthMapD_1005.jpg
Textures/Mia Winters Textures/G3M legs_Schweiss disp.jpg
Textures/Mia Winters Textures/GoldenPalace_Trasparency3.jpg




mia_winters_public_release_final_V2.rar
758
2021-09-21 22:11:03
81.19 MB
File contents:

mia winters public release final.blend




Textures_xURxlD6.rar
1054
2021-09-20 07:57:29
194.86 MB
File contents:

Textures/Mia Winters Textures/G3M face_Schweiss von Hand 1 opacity.jpg
Textures/Mia Winters Textures/Mia_Eyelashes_D-cut.png
Textures/Mia Winters Textures/Stocking Cutout.png
Textures/Mia Winters Textures/PL_u1v1_rough.jpg
Textures/Mia Winters Textures/Panties Bump.png
Textures/Mia Winters Textures/Stocking Bump.png
Textures/Mia Winters Textures/G8FBaseTorsoMapB_1002.jpg
Textures/Mia Winters Textures/GoldenPalace_Specularity.jpg
Textures/Mia Winters Textures/GoldenPalace_Color.jpg
Textures/Mia Winters Textures/Stocking1_BaseColor.png
Textures/Mia Winters Textures/GoldenPalace_Translucency.jpg
Textures/Mia Winters Textures/PL_u2v1_opacity1.jpg
Textures/Mia Winters Textures/Default_Height.png
Textures/Mia Winters Textures/Mia_LowerBody_D.png
Textures/Mia Winters Textures/Stocking Transparency.jpg
Textures/Mia Winters Textures/G3M legs_Schweiss opa.jpg
Textures/Mia Winters Textures/Mia Winters Head Normal Wrap.png
Textures/Mia Winters Textures/Stocking1_Height.png
Textures/Mia Winters Textures/G8FBaseArmsMapB_1004.jpg
Textures/Mia Winters Textures/Mia_LowerBody_N.png
Textures/Mia Winters Textures/Garter Roughness.png
Textures/Mia Winters Textures/G3M arms_Schweiss disp.jpg
Textures/Mia Winters Textures/PL_u1v1_color2.jpg
Textures/Mia Winters Textures/Mia_UpperBody_D.png
Textures/Mia Winters Textures/PL_u2v1_normal2.jpg
Textures/Mia Winters Textures/tartan_skirt_tex.jpg
Textures/Mia Winters Textures/Mia_HairB_S.png
Textures/Mia Winters Textures/Panties Cutout.png
Textures/Mia Winters Textures/Arms_Displacement.jpg
Textures/Mia Winters Textures/GoldenPalace_WetMap.jpg
Textures/Mia Winters Textures/GoldenPalace_Trasparency.jpg
Textures/Mia Winters Textures/Bra Roughness.png
Textures/Mia Winters Textures/G3M torso_Schweiss disp.jpg
Textures/Mia Winters Textures/Mia_UpperBody_N.png
Textures/Mia Winters Textures/Garter Cutout.png
Textures/Mia Winters Textures/Stocking1_Normal.png
Textures/Mia Winters Textures/Stomach.png
Textures/Mia Winters Textures/G8FBaseEyes01_1007.jpg
Textures/Mia Winters Textures/PL_u1v1_Metal.jpg
Textures/Mia Winters Textures/Stocking1_Metallic.png
Textures/Mia Winters Textures/PL_u1v1_normal.jpg
Textures/Mia Winters Textures/G8FBaseFaceMapS_1001.jpg
Textures/Mia Winters Textures/PL_u1v1_Glitter.jpg
Textures/Mia Winters Textures/PL_u2v1_Bump2.jpg
Textures/Mia Winters Textures/Default_BaseColor.png
Textures/Mia Winters Textures/schwarz.jpg
Textures/Mia Winters Textures/G8FBaseMouthMapB_1005.jpg
Textures/Mia Winters Textures/G8FBaseFaceMapB_1001.jpg
Textures/Mia Winters Textures/Legs_Displacement.jpg
Textures/Mia Winters Textures/Fabric_BaseColor.png
Textures/Mia Winters Textures/Default_Roughness.png
Textures/Mia Winters Textures/Default_Metallic.png
Textures/Mia Winters Textures/GoldenPalace_Displacement.jpg
Textures/Mia Winters Textures/Mia Winters Arms Diffuse.png
Textures/Mia Winters Textures/PL_u1v1_color_mask.jpg
Textures/Mia Winters Textures/G3M face_Schweiss von Hand.jpg
Textures/Mia Winters Textures/GoldenPalace_NormalMap.jpg
Textures/Mia Winters Textures/Fabric_Metallic.png
Textures/Mia Winters Textures/Mia_UpperBody_S.png
Textures/Mia Winters Textures/G3M gens_Schweiss disp.jpg
Textures/Mia Winters Textures/PL_u1v1_overlayMask.jpg
Textures/Mia Winters Textures/Bra Cutout.png
Textures/Mia Winters Textures/Mia Winters Head Diffuse.png
Textures/Mia Winters Textures/G8FBaseEyesB_1007.jpg
Textures/Mia Winters Textures/Default_Normal.png
Textures/Mia Winters Textures/Fabric_Height.png
Textures/Mia Winters Textures/StomachT.png
Textures/Mia Winters Textures/Face_Displacement.jpg
Textures/Mia Winters Textures/Mia_LowerBody_S.png
Textures/Mia Winters Textures/G8FBaseLegsMapS_1003.jpg
Textures/Mia Winters Textures/G8FBaseTorsoMapS_1002.jpg
Textures/Mia Winters Textures/Stocking1_Roughness.png
Textures/Mia Winters Textures/Tropfen disp.jpg
Textures/Mia Winters Textures/Gloves Transparency.jpg
Textures/Mia Winters Textures/Fabric_Normal.png
Textures/Mia Winters Textures/G3M arms_Schweiss opa.jpg
Textures/Mia Winters Textures/PL_u2v1_opacity2.jpg
Textures/Mia Winters Textures/Panties Roughness.png
Textures/Mia Winters Textures/Torso_Displacement.jpg
Textures/Mia Winters Textures/Tropfen opa.jpg
Textures/Mia Winters Textures/G8FBaseArmsMapS_1004.jpg
Textures/Mia Winters Textures/GoldenPalace_Trasparency2.jpg
Textures/Mia Winters Textures/Fabric_Roughness.png
Textures/Mia Winters Textures/Stocking Roughness.png
Textures/Mia Winters Textures/G8FBaseLegsMapB_1003.jpg
Textures/Mia Winters Textures/Mia_HairB_D-cut.png
Textures/Mia Winters Textures/PL_u2v1_Bump1.jpg
Textures/Mia Winters Textures/GoldenPalace_Trasparency1.jpg
Textures/Mia Winters Textures/Mia Winters Legs Diffuse.png
Textures/Mia Winters Textures/PL_u1v1_color.jpg
Textures/Mia Winters Textures/G3M torso_Schweiss opa.jpg
Textures/Mia Winters Textures/Body Transparency.jpg
Textures/Mia Winters Textures/G3M gens_Schweiss opa.jpg
Textures/Mia Winters Textures/Mia-Winters-Eye-Diffuse.jpg
Textures/Mia Winters Textures/Mia Winters Torso Diffuse.png
Textures/Mia Winters Textures/Mia_Eyelashes_O.png
Textures/Mia Winters Textures/Garter Bump.png
Textures/Mia Winters Textures/Mia_HairB_N.png
Textures/Mia Winters Textures/Mia_Eyelashes_D.png
Textures/Mia Winters Textures/Bra Bump.png
Textures/Mia Winters Textures/G8FBaseMouthMapD_1005.jpg
Textures/Mia Winters Textures/G3M legs_Schweiss disp.jpg
Textures/Mia Winters Textures/GoldenPalace_Trasparency3.jpg




Mia_Winters_Public_Release.rar
1015
2021-09-20 07:57:20
163.67 MB
File contents:

mia winters public release final.blend1
mia winters public release final.blend