Adult content
This content is marked as Adult/NSFW content. You can toggle your preferences regarding this content type in your account settings.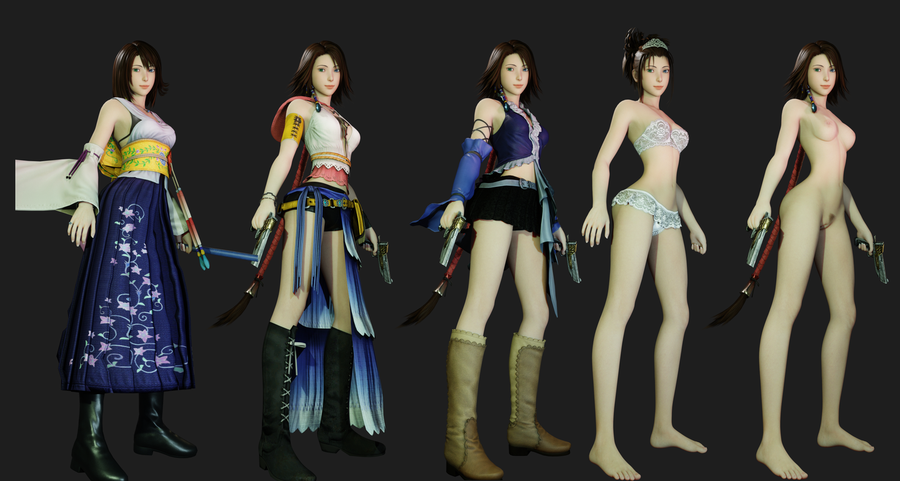 Show more
Description
1.This model Includes
Dedicated MustardUI menu
Autorig-pro armature
Eight Attires
Custom Armature layers for skirts and clothes
Makeup, Nail colors, Runny makeup, Skin details and wetness sliders
Weapons, Crown as extras
Particle pubic hair
Three hairstyles
Genital bones for posing and open shapekeys
Multiple Body Shapekeys (sliders on MustardUI menu)
FAQ and troubleshooting
- This model is compatible with Blender 3.4.0 and newer versions, 
loading it in any of the previous version may not work.
- If you want to see better detail for muscle shapekeys, turn smooth corrective off.
- Activate the "Advanced" Bone Armature Layer to see more bone options for the 
Torso and limbs.
- Save the blend file in the same folder you chose to extract the "textures.7z" file. 
Open blend file after you extracted the zip, if you still managed to get missing textures, 
go to "File>External Data>Find Missing Files", then select the textures folder, and save.
- For Final Fantasy 7 Remake models hair usually needs about 28 transparency 
samples to avoid black artifacts in the hair meshes in Cycles.
- The Rig tools (version 3.67.12) add-on is required to have access to the "head/neck follow lock" 
and "IK-FK", snapping settings for limbs in the active workspace and tool menu.  
(If you have the full version of Auto-rig pro don't install this, this is 
only required for animators that don't own the full version)
- Install rig-tools like any add-on (preferences>Add-ons>Install>select zip
(press the check box to activate.)
- If you have questions about how to utilize the ARP rig, check the rig's FAQ page: 
http://www.lucky3d.fr/auto-rig-pro/doc/rig_behaviour_doc.html#rig-usage
- IF you have any problems with the UI menu, check out Mustard's FAQ page
(https://github.com/Mustard2/MustardUI/wiki/Users-FAQs) 
- Use 7zip to extract the textures to avoid any issues.
- If you got missing textures (pink) check out this tutorial: 
https://www.youtube.com/watch?v=rWrj3jud0w8
- If you still got missing textures it's most likely your zip file containing the 
textures got damaged during thedownload and some texture files were damaged, 
try downloading again.


CHANGELOG:
[Version 2]
Fixed weights in the armpits area in the body and all clothes
Updated MustardUI menu
Fixed bones wrongly parented in the Kimono dress
[Version 3]
Added Eyebrows mesh
Updated Hair shaders
Updated MustardUI script
[Version 3.01]
Updated Armature (new ARP Spine single control bone) (Download latest Rig tools)
Updated Mustard UI
Updated Closed Eyelids auto pose (use the c_eyelid_top bones)
Updated hair shaders
Fixed Eyebrows for eevee
Fixed weights for necklace for all outfits
Bones for outfits will now automatically show up and hide when using the UI menu to select them or hide them.
Updated Body textures
Added Particle pubic hair.
Credits:
-Thanks to MustardSFM for the amazing UI script
-Thanks to sticklove for the base kimono and songstress models for the clothes
Contact Info
My Patreon: https://patreon.com/Mokujinh
My twitter: https://twitter.com/mokujinh
SmutBase is a free service. However, it costs about $0.03 to deliver you a 1GB file. With over 20TB of traffic every month and growing, SmutBase needs your help. If only 1% of our users each gave us $5 for a single month, we could keep the site running for several years.
Filename
Downloads
Created
Filesize
Files
rig_tools_3.67.12.zip
298
2022-12-15 03:27:26
38.64 KB
File contents:

rig_tools/reset_all_controllers.py
rig_tools/auto_rig_reset.py
rig_tools/auto_rig_datas.py
rig_tools/__init__.py
rig_tools/rig_functions.py
rig_tools/rig_prefs.py




Yuna_V3.01_by_mokujinh.blend
722
2022-12-15 03:26:55
48.03 MB
Yuna_v3.01_textures.7z
661
2022-12-15 03:27:25
406.57 MB