Adult content
This content is marked as Adult/NSFW content. You can toggle your preferences regarding this content type in your account settings.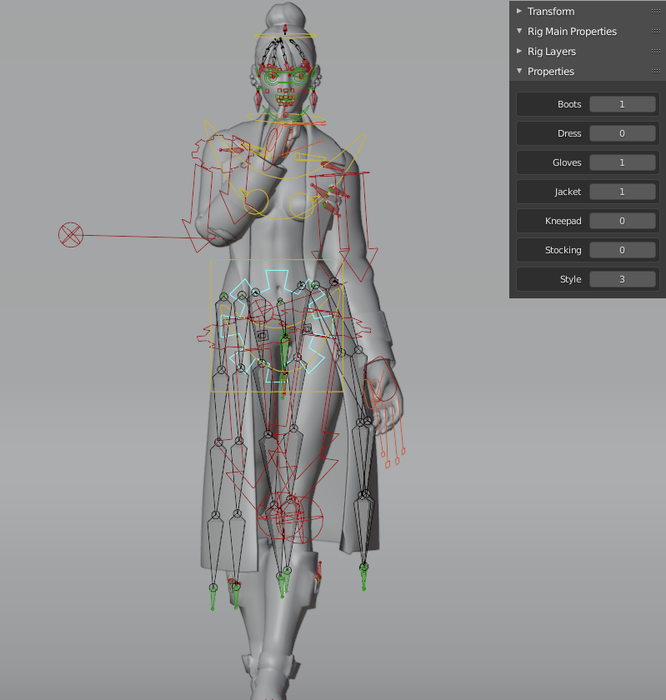 Show more
Description
Kor from the Season 18 Fortnite Battle Pass. She uses a basic Rigify rig. Drivers to control clothing/styles is behind the hip bone on the 4th bone layer. She should work from 2.90 forwards in Blender.
Currently her tattoo styles aren't available in game so I haven't added those yet, I'll look at adding them when they're in-game.
Base body made by Gifdoozer
Eyeballs made by Crute
If you see any errors or bugs be sure to report them in the comments or in my Twitter DMs
SmutBase is a free service. However, it costs about $0.03 to deliver you a 1GB file. With over 20TB of traffic every month and growing, SmutBase needs your help. If only 1% of our users each gave us $5 for a single month, we could keep the site running for several years.
Filename
Downloads
Created
Filesize
Files
Kor_eqD925h.blend
1397
2021-09-13 22:59:11
121.0 MB
Kor_Textures_fix.zip
995
2021-09-16 14:50:58
73.31 MB
File contents:

textures/f328b8de0a340fe4d6455e9c5cbabaec.jpg
textures/T_F_MED_Division_Jacket_Head_M.png
textures/T_F_MED_Divison_Jacket_Grey_Body_M.png
textures/Fn Arm Kor.png
textures/T_F_MED_Divison_Jacket_white_Body_D.png
textures/limbs legs Kor.jpg
textures/T_F_MED_Division_Jacket_ACC_FX.png
textures/T_F_MED_Division_Jacket_ACC_S.png
textures/T_F_MED_Divison_Jacket_Body_M.png
textures/T_F_MED_Divison_Jacket_white_Body_FX.png
textures/T_F_MED_Division_Jacket_White_ACC_S.png
textures/Thinfilm2.jpg
textures/T_F_MED_Divison_Jacket_Grey_Body_S.png
textures/T_F_MED_Division_Jacket_ACC_M.png
textures/T_F_MED_Division_Jacket_Grey_ACC_D.png
textures/T_F_MED_Division_Jacket_Grey_ACC_FX.png
textures/T_F_MED_Division_Jacket_ACC_D.png
textures/T_F_MED_Divison_Jacket_Body_S.png
textures/T_F_MED_Divison_Jacket_white_Body_N.png
textures/T_F_MED_Divison_Jacket_Grey_Body_D.png
textures/T_F_MED_Division_Jacket_White_ACC_N.png
textures/T_F_MED_Division_Jacket_White_ACC_M.png
textures/limbs arms Kor.jpg
textures/T_F_MED_Division_Jacket_ACC_N.png
textures/torso Kor.jpg
textures/T_F_MED_Divison_Jacket_Body_N.png
textures/T_F_MED_Division_Jacket_White_ACC_D.png
textures/T_F_MED_Division_Jacket_Grey_ACC_M.png
textures/T_F_MED_Divison_Jacket_white_Body_S.png
textures/T_F_MED_Division_Jacket_Grey_ACC_S.png
textures/T_F_MED_Division_Jacket_Head_N.png
textures/T_F_MED_Divison_Jacket_white_Body_M.png
textures/T_F_MED_Divison_Jacket_Grey_Body_N.png
textures/Gens Kor.jpg
textures/T_F_MED_Divison_Jacket_Body_FX.png
textures/T_F_MED_Division_Jacket_Head_S.png
textures/T_F_MED_Division_Jacket_Head_FX.png
textures/T_F_MED_Divison_Jacket_Grey_Body_FX.png
textures/T_F_MED_Divison_Jacket_Body_D.png
textures/T_F_MED_Division_Jacket_Grey_ACC_N.png
textures/T_F_MED_Division_Jacket_Head_D.png