Adult content
This content is marked as Adult/NSFW content. You can toggle your preferences regarding this content type in your account settings.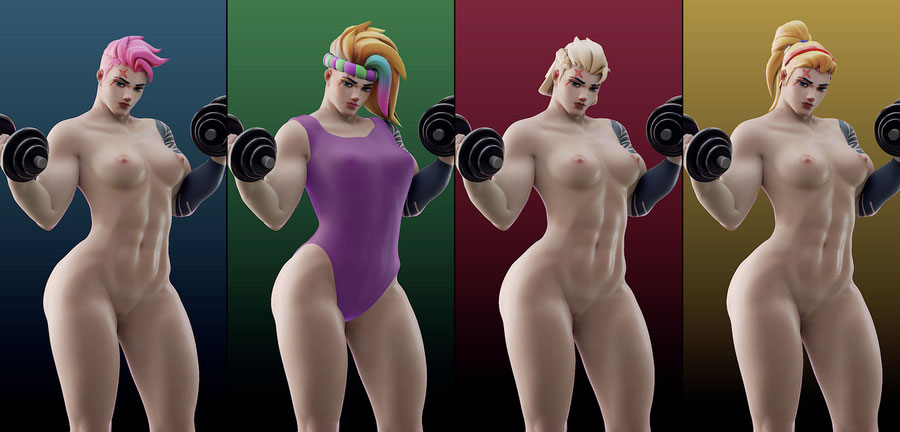 Show more
Description
How to work with the model
Download both the textures zip and the blend file

Export the textures zip next to the blend file.

Open the blend file and if prompted click the allow execution button
The character comes with a custom UI and that's why you need to allow execution of scripts. To find the UI select the armature called Zarya and open the Sidebar by pressing N or clicking the little arrow on the right side of the Viewport and than click the tab with the armature's name.
Attributes
Attributes let you control some settings of the armature from one place.
For Viewport performance use the simplify option in the Optimizations group.
Changelog
---
v1.0.1 (do NOT need to download textures)
updated the UI to the newest version
v1.0
Rigged face, hair, body, genitals
Skin tweaks through the UI
Totally 80's makeup
4 Hair types
Physics (it works but the whole code is pretty ancient)
Custom UI
Model commissioned by FUGTRUP
Thanks to emberstock for additional renders
Thanks to crute and other people involved for the HotDog
SmutBase is a free service. However, it costs about $0.03 to deliver you a 1GB file. With over 20TB of traffic every month and growing, SmutBase needs your help. If only 1% of our users each gave us $5 for a single month, we could keep the site running for several years.
Filename
Downloads
Created
Filesize
Files
textures_L9Euh7l.zip
9709
2021-09-05 14:10:44
139.81 MB
File contents:

textures/000000008341.tif
textures/00000000000A.tif
textures/tattoos_A.tif
textures/0000000021AB.tif
textures/old_zarya_D_1001.png
textures/00000002EB10.tif
textures/shanghai_bund_4k.exr
textures/00000002EB11.tif
textures/zarya_D_1006.png
textures/000000009998.tif
textures/zarya_hair_R.tif
textures/zarya_N_1003.tif
textures/00000000C511.tif
textures/00000000267F.tif
textures/zarya_R_1002.jpg
textures/0000000027EC.tif
textures/000000009995.tif
textures/00000000C512.tif
textures/00000000999A.tif
textures/zarya_N_1001.png
textures/000000009993.tif
textures/zarya_R_1001.tif
textures/000000000460.tif
textures/000000008342.tif
textures/0000000062F6.tif
textures/zarya_R_1005.jpg
textures/armor.tif
textures/00000002F37D.tif
textures/mouth_D.jpg
textures/old_zarya_D_02_1001.png
textures/000000008343.tif
textures/00000000833E.tif
textures/00000002EB0E.tif
textures/00000000000E.tif
textures/zarya_N_1004.tif
textures/00000002EB16.tif
textures/0000000025B8.tif
textures/zarya_D_1002.png
textures/000000009996.tif
textures/penis.png
textures/zarya_D_1001.png
textures/zarya_hair_N.tif
textures/zarya_eye_N.tif
textures/00000002EB12.tif
textures/000000008345.tif
textures/zarya_eye_D.tif
textures/zarya_D_1005.png
textures/000000009991.tif
textures/00000002EB14.tif
textures/hotdog_specular.jpg
textures/zarya_R_1004.jpg
textures/000000000D01.tif
textures/zarya_R_1003.jpg
textures/00000002EB13.tif
textures/zarya_hair_AO.tif
textures/000000008344.tif
textures/zarya_hair_D.tif
textures/0000000027ED.tif
textures/0000000027EB.tif
textures/0000000027D9.tif
textures/00000002EB17.tif
textures/zarya_R_1001.png
textures/000000008346.tif
textures/mouth_B.jpg
textures/zarya_D_1003.png
textures/00000002EB15.tif
textures/00000000267E.tif
textures/00000000267D.tif
textures/000000009994.tif
textures/000000008340.tif
textures/zarya_R_1001.jpg
textures/zarya_hair_tangent.tif
textures/000000009999.tif
textures/000000009997.tif
textures/zarya_N_1002.tif
textures/000000008347.tif
textures/0000000027DA.tif
textures/0000000062FA.tif
textures/zarya_D_1004.png




zarya_v1.0.blend
1931
2021-09-05 14:10:45
48.28 MB
zarya_v1.0.1.blend
2457
2021-11-09 17:46:20
47.49 MB