Adult content
This content is marked as Adult/NSFW content. You can toggle your preferences regarding this content type in your account settings.
Description
This is basically Arhoangel's Tracer model.
I just have added Tracer's Track and Field skin I've extracted from overwatch game.
I've also added driver that can be controlled by "Root" bone's custom properties for the Clothes.
But the shapes are optimized for 1.3 values of all the custom properties.
If you change those properties to something else, you may have issues like skin coming through clothes.
Or if you set extreme poses may cause those issues too.
Please feel free to use or edit the file whatever you'd like to.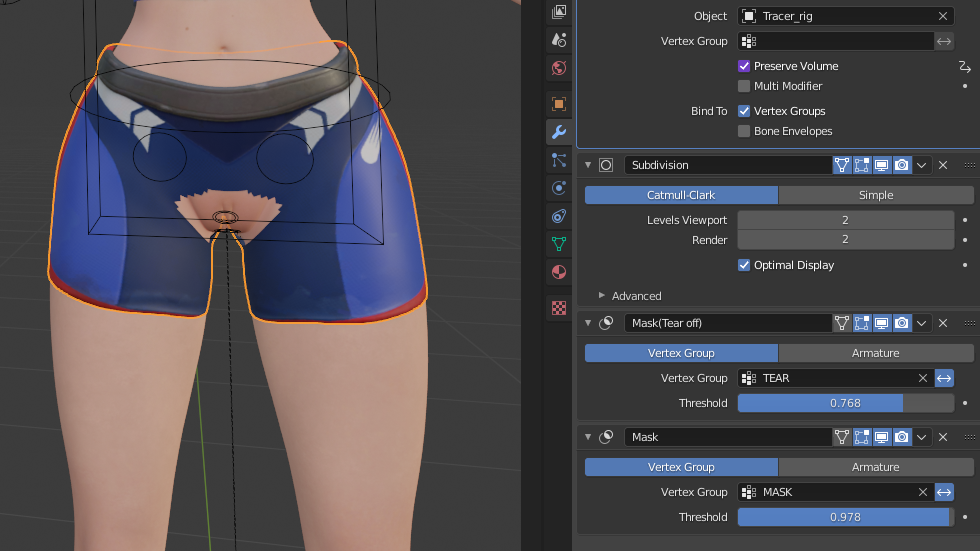 How to use
To see "Track and Field" clothes,
In pose mode, select root bone. Change "Clothes - Standard set" value to "2".
(0: no clothes, 1: default clothes)
To rip off certain parts of pants,
Select "Track and Field Lower" mesh in Object mode. In modifired properties tab, check both "Real time"(the one looks like monitor) and "Render"(the one looks like a camera) icons. If you don't want the pants to be tear off, you can do it vice versa.
To see Track and Field hair with hair band,
In pose mode, select root bone. Change "Hair and skin" value to "2". (1: default hair) This will hide hair bones that controls default hair and show the hair bones for Track and Field hair.
SmutBase is a free service. However, it costs about $0.03 to deliver you a 1GB file. With over 20TB of traffic every month and growing, SmutBase needs your help. If only 1% of our users each gave us $5 for a single month, we could keep the site running for several years.
Filename
Downloads
Created
Filesize
Files
textures_PKljvSo.zip
381
2021-08-27 18:44:07
186.15 MB
File contents:

shoes1_roughness.jpg
Fabric Leather 548_4K_Displacement.jpg
red cheecks.png
Tracer Skin BASE._tattoopng.jpg
Tracer_Hair_G.jpg
blue_fabric_11_height.jpg
shoes1_normal.jpg
blue_fabric_11_normal.jpg
Tracer_Eye_D.jpg
blue_fabric_11_diffuse1_2k.jpg
Pharah_Lifeguard_Armor_N.jpg
Tracer_M2.jpg
Tracer_D.jpg
p3d_charming_witch_g8_underwear_tr.jpg
Fabric Leather 548_4K_Roughness.jpg
p3d_charming_witch_g8_cloth.jpg
p3dhotworkbran.jpg
MTT_IO NWIII C0.jpg
smsglasses01.jpg
0000000082AC.tif
white_fabric_02_diffuse_2k.jpg
Pharah_Lifeguard_Armor_2.jpg
Pharah_Lifeguard_Armor_D.jpg
sweetthongtrans4.jpg
Tracer_Hair_D.jpg
leather_pouch_2k_H.jpg
Dva_Body_N.jpg
tornshirt04_tr01.jpg
0000000082AA.tif
aywgoldl.jpg
Tracer_Logo.jpg
Tracer_N.jpg
Tracer_Goggles_D.jpg
0000000082B1.tif
Pharah_Asp_D.jpg
blue_fabric_11_normal_2k.jpg
jk_socks_op11.jpg
sweetbratrans4.jpg
BOD-default-eye-E.tga
0000000082B4.tif
Pharah_Lifeguard_Armor_22.jpg
0000000082B8.tif
08_hmtop.jpg
zomax-net_raindrop_displacement-32bit.exr
shoes1_height.jpg
leather_pouch_2k_T.jpg
0000000082B6.tif
Tracer Skin 1.jpg
0000000082B3.tif
BOD-default-eye-N.png
p3dhotworkshirtn.png
Tracer_Hair_N.jpg
beige_fabric_05_normal.jpg
0000000082A9.tif
0000000082B5.tif
p3dhotworkshirttr.jpg
Pharah_Asp_N.jpg
p3dhotworkbratr.jpg
shoes1_basecolor.jpg
v7s_highheelsnr.jpg
jk_socks_normal11.jpg
Pharah_Lifeguard_Armor_M.jpg
socouture01.jpg
0000000082B2.tif
v7s_highheels6.jpg
0000000082AB.tif
Dva_Body_S.jpg
0000000082B7.tif
p3dhotworkshirttx.jpg
dd_normal.jpg
white_fabric_02_normal_2k.jpg
0000000082A6.tif
0000000082A8.tif
blue_fabric_11_height_2k.jpg
BOD-default-eye-GLS.png
MTT_IO NWIII C02-6.jpg
Pharah_Asp_M.jpg
llf-cutie-braceletpink.jpg
MTT_IO NWIII C53.jpg
blue_fabric_11_diffuse1.jpg
p3dhotworkshirtb.jpg
Tracer2.jpg
leather_pouch_2k_N.jpg
shoes4_basecolor.jpg




Overwatch_-_Tracer_v10_TnF.blend
374
2021-08-27 18:44:11
98.44 MB