Adult content
This content is marked as Adult/NSFW content. You can toggle your preferences regarding this content type in your account settings.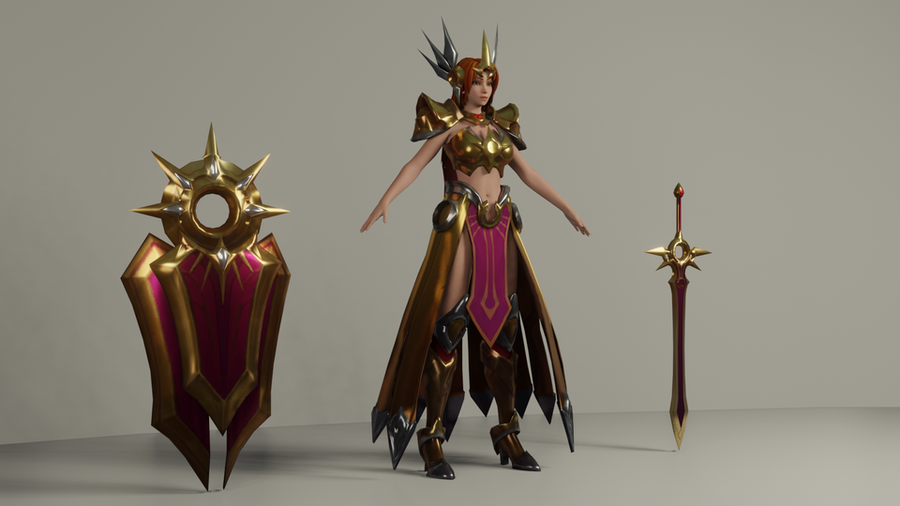 Show more
Description
Hello! JustFry3D here!
Well I'm gonna be honest, this model sucks for different reasons but it's better than nothing i guess!
This Leona was built on top of an Arhoangel model, in this case Mercy. I've done this cause the original model extracted from WildRift had no rig.
So the most I was able to do is to detach every piece of armor and accessory from the orignal model, improve them and attach them to the MercyRig.
I've also done my best to re-sculpt Leona face using Mercy as canvas. Doing so, this model is shitty but pretty complete, fast and stable. With facial, nude and genitals options.
You could also use and equip all Arhoangel alternative outfits (lingerie, swimsuits, etc..) and hide at will any piece of armor.
---
So why this model is shitty:
1 - Hair mesh sucks and the rig I made for them sucks even more.
2 - The pieces of armor will not deform, and will clip through skin at extreme poses
3 - The skirt has a custom rig to help you fix the many tails of clothing. But as you imagine, my rigging skills are very poor, and therefore that sucks.
4 - You can choose between boots and legs toggling the mask, but if you use boots and bend a kneel, you'll see the kneel is invisible to not clip the boot.
5 - Since I'm not able to rig well, the red clothing of the chest, arms and legs is missing. So this is not the complete Default Leona but it's way more naked.
6 - The model is very overwatch-ish and some may not like it.
7 - Textures quality is low.
---
If anyone want to "adopt" this model and fix it I will help at best of my knowledge! And I may update this later. For any question you can write a DM here: https://twitter.com/JustFry3D
Tag me if you use her please, it's always nice to get some Leona lewds :D
SmutBase is a free service. However, it costs about $0.03 to deliver you a 1GB file. With over 20TB of traffic every month and growing, SmutBase needs your help. If only 1% of our users each gave us $5 for a single month, we could keep the site running for several years.
Filename
Downloads
Created
Filesize
Files
Leona_rev_1.0.blend
1498
2021-08-20 20:38:42
34.19 MB
textures_gewBuNR.zip
1329
2021-08-20 20:38:49
160.01 MB
File contents:

textures/shoes1_roughness.jpg
textures/Fabric Leather 548_4K_Displacement.jpg
textures/blue_fabric_11_height.jpg
textures/shoes1_normal.jpg
textures/blue_fabric_11_normal.jpg
textures/Mercy_Eye_D.jpg
textures/p3d_charming_witch_g8_underwear_tr.jpg
textures/Fabric Leather 548_4K_Roughness.jpg
textures/p3d_charming_witch_g8_cloth.jpg
textures/p3dhotworkbran.jpg
textures/lauter_waterfall_4k.hdr
textures/MTT_IO NWIII C0.jpg
textures/wings_glow_ill.jpg
textures/Mercy_Staff_Logo4.jpg
textures/smsglasses01.jpg
textures/Mercy_Staff_E.jpg
textures/Mercy_Classic_E.jpg
textures/Mercy_Ziegler_Hair_N.jpg
textures/white_fabric_02_diffuse_2k.jpg
textures/g3flg_swim_nml.jpg
textures/sweetthongtrans4.jpg
textures/Lifeguard1.jpg
textures/Mercy_Ziegler_M.jpg
textures/leather_pouch_2k_H.jpg
textures/Dva_Body_N.jpg
textures/tornshirt04_tr01.jpg
textures/Mercy_Classic_M.jpg
textures/aywgoldl.jpg
textures/Mercy_D - Copia.jpg~
textures/Mercy_Gun_E.jpg
textures/Mercy_D - Copia.jpg
textures/jk_socks_op11.jpg
textures/sweetbratrans4.jpg
textures/Mercy_Ziegler_Wings.jpg
textures/BOD-default-eye-E.tga
textures/08_hmtop.jpg
textures/Mercy_Staff_D.jpg
textures/shoes1_height.jpg
textures/leather_pouch_2k_T.jpg
textures/g3flg_swim_tex1.jpg
textures/Mercy_Classic_N.jpg
textures/BOD-default-eye-N.png
textures/p3dhotworkshirtn.png
textures/beige_fabric_05_normal.jpg
textures/Mercy_Staff_Logo3.jpg
textures/60230384f4c42d13593a139ac9c43c70.jpg
textures/Mercy_Ziegler_D.jpg
textures/p3dhotworkshirttr.jpg
textures/Mercy_Ziegler_N.jpg
textures/Mercy_Staff_N.jpg
textures/Mercy_Gun_N.jpg
textures/p3dhotworkbratr.jpg
textures/shoes1_basecolor.jpg
textures/Mercy_Staff_M.jpg
textures/Mercy_Classic_D.jpg
textures/Mercy_D.jpg
textures/Mercy_Ziegler_Hair_D.jpg
textures/Mercy_Staff_Logo2.jpg
textures/v7s_highheelsnr.jpg
textures/jk_socks_normal11.jpg
textures/socouture01.jpg
textures/Mercy_Hair_D.jpg
textures/v7s_highheels6.jpg
textures/emission.jpg
textures/Mercy_Hair_S.jpg
textures/Dva_Body_S.jpg
textures/p3dhotworkshirttx.jpg
textures/Mercy_Gun_D.jpg
textures/dd_normal.jpg
textures/white_fabric_02_normal_2k.jpg
textures/Mercy_Ziegler_D2.jpg
textures/Mercy_Hair_N.jpg
textures/g3flg_swim_tex2.jpg
textures/BOD-default-eye-GLS.png
textures/g3flg_swim_bmp.jpg
textures/MTT_IO NWIII C02-6.jpg
textures/llf-cutie-braceletpink.jpg
textures/MTT_IO NWIII C53.jpg
textures/p3dhotworkshirtb.jpg
textures/Mercy_Staff_Logo1.jpg
textures/Mercy_Ziegler_Logo_D.jpg
textures/texture1-body.tga
textures/Mercy_Ziegler_Hair_S.jpg
textures/leather_pouch_2k_N.jpg
textures/Mercy_Gun_M.jpg
textures/shoes4_basecolor.jpg