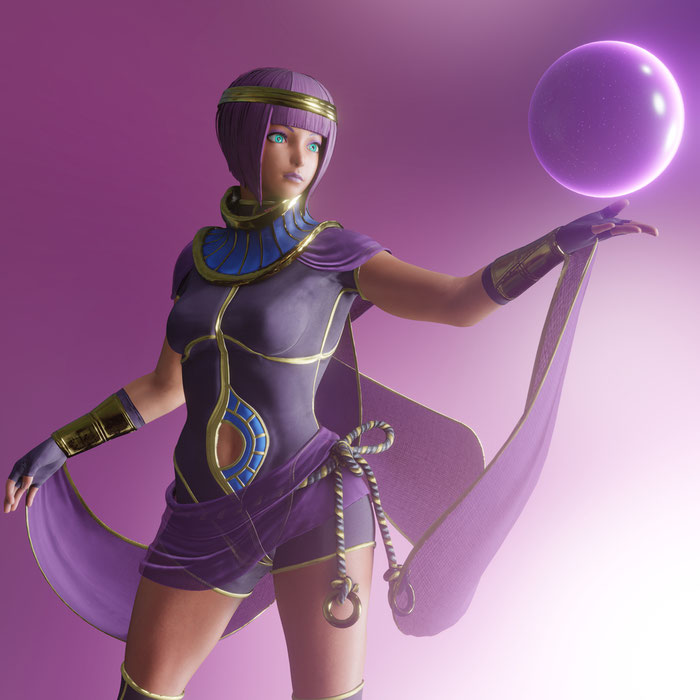 Description
Menat - Street Fighter 5
Disclaimer
If you are disrespectful or ask a question that is answered in this description, your comment will be ignored and/or deleted. Bug reports are valid as long as it's done in a civil manner and not already addressed in the FAQ or known issues sections.
What's included
Menat with full nude body and both IK and FK rig
1 outfit, 1 hairstyle
8 Body morphs presets (thin, fat etc.) + a few other morphs which outfit will adapt to
Model compatible with the outfit library
This model was made in blender 2.92 and tweaked for Eevee, I don't use Cycles anymore so I won't really be able to help you if you use it, see FAQ for most common issues. It should work fine with any 2.8 and ulterior versions of Blender.
Requirements
You need the diffeomorphic addon installed in order to use the rig and the UI. I've used the version provided below, can't answer for previous or ulterior versions
(more info about the addon here : https://diffeomorphic.blogspot.com/)
If I know your models, anything new/specific with this one ?
Pose from the thumbnail is included
She has a few alternative colors (see outfit section)
How to use
The model is mainly handled through the panel bearing its name : the daz addon is still necessary and might be useful for fine tweaking

Character's Panel

In the body settings tab you'll find : skin options, makeup options, body morph presets and tweak options, hairstyles options. For makeup and hair color, tick the checkbox to allow customization.

In expression tab you'll find a bunch of expressions to use

In outfit settings you can choose the outfit and add/remove listed pieces

In the armature tab you can select which armature layers to show, also you can clear any pose to go back to default, switch between ik and fk or activate mannequin mode for better performance. There's also a few hand and eyes poses, as well as heels modes in case the models has heeled shoes or you import some.

Daz panel :

you'll find a few more options than in the main UI there, explore all you want.
Outfits Library
Starting from now, all my models will be compatible with the outfit library I'm building (https://open3dlab.com/project/31128/). With a few clicks you can fit any outfit or hairstyles from the library to any of my models.
Known issues
Clipping might happen, that's life in 3d, best way to fix is to go in sculpt mode. It's mighty useful so it's a great skill to have if you're not familiar with it.
FAQ
The lips are weird or the model is all over the place when I open the file --> it's an incompatibility between the daz addon and your blender install. You need to find what's causing it, for some people it's an out of date daz addon so try to update it. Easiest way to fix is to reinstall blender and clear this folder but be aware it will delete all your custom settings and addons : C:\Users\YourUserName\AppData\Roaming\Blender Foundation\Blender\BlenderVersionYouUse. Then make sure that Auto Run Python Scripts is checked in edit --> preferences --> save & load.
Do I need the 2 texture files ? Yes
Why 2 texture files ? There are a lot of textures shared between my female models so I've separated those. This way you won't need to download the shared package everytime in case you use several of my models.
Everything is purple ! Go to File --> External Data --> Find Missing Files, then navigate to wherever you put the textures folder on your drive and click on the "Find Missing Files" button.
The pose library don't work ? 1)Switch to FK mode 2)Make sure you have no bones selected in the pose mode, then activate poses.
Hair looks weird in Cycles : set the subsurface to 0 on the hair material. Maybe also delete the AO node in the shader groups, I made it so that they aren't used if you use Cycles but maybe you've got a custom blender UI and my solution doesn't work.
How to append : you need to append at least these collections : the one called as the character, the one for hair, the one called hidden. Also append the script called mustard_ui_charactername. Once it's appended run the script. Outfit & Extras collections are optional.
Blabla
Tag me if you use the model, I'd enjoy seeing what you do with it (@LeGuymelef on twitter)
If you use my models for patreon exclusive content or otherwise, please consider giving a little something back : https://www.patreon.com/LeGuymelef
Credits
Shinteo for the original model
Mustard for the base UI
crute for some of the armature widgets
Changelog
SmutBase is a free service. However, it costs about $0.03 to deliver you a 1GB file. With over 20TB of traffic every month and growing, SmutBase needs your help. If only 1% of our users each gave us $5 for a single month, we could keep the site running for several years.
Filename
Downloads
Created
Filesize
Files
Menat_v1.0_-_LeGuymelef.blend
1697
2021-05-30 10:05:13
120.53 MB
Textures_Part_I_-_Menat_SFV_-_LeGuymelef.7z
1497
2021-05-30 10:05:16
53.23 MB
File contents:

Textures/Street Fighter V - Menat/Skin/Eyes Mask.jpg
Textures/Street Fighter V - Menat/Skin/Menat Arm D.jpg
Textures/Street Fighter V - Menat/Skin/Menat Torso D.jpg
Textures/Street Fighter V - Menat/Skin/Menat Torso D v2.jpg
Textures/Street Fighter V - Menat/Skin/Menat Eyes.jpg
Textures/Street Fighter V - Menat/Skin/Menat Leg D.jpg
Textures/Street Fighter V - Menat/Skin/Menat Head N.png
Textures/Street Fighter V - Menat/Skin/Menat Head D.jpg
Textures/Street Fighter V - Menat/Outfit/CT_Z23_01_COLOR_02.tga
Textures/Street Fighter V - Menat/Outfit/CT_Z23_01_SPEC_01.jpg
Textures/Street Fighter V - Menat/Outfit/CT_Z23_01_NORMAL_01.png
Textures/Street Fighter V - Menat/Outfit/CT_Z23_01_SPEC_02.jpg
Textures/Street Fighter V - Menat/Outfit/CT_Z23_01_LIGHT_01.jpg
Textures/Street Fighter V - Menat/Outfit/CT_Z23_01_LIGHT_02.jpg
Textures/Street Fighter V - Menat/Outfit/CT_Z23_01_COLOR_01.tga
Textures/Street Fighter V - Menat/Outfit/CT_Z23_01_NORMAL_02.png
Textures/Street Fighter V - Menat/Outfit/Alt1/Menat Alt1 (1).tga
Textures/Street Fighter V - Menat/Outfit/Alt1/Menat Alt1 (2).tga
Textures/Street Fighter V - Menat/Outfit/Alt3/Menat Alt3 (2).tga
Textures/Street Fighter V - Menat/Outfit/Alt3/Menat Alt3 (1).tga
Textures/Street Fighter V - Menat/Outfit/Alt2/Menat Alt2 (1).tga
Textures/Street Fighter V - Menat/Outfit/Alt2/Menat Alt2 (2).tga




Textures_Part_II_-_LeGuymelef_shared_package_R1MTwSm.7z
1240
2021-05-30 10:05:20
80.76 MB
File contents:

Textures/Default Package/Masks/blush_0M.jpg
Textures/Default Package/Masks/TanlineUpper_3.jpg
Textures/Default Package/Masks/Eyeshadow_5M.jpg
Textures/Default Package/Masks/Lip Mask.jpg
Textures/Default Package/Masks/TanlineLower_0.jpg
Textures/Default Package/Dirt/Template4 Dirt2 Diffuse.png
Textures/Default Package/Dirt/Template3 Dirt2 Diffuse.png
Textures/Default Package/Dirt/Template1 Dirt2 Diffuse.png
Textures/Default Package/Dirt/Template2 Dirt2 Diffuse.png
Textures/Default Package/Glitter body/SWT_BodyPaint_legnorm.jpg
Textures/Default Package/Glitter body/SWT_BodyPaint_legbump.jpg
Textures/Default Package/Glitter body/SWT_BodyPaint_facerough.jpg
Textures/Default Package/Glitter body/SWT_BodyPaint_legmet.jpg
Textures/Default Package/Glitter body/SWT_BodyPaint_torsobump.jpg
Textures/Default Package/Glitter body/SWT_BodyPaint_torsomet.jpg
Textures/Default Package/Glitter body/SWT_BodyPaint_facemet.jpg
Textures/Default Package/Glitter body/SWT_BodyPaint_legtex.jpg
Textures/Default Package/Glitter body/SWT_BodyPaint_torsonorm.jpg
Textures/Default Package/Glitter body/SWT_BodyPaint_torsotex.jpg
Textures/Default Package/Glitter body/SWT_BodyPaint_facebump.jpg
Textures/Default Package/Glitter body/SWT_BodyPaint_legtrans.jpg
Textures/Default Package/Glitter body/SWT_BodyPaint_torsorough.jpg
Textures/Default Package/Glitter body/SWT_BodyPaint_facenorm.jpg
Textures/Default Package/Glitter body/SWT_BodyPaint_facetex.jpg
Textures/Default Package/Glitter body/SWT_BodyPaint_legrough.jpg
Textures/Default Package/Glitter body/SWT_BodyPaint_facetrans.jpg
Textures/Default Package/Glitter body/SWT_BodyPaint_torsotrans.jpg
Textures/Default Package/Wet/RainDropsAndStreaks001_NRM_3K.jpg
Textures/Default Package/Wet/RainDropsAndStreaks001_REFL_3K.jpg
Textures/Default Package/Mouth/G8FBaseMouthMapN_1005.jpg
Textures/Default Package/Mouth/G8FBaseMouthMapD_1005.jpg
Textures/Default Package/Skin detail/Feet Details 2048.jpg
Textures/Default Package/Skin detail/Feet Details_R 2048.jpg
Textures/Default Package/Skin detail/wrap3_laracroft_head_wrinklemap2_N.png
Textures/Default Package/Skin detail/wrap3_laracroft_head_wrinklemap1_N.png
Textures/Default Package/Skin detail/Feet Details_R.jpg
Textures/Default Package/Skin detail/jill_skin_nrm.tga
Textures/Default Package/Skin detail/Feet Details.jpg
Textures/Default Package/Skin detail/Feet Details_L 2048.jpg
Textures/Default Package/Skin detail/Feet Details_L.jpg
Textures/Default Package/Genitalia/GensMapNM_Default_1009.png
Textures/Default Package/Genitalia/GensMapD_Default_P_1009.jpg
Textures/Default Package/Genitalia/GensMapS_Default_Dry_1009.jpg
Textures/Default Package/Genitalia/GensMapT_Default_1009.jpg
Textures/Default Package/Body textures/LegsS_1003.jpg
Textures/Default Package/Body textures/TorsoS_1002.jpg
Textures/Default Package/Body textures/ArmsS_1004.jpg
Textures/Default Package/Body textures/LegsN_1003.jpg
Textures/Default Package/Body textures/FaceS_1001.jpg
Textures/Default Package/Body textures/ArmsN_1004.jpg
Textures/Default Package/Body textures/TorsoN_1002.jpg
Textures/Default Package/Clothing details/cotton2_detail_nrm.tex.png
Textures/Default Package/Clothing details/leather_detail_nrm.tex.png
Textures/Default Package/Clothing details/jeans_detail_nrm.tex.png
Textures/Default Package/Clothing details/cotton00_dtl.png
Textures/Default Package/Eyes/EyesN_1007.jpg
Textures/Default Package/Eyes/G8FBaseEyes01_1007.jpg
Textures/Default Package/Eyes/G8FBaseEyesB_1007.jpg
Textures/Default Package/Eyelashes/G8FBaseEyelashes_1006.jpg
Textures/Default Package/Bruises/Bruise Torso Diffuse.png
Textures/Default Package/Bruises/Bruise Arms Diffuse.png
Textures/Default Package/Bruises/Spanked Ass 1.png
Textures/Default Package/Bruises/Bruise Legs Diffuse.png
Textures/Default Package/Bruises/Bruise Face Diffuse 2.png




Daz_addon_2.92_and_ulterior_compatible_FYmbHem.zip
891
2021-05-30 10:07:09
449.37 KB
File contents:

import_daz/guess.py
import_daz/light.py
import_daz/transfer.py
import_daz/addon_updater_ops.py
import_daz/error.py
import_daz/bone.py
import_daz/transform.py
import_daz/facecap.py
import_daz/load_json.py
import_daz/rigify.py
import_daz/render.py
import_daz/cycles.py
import_daz/animation.py
import_daz/utils.py
import_daz/hide.py
import_daz/node.py
import_daz/cgroup.py
import_daz/channels.py
import_daz/pbr.py
import_daz/matedit.py
import_daz/mhx.py
import_daz/merge.py
import_daz/README.md
import_daz/objfile.py
import_daz/modifier.py
import_daz/panel.py
import_daz/dforce.py
import_daz/morphing.py
import_daz/udim.py
import_daz/internal.py
import_daz/geometry.py
import_daz/layers.py
import_daz/driver.py
import_daz/LICENSE
import_daz/finger.py
import_daz/__init__.py
import_daz/camera.py
import_daz/convert.py
import_daz/asset.py
import_daz/buildnumber.py
import_daz/files.py
import_daz/fileutils.py
import_daz/addon_updater.py
import_daz/proxy.py
import_daz/buttons28.py
import_daz/main.py
import_daz/settings.py
import_daz/daz.py
import_daz/formula.py
import_daz/tables.py
import_daz/buttons27.py
import_daz/hair.py
import_daz/material.py
import_daz/globvars.py
import_daz/figure.py
import_daz/propgroups.py
import_daz/fix.py
import_daz/fkik.py
import_daz/data/gizmos.json
import_daz/data/lowpoly/genesis8-female.json
import_daz/data/lowpoly/genesis.json
import_daz/data/lowpoly/genesis3-female.json
import_daz/data/lowpoly/genesis3-male.json
import_daz/data/lowpoly/genesis8-male.json
import_daz/data/lowpoly/genesis2-female.json
import_daz/data/ikposes/genesis_8_male.json
import_daz/data/ikposes/genesis_2_female.json
import_daz/data/ikposes/genesis_3_female.json
import_daz/data/ikposes/genesis_8_female.json
import_daz/data/ikposes/genesis.json
import_daz/data/ikposes/genesis_2_male.json
import_daz/data/ikposes/genesis_3_male.json
import_daz/data/parents/genesis_8_male.json
import_daz/data/parents/genesis_2_female.json
import_daz/data/parents/genesis_3_female.json
import_daz/data/parents/genesis_8_female.json
import_daz/data/parents/genesis.json
import_daz/data/parents/genesis_2_male.json
import_daz/data/parents/genesis_3_male.json
import_daz/data/restposes/genesis_8_male.json
import_daz/data/restposes/genesis_2_female.json
import_daz/data/restposes/genesis_3_female.json
import_daz/data/restposes/genesis_8_female.json
import_daz/data/restposes/genesis.json
import_daz/data/restposes/genesis_2_male.json
import_daz/data/restposes/victoria_7.json
import_daz/data/restposes/genesis_3_male.json
import_daz/data/restposes/victoria_8.json
import_daz/data/restposes/cmu.json
import_daz/data/restposes/michael_8.json
import_daz/data/converters/genesis-rigify.json
import_daz/data/converters/genesis-rigify2.json
import_daz/data/converters/genesis-mhx.json
import_daz/data/converters/genesis1-genesis3.json
import_daz/data/converters/genesis2-genesis3.json
import_daz/data/converters/genesis3-genesis2.json
import_daz/data/converters/genesis3-genesis1.json
import_daz/data/paths/genesis8-female.json
import_daz/data/paths/genesis.json
import_daz/data/paths/genesis3-female.json
import_daz/data/paths/genesis3-male.json
import_daz/data/paths/genesis8-male.json
import_daz/data/paths/genesis2-female.json
import_daz/data/paths/genesis2-male.json
import_daz/import_daz_updater/import_daz_updater_status.json
import_daz/to_daz_studio/Scripts/diffeomorphic.png
import_daz/to_daz_studio/Scripts/Diffeomorphic/readme.png
import_daz/to_daz_studio/Scripts/Diffeomorphic/export_to_blender.dsa
import_daz/to_daz_studio/Scripts/Diffeomorphic/export_to_blender.png
import_daz/to_daz_studio/Scripts/Diffeomorphic/save_root_paths.dsa
import_daz/to_daz_studio/Scripts/Diffeomorphic/export_highdef_to_blender.png
import_daz/to_daz_studio/Scripts/Diffeomorphic/setup_menus.png
import_daz/to_daz_studio/Scripts/Diffeomorphic/save_root_paths.png
import_daz/to_daz_studio/Scripts/Diffeomorphic/setup_menus.dsa
import_daz/to_daz_studio/Scripts/Diffeomorphic/readme.dsa
import_daz/to_daz_studio/Scripts/Diffeomorphic/export_highdef_to_blender.dsa
import_daz/runtime_stripped/runtime_stripped_27x.py
import_daz/runtime_stripped/runtime_stripped_28x.py
import_daz/standalone/add_alpha.py
import_daz/standalone/resize.py