Adult content
This content is marked as Adult/NSFW content. You can toggle your preferences regarding this content type in your account settings.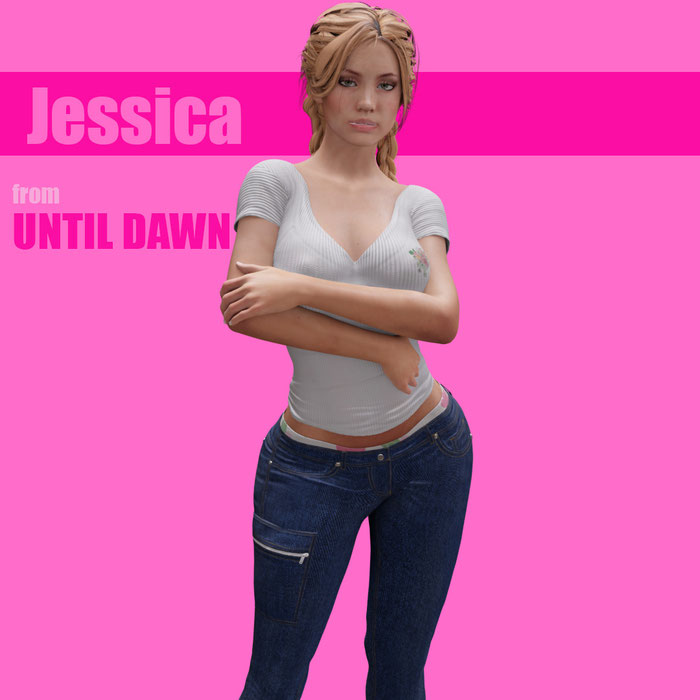 Show more
Description
Jessica Riley from Until Dawn.
Has shapekeys for expressions, face posing, speech etc. check them out. Update: Added separate blend file, use in case you can't extract the one from the zip. Place the blend and the texture folder in the same directory.
Like my models? Buy me a coffee :)
SmutBase is a free service. However, it costs about $0.03 to deliver you a 1GB file. With over 20TB of traffic every month and growing, SmutBase needs your help. If only 1% of our users each gave us $5 for a single month, we could keep the site running for several years.
Filename
Downloads
Created
Filesize
Files
Jessica_Until_Dawn.rar
2194
2021-03-28 18:54:18
62.72 MB
File contents:

jessica until dawn smutbase.blend
textures 2k/Jess_Arms.jpg
textures 2k/G8FBaseTorsoMapB_1002.jpg
textures 2k/GoldenPalace_Specularity.jpg
textures 2k/RN Canvas Normals 01.jpg
textures 2k/GoldenPalace_Color.jpg
textures 2k/GoldenPalace_Translucency.jpg
textures 2k/models.characters.jessica_outdoor.textures.jessica_out_stiches_clr.png
textures 2k/G8FBaseArmsMapD_1004.jpg
textures 2k/Jessica_eyes.jpg
textures 2k/G8FBaseFaceMapSSS_1001.jpg
textures 2k/G8FBaseArmsMapB_1004.jpg
textures 2k/G8FBaseEyelashes_1006.jpg
textures 2k/hair_alpha2_alpha.jpg
textures 2k/models.characters.jessica_indoor.texture.jessica_indoor_shirt540000.png
textures 2k/GoldenPalace_WetMap.jpg
textures 2k/GoldenPalace_Trasparency.jpg
textures 2k/models.characters.jessica_underwear.texture.jessica_underwear_lace_dx10.png
textures 2k/G8FBaseEyes01_1007.jpg
textures 2k/G8FBaseFaceMapS_1001.jpg
textures 2k/G8FBaseMouthMapB_1005.jpg
textures 2k/G8FBaseFaceMapB_1001.jpg
textures 2k/models.characters.jessica_outdoor.textures.jessica_out_stiches_nr.png
textures 2k/models.characters.jessica_outdoor.textures.jessica_hair140000_alpha_alpha.jpg
textures 2k/Jess_Face.jpg
textures 2k/models.characters.jessica_underwear.texture.jessica_underwear_lace140000_alpha_alpha.jpg
textures 2k/GoldenPalace_NormalMap.jpg
textures 2k/indoor_shirt_N2.jpg
textures 2k/models.characters.chris.textures.jeans_weave_nrm_ts_dx10.png
textures 2k/models.characters.jessica_outdoor.textures.jessica_out_zip_base_dx10.png
textures 2k/texture12759.png
textures 2k/G8FBaseLegsMapD_1003.jpg
textures 2k/models.characters.jessica_outdoor.textures.jessica_out_jeans_clr.png
textures 2k/G8FBaseEyesB_1007.jpg
textures 2k/G8FBaseLegsMapS_1003.jpg
textures 2k/G8FBaseTorsoMapS_1002.jpg
textures 2k/Jess_Legs.jpg
textures 2k/models.characters.jessica_underwear.texture.jessica_underwear_lace140000_alpha.png
textures 2k/underwear_pants_N.png
textures 2k/models.heads.ashley_indoor.textures.base_maps.eyebrows_alpha_alpha.jpg
textures 2k/models.characters.jessica_outdoor.textures.jessica_hair140000_alpha.png
textures 2k/RN Canvas Roughness 01.jpg
textures 2k/G8FBaseArmsMapS_1004.jpg
textures 2k/G8FBaseLegsMapB_1003.jpg
textures 2k/leg_4.png
textures 2k/hair_alpha2.png
textures 2k/models.characters.jessica_underwear.texture.jessica_underwear_pants_base140000.png
textures 2k/models.characters.jessica_outdoor.textures.hair_new.jess_hair_base_ts140000.png
textures 2k/Jess_Torso.jpg
textures 2k/RN Canvas Color 01.jpg
textures 2k/jeans_base_N2.png
textures 2k/G8FBaseMouthMapD_1005.jpg
textures 2k/G8FBaseFaceMapD_1001.jpg
textures 2k/models.characters.jessica_outdoor.textures.jessica_out_jeans_base_dx10.png




jessica_until_dawn_smutbase.blend
1626
2021-04-05 19:39:48
142.08 MB