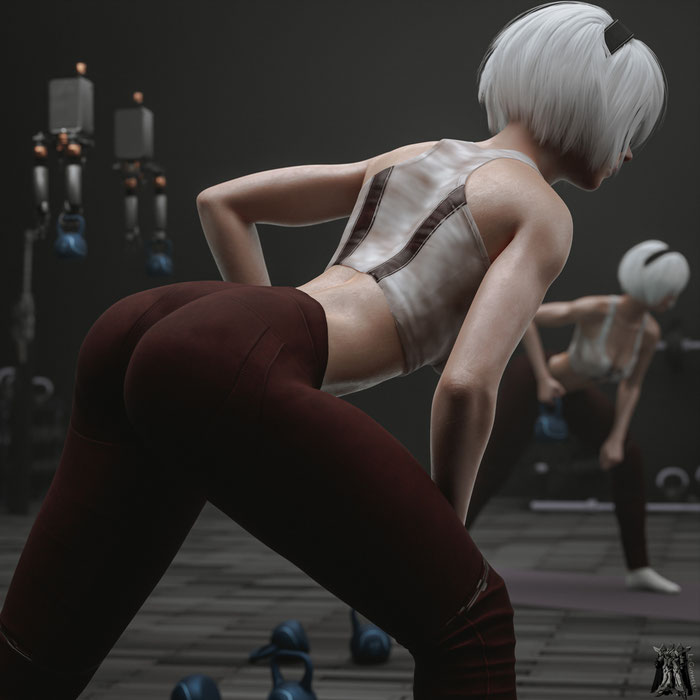 Show more
Description
2B - Nier Automata
New version updated to my current model setup, improved in pretty much every area
What's included
2B with full nude body and both IK and FK rig
4 outfits, 4 hairstyles
Lots of weapons + pod
Requirements
My UI addon provided in the download section
The shared textures I provide in the download section
Daz addon 1.6.2 (provided below) or superior (not tested but should work)
Blender 3.5 or superior
What's new ?
Rigging has been updated and fixed where needed, especially Kaine/Dlc outfit which was terrible.
Experimental integration of bone constraints for clothes to help a little with posing. It's not perfect by any means and will often require user input anyway.
New option for the main outfit to be colored by users : select outfit color n°3 then go into objects cogwheels and change colors.
I've added a cleaner version of the boots which is now the default, dirt can be brought back via in the UI (boots cogwheel).
How to use
Download everything
Install both addons
Extract model and all textures
Use the panel called "LeGuymelef UI" to tweak...there's just too much in there to explain here but most features should be self explanatory. Explore and try things out.
Outfits Library
Known issues
Clipping will happen, that's life in 3d, best way to fix is to go in sculpt mode. It's mighty useful so it's a great skill to have if you're not familiar with it.
FAQ
Q: IK doesn't work at all --> A: 1) Make sure you're using the panel called LeGuymelef UI panel and 2) make sure you're using the IK switch button and not just showing the IK bones from the armature layer
Q: Knees don't bend in IK --> A: Switch back to FK, use the clear pose button, then switch back to IK
Q: Textures are weird or body is all shiny --> A: Download and install shared textures
Q: Do I need both the shared textures and the ones that come with the model ? --> A: Yes.
Q: Hair has black patches on cycles --> A: Increase the transparency bounces
Q: Do you take commissions --> A: No
Q: Mirror posing doesn't work --> A: Use the mirror mode from the UI
Q: How do I control the gens opening --> A: Scale the pink bones close to the gens
Q: I'm new to blender --> A: Hi "new to blender", I'm LeGuymelef, let me introduce you to Google.
Q: Heels for the darth outfit are wonky --> A: Use the correct heel pose from the UI, the name of the heels tells you which pose you should use [LowH] = Low Heels pose.
Q: Is there a list of your models ? A: Yes, HERE
Credits
shinteo for the original model, Petrarca22 for the textures
Mustard for the base UI
crute for some of the armature widgets
Changelog
V4.0 : UI replacement with my addon, various fixes and improvements
V3.5 : skin shader improvements + some fixes
V3.3 : newest version with lots of improvements
V2.5 : another fix for genitalia, all good now I hope
V2.4 : small fixes for genitalia
V2.2 : new outfit + new hairstyle + improved cleavage shape keys + fixed eyelashes and eyebrows for expressions + latest ui and options + improved support for cycles. Don't forget the shared textures.
V1.1 : UI now works with multiple characters in the same file ! To assure compatibility each UI will only recognize outfit and hair collections that have the name of the character + Outfit or Hair in it ; also fix for fingers not deforming correctly depending on the bones used + better hair reflection shader
V1.0 : initial release
SmutBase is a free service. However, it costs about $0.03 to deliver you a 1GB file. With over 20TB of traffic every month and growing, SmutBase needs your help. If only 1% of our users each gave us $5 for a single month, we could keep the site running for several years.
Filename
Downloads
Created
Filesize
Files
LeGuymelef_ui_Addon_2_0_3_Oet0uQz.zip
662
2023-08-27 02:00:47
24.79 KB
File contents:

LeGuymelef_ui - 2_0_3.py




2B_V4.0_-_LeGuymelef.7z
958
2023-08-27 02:00:38
253.28 MB
File contents:

2B v4 - LeGuymelef.blend
Textures/Nier Automata - 2B/Default Outfit/A006408A alt.jpg
Textures/Nier Automata - 2B/Default Outfit/2B_Feather_N.png
Textures/Nier Automata - 2B/Default Outfit/2B_Feather_D.dds
Textures/Nier Automata - 2B/Default Outfit/A006408A.jpg
Textures/Nier Automata - 2B/Default Outfit/Cloth mask.jpg
Textures/Nier Automata - 2B/Default Outfit/87F0B90C.jpg
Textures/Nier Automata - 2B/Default Outfit/Cloth mask 2.jpg
Textures/Nier Automata - 2B/Default Outfit/DB4E3F5B.png
Textures/Nier Automata - 2B/Default Outfit/Cloth mask 3.jpg
Textures/Nier Automata - 2B/Default Outfit/87F0B90C alt.jpg
Textures/Nier Automata - 2B/Skin/2B Torso D.jpg
Textures/Nier Automata - 2B/Skin/2B Head D v2.jpg
Textures/Nier Automata - 2B/Skin/2B Head D.jpg
Textures/Nier Automata - 2B/Skin/2B Eye.jpg
Textures/Nier Automata - 2B/Skin/2B Head N.png
Textures/Nier Automata - 2B/Skin/2B Head N v2.png
Textures/Nier Automata - 2B/Skin/2B Arm D.jpg
Textures/Nier Automata - 2B/Skin/2B Leg D.jpg
Textures/Nier Automata - 2B/Drakengard Outfit/body_d.png
Textures/Nier Automata - 2B/Drakengard Outfit/body_s.png
Textures/Nier Automata - 2B/Drakengard Outfit/body_m.png
Textures/Nier Automata - 2B/Drakengard Outfit/weapon_m.png
Textures/Nier Automata - 2B/Drakengard Outfit/weapon_d.png
Textures/Nier Automata - 2B/Drakengard Outfit/weapon_s.png
Textures/Nier Automata - 2B/Drakengard Outfit/weapon_ao.png
Textures/Nier Automata - 2B/Drakengard Outfit/hair_s.png
Textures/Nier Automata - 2B/Drakengard Outfit/body_ao.png
Textures/Nier Automata - 2B/Drakengard Outfit/hair_d.png
Textures/Nier Automata - 2B/Drakengard Outfit/body_n.png
Textures/Nier Automata - 2B/Drakengard Outfit/weapon_n.png
Textures/Nier Automata - 2B/Drakengard Outfit/hair_n.png
Textures/Nier Automata - 2B/Hair/r060_hair_COLOR.png
Textures/Nier Automata - 2B/Hair/r060_mayuge_COLOR.png
Textures/Nier Automata - 2B/Hair/r060_hair_Headband_NORMAL.png
Textures/Nier Automata - 2B/Hair/Strand19T01a.png
Textures/Nier Automata - 2B/Reincarnation Outfit/2b_Body_N.png
Textures/Nier Automata - 2B/Reincarnation Outfit/2b_Body_Mso.jpg
Textures/Nier Automata - 2B/Reincarnation Outfit/2b_Body_B 4K.jpg
Textures/Nier Automata - 2B/Reincarnation Outfit/2b_Body_B.jpg
Textures/Nier Automata - 2B/Weapons/2B_Ring.tga
Textures/Nier Automata - 2B/Weapons/B4Maru/wep_360_b4maru_color.tga
Textures/Nier Automata - 2B/Weapons/B4Maru/wep_360_b4maru_lmap.tga
Textures/Nier Automata - 2B/Weapons/B4Maru/wep_360_b4maru_normal.tga
Textures/Nier Automata - 2B/Weapons/B4Maru/wep_360_b4maru_spec.tga
Textures/Nier Automata - 2B/Weapons/Spear/wep_060_spear_lmap.tga
Textures/Nier Automata - 2B/Weapons/Spear/wep_060_spear_normal.tga
Textures/Nier Automata - 2B/Weapons/Spear/wep_060_spear_spec.tga
Textures/Nier Automata - 2B/Weapons/Spear/wep_060_spear_color.tga
Textures/Nier Automata - 2B/Weapons/S4Maru/wep_360_s4maru_lmap.tga
Textures/Nier Automata - 2B/Weapons/S4Maru/wep_360_s4maru_color.tga
Textures/Nier Automata - 2B/Weapons/S4Maru/wep_360_s4maru_spec.tga
Textures/Nier Automata - 2B/Weapons/S4Maru/wep_360_s4maru_normal.tga
Textures/Nier Automata - 2B/Weapons/WP2/2B_WP2_N.png
Textures/Nier Automata - 2B/Weapons/WP2/2B_WP2_M.jpg
Textures/Nier Automata - 2B/Weapons/WP2/2B_WP2_D.jpg
Textures/Nier Automata - 2B/Weapons/WP1/2B_WP1_M.jpg
Textures/Nier Automata - 2B/Weapons/WP1/2B_WP1_N.png
Textures/Nier Automata - 2B/Weapons/WP1/2B_WP1_D.jpg
Textures/Nier Automata - 2B/Weapons/Kabuto/wep_060_kabuto_spec.tga
Textures/Nier Automata - 2B/Weapons/Kabuto/wep_060_kabuto_normal.tga
Textures/Nier Automata - 2B/Weapons/Kabuto/wep_060_kabuto_color.tga
Textures/Nier Automata - 2B/Weapons/Kabuto/wep_060_kabuto_lmap.tga
Textures/Nier Automata - 2B/Dlc Outfit/inner_904_f_Clothes_COLOR.png
Textures/Nier Automata - 2B/Dlc Outfit/inner_904_f_Clothes_NORMAL.png
Textures/Nier Automata - 2B/pod/5A3B35D8.png
Textures/Nier Automata - 2B/pod/653B619D.jpg
Textures/Nier Automata - 2B/pod/31C92494.jpg
Textures/Nier Automata - 2B/pod/9DC875A9.jpg
Textures/Nier Automata - 2B/pod/BF03E162.jpg
Textures/Nier Automata - 2B/pod/ABCB9FA9.jpg
Textures/Nier Automata - 2B/pod/pod_blade.tga
Textures/Nier Automata - 2B/pod/6B47A79F.jpg
Textures/Nier Automata - 2B/pod/6AB595C1.png




2K_-_Female_Shared_Textures_V12_-_LeGuymelef_K9QSQFv.7z
731
2023-08-27 02:00:46
123.67 MB
File contents:

Textures/Default Package/Eyelashes/G8_1FEyelashesNM.jpg
Textures/Default Package/Eyelashes/G8_1TearOpacity.jpg
Textures/Default Package/Eyelashes/G8FBaseEyelashes_1006.jpg
Textures/Default Package/Eyelashes/G8_1FEyelashesO.jpg
Textures/Default Package/Body textures/LegsN_1003.jpg
Textures/Default Package/Body textures/LegsS_1003.jpg
Textures/Default Package/Body textures/Default Muscly Torso_n.png
Textures/Default Package/Body textures/Default Arms Details.jpg
Textures/Default Package/Body textures/ArmsS_1004.jpg
Textures/Default Package/Body textures/Default Muscly Legs_n.png
Textures/Default Package/Body textures/Default_Face_n.png
Textures/Default Package/Body textures/Default Legs Details.jpg
Textures/Default Package/Body textures/ArmsN_1004.jpg
Textures/Default Package/Body textures/FaceS_1001.jpg
Textures/Default Package/Body textures/Default Torso Details.jpg
Textures/Default Package/Body textures/Default_Arms_n.png
Textures/Default Package/Body textures/Default Muscly Arms_n.png
Textures/Default Package/Body textures/TorsoN_1002.jpg
Textures/Default Package/Body textures/Default_Legs_n.png
Textures/Default Package/Body textures/Default Head Details.jpg
Textures/Default Package/Body textures/TorsoS_1002.jpg
Textures/Default Package/Body textures/Default_Torso_n.png
Textures/Default Package/Body textures/Default Legs_n.jpg
Textures/Default Package/Body textures/Bump/FaceB.jpg
Textures/Default Package/Body textures/Bump/LegsB.jpg
Textures/Default Package/Body textures/Bump/ArmsB.jpg
Textures/Default Package/Body textures/Bump/TorsoB.jpg
Textures/Default Package/Masks/Blood-Dirt-Veins Legs Mask.jpg
Textures/Default Package/Masks/Torso_Freckles_0M.jpg
Textures/Default Package/Masks/Foam Face 2.jpg
Textures/Default Package/Masks/WetSweat Mask.jpg
Textures/Default Package/Masks/Eyeshadow_5M.jpg
Textures/Default Package/Masks/TanlineUpper_3.jpg
Textures/Default Package/Masks/Lip Mask.jpg
Textures/Default Package/Masks/Foam Arms 2.jpg
Textures/Default Package/Masks/Legs_Freckles_0M.jpg
Textures/Default Package/Masks/Arms_Veins_0M.jpg
Textures/Default Package/Masks/Blood-Dirt-Veins Face Mask.jpg
Textures/Default Package/Masks/EyeShadow-Blush Mask.jpg
Textures/Default Package/Masks/TanlineLower_0.jpg
Textures/Default Package/Masks/Tanlines.jpg
Textures/Default Package/Masks/Blood-Dirt-Veins Torso Mask.jpg
Textures/Default Package/Masks/Head_Freckles_0M.jpg
Textures/Default Package/Masks/Foam Body.jpg
Textures/Default Package/Masks/WetMask_n.png
Textures/Default Package/Masks/Arms_Freckles_0M.jpg
Textures/Default Package/Masks/Lips Masks2.jpg
Textures/Default Package/Masks/Mascara Mask.jpg
Textures/Default Package/Masks/SweatMask_n.png
Textures/Default Package/Masks/blush_0M.jpg
Textures/Default Package/Masks/Blood-Dirt-Veins Arms Mask.jpg
Textures/Default Package/Masks/WetSweat Mask v2.jpg
Textures/Default Package/Masks/Foam Legs.jpg
Textures/Default Package/Skin detail/skin_array1.png
Textures/Default Package/Skin detail/Feet Details_R.jpg
Textures/Default Package/Skin detail/SkinMicro_02.png
Textures/Default Package/Skin detail/SkinMicro_03.png
Textures/Default Package/Skin detail/SkinMicro_01.png
Textures/Default Package/Skin detail/Feet Details.jpg
Textures/Default Package/Skin detail/wrap3_laracroft_head_wrinklemap2_N.png
Textures/Default Package/Skin detail/jill_skin_nrm.tga
Textures/Default Package/Skin detail/Feet Details 2048.jpg
Textures/Default Package/Skin detail/Feet Details_R 2048.jpg
Textures/Default Package/Skin detail/Feet Details_L.jpg
Textures/Default Package/Skin detail/wrap3_laracroft_head_wrinklemap1_N.png
Textures/Default Package/Skin detail/Feet Details_L 2048.jpg
Textures/Default Package/Stockings/TS_160_7x11_peresabcod_deviantart.png
Textures/Default Package/Stockings/TS_026_64x48_peresabcod_deviantart.png
Textures/Default Package/Stockings/TS_127_60x32_peresabcod_deviantart.png
Textures/Default Package/Stockings/TS_102_90x32_peresabcod_deviantart.png
Textures/Default Package/Stockings/TS_011_48x45_peresabcod_deviantart.png
Textures/Default Package/Stockings/TS_115_64x106_peresabcod_deviantart.png
Textures/Default Package/Stockings/TS_099_32x26_peresabcod_deviantart.png
Textures/Default Package/Stockings/TS_104_71x64_peresabcod_deviantart.png
Textures/Default Package/Stockings/TS_043_60x67_peresabcod_deviantart.png
Textures/Default Package/Stockings/TS_042_24x21_peresabcod_deviantart.png
Textures/Default Package/Stockings/TS_139_79x27_peresabcod_deviantart.png
Textures/Default Package/Stockings/TS_029_64x90_peresabcod_deviantart.png
Textures/Default Package/Stockings/TS_015_38x46_peresabcod_deviantart.png
Textures/Default Package/Stockings/TS_109_56x64_peresabcod_deviantart.png
Textures/Default Package/Stockings/TS_044_94x76_peresabcod_deviantart.png
Textures/Default Package/Stockings/TS_046_72x78_peresabcod_deviantart.png
Textures/Default Package/Stockings/TS_066_20x32_peresabcod_deviantart.png
Textures/Default Package/Stockings/TS_111_32x40_peresabcod_deviantart.png
Textures/Default Package/Stockings/TS_097_77x64_peresabcod_deviantart.png
Textures/Default Package/Stockings/TS_093_32x64_peresabcod_deviantart.png
Textures/Default Package/Stockings/TS_082_36x22_peresabcod_deviantart.png
Textures/Default Package/Stockings/TS_049_64x64_peresabcod_deviantart.png
Textures/Default Package/Stockings/TS_158_21x21_peresabcod_deviantart.png
Textures/Default Package/Stockings/TS_074_36x66_peresabcod_deviantart.png
Textures/Default Package/Stockings/TS_020_128x27_peresabcod_deviantart.png
Textures/Default Package/Stockings/TS_154_32x26_peresabcod_deviantart.png
Textures/Default Package/Stockings/TS_048_100x58_peresabcod_deviantart.png
Textures/Default Package/Stockings/TS_122_32x64_peresabcod_deviantart.png
Textures/Default Package/Stockings/TS_144_37x30_peresabcod_deviantart.png
Textures/Default Package/Stockings/TS_118_128x38_peresabcod_deviantart.png
Textures/Default Package/Stockings/TS_002_64x32_peresabcod_deviantart.png
Textures/Default Package/Stockings/TS_100_32x32_peresabcod_deviantart.png
Textures/Default Package/Stockings/TS_130_87x128_peresabcod_deviantart.png
Textures/Default Package/Stockings/TS_068_128x87_peresabcod_deviantart.png
Textures/Default Package/Stockings/TS_017_50x64_peresabcod_deviantart.png
Textures/Default Package/Stockings/TS_055_49x32_peresabcod_deviantart.png
Textures/Default Package/Stockings/TS_047_43x30_peresabcod_deviantart.png
Textures/Default Package/Stockings/TS_108_32x32_peresabcod_deviantart.png
Textures/Default Package/Stockings/TS_114_87x64_peresabcod_deviantart.png
Textures/Default Package/Stockings/TS_153_50x60_peresabcod_deviantart.png
Textures/Default Package/Stockings/TS_124_32x48_peresabcod_deviantart.png
Textures/Default Package/Stockings/TS_018_128x80_peresabcod_deviantart.png
Textures/Default Package/Stockings/TS_053_32x64_peresabcod_deviantart.png
Textures/Default Package/Stockings/TS_087_64x64_peresabcod_deviantart.png
Textures/Default Package/Stockings/TS_021_226x64_peresabcod_deviantart.png
Textures/Default Package/Stockings/TS_009_38x41_peresabcod_deviantart.png
Textures/Default Package/Stockings/TS_137_70x42_peresabcod_deviantart.png
Textures/Default Package/Stockings/TS_145_41x45_peresabcod_deviantart.png
Textures/Default Package/Stockings/TS_014_92x25_peresabcod_deviantart.png
Textures/Default Package/Stockings/TS_065_32x32_peresabcod_deviantart.png
Textures/Default Package/Stockings/TS_085_123x32_peresabcod_deviantart.png
Textures/Default Package/Stockings/TS_019_43x32_peresabcod_deviantart.png
Textures/Default Package/Stockings/TS_035_54x15_peresabcod_deviantart.png
Textures/Default Package/Stockings/TS_117_27x64_peresabcod_deviantart.png
Textures/Default Package/Stockings/TS_001_48x32_peresabcod_deviantart.png
Textures/Default Package/Stockings/TS_007_48x38_peresabcod_deviantart.png
Textures/Default Package/Stockings/TS_075_52x48_peresabcod_deviantart.png
Textures/Default Package/Stockings/TS_008_52x48_peresabcod_deviantart.png
Textures/Default Package/Stockings/TS_150_25x50_peresabcod_deviantart.png
Textures/Default Package/Stockings/TS_050_71x188_peresabcod_deviantart.png
Textures/Default Package/Stockings/TS_058_64x64_peresabcod_deviantart.png
Textures/Default Package/Stockings/TS_103_52x32_peresabcod_deviantart.png
Textures/Default Package/Stockings/TS_151_64x78_peresabcod_deviantart.png
Textures/Default Package/Stockings/TS_083_41x32_peresabcod_deviantart.png
Textures/Default Package/Stockings/TS_107_50x128_peresabcod_deviantart.png
Textures/Default Package/Stockings/TS_146_82x43_peresabcod_deviantart.png
Textures/Default Package/Stockings/TS_016_66x105_peresabcod_deviantart.png
Textures/Default Package/Stockings/TS_072_43x32_peresabcod_deviantart.png
Textures/Default Package/Stockings/TS_063_32x47_peresabcod_deviantart.png
Textures/Default Package/Stockings/TS_027_40x36_peresabcod_deviantart.png
Textures/Default Package/Stockings/TS_079_128x64_peresabcod_deviantart.png
Textures/Default Package/Stockings/TS_003_114x128_peresabcod_deviantart.png
Textures/Default Package/Stockings/TS_022_200x16_peresabcod_deviantart.png
Textures/Default Package/Stockings/TS_038_33x44_peresabcod_deviantart.png
Textures/Default Package/Stockings/TS_054_33x128_peresabcod_deviantart.png
Textures/Default Package/Stockings/TS_051_41x64_peresabcod_deviantart.png
Textures/Default Package/Stockings/TS_004_64x64_peresabcod_deviantart.png
Textures/Default Package/Stockings/TS_148_76x42_peresabcod_deviantart.png
Textures/Default Package/Stockings/TS_142_53x21_peresabcod_deviantart.png
Textures/Default Package/Stockings/TS_041_32x32_peresabcod_deviantart.png
Textures/Default Package/Stockings/TS_128_64x64_peresabcod_deviantart.png
Textures/Default Package/Stockings/TS_126_41x32_peresabcod_deviantart.png
Textures/Default Package/Stockings/TS_121_32x32_peresabcod_deviantart.png
Textures/Default Package/Stockings/TS_149_64x53_peresabcod_deviantart.png
Textures/Default Package/Stockings/TS_129_32x64_peresabcod_deviantart.png
Textures/Default Package/Stockings/TS_059_64x96_peresabcod_deviantart.png
Textures/Default Package/Stockings/TS_113_128x76_peresabcod_deviantart.png
Textures/Default Package/Stockings/TS_131_64x87_peresabcod_deviantart.png
Textures/Default Package/Stockings/TS_013_64x78_peresabcod_deviantart.png
Textures/Default Package/Stockings/TS_037_50x24_peresabcod_deviantart.png
Textures/Default Package/Stockings/Seamless_Fishnet_Texture_guide_001_peresabcod_deviantart.jpg
Textures/Default Package/Stockings/TS_092_40x64_peresabcod_deviantart.png
Textures/Default Package/Stockings/TS_119_28x21_peresabcod_deviantart.png
Textures/Default Package/Stockings/TS_116_32x243_peresabcod_deviantart.png
Textures/Default Package/Stockings/TS_133_64x32_peresabcod_deviantart.png
Textures/Default Package/Stockings/Seamless_Fishnet_Texture_guide_002_peresabcod_deviantart.jpg
Textures/Default Package/Stockings/TS_120_32x128_peresabcod_deviantart.png
Textures/Default Package/Stockings/TS_064_48x18_peresabcod_deviantart.png
Textures/Default Package/Stockings/TS_090_64x85_peresabcod_deviantart.png
Textures/Default Package/Stockings/TS_031_32x38_peresabcod_deviantart.png
Textures/Default Package/Stockings/TS_157_32x32_peresabcod_deviantart.png
Textures/Default Package/Stockings/TS_071_64x51_peresabcod_deviantart.png
Textures/Default Package/Stockings/TS_028_64x16_peresabcod_deviantart.png
Textures/Default Package/Stockings/TS_091_64x59_peresabcod_deviantart.png
Textures/Default Package/Stockings/TS_081_64x128_peresabcod_deviantart.png
Textures/Default Package/Stockings/TS_152_126x50_peresabcod_deviantart.png
Textures/Default Package/Stockings/TS_125_64x79_peresabcod_deviantart.png
Textures/Default Package/Stockings/TS_080_128x182_peresabcod_deviantart.png
Textures/Default Package/Stockings/Seamless_Fishnet_Texture_guide_004_peresabcod_deviantart.jpg
Textures/Default Package/Stockings/TS_052_57x89_peresabcod_deviantart.png
Textures/Default Package/Stockings/TS_061_130x50_peresabcod_deviantart.png
Textures/Default Package/Stockings/TS_067_32x32_peresabcod_deviantart.png
Textures/Default Package/Stockings/TS_077_58x128_peresabcod_deviantart.png
Textures/Default Package/Stockings/TS_040_108x38_peresabcod_deviantart.png
Textures/Default Package/Stockings/TS_023_50x110_peresabcod_deviantart.png
Textures/Default Package/Stockings/TS_036_256x75_peresabcod_deviantart.png
Textures/Default Package/Stockings/TS_095_32x64_peresabcod_deviantart.png
Textures/Default Package/Stockings/TS_156_67x26_peresabcod_deviantart.png
Textures/Default Package/Stockings/TS_005_48x16_peresabcod_deviantart.png
Textures/Default Package/Stockings/TS_159_41x48_peresabcod_deviantart.png
Textures/Default Package/Stockings/TS_069_113x128_peresabcod_deviantart.png
Textures/Default Package/Stockings/TS_112_55x128_peresabcod_deviantart.png
Textures/Default Package/Stockings/TS_136_58x62_peresabcod_deviantart.png
Textures/Default Package/Stockings/TS_010_108x211_peresabcod_deviantart.png
Textures/Default Package/Stockings/TS_134_19x24_peresabcod_deviantart.png
Textures/Default Package/Stockings/TS_140_46x62_peresabcod_deviantart.png
Textures/Default Package/Stockings/TS_143_50x14_peresabcod_deviantart.png
Textures/Default Package/Stockings/TS_073_45x32_peresabcod_deviantart.png
Textures/Default Package/Stockings/TS_110_16x20_peresabcod_deviantart.png
Textures/Default Package/Stockings/TS_132_64x42_peresabcod_deviantart.png
Textures/Default Package/Stockings/Seamless_Fishnet_Texture_guide_003_peresabcod_deviantart.jpg
Textures/Default Package/Stockings/TS_025_64x43_peresabcod_deviantart.png
Textures/Default Package/Stockings/TS_141_54x43_peresabcod_deviantart.png
Textures/Default Package/Stockings/TS_088_57x64_peresabcod_deviantart.png
Textures/Default Package/Stockings/TS_106_48x64_peresabcod_deviantart.png
Textures/Default Package/Stockings/TS_089_18x25_peresabcod_deviantart.png
Textures/Default Package/Stockings/TS_060_64x42_peresabcod_deviantart.png
Textures/Default Package/Stockings/TS_101_64x38_peresabcod_deviantart.png
Textures/Default Package/Stockings/TS_057_32x32_peresabcod_deviantart.png
Textures/Default Package/Stockings/TS_098_128x91_peresabcod_deviantart.png
Textures/Default Package/Stockings/TS_034_120x67_peresabcod_deviantart.png
Textures/Default Package/Stockings/TS_123_32x39_peresabcod_deviantart.png
Textures/Default Package/Stockings/TS_033_64x27_peresabcod_deviantart.png
Textures/Default Package/Stockings/TS_096_64x64_peresabcod_deviantart.png
Textures/Default Package/Stockings/TS_006_96x128_peresabcod_deviantart.png
Textures/Default Package/Stockings/TS_030_77x32_peresabcod_deviantart.png
Textures/Default Package/Stockings/TS_138_40x28_peresabcod_deviantart.png
Textures/Default Package/Stockings/TS_012_32x36_peresabcod_deviantart.png
Textures/Default Package/Stockings/TS_076_64x26_peresabcod_deviantart.png
Textures/Default Package/Stockings/TS_086_64x64_peresabcod_deviantart.png
Textures/Default Package/Stockings/TS_024_53x64_peresabcod_deviantart.png
Textures/Default Package/Stockings/TS_155_32x32_peresabcod_deviantart.png
Textures/Default Package/Stockings/TS_094_64x64_peresabcod_deviantart.png
Textures/Default Package/Stockings/TS_032_96x96_peresabcod_deviantart.png
Textures/Default Package/Stockings/TS_045_112x64_peresabcod_deviantart.png
Textures/Default Package/Stockings/TS_070_40x44_peresabcod_deviantart.png
Textures/Default Package/Stockings/TS_062_17x64_peresabcod_deviantart.png
Textures/Default Package/Stockings/TS_135_154x146_peresabcod_deviantart.png
Textures/Default Package/Stockings/TS_105_39x32_peresabcod_deviantart.png
Textures/Default Package/Stockings/TS_039_118x62_peresabcod_deviantart.png
Textures/Default Package/Stockings/TS_056_32x32_peresabcod_deviantart.png
Textures/Default Package/Stockings/TS_084_32x64_peresabcod_deviantart.png
Textures/Default Package/Stockings/TS_147_128x60_peresabcod_deviantart.png
Textures/Default Package/Stockings/TS_078_64x118_peresabcod_deviantart.png
Textures/Default Package/Bruises/Bruise Face Diffuse 2.png
Textures/Default Package/Bruises/Bruise Torso Diffuse.png
Textures/Default Package/Bruises/Spanked Ass 1.png
Textures/Default Package/Bruises/Bruise Legs Diffuse.png
Textures/Default Package/Bruises/Bruise Arms Diffuse.png
Textures/Default Package/Dirt/Template1 Dirt2 Diffuse.png
Textures/Default Package/Dirt/Template2 Dirt2 Diffuse.png
Textures/Default Package/Dirt/Template3 Dirt2 Diffuse.png
Textures/Default Package/Dirt/Template4 Dirt2 Diffuse.png
Textures/Default Package/Genitalia/GensMapT_Swelling_1009.jpg
Textures/Default Package/Genitalia/GensMapD.jpg
Textures/Default Package/Genitalia/GensMapNM.png
Textures/Default Package/Genitalia/GensMapNM_Default_1009.png
Textures/Default Package/Genitalia/GensMapT_Default_1009.jpg
Textures/Default Package/Genitalia/GensMapS_Default_Dry_1009.jpg
Textures/Default Package/Genitalia/GensMapSpec&Swell.jpg
Textures/Default Package/Genitalia/GensMapD_Default_P_1009.jpg
Textures/Default Package/Genitalia/Bump/GensMapBump&Mask.jpg
Textures/Default Package/Blood/Blood Face_n.png
Textures/Default Package/Blood/Blood Torso_n.png
Textures/Default Package/Blood/Blood Arms_n.png
Textures/Default Package/Blood/Blood Legs_n.png
Textures/Default Package/Eyes/RealIris2.jpg
Textures/Default Package/Eyes/G8FBaseEyesB_1007.jpg
Textures/Default Package/Eyes/RealIris1.jpg
Textures/Default Package/Eyes/EyesN_1007.jpg
Textures/Default Package/Eyes/RealIris0.jpg
Textures/Default Package/Eyes/G8FBaseEyes01_1007.jpg
Textures/Default Package/Eyes/Eyes Mask.jpg
Textures/Default Package/Eyes/BaseReal0.jpg
Textures/Default Package/Clothing details/cotton2_detail_nrm.tex.png
Textures/Default Package/Clothing details/fabrics-linen-1-normal.png
Textures/Default Package/Clothing details/carbonfiber_001_nrml.png
Textures/Default Package/Clothing details/Zipper2.png
Textures/Default Package/Clothing details/cotton00_dtl.png
Textures/Default Package/Clothing details/fabrics-knit-plain-normal.png
Textures/Default Package/Clothing details/jeans_detail_nrm.tex.png
Textures/Default Package/Clothing details/leather_detail_nrm.tex.png
Textures/Default Package/Clothing details/fabrics-gabardine-2-2-normal.png
Textures/Default Package/Clothing details/fabrics-gabardine-1-3-normal.png
Textures/Default Package/Clothing details/sjfvec0c_2K_Normal.jpg
Textures/Default Package/Clothing details/fabrics-small-wrinkles-1.png
Textures/Default Package/Clothing details/Leather alt.png
Textures/Default Package/Mouth/MouthB.jpg
Textures/Default Package/Mouth/G8FBaseMouthMapN_1005.jpg
Textures/Default Package/Mouth/G8FBaseMouthMapD_1005.jpg
Textures/Default Package/Mouth/Female_Mouth_D.jpg
Textures/Default Package/Mouth/Female_Mouth_N.jpg
Textures/Default Package/Wet/RainDropsAndStreaks001_NRM_3K.jpg
Textures/Default Package/Wet/RainDropsAndStreaks001_REFL_3K.jpg
Textures/Default Package/Veins/Veins Face_n.png
Textures/Default Package/Veins/Veins Torso_n.png
Textures/Default Package/Veins/Veins Arms_n.png
Textures/Default Package/Veins/Veins Legs_n.png




Daz_Addon_v1_6_2_LKmvG6J.zip
457
2023-08-27 02:00:46
1.45 MB
File contents:

mhx_rts/layers.py
mhx_rts/animation.py
mhx_rts/fkik.py
mhx_rts/README.md
mhx_rts/buildnumber.py
mhx_rts/props.py
mhx_rts/__init__.py
mhx_rts/panel.py
mhx_rts/utils.py
import_daz/camera.py
import_daz/store.py
import_daz/tree.py
import_daz/merge.py
import_daz/modifier.py
import_daz/convert.py
import_daz/layers.py
import_daz/transform.py
import_daz/light.py
import_daz/hide.py
import_daz/dforce.py
import_daz/animation.py
import_daz/objfile.py
import_daz/brick.py
import_daz/mhx.py
import_daz/pbr.py
import_daz/node.py
import_daz/proxy.py
import_daz/transfer.py
import_daz/bone.py
import_daz/guess.py
import_daz/LICENSE
import_daz/main.py
import_daz/propgroups.py
import_daz/cycles.py
import_daz/README.md
import_daz/uilist.py
import_daz/api.py
import_daz/buildnumber.py
import_daz/formula.py
import_daz/material.py
import_daz/daz.py
import_daz/settings.py
import_daz/files.py
import_daz/render.py
import_daz/hdmorphs.py
import_daz/figure.py
import_daz/driver.py
import_daz/geometry.py
import_daz/cgroup.py
import_daz/load_morph.py
import_daz/error.py
import_daz/asset.py
import_daz/load_json.py
import_daz/morphing.py
import_daz/scan.py
import_daz/fix.py
import_daz/bone_data.py
import_daz/hair.py
import_daz/udim.py
import_daz/tables.py
import_daz/fileutils.py
import_daz/facecap.py
import_daz/__init__.py
import_daz/geonodes.py
import_daz/rigify_data.py
import_daz/finger.py
import_daz/panel.py
import_daz/mhx_data.py
import_daz/rigify.py
import_daz/channels.py
import_daz/utils.py
import_daz/matedit.py
import_daz/to_daz_studio/Scripts/diffeomorphic.png
import_daz/to_daz_studio/Scripts/Diffeomorphic/readme.png
import_daz/to_daz_studio/Scripts/Diffeomorphic/export_to_blender.png
import_daz/to_daz_studio/Scripts/Diffeomorphic/mesh_statistics.png
import_daz/to_daz_studio/Scripts/Diffeomorphic/save_root_paths.png
import_daz/to_daz_studio/Scripts/Diffeomorphic/readme.dsa
import_daz/to_daz_studio/Scripts/Diffeomorphic/setup_menus.png
import_daz/to_daz_studio/Scripts/Diffeomorphic/export_highdef_to_blender.png
import_daz/to_daz_studio/Scripts/Diffeomorphic/save_root_paths.dsa
import_daz/to_daz_studio/Scripts/Diffeomorphic/setup_menus.dsa
import_daz/to_daz_studio/Scripts/Diffeomorphic/mesh_statistics.dsa
import_daz/to_daz_studio/Scripts/Diffeomorphic/export_to_blender.dsa
import_daz/to_daz_studio/Scripts/Diffeomorphic/export_highdef_to_blender.dsa
import_daz/startup/runtime_stripped_28x.py
import_daz/runtime/morph_armature.py
import_daz/runtime/__pycache__/morph_armature.cpython-39.pyc
import_daz/runtime/__pycache__/morph_armature.cpython-37.pyc
import_daz/runtime/__pycache__/morph_armature.cpython-310.pyc
import_daz/data/gizmos.json
import_daz/data/paths/genesis8-male.json
import_daz/data/paths/genesis3-male.json
import_daz/data/paths/tear9.json
import_daz/data/paths/eyes9.json
import_daz/data/paths/genesis3-female.json
import_daz/data/paths/genesis2-female.json
import_daz/data/paths/mouth9.json
import_daz/data/paths/lashes9.json
import_daz/data/paths/tear81-female.json
import_daz/data/paths/genesis9.json
import_daz/data/paths/lashes8-female.json
import_daz/data/paths/genesis8-female.json
import_daz/data/paths/lashes8-male.json
import_daz/data/paths/tear81-male.json
import_daz/data/paths/lashes81-male.json
import_daz/data/paths/genesis81-face-controls.json
import_daz/data/paths/genesis2-male.json
import_daz/data/paths/lashes81-female.json
import_daz/data/paths/genesis.json
import_daz/data/lowpoly/genesis8-male.json
import_daz/data/lowpoly/genesis3-male.json
import_daz/data/lowpoly/genesis3-female.json
import_daz/data/lowpoly/genesis2-female.json
import_daz/data/lowpoly/genesis8-female.json
import_daz/data/lowpoly/genesis.json
import_daz/data/export_converters/mhx.json
import_daz/data/restposes/genesis_9.json
import_daz/data/restposes/genesis_3_female.json
import_daz/data/restposes/genesis_8_female.json
import_daz/data/restposes/genesis_2_female.json
import_daz/data/restposes/victoria_7.json
import_daz/data/restposes/michael_8.json
import_daz/data/restposes/cmu.json
import_daz/data/restposes/genesis_8_male.json
import_daz/data/restposes/genesis_2_male.json
import_daz/data/restposes/genesis_3_male.json
import_daz/data/restposes/genesis.json
import_daz/data/restposes/victoria_8.json
import_daz/data/converters/genesis1238-genesis9.json
import_daz/data/converters/genesis2-genesis3.json
import_daz/data/converters/genesis3-genesis2.json
import_daz/data/converters/genesis1-genesis3.json
import_daz/data/converters/genesis-rigify2.json
import_daz/data/converters/genesis3-genesis1.json
import_daz/data/converters/genesis-rigify.json
import_daz/data/converters/genesis-mhx.json
import_daz/data/parents/genesis_9.json
import_daz/data/parents/genesis_3_female.json
import_daz/data/parents/genesis_8_female.json
import_daz/data/parents/genesis_2_female.json
import_daz/data/parents/genesis_8_male.json
import_daz/data/parents/genesis_2_male.json
import_daz/data/parents/genesis_3_male.json
import_daz/data/parents/genesis.json
import_daz/data/presets/leather.json
import_daz/data/presets/cotton.json
import_daz/data/presets/silk.json
import_daz/data/presets/denim.json
import_daz/data/presets/rubber.json
import_daz/data/softbody/genesis8.json
import_daz/data/softbody/rigify2.json
import_daz/data/softbody/softbody-genesis8-male.json
import_daz/data/softbody/softbody-genesis8-female.json
import_daz/data/softbody/softbody-genesis3-female.json
import_daz/data/softbody/genesis3.json
import_daz/data/softbody/mhx.json
import_daz/data/softbody/softbody-genesis3-male.json
import_daz/data/ikposes/genesis_9.json
import_daz/data/ikposes/genesis_3_female.json
import_daz/data/ikposes/genesis_8_female.json
import_daz/data/ikposes/genesis_2_female.json
import_daz/data/ikposes/genesis_8_male.json
import_daz/data/ikposes/genesis_2_male.json
import_daz/data/ikposes/genesis_3_male.json
import_daz/data/ikposes/genesis.json
import_daz/standalone/add_alpha.py
import_daz/standalone/resize.py
diffeo-HD/readme.txt
diffeo-HD/diffeo.dll