Adult content
This content is marked as Adult/NSFW content. You can toggle your preferences regarding this content type in your account settings.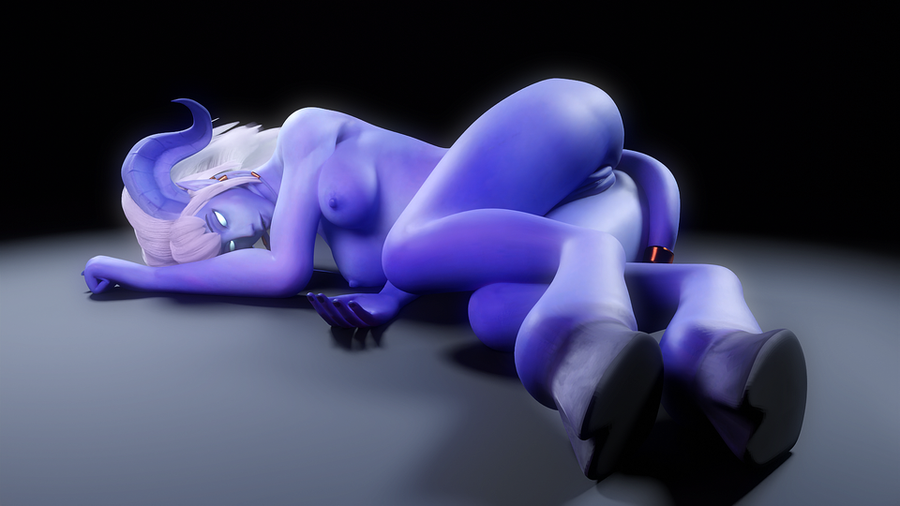 Show more
Description
Howdy diddly dee, neighbor! I've been working on this model for a bit now, and I think it's finally ready for release. A bunch of credit to Mustard, since I borrowed a lot of resources from his existing Draenei model. Most of the rigging is copied as-is from that model, though I did the wieght painting on the head and rigged the futanari bits.
Yrel is a very interesting character. I've never actually played WoW, but I've enjoyed seeing her in some works in the SFM community, and thought it was kind of strange that she never made it to Blender. I've heard her described as a "space goat nazi," but most of my knowledge about her actually comes from playing Heroes of the Storm, where she seems more like a naive cleric-type character. At some point, I might try to steal her outfit from HOTS, but for the moment, she'll just have to be naked.
I've tried to put a lot of work into making her assets better where I've had the skill to do so. Since I kinda head-hacked her head onto Mustard's body, I lost some of the seamlessness his model had, especially in regards to how the horns were attached to her head. Since I did not like the horns that came with the Yrel model I had, I modeled my own and re-uved them to the original textures. Of course, after I decided to use Mustard's model, I found his Draenei already had horns attached to the head, so I kind of re-grafted everything together so now her head is bits and pieces of the original Yrel head, Mustard's model, and my horns, with some texture painting to glue them all together. I'm proud of it, though I probably made things more difficult than I needed to.
I've added some scripts and such to make animating her a little more smooth. Her rig scripts now include some nice rig layer UI I borrowed from Rigify, and a shape key panel I threw together to help synchonize shapekeys between all of her meshes.
Includes
Yrel, rigged with some version of Mustard Rig/Autorig
Futa and Horsecock Futa variants

Includes SplineIK dick options!

Golden Horseshoes, for some reason
Mesh and Particle Hair options
Credits
Tips
Use the Gear to toggle options like Futa and Particle Hair.
Probably avoid the Corrective Smooth options.
If you enable particle hair, you should probably set the Hair Shape to 3D Curves or turn up the subdivisions.
A lot of the bones on the tweak layers don't do anything. That said, there are a couple that are useful. These bones are inherited from Mustard's rig and I'm not sure what to do about them.
I've included a shape key layers panel that gives easier access to many of the shapekeys I expect you'd want to use. If it causes issues, feel free to go into the Scripts panel and nuke it.
SmutBase is a free service. However, it costs about $0.03 to deliver you a 1GB file. With over 20TB of traffic every month and growing, SmutBase needs your help. If only 1% of our users each gave us $5 for a single month, we could keep the site running for several years.
Filename
Downloads
Created
Filesize
Files
Yrel.7z
7332
2021-02-15 06:54:42
89.63 MB
File contents:

Yrel.blend
textures/detail_skin.png
textures/DraeneiF_Body_norm.png
textures/DraeneiF_Gens_norm.png
textures/yrel_gens_r.png
textures/horsecock_m.png
textures/horsecock_n.png
textures/horsecock_r2.png
textures/yrel_dick_r.png
textures/DraeneiF_Body_blue_diff2.png
textures/horsecock_n6.png
textures/Runes_PBR_BaseColor.png
textures/yrel_dick_r2.png
textures/yrel_dick.png
textures/Yrel_New.png
textures/Runes_PBR_Metallic.png
textures/Runes_PBR_Normal.png
textures/yrel_body_r.png
textures/futa_dick_n.png
textures/yrel_body_rd_RGB.png
textures/horsecock_r.png
textures/horsecock_d.png
textures/yrel_gens.png
textures/yrel_body.png
textures/yrel_hair_RGB.png