Adult content
This content is marked as Adult/NSFW content. You can toggle your preferences regarding this content type in your account settings.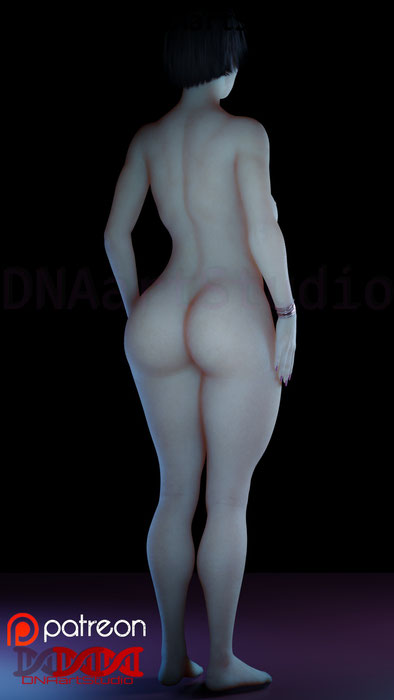 Show more
Description
XFuta Custom Model For BLENDER EEVEE
Get the model here: https://dlsharefile.com/file/Y2IwYzBjNWIt
this's original file ,if you see the skin is too waxy just disconnect light path from World node Or use HDRI.
---
*Changelog*
v1.1.1
. Reduce SSS from 0.15 To 0.05 And BMP
v2.0
Update Skin Shader Material And Add New Textures
Fix problem on Rig
Fix Gen Material
Add Visemes
---
I thought it would be nice to share this model in public and see what can peoples did with this model .
Requirements
DAZ Diffeomorphic addon for Blender installed
Blender 2.92 (or 2.91+)
Features:
Rigify Rig IK/FK
Clean topology on her body
Body and genital rig
Lot of shapekeys and control bones
Simple Skin Node For Low PC Requirement
---
tag me on twitter so I can see what you create with her
If you find any bugs please report them on my twitter https://twitter.com/AartDn
SmutBase is a free service. However, it costs about $0.03 to deliver you a 1GB file. With over 20TB of traffic every month and growing, SmutBase needs your help. If only 1% of our users each gave us $5 for a single month, we could keep the site running for several years.
Filename
Downloads
Created
Filesize
Files
XFuta.7z
1712
2021-02-14 20:40:33
51.49 MB
File contents:

Credit.txt
XFuta_Public.blend
textures/Hair_base_tr.jpg
textures/AxyaWrists1_Normal.jpg
textures/Torso.jpg
textures/Hair022.jpg
textures/Hair022c.jpg
textures/AxyaWristsmat1_BaseColor.jpg
textures/Legs.jpg
textures/ArmsS.jpg
textures/ArmsB.jpg
textures/Hair000b.jpg
textures/AxyaWristsDiam_Normal.jpg
textures/TorsoB.jpg
textures/AxyaWristsmat1_Metallic.jpg
textures/TeethB.jpg
textures/FaceB.jpg
textures/AxyaWrists1_BaseColor.jpg
textures/AxyaWristsmat1_Roughness.jpg
textures/AxyaWrists1_Roughness.jpg
textures/AxyaWristsDiam_Metallic.jpg
textures/Halloween_Pumpkin_02_SSS.png
textures/Arms.jpg
textures/AxyaWristsmat1_Height.jpg
textures/LegsS.jpg
textures/Eye.jpg
textures/AxyaWristsDiam_BaseColor.jpg
textures/AxyaWristsmat1_Normal.jpg
textures/Teeth.jpg
textures/TorsoS.jpg
textures/FaceS.jpg
textures/Face.jpg
textures/LegsB.jpg
textures/AxyaWrists1_Metallic.jpg
textures/Hair_tr1.jpg




XFuta1.0.1.7z
1781
2021-02-16 19:49:52
51.68 MB
File contents:

XFuta_Public.blend
textures/Hair_base_tr.jpg
textures/AxyaWrists1_Normal.jpg
textures/Torso.jpg
textures/Hair022.jpg
textures/Hair022c.jpg
textures/AxyaWristsmat1_BaseColor.jpg
textures/Legs.jpg
textures/ArmsS.jpg
textures/ArmsB.jpg
textures/Hair000b.jpg
textures/AxyaWristsDiam_Normal.jpg
textures/TorsoB.jpg
textures/AxyaWristsmat1_Metallic.jpg
textures/TeethB.jpg
textures/FaceB.jpg
textures/AxyaWrists1_BaseColor.jpg
textures/AxyaWristsmat1_Roughness.jpg
textures/AxyaWrists1_Roughness.jpg
textures/kiara_interior.jpg
textures/AxyaWristsDiam_Metallic.jpg
textures/Halloween_Pumpkin_02_SSS.png
textures/Arms.jpg
textures/AxyaWristsmat1_Height.jpg
textures/LegsS.jpg
textures/Eye.jpg
textures/AxyaWristsDiam_BaseColor.jpg
textures/AxyaWristsmat1_Normal.jpg
textures/Teeth.jpg
textures/TorsoS.jpg
textures/FaceS.jpg
textures/Face.jpg
textures/LegsB.jpg
textures/AxyaWrists1_Metallic.jpg
textures/Hair_tr1.jpg




textures_kknohmS.7z
1112
2021-08-02 13:48:28
72.68 MB
File contents:

textures/LegsBump.jpg
textures/Futa_D.jpg
textures/Hair_base_tr.jpg
textures/AxyaWrists1_Normal.jpg
textures/Torso.jpg
textures/Hair022.jpg
textures/Hair022c.jpg
textures/AxyaWristsmat1_BaseColor.jpg
textures/Legs.jpg
textures/ArmsBump.jpg
textures/Futa_B.jpg
textures/Hair000b.jpg
textures/AxyaWristsmat1_Metallic.jpg
textures/Futa_sss.jpg
textures/Mouth.jpg
textures/Futa_D2.jpg
textures/AxyaWrists1_BaseColor.jpg
textures/AxyaWristsmat1_Roughness.jpg
textures/FaceBump.jpg
textures/AxyaWrists1_Roughness.jpg
textures/TorsoBump.jpg
textures/AxyaWristsDiam_Metallic.jpg
textures/Arms.jpg
textures/TorsoSpec.jpg
textures/AxyaWristsmat1_Height.jpg
textures/Eye.jpg
textures/AxyaWristsDiam_BaseColor.jpg
textures/ArmsSpec.jpg
textures/MouthB.jpg
textures/FaceSpec.jpg
textures/Futa_N.jpg
textures/LegsSpec.jpg
textures/Face.jpg
textures/AxyaWrists1_Metallic.jpg
textures/Futa_S.jpg
textures/Hair_tr1.jpg




XFutaV2.blend
1306
2021-08-02 13:48:28
9.02 MB