Adult content
This content is marked as Adult/NSFW content. You can toggle your preferences regarding this content type in your account settings.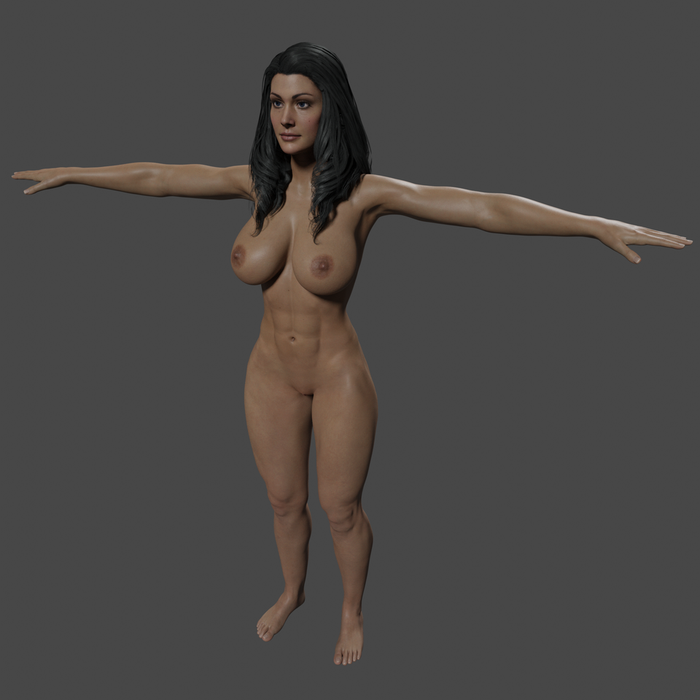 Show more
Description
Wonder Woman 1.2
This model is a Blender port of Red Menace & Smug Bastard's Wonder Woman SFM model. Enjoy it!
Features
2K resolution textures for body and outfit
Multiple shape keys for animation, posing, fitting clothes, facial expressions, etc
6 Hairstyles present in original model
Multiple outfit parts (many more than the ones shown in previews and all present in original model) and accesories from different gear sets from Injustice 1 and 2 (Injustice 2 Base game sets include 2 differnt skins: Default and Flashpoint Princess)
Multiple Wonder Woman props including different models and parts of Lasso, Shield and Sword
Rigged with a Custom IK+FK rig based on doublenyl's Futa Wonder Woman model that includes all clothing sets individual rigs attached to the body rig (you can find them on different bone layers on the body rig)
Wrinkle maps system, finger/toenails coloring and much more in Shader Editor
Important information
This model is a bit different than my previous ports if you have used any of them. I will try to implement the improvements on this one to the other models when I find some time. Apart from the materials and shaders improvements, the main difference is on the rig. You'll soon notice that it's not a Rigify rig. The reason is purely technical and related to the original mesh when it gets imported into Blender. The rig used in this model is based on doublenyl's Futa Wonder Woman, so if you have used any of his models, it's about the same. If you haven't, you need to know that although it doesn't look like a Rigify rig, it works the same more or less. The Pelvis, Hands and Foot bones behave like Rigify's IK bones, so it's basically the same. Remember to pose the elbows and knees too because they won't follow the hands and feet. If you want to use the model along with clothes, and need to move the whole model, don't do it in object mode or the clotes will stay. Go into Pose mode, and move it using the bone called Root (between her feet). The two main hairstyles (Hair and Ponytail) have their rig (shared) in the main body rig in the 8th bone layer. The other 4 hairstyles have their own individual rig on their respective gear set collection. If you pose the model in a way that some part of the body clips with the outfits, you can use the "shrink" shape keys. Those shape keys shrink only the body parts that are covered, so you'll be able to avoid the clipping and the clothes will hide the wierd body shape.
My patreon: https://www.patreon.com/Wolfy3d
I would appreciate very much if you credited me and tagged me on Twitter if you use this model in an animation or poster.
My Twitter: https://twitter.com/Wolfy3D
If you want to send me any feedback about the model or report me any bug you find you can do it in my Discord or Twitter.
My Discord: https://discord.gg/WTAUcyk
Credits:
DC Comics: original character
Netherrealm Studios: original model and assets
Red Menace & Smug Bastard: SFM model
doublenyl: original custom rig, some materials and help with model porting issues
You can check the complete info from Smug Bastard's SFM release here:
https://www.patreon.com/posts/injustice-2-27205304
Changelog
Version 1.0 (22/1/2021) First release
Version 1.1 (23/1/2021) Fixed thighs and genitals weight painting issues found on certain model poses. This could cause some issues with clothes that cover that zone, because weight paint is slightly different now on the body and the clothing, but I've been doing some tests, and it should be easily fixed by doing some minor sculpting when you have her in the desired pose (create a shape key and animate it if you're doing an animation, of course). Otherwise, it would take me days and days of fixing those minor weight painting issues, which is much harder than the sculpting option
Version 1.2 (24/1/2021) Fixed weight paint related problem shown while rotation some of the spine bones (wrong weight painting in head)
SmutBase is a free service. However, it costs about $0.03 to deliver you a 1GB file. With over 20TB of traffic every month and growing, SmutBase needs your help. If only 1% of our users each gave us $5 for a single month, we could keep the site running for several years.
Filename
Downloads
Created
Filesize
Files
WonderWoman_1.2.rar
3366
2021-01-23 23:10:48
33.36 MB
File contents:

WonderWoman_1.2.blend




WonderWomanTextures.rar
2965
2021-01-22 23:58:04
573.87 MB
File contents:

Textures/models/Red Menace/barry-eye-cornea.tga
Textures/models/Red Menace/gambler_eye_ao.tga
Textures/models/Red Menace/Injustice2/WonderWoman/Ponytail_N.tga
Textures/models/Red Menace/Injustice2/WonderWoman/WW_Eyesa.tga
Textures/models/Red Menace/Injustice2/WonderWoman/Face_N.tga
Textures/models/Red Menace/Injustice2/WonderWoman/Arms2.tga
Textures/models/Red Menace/Injustice2/WonderWoman/Albany Arms Bump.jpg
Textures/models/Red Menace/Injustice2/WonderWoman/LegsNM2.tga
Textures/models/Red Menace/Injustice2/WonderWoman/Teeth_exp.tga
Textures/models/Red Menace/Injustice2/WonderWoman/Torso.tga
Textures/models/Red Menace/Injustice2/WonderWoman/Teeth_n.tga
Textures/models/Red Menace/Injustice2/WonderWoman/phongwarp_brown.tga
Textures/models/Red Menace/Injustice2/WonderWoman/torso_exp.tga
Textures/models/Red Menace/Injustice2/WonderWoman/phongwarp_hair_lara.tga
Textures/models/Red Menace/Injustice2/WonderWoman/Face_Exp.tga
Textures/models/Red Menace/Injustice2/WonderWoman/TorsoNM.tga
Textures/models/Red Menace/Injustice2/WonderWoman/WW_Eyes.tga
Textures/models/Red Menace/Injustice2/WonderWoman/Ribbon_D.tga
Textures/models/Red Menace/Injustice2/WonderWoman/Arms_Exp.tga
Textures/models/Red Menace/Injustice2/WonderWoman/Legs2.tga
Textures/models/Red Menace/Injustice2/WonderWoman/Face_Stretch_D.tga
Textures/models/Red Menace/Injustice2/WonderWoman/gen_D.tga
Textures/models/Red Menace/Injustice2/WonderWoman/phongwarp_hair.tga
Textures/models/Red Menace/Injustice2/WonderWoman/Albany Legs Bump.jpg
Textures/models/Red Menace/Injustice2/WonderWoman/LegsNM.tga
Textures/models/Red Menace/Injustice2/WonderWoman/legs_exp.tga
Textures/models/Red Menace/Injustice2/WonderWoman/phongwarp_gray.tga
Textures/models/Red Menace/Injustice2/WonderWoman/Albany Torso Specular.jpg
Textures/models/Red Menace/Injustice2/WonderWoman/Albany Torso Bump.jpg
Textures/models/Red Menace/Injustice2/WonderWoman/Hair_N.tga
Textures/models/Red Menace/Injustice2/WonderWoman/Face_d.tga
Textures/models/Red Menace/Injustice2/WonderWoman/Arms.tga
Textures/models/Red Menace/Injustice2/WonderWoman/skin_blue.tga
Textures/models/Red Menace/Injustice2/WonderWoman/Albany Legs Specular.jpg
Textures/models/Red Menace/Injustice2/WonderWoman/Face_compress_N.tga
Textures/models/Red Menace/Injustice2/WonderWoman/Albany Arms Specular.jpg
Textures/models/Red Menace/Injustice2/WonderWoman/Gens_N.tga
Textures/models/Red Menace/Injustice2/WonderWoman/Hair_D.tga
Textures/models/Red Menace/Injustice2/WonderWoman/Face_Stretch_N.tga
Textures/models/Red Menace/Injustice2/WonderWoman/re2_eyecube.tga
Textures/models/Red Menace/Injustice2/WonderWoman/skin_red2.tga
Textures/models/Red Menace/Injustice2/WonderWoman/Face_compress_D.tga
Textures/models/Red Menace/Injustice2/WonderWoman/sss_green.tga
Textures/models/Red Menace/Injustice2/WonderWoman/Lashes_d.tga
Textures/models/Red Menace/Injustice2/WonderWoman/phongwarp.tga
Textures/models/Red Menace/Injustice2/WonderWoman/Teeth_d.tga
Textures/models/Red Menace/Injustice2/WonderWoman/ArmsNM2.tga
Textures/models/Red Menace/Injustice2/WonderWoman/Legs.tga
Textures/models/Red Menace/Injustice2/WonderWoman/Ribbon_N.tga
Textures/models/Red Menace/Injustice2/WonderWoman/ArmsNM.tga
Textures/models/Red Menace/Injustice2/WonderWoman/Face_Ni.tga
Textures/models/Red Menace/Injustice2/WonderWoman/Ponytail_D.tga
Textures/models/Red Menace/Injustice2/WonderWoman/Props/WW_DLCGOTY_Acc_02_Color2.tga
Textures/models/Red Menace/Injustice2/WonderWoman/Props/Lasso_Exp.tga
Textures/models/Red Menace/Injustice2/WonderWoman/Props/WW_DLCSZ_Acc_02_Color2.tga
Textures/models/Red Menace/Injustice2/WonderWoman/Props/WW_DLCSZ_Acc_02_Color.tga
Textures/models/Red Menace/Injustice2/WonderWoman/Props/WW_DLC01_ACC_MAT_Color.tga
Textures/models/Red Menace/Injustice2/WonderWoman/Props/WW_DLCSZ_Acc_02_CH.tga
Textures/models/Red Menace/Injustice2/WonderWoman/Props/WW_DLCSZ_Acc_02_Norm.tga
Textures/models/Red Menace/Injustice2/WonderWoman/Props/WW_DLCSZ_Acc_01_Emis.tga
Textures/models/Red Menace/Injustice2/WonderWoman/Props/WW_DLCSZ_Acc_01_Color2.tga
Textures/models/Red Menace/Injustice2/WonderWoman/Props/WW_MSTR_Acc_02_CH.tga
Textures/models/Red Menace/Injustice2/WonderWoman/Props/WW_DLCSZ_Acc_01_Exp.tga
Textures/models/Red Menace/Injustice2/WonderWoman/Props/WW_MSTR_Acc_01_Norm.tga
Textures/models/Red Menace/Injustice2/WonderWoman/Props/WW_DLCSZ_Acc_01_CH.tga
Textures/models/Red Menace/Injustice2/WonderWoman/Props/WW_DLCSZ_Acc_01_Norm.tga
Textures/models/Red Menace/Injustice2/WonderWoman/Props/WW_MSTR_Acc_02_Exp.tga
Textures/models/Red Menace/Injustice2/WonderWoman/Props/WW_DLCSZ_Acc_01_Color.tga
Textures/models/Red Menace/Injustice2/WonderWoman/Props/WW_MSTR_Acc_02_Norm.tga
Textures/models/Red Menace/Injustice2/WonderWoman/Props/Lasso_D.tga
Textures/models/Red Menace/Injustice2/WonderWoman/Props/WW_MSTR_Acc_02_Color2a.tga
Textures/models/Red Menace/Injustice2/WonderWoman/Props/WW_MSTR_Acc_02_Color.tga
Textures/models/Red Menace/Injustice2/WonderWoman/Props/WW_MSTR_Acc_02_Color2.tga
Textures/models/Red Menace/Injustice2/WonderWoman/Props/WW_DLC01_ACC_MAT_Exp.tga
Textures/models/Red Menace/Injustice2/WonderWoman/Props/WW_MSTR_Acc_01_Color2.tga
Textures/models/Red Menace/Injustice2/WonderWoman/Props/Lasso_Norm.tga
Textures/models/Red Menace/Injustice2/WonderWoman/Props/WW_MSTR_Acc_02_Colora.tga
Textures/models/Red Menace/Injustice2/WonderWoman/Props/WW_DLC01_ACC_MAT_CH.tga
Textures/models/Red Menace/Injustice2/WonderWoman/Props/WW_DLCSZ_Acc_02_Exp.tga
Textures/models/Red Menace/Injustice2/WonderWoman/Props/WW_DLC01_ACC_MAT_Color2.tga
Textures/models/Red Menace/Injustice2/WonderWoman/Props/WW_MSTR_Acc_01_Exp.tga
Textures/models/Red Menace/Injustice2/WonderWoman/Props/WW_MSTR_Acc_01_Color.tga
Textures/models/Red Menace/Injustice2/WonderWoman/Props/WW_MSTR_Acc_01_CH.tga
Textures/models/Red Menace/Injustice2/WonderWoman/Props/WW_DLCGOTY_Acc_01_Color2.tga
Textures/models/Red Menace/Injustice2/WonderWoman/Props/WW_DLC01_ACC_MAT_Norm.tga
Textures/models/Red Menace/Injustice2/WonderWoman/Main/WW_MSTR_Legs_01_Color.tga
Textures/models/Red Menace/Injustice2/WonderWoman/Main/WW_MSTR_Torso_01_Exp.tga
Textures/models/Red Menace/Injustice2/WonderWoman/Main/WW_MSTR_Legs_01_Exp.tga
Textures/models/Red Menace/Injustice2/WonderWoman/Main/WW_DLC01_MAT_Exp.tga
Textures/models/Red Menace/Injustice2/WonderWoman/Main/WW_MSTR_Arms_01_Exp.tga
Textures/models/Red Menace/Injustice2/WonderWoman/Main/WW_MSTR_Legs_01_Colora.tga
Textures/models/Red Menace/Injustice2/WonderWoman/Main/WW_DLC01_MAT_Skin.tga
Textures/models/Red Menace/Injustice2/WonderWoman/Main/WW_DLCGOTY_Head_01_Norm.tga
Textures/models/Red Menace/Injustice2/WonderWoman/Main/WW_MSTR_Head_01_Norm.tga
Textures/models/Red Menace/Injustice2/WonderWoman/Main/WW_MSTR_Torso_02_Exp.tga
Textures/models/Red Menace/Injustice2/WonderWoman/Main/WW_MSTR_Torso_01_Colora.tga
Textures/models/Red Menace/Injustice2/WonderWoman/Main/WW_MSTR_Legs_01_Norm.tga
Textures/models/Red Menace/Injustice2/WonderWoman/Main/WW_MSTR_Torso_02_Color.tga
Textures/models/Red Menace/Injustice2/WonderWoman/Main/WW_DLCGOTY_MAT_Colora_01.tga
Textures/models/Red Menace/Injustice2/WonderWoman/Main/WW_DLCGOTY_MAT_Exp_01.tga
Textures/models/Red Menace/Injustice2/WonderWoman/Main/WW_MSTR_Torso_01_Color.tga
Textures/models/Red Menace/Injustice2/WonderWoman/Main/WW_DLC01_MAT_Norm.tga
Textures/models/Red Menace/Injustice2/WonderWoman/Main/WW_MSTR_Head_01_Colora.tga
Textures/models/Red Menace/Injustice2/WonderWoman/Main/WW_DLCGOTY_MAT_Color_01.tga
Textures/models/Red Menace/Injustice2/WonderWoman/Main/WW_DLCGOTY_Head_01_Color.tga
Textures/models/Red Menace/Injustice2/WonderWoman/Main/WW_MSTR_Torso_02_Norm.tga
Textures/models/Red Menace/Injustice2/WonderWoman/Main/WW_MSTR_Torso_01_Norm.tga
Textures/models/Red Menace/Injustice2/WonderWoman/Main/WW_DLCGOTY_Head_01_Exp.tga
Textures/models/Red Menace/Injustice2/WonderWoman/Main/WW_DLC01_MAT_Color.tga
Textures/models/Red Menace/Injustice2/WonderWoman/Main/WW_MSTR_Arms_01_Colora.tga
Textures/models/Red Menace/Injustice2/WonderWoman/Main/WW_DLC01_MAT_Colora.tga
Textures/models/Red Menace/Injustice2/WonderWoman/Main/WW_DLCGOTY_MAT_Norm_01.tga
Textures/models/Red Menace/Injustice2/WonderWoman/Main/WW_MSTR_Head_01_Exp.tga
Textures/models/Red Menace/Injustice2/WonderWoman/Main/WW_MSTR_Torso_02_Colora.tga
Textures/models/Red Menace/Injustice2/WonderWoman/Main/WW_MSTR_Arms_01_Color.tga
Textures/models/Red Menace/Injustice2/WonderWoman/Main/WW_MSTR_Head_01_Color.tga
Textures/models/Red Menace/Injustice2/WonderWoman/Main/WW_MSTR_Arms_01_Norm.tga
Textures/models/Red Menace/Injustice2/WonderWoman/Main/FlashPointPrincess/WW_MSTR_Legs_01_Color.tga
Textures/models/Red Menace/Injustice2/WonderWoman/Main/FlashPointPrincess/WW_MSTR_Legs_01_Colora.tga
Textures/models/Red Menace/Injustice2/WonderWoman/Main/FlashPointPrincess/WW_DLC01_MAT_Skin.tga
Textures/models/Red Menace/Injustice2/WonderWoman/Main/FlashPointPrincess/WW_MSTR_Torso_01_Colora.tga
Textures/models/Red Menace/Injustice2/WonderWoman/Main/FlashPointPrincess/WW_MSTR_Torso_02_Color.tga
Textures/models/Red Menace/Injustice2/WonderWoman/Main/FlashPointPrincess/WW_DLCGOTY_MAT_Colora_01.tga
Textures/models/Red Menace/Injustice2/WonderWoman/Main/FlashPointPrincess/WW_MSTR_Torso_01_Color.tga
Textures/models/Red Menace/Injustice2/WonderWoman/Main/FlashPointPrincess/WW_MSTR_Head_01_Colora.tga
Textures/models/Red Menace/Injustice2/WonderWoman/Main/FlashPointPrincess/WW_DLCGOTY_MAT_Color_01.tga
Textures/models/Red Menace/Injustice2/WonderWoman/Main/FlashPointPrincess/WW_DLCGOTY_Head_01_Color.tga
Textures/models/Red Menace/Injustice2/WonderWoman/Main/FlashPointPrincess/WW_DLC01_MAT_Color.tga
Textures/models/Red Menace/Injustice2/WonderWoman/Main/FlashPointPrincess/WW_MSTR_Arms_01_Colora.tga
Textures/models/Red Menace/Injustice2/WonderWoman/Main/FlashPointPrincess/WW_DLC01_MAT_Colora.tga
Textures/models/Red Menace/Injustice2/WonderWoman/Main/FlashPointPrincess/WW_MSTR_Torso_02_Colora.tga
Textures/models/Red Menace/Injustice2/WonderWoman/Main/FlashPointPrincess/WW_MSTR_Arms_01_Color.tga
Textures/models/Red Menace/Injustice2/WonderWoman/Main/FlashPointPrincess/WW_MSTR_Head_01_Color.tga
Textures/models/Red Menace/Injustice2/WonderWoman/IJ1/600/WonderWoman_D_Accessory_Diff.tga
Textures/models/Red Menace/Injustice2/WonderWoman/IJ1/600/WonderWoman_D_NormHQA.tga
Textures/models/Red Menace/Injustice2/WonderWoman/IJ1/600/WonderWoman_D_Spec.tga
Textures/models/Red Menace/Injustice2/WonderWoman/IJ1/600/WonderWoman_D_Exp.tga
Textures/models/Red Menace/Injustice2/WonderWoman/IJ1/600/WonderWoman_D_Diff.tga
Textures/models/Red Menace/Injustice2/WonderWoman/IJ1/600/WonderWoman_D_Accessory_NormHQA.tga
Textures/models/Red Menace/Injustice2/WonderWoman/IJ1/New52/WonderWoman_A_Norm.tga
Textures/models/Red Menace/Injustice2/WonderWoman/IJ1/New52/WonderWoman_A_Accessory_Diff.tga
Textures/models/Red Menace/Injustice2/WonderWoman/IJ1/New52/WonderWoman_A_Accessory_Norm.tga
Textures/models/Red Menace/Injustice2/WonderWoman/IJ1/New52/WonderWoman_A_Diff.tga
Textures/models/Red Menace/Injustice2/WonderWoman/IJ1/New52/WonderWoman_A_Diffa.tga
Textures/models/Red Menace/Injustice2/WonderWoman/IJ1/Default/WonderWoman_Spec.tga
Textures/models/Red Menace/Injustice2/WonderWoman/IJ1/Default/WonderWoman_NormHQA.tga
Textures/models/Red Menace/Injustice2/WonderWoman/IJ1/Default/WonderWoman_Accessory_Diff.tga
Textures/models/Red Menace/Injustice2/WonderWoman/IJ1/Default/WonderWoman_Accessory_Norm.tga
Textures/models/Red Menace/Injustice2/WonderWoman/IJ1/Default/WonderWoman_Diffa.tga
Textures/models/Red Menace/Injustice2/WonderWoman/IJ1/Default/WonderWoman_Diff.tga
Textures/models/Red Menace/Injustice2/WonderWoman/IJ1/Default/WonderWoman_Exp.tga
Textures/models/Red Menace/Injustice2/WonderWoman/IJ1/RedSon/WonderWoman_B_Exp.tga
Textures/models/Red Menace/Injustice2/WonderWoman/IJ1/RedSon/WonderWoman_B_Spec.tga
Textures/models/Red Menace/Injustice2/WonderWoman/IJ1/RedSon/WonderWoman_B_Diff.tga
Textures/models/Red Menace/Injustice2/WonderWoman/IJ1/RedSon/WonderWoman_B_Accessory_Norm.tga
Textures/models/Red Menace/Injustice2/WonderWoman/IJ1/RedSon/WonderWoman_B_Norm.tga
Textures/models/Red Menace/Injustice2/WonderWoman/IJ1/RedSon/WonderWoman_B_Accessory_Diff.tga
Textures/models/Red Menace/Cubemap/rubber.hdr.tga
Textures/models/Red Menace/Cubemap/softgold.hdr.tga
Textures/models/Red Menace/Cubemap/softcube.hdr.tga
Textures/models/Red Menace/Cubemap/brushed_silver.hdr.tga
Textures/models/Red Menace/Cubemap/clouds.hdr.tga
Textures/models/Red Menace/Cubemap/desert_chrome.hdr.tga
Textures/models/Red Menace/Cubemap/softchrome.hdr.tga
Textures/models/Red Menace/Cubemap/alien_cube.hdr.tga
Textures/models/Red Menace/Cubemap/painted_silver.hdr.tga
Textures/models/Red Menace/Cubemap/blue_fog_ii.hdr.tga
Textures/models/Red Menace/Cubemap/cube_metal_grey.tga
Textures/models/Red Menace/Cubemap/dev_test.hdr.tga
Textures/models/Red Menace/Cubemap/softsilver.tga
Textures/models/Red Menace/Cubemap/cave.hdr.tga
Textures/models/Red Menace/Cubemap/blue_silk.hdr.tga
Textures/models/Red Menace/Cubemap/brushed_gold.hdr.tga
Textures/models/Red Menace/Cubemap/w101_cube_lite.hdr.tga
Textures/models/Red Menace/Cubemap/cartoon_chrome_color.hdr.tga
Textures/models/Red Menace/Cubemap/space_cube.hdr.tga
Textures/models/Red Menace/Cubemap/rainbow_cube.hdr.tga
Textures/models/Red Menace/Cubemap/cartoon_chrome.hdr.tga
Textures/models/Red Menace/Cubemap/blue_fog.hdr.tga
Textures/models/Red Menace/Cubemap/spotlights.hdr.tga
Textures/models/Red Menace/Cubemap/whitecube.tga
Textures/models/Red Menace/Cubemap/Evil Within/env_sz_catacombe_cube_00_px.tga




WonderWoman_1.1.rar
822
2021-01-23 20:48:51
33.36 MB
File contents:

WonderWoman_1.1.blend




WonderWoman_1.0.rar
853
2021-01-22 23:59:22
33.3 MB
File contents:

WonderWoman_1.0.blend