Adult content
This content is marked as Adult/NSFW content. You can toggle your preferences regarding this content type in your account settings.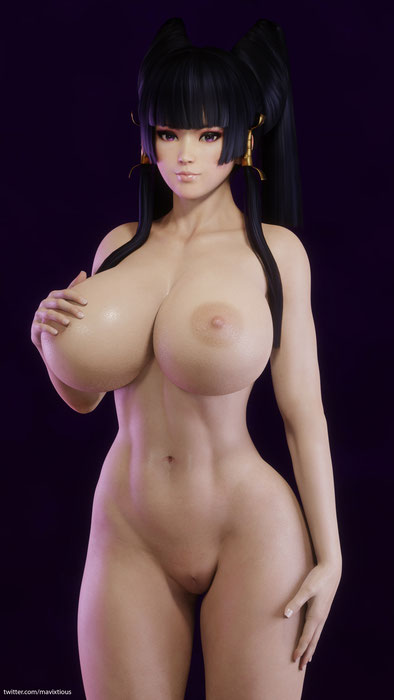 Show more
Description
Hey, this model is imported from Daz3D with the http://diffeomorphic.blogspot.com/p/daz-importer-version-15.html addon (it's a daz to blender importer).
You NEED the addon for this model to work. I've attached it here. Download and install it.
I've improved the rig with more controls and the body textures too. It has all the corrective shapekeys of daz and more shapekeys to modify the body if you like through the UI, everything is driven. Many bones have a limit rotation constraint, disable them if you don't like something.
Download the blend file and the textures and keep the blend file next to the textures folder.
The UI script is uneditable unfortunately, so you'll find the genital controls on the Clothes tab and the hair bones on the Extra tab.
Check the TUTORIAL video attached below too.
UPDATE v1.1 : Fixed a parenting issue of the second hair.
UPDATE v1.2 : Fixed lips/mouth control issue.
Bugs, suggestions, whatever at https://twitter.com/tvitone1
SmutBase is a free service. However, it costs about $0.03 to deliver you a 1GB file. With over 20TB of traffic every month and growing, SmutBase needs your help. If only 1% of our users each gave us $5 for a single month, we could keep the site running for several years.
Filename
Downloads
Created
Filesize
Files
import_daz-v1.5.0-20200918.zip
6286
2021-01-15 22:01:50
340.81 KB
File contents:

import_daz/guess.py
import_daz/light.py
import_daz/transfer.py
import_daz/error.py
import_daz/bone.py
import_daz/transform.py
import_daz/load_json.py
import_daz/rigify.py
import_daz/render.py
import_daz/cycles.py
import_daz/animation.py
import_daz/utils.py
import_daz/hide.py
import_daz/node.py
import_daz/cgroup.py
import_daz/channels.py
import_daz/pbr.py
import_daz/matedit.py
import_daz/mhx.py
import_daz/merge.py
import_daz/README.md
import_daz/objfile.py
import_daz/modifier.py
import_daz/morphing.py
import_daz/udim.py
import_daz/internal.py
import_daz/geometry.py
import_daz/layers.py
import_daz/driver.py
import_daz/LICENSE
import_daz/finger.py
import_daz/__init__.py
import_daz/camera.py
import_daz/convert.py
import_daz/asset.py
import_daz/files.py
import_daz/fileutils.py
import_daz/proxy.py
import_daz/buttons28.py
import_daz/main.py
import_daz/settings.py
import_daz/daz.py
import_daz/formula.py
import_daz/tables.py
import_daz/buttons27.py
import_daz/hair.py
import_daz/material.py
import_daz/globvars.py
import_daz/figure.py
import_daz/fix.py
import_daz/fkik.py
import_daz/data/gizmos.json
import_daz/data/lowpoly/genesis3-female.json
import_daz/data/ikposes/genesis_8_male.json
import_daz/data/ikposes/genesis_2_female.json
import_daz/data/ikposes/genesis_3_female.json
import_daz/data/ikposes/genesis_8_female.json
import_daz/data/ikposes/genesis.json
import_daz/data/ikposes/genesis_2_male.json
import_daz/data/ikposes/genesis_3_male.json
import_daz/data/parents/genesis_8_male.json
import_daz/data/parents/genesis_2_female.json
import_daz/data/parents/genesis_3_female.json
import_daz/data/parents/genesis_8_female.json
import_daz/data/parents/genesis.json
import_daz/data/parents/genesis_2_male.json
import_daz/data/parents/genesis_3_male.json
import_daz/data/restposes/genesis_8_male.json
import_daz/data/restposes/genesis_2_female.json
import_daz/data/restposes/genesis_3_female.json
import_daz/data/restposes/genesis_8_female.json
import_daz/data/restposes/genesis.json
import_daz/data/restposes/genesis_2_male.json
import_daz/data/restposes/genesis_3_male.json
import_daz/data/restposes/cmu.json
import_daz/data/converters/genesis-rigify.json
import_daz/data/converters/genesis-rigify2.json
import_daz/data/converters/genesis-mhx.json
import_daz/data/converters/genesis1-genesis3.json
import_daz/data/converters/genesis2-genesis3.json
import_daz/data/converters/genesis3-genesis2.json
import_daz/data/converters/genesis3-genesis1.json
import_daz/data/paths/genesis8-female.json
import_daz/data/paths/genesis.json
import_daz/data/paths/genesis3-female.json
import_daz/data/paths/genesis3-male.json
import_daz/data/paths/genesis8-male.json
import_daz/data/paths/genesis2-female.json
import_daz/data/paths/genesis2-male.json
import_daz/to_daz_studio/Scripts/diffeomorphic.png
import_daz/to_daz_studio/Scripts/Diffeomorphic/readme.png
import_daz/to_daz_studio/Scripts/Diffeomorphic/export_to_blender.dsa
import_daz/to_daz_studio/Scripts/Diffeomorphic/export_to_blender.png
import_daz/to_daz_studio/Scripts/Diffeomorphic/save_root_paths.dsa
import_daz/to_daz_studio/Scripts/Diffeomorphic/export_highdef_to_blender.png
import_daz/to_daz_studio/Scripts/Diffeomorphic/setup_menus.png
import_daz/to_daz_studio/Scripts/Diffeomorphic/save_root_paths.png
import_daz/to_daz_studio/Scripts/Diffeomorphic/setup_menus.dsa
import_daz/to_daz_studio/Scripts/Diffeomorphic/readme.dsa
import_daz/to_daz_studio/Scripts/Diffeomorphic/export_highdef_to_blender.dsa
import_daz/runtime_stripped/runtime_stripped_27x.py
import_daz/runtime_stripped/runtime_stripped_28x.py
import_daz/standalone/resize.py




TUTORIAL.mp4
6289
2021-01-15 22:10:16
17.71 MB
Nyotengu_textures.7z
8202
2021-01-15 22:32:24
30.69 MB
File contents:

Nyotengu_textures/hair_a_nrm.png
Nyotengu_textures/Nyo_n.jpg
Nyotengu_textures/NyotenguEyesD.png
Nyotengu_textures/blank.png
Nyotengu_textures/hair_b_nrm.png
Nyotengu_textures/hair_c_base.png
Nyotengu_textures/hotel_room.jpg
Nyotengu_textures/g8fbasemouthmapb_1005.jpg
Nyotengu_textures/hair_c_spec.png
Nyotengu_textures/hair_a_spec.png
Nyotengu_textures/hair_b_base.png
Nyotengu_textures/Nyo_d.jpg
Nyotengu_textures/eyelashes_lower.png
Nyotengu_textures/hair_a_base.png
Nyotengu_textures/g8fbaseeyesb_1007.jpg
Nyotengu_textures/Nyo_b.jpg
Nyotengu_textures/g8fbasemouthmapd_1005.jpg
Nyotengu_textures/hair_b_spec.png
Nyotengu_textures/Nyo_s.jpg
Nyotengu_textures/eyelashes_upper.png
Nyotengu_textures/hair_c_nrm.png




Nyotengu_v1.2.blend.7z
8171
2021-01-27 21:29:30
3.37 MB
File contents:

Nyotengu_v1.2.blend