Adult content
This content is marked as Adult/NSFW content. You can toggle your preferences regarding this content type in your account settings.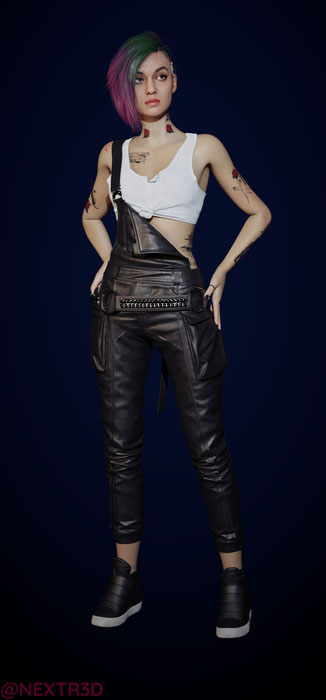 Show more
Description
If you find any bugs please submit a ticket on my dicord server or report them on my twitter
How to
Export the textures zip next to the blend file.
When opening the blend file press the 'Allow Execution' button. Than select an armature called Judy, either from the outliner or in the viewport. Press N to expand the menu on the right side of the viewport. Click the Judy tab.
Changelog
---
v1.3.1 (do NOT need to re-download textures)
new UI (please report any bugs with it)
v1.3 (re-download textures!)
added squash and stretch to her face for small details like wrinkles on her forehead
updated the UI
added bunch of controls to the UI
added in-game decals to the clothing
minor weight paint fixes
v1.2.4a
re-uploaded textures because downloading from EU1 resulted in getting a corrupted file. NA was fine
v1.2.4
updated the UI to v4.2.0
improved skin shader with sweat drops
added some new controls to the UI
some minor bug fixes
v1.2.3
added some corrective shape keys(hopefully they are going to be more stable than before)
adjusted top material to reflect the in-game one
vagina can be opened a bit more
various small bug fixes
v1.2.2
improved hand weights
updated face and torso textures
fixed holes in the mesh around her lips
v1.2.1
fixed haunted scalp(thanks to person from discord)
removed some nodes with missing textures
removed clipping around her chest
proper parenting
v1.2
fixed some stuff found thanks to very nice presentation by GAMIR_SFM
rigged suspender thing hanging between her legs
improved some mats
v1.1
vagina now has grip
weights improvements
v1.0.1
fixed broken hair parenting
v1.0
Clean topology on her body(or at least I tried)
Rigged face, body, breasts, genitals, hair
Rigged Main outfit with custom textures (in-game textures can't be exported yet)
Custom UI
not required but you can tag me on twitter so I can see what you create with her
If you find any bugs please report them on my twitter
Are you working on a model and want a very cool UI for it?
Get it here, change just one line in the code and it just works!
If you need help with implementation hit me up on twitter
SmutBase is a free service. However, it costs about $0.03 to deliver you a 1GB file. With over 20TB of traffic every month and growing, SmutBase needs your help. If only 1% of our users each gave us $5 for a single month, we could keep the site running for several years.
Filename
Downloads
Created
Filesize
Files
judy_v1.3.blend
4893
2021-08-01 16:08:29
35.26 MB
textures_iGlTCTN.zip
6504
2021-08-01 16:08:31
85.35 MB
File contents:

textures/pwa_jaw_region_mask.png
textures/judy_eyes_makeup_M.png
textures/t1_001_wa_tank__judy_n01.tga
textures/hh_short01_id01_r.tga
textures/Leather02_nrm.jpg
textures/Iris_bump.png
textures/Sclera.png
textures/pwa_mouth_region_mask.png
textures/judy_cyberware_D.tga
textures/judy_head_tattoos_D.png
textures/judy_torso_D.jpg
textures/Translucent_m.png
textures/pwa_nose_region_mask.png
textures/eyelashes_d01.tga
textures/garment_decals_n01.png
textures/judy_torso_tattoos_D.png
textures/pwa_eye_region_mask.png
textures/hh_051_wa__judy_common_cap_mask.tga
textures/judy_cyberware_N.tga
textures/judy_vagina_D.jpg
textures/stretch_N.png
textures/hh_short01_alpha01_r.tga
textures/hb_001_wa_c__judy_d01.tga
textures/SurfaceImperfections01_var1.jpg
textures/hb_001_wa_c__judy_n01.tga
textures/judy_arms_tattoos_D.png
textures/scalp_cyberware_M.png
textures/Leather02_rgh.jpg
textures/ht_001_ma_teeth_m01.tga
textures/judy_legs_D.jpg
textures/judy_head_D.png
textures/judy_head_N.tga
textures/judy_pants_N.png
textures/eyelashes_A.tga
textures/judy_lips_makeup.png
textures/ht_001_ma_teeth_d01.tga
textures/Fabric19_nrm.jpg
textures/judy_legs_tattoos_D.png
textures/Fabric19_rgh.jpg
textures/Scratches02_nrm.jpg
textures/squash_N.png
textures/ht_001_ma_teeth_n01.tga
textures/hh_short01_grad01_r.tga
textures/judy_arms_D.jpg
textures/garment_decals_d01.png
textures/Sclera_m.png




judy_1.3.1.blend
4274
2021-10-14 20:43:59
35.12 MB