Adult content
This content is marked as Adult/NSFW content. You can toggle your preferences regarding this content type in your account settings.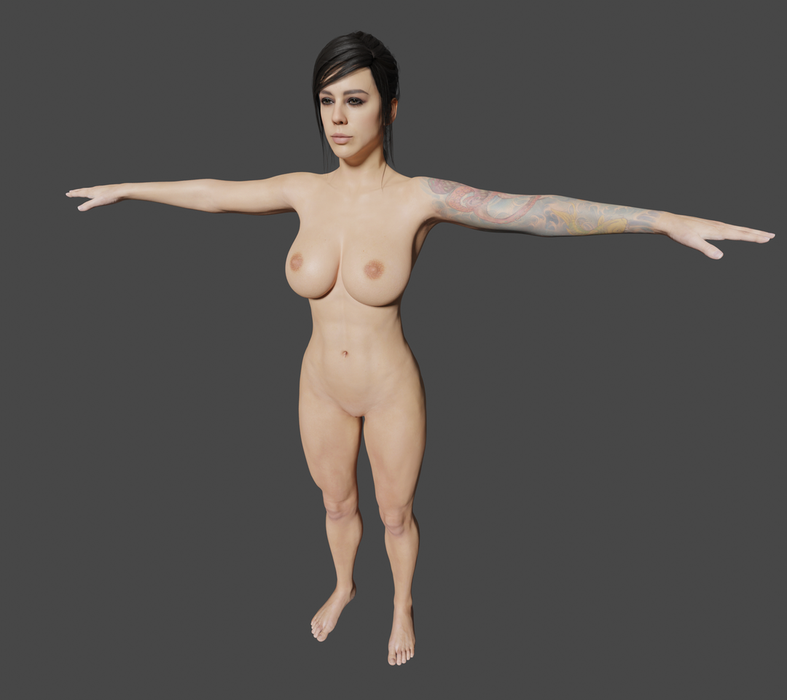 Show more
Description
Mara COD MW 2019 2.1
This model is a Blender port of yadalieu's Mara CODMW 2019 SFM model. Enjoy it!
Features
4K resolution textures for body and outfit
Multiple shape keys for animation, posing, fitting clothes, facial expressions, etc
Hairstyle present in original model
Multiple outfit parts with 3 different skins you can switch in Mara's body properties panel (Death, Quick-Witted and Valkyrie)
Rigged with Rigify (FK+IK)
Includes 2 additional rigs for hair and "belt hanging parts" control, physics, etc
The model includes many "hanging parts" that are attached to the belt or the rope on Mara's waist. Some of those those parts react to Mara's shape keys and weight painting automaticaly, but some others, can't be done the same way. Those objects need to be adapted manually to the pose you want her to be using their respective bones from the "Belt and Accessories Rig". The only props that don't have any bone and need to be adapted manually are "Pouches Right" and "Tactical Pouches", but they can be easily posed in object mode the same way you would do if they had a bone, because they're formed by just "one part" attached to the belt, and not hanging like the others.
My patreon: https://www.patreon.com/Wolfy3d
I would appreciate very much if you credited me and tagged me on twitter if you use this model in an animation or poster.
My Twitter: https://twitter.com/Wolfy3D
If you want to send me any feedback about the model or report me any bug you find you can do it in my Discord or Twitter.
My Discord: https://discord.gg/WTAUcyk
Credits:
Infinity Ward: Original character
yadalieu (@yadasfm on Twitter): original model ported to SFM
Rigid3D: additional textures/ materials not present in original model
Alex Zedra: for being so pretty =) (Mara is based on her)
You can check the complete info from yadalieu's SFM release here:
https://sfmlab.com/project/30303/
I've also uploaded a complementary pack of 23 weapons from COD MW 2019 ported to Blender to help Mara on her "missions" here:
https://open3dlab.com/project/30651/
Changelog
Version 1.0 (29/11/2020) First release
Version 2.0 (17/2/2021) Improved all materials by adding textures not present in original model (from Rigid3D's Claire) and improving bump maps. Added Wetness and Dirt maps to Mara body. Added controls in Mara's body properties panel for fast skins switching, dirt, wtness etc. Improved weight painting for some bones (especially the pelvis/ hips zone. Added Corrective Smooth modifier for better body deformations. Fixed Hand and Fingers sideways roll. Added individual toes bones. Fixed some broken UV spots on the left arm (tattoo). Fixed shape keys where some vertexs from the back where moving slighltly when they didn't have to. Other minor improvements.
Version 2.1 (27/2/2021) Fixed some weight painting problems (back and pants groin). Added "General Render Subdivision Surface" and "General Viewport Subdivision Surface" toggles to "Mara Nude Body" properties panel. Fixed "Radio Cable" behaviour when moving the rig (it follows the body properly now). Some extra minor fixes.
SmutBase is a free service. However, it costs about $0.03 to deliver you a 1GB file. With over 20TB of traffic every month and growing, SmutBase needs your help. If only 1% of our users each gave us $5 for a single month, we could keep the site running for several years.
Filename
Downloads
Created
Filesize
Files
Mara_2.1.rar
3796
2021-02-27 23:13:48
14.71 MB
File contents:

Mara_2.1.blend




MaraTextures.rar
3331
2021-02-17 17:59:30
357.76 MB
File contents:

Textures/models/yadasfm/mara/valkyrierope.tga
Textures/models/yadasfm/mara/MaraEyes.tga
Textures/models/yadasfm/mara/Dirt_Head001.png
Textures/models/yadasfm/mara/marashair.tga
Textures/models/yadasfm/mara/eyes.tga
Textures/models/yadasfm/mara/Dirt_Torso001.png
Textures/models/yadasfm/mara/mechanic_eye_ao.tga
Textures/models/yadasfm/mara/tongue_toon_color.tga
Textures/models/yadasfm/mara/eye_lightwarp.tga
Textures/models/yadasfm/mara/ClaireWet_Legs.png
Textures/models/yadasfm/mara/ClaireWet_Arms001.png
Textures/models/yadasfm/mara/Albany Arms Bump.jpg
Textures/models/yadasfm/mara/marashair_n.tga
Textures/models/yadasfm/mara/earphone.tga
Textures/models/yadasfm/mara/body_legs_n.tga
Textures/models/yadasfm/mara/ClaireArms_SSS.jpg
Textures/models/yadasfm/mara/eye-cornea.tga
Textures/models/yadasfm/mara/genitals_interior_n.tga
Textures/models/yadasfm/mara/marabodycloned.tga
Textures/models/yadasfm/mara/Dirt_Arms001.png
Textures/models/yadasfm/mara/patch_n.tga
Textures/models/yadasfm/mara/eyeball_ao_flip.tga
Textures/models/yadasfm/mara/marafacecloned.tga
Textures/models/yadasfm/mara/cherryredlight.tga
Textures/models/yadasfm/mara/mouth.tga
Textures/models/yadasfm/mara/marasleevecloned_n.tga
Textures/models/yadasfm/mara/flagpatch.tga
Textures/models/yadasfm/mara/Dirt_Torso.png
Textures/models/yadasfm/mara/maralegs.tga
Textures/models/yadasfm/mara/quickwittedrope.tga
Textures/models/yadasfm/mara/body_arms_n.tga
Textures/models/yadasfm/mara/ClaireWet_Torso.png
Textures/models/yadasfm/mara/skin_detail.tga
Textures/models/yadasfm/mara/detail.tga
Textures/models/yadasfm/mara/gasmask.tga
Textures/models/yadasfm/mara/body_torso_n.tga
Textures/models/yadasfm/mara/marafacecloned_n.tga
Textures/models/yadasfm/mara/deathdrope.tga
Textures/models/yadasfm/mara/valkyrie.tga
Textures/models/yadasfm/mara/tongue_toon_normal.tga
Textures/models/yadasfm/mara/Dirt_Arms.png
Textures/models/yadasfm/mara/Albany Torso Specular001.jpg
Textures/models/yadasfm/mara/lightwarp.tga
Textures/models/yadasfm/mara/phongwarp_hair.tga
Textures/models/yadasfm/mara/Albany Legs Bump.jpg
Textures/models/yadasfm/mara/maraeyelashes.tga
Textures/models/yadasfm/mara/Albany Torso Specular.jpg
Textures/models/yadasfm/mara/Dirt_Head.png
Textures/models/yadasfm/mara/MaraEyesa.tga
Textures/models/yadasfm/mara/genitals_interior.tga
Textures/models/yadasfm/mara/Dirt_Legs001.png
Textures/models/yadasfm/mara/marasleevecloned.tga
Textures/models/yadasfm/mara/quickwitted.tga
Textures/models/yadasfm/mara/gasmasklens_n.tga
Textures/models/yadasfm/mara/deathd_n.tga
Textures/models/yadasfm/mara/maraarmscloned.tga
Textures/models/yadasfm/mara/patch.tga
Textures/models/yadasfm/mara/Albany Torso Bump.jpg
Textures/models/yadasfm/mara/ClaireWet_Arms.png
Textures/models/yadasfm/mara/Albany Arms Specular001.jpg
Textures/models/yadasfm/mara/Albany Legs Specular.jpg
Textures/models/yadasfm/mara/WetMask.png
Textures/models/yadasfm/mara/Dirt_Legs.png
Textures/models/yadasfm/mara/earphone_n.tga
Textures/models/yadasfm/mara/Albany Arms Specular.jpg
Textures/models/yadasfm/mara/tongue_color.tga
Textures/models/yadasfm/mara/tongue_normal.tga
Textures/models/yadasfm/mara/gasmasklens.tga
Textures/models/yadasfm/mara/rope_n.tga
Textures/models/yadasfm/mara/eye-reflection-cubemap-.tga
Textures/models/yadasfm/mara/deathd.tga
Textures/models/yadasfm/mara/flagpatch_n.tga
Textures/models/yadasfm/mara/eyes_cornea.tga
Textures/models/yadasfm/mara/ClaireTorso_SSS.jpg
Textures/models/yadasfm/mara/cherrylight_n.tga
Textures/models/yadasfm/mara/ClaireLegs_SSS.jpg
Textures/models/yadasfm/mara/white.tga
Textures/models/yadasfm/mara/radio_n.tga
Textures/models/yadasfm/mara/gasmask_n.tga
Textures/models/yadasfm/mara/cherrylightyellow.tga
Textures/models/yadasfm/mara/radio.tga
Textures/models/yadasfm/mara/mouth_n.tga




Mara_2.0.rar
1140
2021-02-17 17:59:21
14.41 MB
File contents:

Mara_2.0.blend




Mara_1.0.rar
2274
2020-11-29 19:58:58
211.54 MB
File contents:

Mara_1.0.blend
Textures/models/yadasfm/mara/valkyrierope.tga
Textures/models/yadasfm/mara/MaraEyes.tga
Textures/models/yadasfm/mara/marashair.tga
Textures/models/yadasfm/mara/eyes.tga
Textures/models/yadasfm/mara/mechanic_eye_ao.tga
Textures/models/yadasfm/mara/tongue_toon_color.tga
Textures/models/yadasfm/mara/eye_lightwarp.tga
Textures/models/yadasfm/mara/marashair_n.tga
Textures/models/yadasfm/mara/earphone.tga
Textures/models/yadasfm/mara/body_legs_n.tga
Textures/models/yadasfm/mara/eye-cornea.tga
Textures/models/yadasfm/mara/genitals_interior_n.tga
Textures/models/yadasfm/mara/marabodycloned.tga
Textures/models/yadasfm/mara/patch_n.tga
Textures/models/yadasfm/mara/eyeball_ao_flip.tga
Textures/models/yadasfm/mara/marafacecloned.tga
Textures/models/yadasfm/mara/cherryredlight.tga
Textures/models/yadasfm/mara/mouth.tga
Textures/models/yadasfm/mara/marasleevecloned_n.tga
Textures/models/yadasfm/mara/flagpatch.tga
Textures/models/yadasfm/mara/maralegs.tga
Textures/models/yadasfm/mara/quickwittedrope.tga
Textures/models/yadasfm/mara/body_arms_n.tga
Textures/models/yadasfm/mara/skin_detail.tga
Textures/models/yadasfm/mara/detail.tga
Textures/models/yadasfm/mara/gasmask.tga
Textures/models/yadasfm/mara/body_torso_n.tga
Textures/models/yadasfm/mara/marafacecloned_n.tga
Textures/models/yadasfm/mara/deathdrope.tga
Textures/models/yadasfm/mara/valkyrie.tga
Textures/models/yadasfm/mara/tongue_toon_normal.tga
Textures/models/yadasfm/mara/lightwarp.tga
Textures/models/yadasfm/mara/phongwarp_hair.tga
Textures/models/yadasfm/mara/maraeyelashes.tga
Textures/models/yadasfm/mara/MaraEyesa.tga
Textures/models/yadasfm/mara/genitals_interior.tga
Textures/models/yadasfm/mara/marasleevecloned.tga
Textures/models/yadasfm/mara/quickwitted.tga
Textures/models/yadasfm/mara/gasmasklens_n.tga
Textures/models/yadasfm/mara/deathd_n.tga
Textures/models/yadasfm/mara/maraarmscloned.tga
Textures/models/yadasfm/mara/patch.tga
Textures/models/yadasfm/mara/earphone_n.tga
Textures/models/yadasfm/mara/tongue_color.tga
Textures/models/yadasfm/mara/tongue_normal.tga
Textures/models/yadasfm/mara/gasmasklens.tga
Textures/models/yadasfm/mara/rope_n.tga
Textures/models/yadasfm/mara/eye-reflection-cubemap-.tga
Textures/models/yadasfm/mara/deathd.tga
Textures/models/yadasfm/mara/flagpatch_n.tga
Textures/models/yadasfm/mara/eyes_cornea.tga
Textures/models/yadasfm/mara/cherrylight_n.tga
Textures/models/yadasfm/mara/white.tga
Textures/models/yadasfm/mara/radio_n.tga
Textures/models/yadasfm/mara/gasmask_n.tga
Textures/models/yadasfm/mara/cherrylightyellow.tga
Textures/models/yadasfm/mara/radio.tga
Textures/models/yadasfm/mara/mouth_n.tga