Adult content
This content is marked as Adult/NSFW content. You can toggle your preferences regarding this content type in your account settings.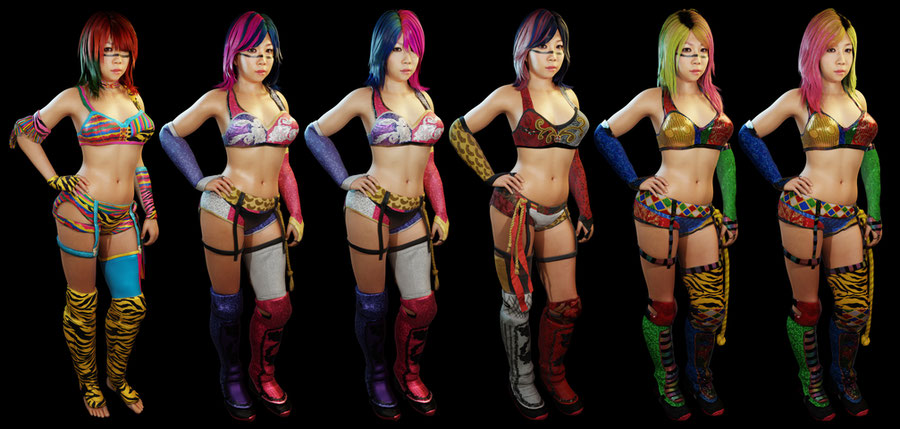 Show more
Description
Asuka from WWE2k games for blender, the model is simple and should work fine with both Cycles and Eevee.
About this model:
-Includes two attires which you can change using the Mustard UI menu.
-Autorigpro armature, install the rigtool add-on if you haven't yet (allows access to IK to FK and neck follow properties for the rig)
-Mustard UI menu (thanks to mustardsfm for this amazing script!)
-Detailed skin textures
-Wetness and Make up sliders (Mustard UI)
-6 different hairstyles
-Includes championship title
Update:
Updated MustardUI Menu script

Added extra outfit

Updated Rig

Updated UI Menu options (Rig, new Body and skin sliders, new options for Hair)

Fixed minor texture issues

Fixed minor weight Painting issues in the crotch, glutes and torso area.
Since this model uses an Auto-Rig-Pro armature, Autorig-tools add-on is necessary for this model to work properly.
If you find any problem with the model feel free to let me know, https://twitter.com/MokujinH
SmutBase is a free service. However, it costs about $0.03 to deliver you a 1GB file. With over 20TB of traffic every month and growing, SmutBase needs your help. If only 1% of our users each gave us $5 for a single month, we could keep the site running for several years.
Filename
Downloads
Created
Filesize
Files
Asuka_V3.7z
1086
2022-02-17 23:05:31
154.06 MB
File contents:

Asuka_V3.blend
textures/Tex_1206_14.png
textures/Tex_0051_8.png
textures/Tex_1047_0.png
textures/Tex_0905_2.png
textures/Tex_1051_13.png
textures/Tex_0896_1.png
textures/Tex_0906_3.png
textures/Tex_1161_13.png
textures/Tex_0899_9.png
textures/Tex_0074_8.png
textures/Tex_0968_4.png
textures/Tex_0904_9.png
textures/Tex_0741_15.png
textures/Tex_1088_9.png
textures/Tex_0027_8.png
textures/Tex_0075_9.png
textures/Tex_0955_9.png
textures/Tex_0135_11.png
textures/Tex_0845_9.png
textures/Tex_1136_14.png
textures/Tex_0678_0.png
textures/Tex_0209_15.png
textures/Tex_0965_1.png
textures/Tex_0737_11.png
textures/Tex_0942_0.png
textures/Tex_0742_16.png
textures/Tex_1157_9.png
textures/Tex_1056_2.png
textures/Tex_0008_1.png
textures/Tex_1015_9.png
textures/Tex_0205_3.png
textures/Tex_0958_9.png
textures/Tex_1010_3.png
textures/Tex_0050_7.png
textures/Tex_0120_7.png
textures/Tex_0008_9.png
textures/Tex_0895_0.png
textures/torso.png
textures/Tex_0098_9.png
textures/Tex_1027_1.png
textures/Tex_0030_11.png
textures/Tex_0907_4.png
textures/Tex_0851_15.png
textures/Tex_0077_11.png
textures/Tex_1258_14.png
textures/Tex_0143_7.png
textures/Tex_0904_0.png
textures/Tex_0950_3.png
textures/Tex_0054_11.png
textures/gens bump.jpg
textures/Tex_0147_11.png
textures/Tex_0903_0.png
textures/Tex_0947_0.png
textures/Tex_0052_9.png
textures/Tex_0006_7.png
textures/Tex_0202_0.png
textures/Tex_0881_3.png
textures/Tex_1273_13.png
textures/Tex_0931_0.png
textures/Tex_0039_8.png
textures/Tex_1054_0.png
textures/Tex_0967_3.png
textures/Tex_0899_4.png
textures/Tex_0703_1.png
textures/Tex_0739_13.png
textures/Tex_0738_12.png
textures/Tex_1201_9.png
textures/Tex_1274_14.png
textures/Tex_0062_0.png
textures/Tex_0014_15.png
textures/Tex_0704_2.png
textures/Tex_0131_7.png
textures/Tex_0007_0.png
textures/Tex_0132_8.png
textures/Tex_1030_4.png
textures/Tex_0096_7.png
textures/Tex_1017_0.png
textures/Tex_1029_3.png
textures/Tex_1047_9.png
textures/Tex_0904_1.png
textures/Tex_1257_13.png
textures/Tex_0133_9.png
textures/Tex_0078_0.png
textures/arms spec.jpg
textures/Tex_1026_0.png
textures/Tex_1012_9.png
textures/Tex_1052_14.png
textures/Tex_0850_14.png
textures/Tex_0836_14.png
textures/Tex_0971_4.png
textures/Tex_0879_1.png
textures/Tex_1050_3.png
textures/Tex_1021_4.png
textures/torso bump.png
textures/Tex_1051_4.png
textures/Tex_0061_0.png
textures/Tex_0038_7.png
textures/Tex_0912_0.png
textures/Tex_0100_11.png
textures/Tex_0961_3.png
textures/Tex_0145_9.png
textures/Tex_0202_1.png
textures/arms.jpg
textures/Tex_0908_13.png
textures/Tex_1007_0.png
textures/Tex_0124_11.png
textures/Tex_0012_13.png
textures/Tex_0042_11.png
textures/Tex_0951_4.png
textures/Tex_0026_7.png
textures/Tex_0968_1.png
textures/Tex_0144_8.png
textures/Tex_0073_7.png
textures/legs.jpg
textures/Tex_0964_0.png
textures/Tex_0953_0.png
textures/Tex_0960_14.png
textures/Tex_1058_4.png
textures/Tex_0097_8.png
textures/Tex_0121_8.png
textures/Tex_1017_14.png
textures/Tex_1259_15.png
textures/Tex_0882_4.png
textures/Tex_0010_0.png
textures/Tex_1016_13.png
textures/Tex_0969_2.png
textures/Tex_0028_9.png
textures/Tex_0009_2.png
textures/Tex_1053_15.png
textures/Tex_0702_0.png
textures/Tex_0767_14.png
textures/Common_Detail_Skin_N_resultat.tga
textures/Tex_0064_0.png
textures/Tex_0040_9.png
textures/Tex_0962_4.png
textures/Tex_1131_9.png
textures/Tex_0905_15.png
textures/Tex_1137_15.png
textures/Tex_0898_3.png
textures/Tex_0959_13.png
textures/arms bump.png
textures/Tex_0904_14.png
textures/Tex_0878_0.png
textures/Tex_1011_4.png
textures/Tex_1275_15.png
textures/torso spec.jpg
textures/Tex_0967_0.png
textures/legs bump.png
textures/Tex_0122_9.png
textures/Tex_0855_9.png
textures/Tex_0958_0.png
textures/Tex_0014_0.png
textures/Tex_0204_2.png
textures/Tex_1020_3.png
textures/legs spec.jpg
textures/Gen.tga
textures/Tex_1018_15.png
textures/Tex_0849_13.png
textures/Tex_0961_15.png
textures/gens spec.jpg
textures/Tex_1203_13.png




Asuka_V1.blend
1980
2020-11-24 09:35:43
141.57 MB
rig_tools_BJHQ1vP.zip
1215
2020-11-24 09:46:18
17.03 KB
File contents:

rig_tools/reset_all_controllers.py
rig_tools/auto_rig_datas.py
rig_tools/__init__.py
rig_tools/rig_functions.py