Adult content
This content is marked as Adult/NSFW content. You can toggle your preferences regarding this content type in your account settings.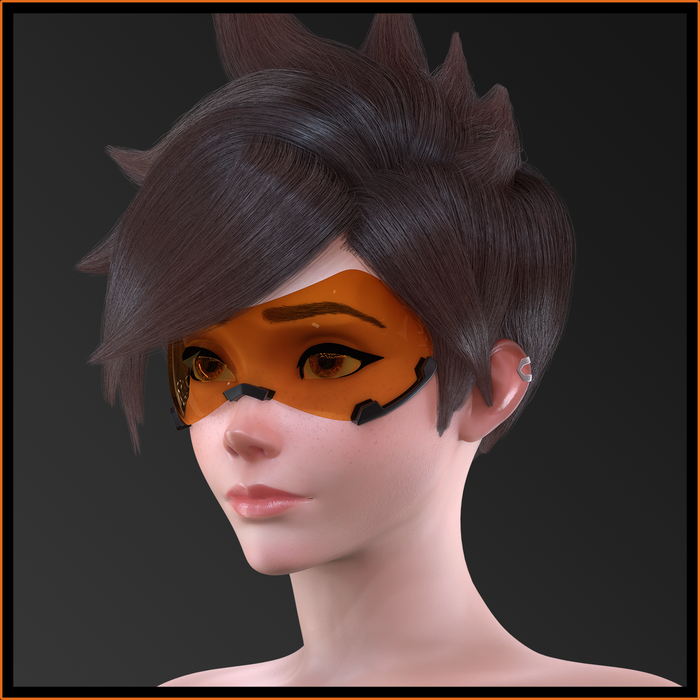 Show more
Description
Tracer UHD Rework_v1
Would love to see what you guys create with it, @ me and I'll make sure to check it out!
This Project wouldn't be possible without @HydraFXX (https://twitter.com/HydraFXX) and his initial project found here (https://smutba.se/project/29971/)
PROJECT WAS CREATED WITH BLENDER'S EEVEE RENDER ENGINE, SOME MATERIALS MY LOOK ODD IN CYCLES
Credits:
Body mesh - Ellowas
Body rig - Mets
Face rig - HydraFXX
Orange Swimsuit mesh - Lilflame
NEW:
OW2 Pants (2 Alternatives)
OW2 Goggles (by Mavixtious)
OW2 Earring
White Top
Denim Shorts
PARTICLE Hair/Eyebrows
UHD Mouth/Teeth
Reshaped Body/Hands/Feet/Nails
Repainted Face,Body Textures
Realistic Eyes (+tearline)
Chest/Back Freckles
See more of my work on: https://twitter.com/ForceballFx
Discord: discordapp.com/invite/Pk3Rchh
Patreon: patreon.com/ForceballFX
SmutBase is a free service. However, it costs about $0.03 to deliver you a 1GB file. With over 20TB of traffic every month and growing, SmutBase needs your help. If only 1% of our users each gave us $5 for a single month, we could keep the site running for several years.
Filename
Downloads
Created
Filesize
Files
TracerUHD_v1.zip
11970
2020-11-10 12:20:03
15.92 MB
File contents:

TracerUHD_v1.blend




Textures_m4qDD0U.zip
10425
2020-11-10 12:20:21
443.22 MB
File contents:

textures/TangoSwimwear04.jpg
textures/Low_rise_Shorts_Normal.jpg
textures/Tracer_head_gloss.png
textures/Tracer_head_normal.png
textures/Tracer_Face_Displacement_8K.png
textures/SSS-Dva.png
textures/gym_01_4k.hdr
textures/Front Tan2.png
textures/Std_Lower_Teeth_Diffuse.png
textures/Std_Tongue_Diffuse.png
textures/Metal Button.png
textures/Tracer_normal_1001.png
textures/Tracer_Body_Gloss_1.png
textures/FabricModeledNylon001_NRM_3K.png
textures/Bump_M_1.png
textures/Tracer_Face_N.png
textures/Front Tan.png
textures/eye_texture.png
textures/Color.png
textures/Tracer_Color_Front.png
textures/Low_rise_Shorts_Specular.jpg
textures/Tracer_Front_SSS.png
textures/Std_Upper_Teeth_Normal.png
textures/Bump_M_2.png
textures/eye_color.png
textures/Tracer_Face_R.png
textures/Bump_8K_Front_N.png
textures/Bump Mask.png
textures/Std_Tongue_Normal.png
textures/Tracer_Back_SSS.png
textures/RainDropsAndStreaks001_COL_4K.jpg
textures/FabricModeledNylon001_DISP_3K.png
textures/Metal Button_N.png
textures/Sclera mask.png
textures/Tracer_Face_Gloss.png
textures/Roughness_Dva_Front.png
textures/Low_rise_Shorts_Diffuse_Upscale.jpg
textures/TracerHair_Diffuse.png
textures/Std_Lower_Teeth_Normal.png
textures/Sclera_color.png
textures/DVa_diffuse_1001.png
textures/TracerHair_Spec.png
textures/DVa_diffuse_1001_SFW.png
textures/Camisole_Opacity.png
textures/FabricWeaveWooly001_NRM_1K.jpg
textures/Tracer_normal_1002.png
textures/Tracer_Face_C.png
textures/Diffuse_HD_Front.png
textures/Tracer_Color_Back.png
textures/LFSVTangoSwimwear-01B.png
textures/TracerHair_Normal.png
textures/Tracer_diffuse_1002.png
textures/Camisole_Normal.png
textures/Bump_8K_Front.png
textures/Camisole_Specular.png
textures/Bump_M_Head.png
textures/Tracer Pants_AO.png
textures/Tracer_Pants.png
textures/Glow.png
textures/Std_Upper_Teeth_Diffuse.png
textures/Tracer_Body_Gloss_2.png
textures/Tracer_gloss_1001.png
textures/Tracer_Face_SSS.png
textures/Tracer_Pants_Mask.png
textures/Tracer_head_diffuse.png
textures/RainDropsAndStreaks001_NRM_4K.png
textures/Camisole_Diffuse.png
textures/Translucent mask.png
textures/Tracer_diffuse_1001.png
textures/Sclera_bump_I.png