Adult content
This content is marked as Adult/NSFW content. You can toggle your preferences regarding this content type in your account settings.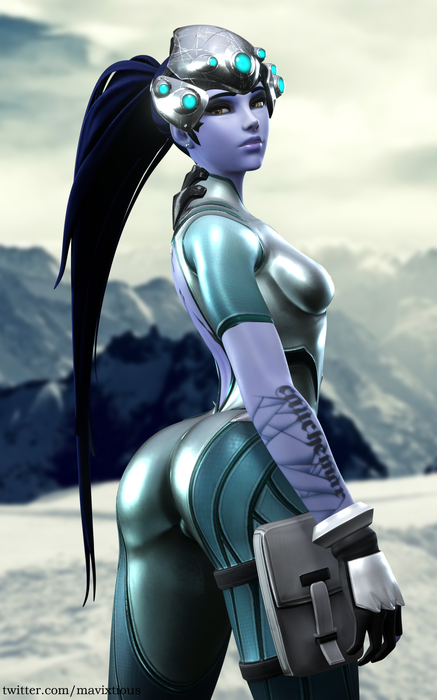 Show more
Description
It's basically my Spiderbutt model, so first credit goes to Ellowas and ColonelYobo for this https://smutba.se/project/54/ and Blizzard. I expanded it though with controls for face, genitals and fingers. It contains the classic suit and its variations (not the OWL ones though or the spider skin) plus my custom camo suit.
Also huge part of the credit goes to Mustard for personally writing the script and implementing his fancy UI which contains among other stuff an awesome drop down menu for easily choosing skin. Big thanks to him for helping me understand it and teaching me certain stuff about it so I can change stuff myself if needed later :)
For a fully nude model and other skins use this https://smutba.se/project/29938/
The spider skin is here https://smutba.se/project/7938/
Bugs report or other questions at https://twitter.com/tvitone1
SmutBase is a free service. However, it costs about $0.03 to deliver you a 1GB file. With over 20TB of traffic every month and growing, SmutBase needs your help. If only 1% of our users each gave us $5 for a single month, we could keep the site running for several years.
Filename
Downloads
Created
Filesize
Files
Widow_classicVariations_textures.7z
4599
2020-11-09 21:07:46
180.17 MB
File contents:

Widow_classicVariations_textures/Widowmaker_feet.png
Widow_classicVariations_textures/Widowmaker_eyeshadow.tif
Widow_classicVariations_textures/Widowmaker_eyes_cornea.tif
Widow_classicVariations_textures/Widowmaker_Hair_Sh.tif
Widow_classicVariations_textures/Widowmaker_EmissionMask.tif
Widow_classicVariations_textures/Widowmaker.diffuse.1002.png
Widow_classicVariations_textures/Widow_Ciel.tif
Widow_classicVariations_textures/Widow_vert.tif
Widow_classicVariations_textures/Widowmaker_Eye_N.tif
Widow_classicVariations_textures/Widowmaker_Eye_D.png
Widow_classicVariations_textures/Widowmaker_Classic_Mask2.tif
Widow_classicVariations_textures/Widow_winter.tif
Widow_classicVariations_textures/Widowmaker_Classic_N.tif
Widow_classicVariations_textures/GroundGravel008_NRM_1K.jpg
Widow_classicVariations_textures/Widow_rose.tif
Widow_classicVariations_textures/Widowmaker.normal2.1001.png
Widow_classicVariations_textures/Widowmaker_Classic_Hair_N.tif
Widow_classicVariations_textures/Widowmaker.gloss.1002.png
Widow_classicVariations_textures/Widowmaker_Classic_D.png
Widow_classicVariations_textures/hotel_room.jpg
Widow_classicVariations_textures/Widowmaker_Classic_Gloss.tif
Widow_classicVariations_textures/Widowmaker_Classic_Hair_S.tif
Widow_classicVariations_textures/Widowmaker.gloss.1001.png
Widow_classicVariations_textures/Widowmaker_Classic_scratches.jpg
Widow_classicVariations_textures/Widow_fleur de lis.tif
Widow_classicVariations_textures/Widowmaker_Classic_AO.png
Widow_classicVariations_textures/Widow_electric.tif
Widow_classicVariations_textures/Widowmaker_Classic_Mask1.tif
Widow_classicVariations_textures/Fabric_BUMP.jpg
Widow_classicVariations_textures/Widow_spark.png
Widow_classicVariations_textures/Widowmaker_Classic_Hair_AO.tif
Widow_classicVariations_textures/Widow_nuit.tif
Widow_classicVariations_textures/Widow_patina.tif
Widow_classicVariations_textures/Widowmaker_Eye_S.tif
Widow_classicVariations_textures/Widow_camo.png
Widow_classicVariations_textures/Widowmaker_Classic_Hair_D.tif
Widow_classicVariations_textures/Widowmaker_Classic_M.png
Widow_classicVariations_textures/Widowmaker.normal.1002.png
Widow_classicVariations_textures/Widowmaker_Classic_S.jpg
Widow_classicVariations_textures/Widowmaker.diffuse.1001.png




Widowmaker_ClassicVariations_v1.8.blend.7z
4391
2020-11-09 21:13:27
7.21 MB
File contents:

Widowmaker_ClassicVariations_v1.8.blend