Adult content
This content is marked as Adult/NSFW content. You can toggle your preferences regarding this content type in your account settings.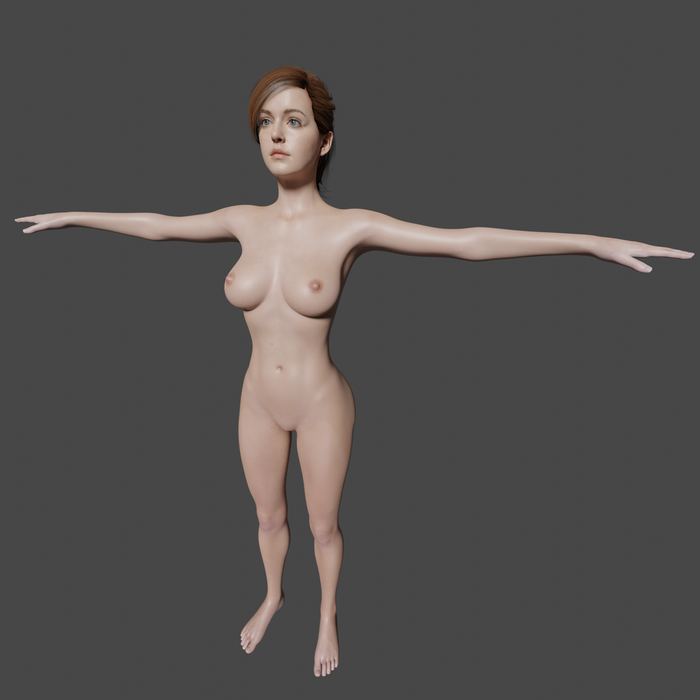 Show more
Description
Mary Jane Watson (Spider-man PS4) 2.1
This model is a Blender port of ThatSFMNoob's Mary Jane Watson SFM model. Enjoy it!
Features:
4K resolution textures (some are lower)
Multiple shape keys for animation, posing, fitting clothes, facial expressions, etc
Hairstyle present in original model
Multiple clothes (all present in original model)
Rigged with Rigify (FK+IK)
Includes old rigs for hair tweaks, physics,etc
My patreon: https://www.patreon.com/Wolfy3d
I would appreciate very much if you credited me and tagged me on twitter if you use this model in an animation or poster.
My Twitter: https://twitter.com/Wolfy3D
If you want to send me any feedback about the model or report me any bug you find you can do it in my Discord or Twitter.
My Discord: https://discord.gg/WTAUcyk
Credits:
Marvel Comics: original character
Insomniac Games: Mary Jane Watson model
ThatSFMNoob: original model ported to SFM
Lazer81095: SFM model release to SFMLab
Special thanks to @gamingarzia for the model request
You can check the complete info from ThatSFMNoob/Lazer81095 's SFM release here:
https://sfmlab.com/project/30408/
You can re-download this model or check for updates here:
Changelog
Version 1.0 (23/10/2020) First release
Version 2.0 (2/11/2020) Added Genitals and Anus bones to "Mary Jane Old Rig" for better control on Genitals and Anus. Some positions might require extra tweaking or even weight painting on your side. Added automatic shape key modification through drivers. For example: now, if you lower the upper eyelids using "Mary Jane Nude Body" shape key, the same shape key from "Eyelashes" will be modified automatically along with the main body one. This way, you can't modify shape keys that are not from the main body manually. If you want to do it to do "crazy" or "weird" combinations, you just have to delete the driver from that shape key (right click on the shape key with purple number, delete driver). Minor fixes to mesh related to shape keys.
Version 2.1 (4/11/2020) Fixed new Genitals and Anus bones not following the main rig (for some positions you might still need to tweak them according to the position with the bones). Fixed all clothes "Old Rigs" not following the main rig. Sorry for these issues, when I was finishing the model I had to rush it because I had no time so I overlooked them. Hope they're all fixed now.
SmutBase is a free service. However, it costs about $0.03 to deliver you a 1GB file. With over 20TB of traffic every month and growing, SmutBase needs your help. If only 1% of our users each gave us $5 for a single month, we could keep the site running for several years.
Filename
Downloads
Created
Filesize
Files
MaryJaneWatson_2.1.rar
3625
2020-11-04 11:10:34
125.44 MB
File contents:

MaryJaneWatson_2.1.blend
Textures/Models/ModelC/Shared/green3.tga
Textures/Models/ModelC/Shared/bumpmap_flat.tga
Textures/Models/ModelC/Shared/Flat_Exponent_NN.tga
Textures/Models/ModelC/Shared/eye_ao.tga
Textures/Models/ModelC/Shared/Skin_Exp_Generic.tga
Textures/Models/ModelC/Shared/flatcolor_transparent.tga
Textures/Models/ModelC/Shared/detail_cloth2.tga
Textures/Models/ModelC/Shared/plain_color.tga
Textures/Models/ModelC/Shared/bumpmap_flat_skin.tga
Textures/Models/ModelC/Shared/Cloth_Exp_Generic.tga
Textures/Models/ModelC/Shared/pupil_ambient.tga
Textures/Models/ModelC/Shared/detail_skin.tga
Textures/Models/ModelC/Shared/detail_cloth.tga
Textures/Models/ModelC/Shared/exponent_generic.tga
Textures/Models/ModelC/Shared/green.tga
Textures/Models/ModelC/Shared/Exp_Generic2.tga
Textures/Models/ModelC/Characters/Spiderman/MaryJane/UtilityJacket_Diff.tga
Textures/Models/ModelC/Characters/Spiderman/MaryJane/Gums_Nrm.tga
Textures/Models/ModelC/Characters/Spiderman/MaryJane/Torso_Nrm.tga
Textures/Models/ModelC/Characters/Spiderman/MaryJane/Scarf_Nrm.tga
Textures/Models/ModelC/Characters/Spiderman/MaryJane/MaryJane_Nrm.tga
Textures/Models/ModelC/Characters/Spiderman/MaryJane/Eyeball.tga
Textures/Models/ModelC/Characters/Spiderman/MaryJane/Zipper_Diff.tga
Textures/Models/ModelC/Characters/Spiderman/MaryJane/LeatherJacket_Diff.tga
Textures/Models/ModelC/Characters/Spiderman/MaryJane/Jeans_Diff.tga
Textures/Models/ModelC/Characters/Spiderman/MaryJane/Hair_Diff.tga
Textures/Models/ModelC/Characters/Spiderman/MaryJane/Boot_Diff.tga
Textures/Models/ModelC/Characters/Spiderman/MaryJane/Eye_Extra.tga
Textures/Models/ModelC/Characters/Spiderman/MaryJane/Teeth_Nrm.tga
Textures/Models/ModelC/Characters/Spiderman/MaryJane/Shirt_Diff.tga
Textures/Models/ModelC/Characters/Spiderman/MaryJane/Scarf_Diff.tga
Textures/Models/ModelC/Characters/Spiderman/MaryJane/Fasteners_Diff.tga
Textures/Models/ModelC/Characters/Spiderman/MaryJane/Zipper_Nrm.tga
Textures/Models/ModelC/Characters/Spiderman/MaryJane/LeatherJacket_Nrm.tga
Textures/Models/ModelC/Characters/Spiderman/MaryJane/ScarfEnds_Diff.tga
Textures/Models/ModelC/Characters/Spiderman/MaryJane/Eyebrow_A_Diff.tga
Textures/Models/ModelC/Characters/Spiderman/MaryJane/ScarfEnds_Nrm.tga
Textures/Models/ModelC/Characters/Spiderman/MaryJane/Shirt_Nrm.tga
Textures/Models/ModelC/Characters/Spiderman/MaryJane/Legs_Nrm.tga
Textures/Models/ModelC/Characters/Spiderman/MaryJane/Eyebrow_Diff.tga
Textures/Models/ModelC/Characters/Spiderman/MaryJane/Arms_Diff.tga
Textures/Models/ModelC/Characters/Spiderman/MaryJane/Earring_Diff.tga
Textures/Models/ModelC/Characters/Spiderman/MaryJane/Arms_Nrm.tga
Textures/Models/ModelC/Characters/Spiderman/MaryJane/Jeans_Nrm.tga
Textures/Models/ModelC/Characters/Spiderman/MaryJane/Hair_Nrm.tga
Textures/Models/ModelC/Characters/Spiderman/MaryJane/Eyeballa.tga
Textures/Models/ModelC/Characters/Spiderman/MaryJane/Genitals_Nrm.tga
Textures/Models/ModelC/Characters/Spiderman/MaryJane/Hairtie_Nrm.tga
Textures/Models/ModelC/Characters/Spiderman/MaryJane/Hairtie_Diff.tga
Textures/Models/ModelC/Characters/Spiderman/MaryJane/Boot_Nrm.tga
Textures/Models/ModelC/Characters/Spiderman/MaryJane/Fasteners_Nrm.tga
Textures/Models/ModelC/Characters/Spiderman/MaryJane/UtilityJacket_Nrm.tga
Textures/Models/ModelC/Characters/Spiderman/MaryJane/Eyelashes_Diff.tga
Textures/Models/ModelC/Characters/Spiderman/MaryJane/Legs_Diff.tga
Textures/Models/ModelC/Characters/Spiderman/MaryJane/Teeth_Diff.tga
Textures/Models/ModelC/Characters/Spiderman/MaryJane/MaryJane_Diff.tga
Textures/Models/ModelC/Characters/Spiderman/MaryJane/Gums_Diff.tga
Textures/Models/ModelC/Characters/Spiderman/MaryJane/Genitals_Diff.tga
Textures/Models/ModelC/Characters/Spiderman/MaryJane/Torso_Diff.tga




MaryJaneWatson_2.0.rar
972
2020-11-02 16:10:23
125.45 MB
File contents:

MaryJaneWatson_2.0.blend
Textures/Models/ModelC/Shared/green3.tga
Textures/Models/ModelC/Shared/bumpmap_flat.tga
Textures/Models/ModelC/Shared/Flat_Exponent_NN.tga
Textures/Models/ModelC/Shared/eye_ao.tga
Textures/Models/ModelC/Shared/Skin_Exp_Generic.tga
Textures/Models/ModelC/Shared/flatcolor_transparent.tga
Textures/Models/ModelC/Shared/detail_cloth2.tga
Textures/Models/ModelC/Shared/plain_color.tga
Textures/Models/ModelC/Shared/bumpmap_flat_skin.tga
Textures/Models/ModelC/Shared/Cloth_Exp_Generic.tga
Textures/Models/ModelC/Shared/pupil_ambient.tga
Textures/Models/ModelC/Shared/detail_skin.tga
Textures/Models/ModelC/Shared/detail_cloth.tga
Textures/Models/ModelC/Shared/exponent_generic.tga
Textures/Models/ModelC/Shared/green.tga
Textures/Models/ModelC/Shared/Exp_Generic2.tga
Textures/Models/ModelC/Characters/Spiderman/MaryJane/UtilityJacket_Diff.tga
Textures/Models/ModelC/Characters/Spiderman/MaryJane/Gums_Nrm.tga
Textures/Models/ModelC/Characters/Spiderman/MaryJane/Torso_Nrm.tga
Textures/Models/ModelC/Characters/Spiderman/MaryJane/Scarf_Nrm.tga
Textures/Models/ModelC/Characters/Spiderman/MaryJane/MaryJane_Nrm.tga
Textures/Models/ModelC/Characters/Spiderman/MaryJane/Eyeball.tga
Textures/Models/ModelC/Characters/Spiderman/MaryJane/Zipper_Diff.tga
Textures/Models/ModelC/Characters/Spiderman/MaryJane/LeatherJacket_Diff.tga
Textures/Models/ModelC/Characters/Spiderman/MaryJane/Jeans_Diff.tga
Textures/Models/ModelC/Characters/Spiderman/MaryJane/Hair_Diff.tga
Textures/Models/ModelC/Characters/Spiderman/MaryJane/Boot_Diff.tga
Textures/Models/ModelC/Characters/Spiderman/MaryJane/Eye_Extra.tga
Textures/Models/ModelC/Characters/Spiderman/MaryJane/Teeth_Nrm.tga
Textures/Models/ModelC/Characters/Spiderman/MaryJane/Shirt_Diff.tga
Textures/Models/ModelC/Characters/Spiderman/MaryJane/Scarf_Diff.tga
Textures/Models/ModelC/Characters/Spiderman/MaryJane/Fasteners_Diff.tga
Textures/Models/ModelC/Characters/Spiderman/MaryJane/Zipper_Nrm.tga
Textures/Models/ModelC/Characters/Spiderman/MaryJane/LeatherJacket_Nrm.tga
Textures/Models/ModelC/Characters/Spiderman/MaryJane/ScarfEnds_Diff.tga
Textures/Models/ModelC/Characters/Spiderman/MaryJane/Eyebrow_A_Diff.tga
Textures/Models/ModelC/Characters/Spiderman/MaryJane/ScarfEnds_Nrm.tga
Textures/Models/ModelC/Characters/Spiderman/MaryJane/Shirt_Nrm.tga
Textures/Models/ModelC/Characters/Spiderman/MaryJane/Legs_Nrm.tga
Textures/Models/ModelC/Characters/Spiderman/MaryJane/Eyebrow_Diff.tga
Textures/Models/ModelC/Characters/Spiderman/MaryJane/Arms_Diff.tga
Textures/Models/ModelC/Characters/Spiderman/MaryJane/Earring_Diff.tga
Textures/Models/ModelC/Characters/Spiderman/MaryJane/Arms_Nrm.tga
Textures/Models/ModelC/Characters/Spiderman/MaryJane/Jeans_Nrm.tga
Textures/Models/ModelC/Characters/Spiderman/MaryJane/Hair_Nrm.tga
Textures/Models/ModelC/Characters/Spiderman/MaryJane/Eyeballa.tga
Textures/Models/ModelC/Characters/Spiderman/MaryJane/Genitals_Nrm.tga
Textures/Models/ModelC/Characters/Spiderman/MaryJane/Hairtie_Nrm.tga
Textures/Models/ModelC/Characters/Spiderman/MaryJane/Hairtie_Diff.tga
Textures/Models/ModelC/Characters/Spiderman/MaryJane/Boot_Nrm.tga
Textures/Models/ModelC/Characters/Spiderman/MaryJane/Fasteners_Nrm.tga
Textures/Models/ModelC/Characters/Spiderman/MaryJane/UtilityJacket_Nrm.tga
Textures/Models/ModelC/Characters/Spiderman/MaryJane/Eyelashes_Diff.tga
Textures/Models/ModelC/Characters/Spiderman/MaryJane/Legs_Diff.tga
Textures/Models/ModelC/Characters/Spiderman/MaryJane/Teeth_Diff.tga
Textures/Models/ModelC/Characters/Spiderman/MaryJane/MaryJane_Diff.tga
Textures/Models/ModelC/Characters/Spiderman/MaryJane/Gums_Diff.tga
Textures/Models/ModelC/Characters/Spiderman/MaryJane/Genitals_Diff.tga
Textures/Models/ModelC/Characters/Spiderman/MaryJane/Torso_Diff.tga




MaryJaneWatson_1.0.rar
1482
2020-10-23 10:36:31
125.49 MB
File contents:

MaryJaneWatson_1.0.blend
Textures/Models/ModelC/Shared/green3.tga
Textures/Models/ModelC/Shared/bumpmap_flat.tga
Textures/Models/ModelC/Shared/Flat_Exponent_NN.tga
Textures/Models/ModelC/Shared/eye_ao.tga
Textures/Models/ModelC/Shared/Skin_Exp_Generic.tga
Textures/Models/ModelC/Shared/flatcolor_transparent.tga
Textures/Models/ModelC/Shared/detail_cloth2.tga
Textures/Models/ModelC/Shared/plain_color.tga
Textures/Models/ModelC/Shared/bumpmap_flat_skin.tga
Textures/Models/ModelC/Shared/Cloth_Exp_Generic.tga
Textures/Models/ModelC/Shared/pupil_ambient.tga
Textures/Models/ModelC/Shared/detail_skin.tga
Textures/Models/ModelC/Shared/detail_cloth.tga
Textures/Models/ModelC/Shared/exponent_generic.tga
Textures/Models/ModelC/Shared/green.tga
Textures/Models/ModelC/Shared/Exp_Generic2.tga
Textures/Models/ModelC/Characters/Spiderman/MaryJane/UtilityJacket_Diff.tga
Textures/Models/ModelC/Characters/Spiderman/MaryJane/Gums_Nrm.tga
Textures/Models/ModelC/Characters/Spiderman/MaryJane/Torso_Nrm.tga
Textures/Models/ModelC/Characters/Spiderman/MaryJane/Scarf_Nrm.tga
Textures/Models/ModelC/Characters/Spiderman/MaryJane/MaryJane_Nrm.tga
Textures/Models/ModelC/Characters/Spiderman/MaryJane/Eyeball.tga
Textures/Models/ModelC/Characters/Spiderman/MaryJane/Zipper_Diff.tga
Textures/Models/ModelC/Characters/Spiderman/MaryJane/LeatherJacket_Diff.tga
Textures/Models/ModelC/Characters/Spiderman/MaryJane/Jeans_Diff.tga
Textures/Models/ModelC/Characters/Spiderman/MaryJane/Hair_Diff.tga
Textures/Models/ModelC/Characters/Spiderman/MaryJane/Boot_Diff.tga
Textures/Models/ModelC/Characters/Spiderman/MaryJane/Eye_Extra.tga
Textures/Models/ModelC/Characters/Spiderman/MaryJane/Teeth_Nrm.tga
Textures/Models/ModelC/Characters/Spiderman/MaryJane/Shirt_Diff.tga
Textures/Models/ModelC/Characters/Spiderman/MaryJane/Scarf_Diff.tga
Textures/Models/ModelC/Characters/Spiderman/MaryJane/Fasteners_Diff.tga
Textures/Models/ModelC/Characters/Spiderman/MaryJane/Zipper_Nrm.tga
Textures/Models/ModelC/Characters/Spiderman/MaryJane/LeatherJacket_Nrm.tga
Textures/Models/ModelC/Characters/Spiderman/MaryJane/ScarfEnds_Diff.tga
Textures/Models/ModelC/Characters/Spiderman/MaryJane/Eyebrow_A_Diff.tga
Textures/Models/ModelC/Characters/Spiderman/MaryJane/ScarfEnds_Nrm.tga
Textures/Models/ModelC/Characters/Spiderman/MaryJane/Shirt_Nrm.tga
Textures/Models/ModelC/Characters/Spiderman/MaryJane/Legs_Nrm.tga
Textures/Models/ModelC/Characters/Spiderman/MaryJane/Eyebrow_Diff.tga
Textures/Models/ModelC/Characters/Spiderman/MaryJane/Arms_Diff.tga
Textures/Models/ModelC/Characters/Spiderman/MaryJane/Earring_Diff.tga
Textures/Models/ModelC/Characters/Spiderman/MaryJane/Arms_Nrm.tga
Textures/Models/ModelC/Characters/Spiderman/MaryJane/Jeans_Nrm.tga
Textures/Models/ModelC/Characters/Spiderman/MaryJane/Hair_Nrm.tga
Textures/Models/ModelC/Characters/Spiderman/MaryJane/Eyeballa.tga
Textures/Models/ModelC/Characters/Spiderman/MaryJane/Genitals_Nrm.tga
Textures/Models/ModelC/Characters/Spiderman/MaryJane/Hairtie_Nrm.tga
Textures/Models/ModelC/Characters/Spiderman/MaryJane/Hairtie_Diff.tga
Textures/Models/ModelC/Characters/Spiderman/MaryJane/Boot_Nrm.tga
Textures/Models/ModelC/Characters/Spiderman/MaryJane/Fasteners_Nrm.tga
Textures/Models/ModelC/Characters/Spiderman/MaryJane/UtilityJacket_Nrm.tga
Textures/Models/ModelC/Characters/Spiderman/MaryJane/Eyelashes_Diff.tga
Textures/Models/ModelC/Characters/Spiderman/MaryJane/Legs_Diff.tga
Textures/Models/ModelC/Characters/Spiderman/MaryJane/Teeth_Diff.tga
Textures/Models/ModelC/Characters/Spiderman/MaryJane/MaryJane_Diff.tga
Textures/Models/ModelC/Characters/Spiderman/MaryJane/Gums_Diff.tga
Textures/Models/ModelC/Characters/Spiderman/MaryJane/Genitals_Diff.tga
Textures/Models/ModelC/Characters/Spiderman/MaryJane/Torso_Diff.tga