Adult content
This content is marked as Adult/NSFW content. You can toggle your preferences regarding this content type in your account settings.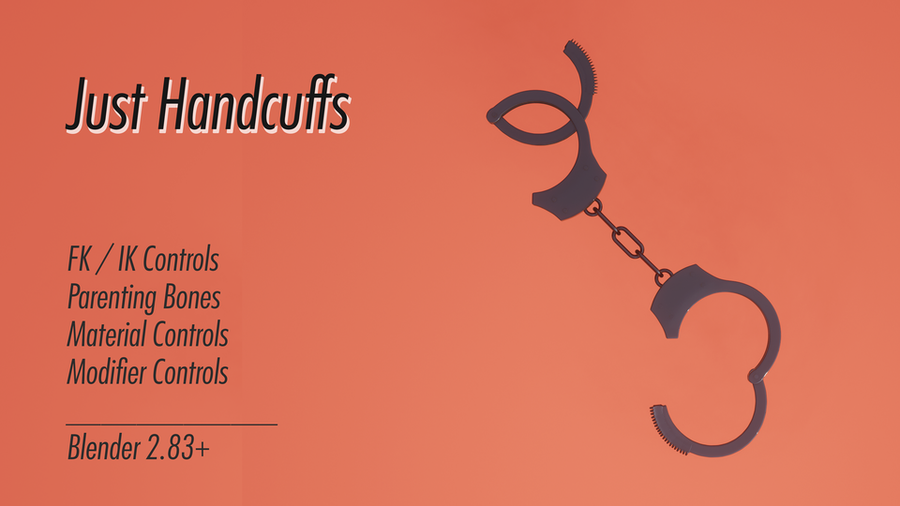 Show more
Description
One Set of Rigged Handcuffs for your restraining needs.
I went through the rig and added some rig shapes to make it look neater and to be able to not use the "in front" mode while animating. This should keep the viewport tidier.
I also fixed a few shading mistakes and unwrapped the geometry, so a PBR bake could take place.
Functionally, I added some constraints to the opening mechanisms and sliders, so you cannot overslide and rotate them. If that clashes with your animator needs, just toggle them OFF again. They were meant for convenience, not to shackle you. No pun intended.
---
Features
---
Handcuffs
FK-Chain
IK-Chain
Parenting Switch Bone
Rig Layers
Modifier Controls
Material Controls

Diffuse Color (Primary)
Diffuse Color (Secondary)
Metalness
Roughness
---
Credits:
Blender_Maker: Handcuff Mesh, Textures and Rig
CableNSFW: Spreader Bar Mesh, Textures and Rig
Mets: Rigging Consultant
Varenta: Rigging Consultant
---
Changelog:
---
Handcuffs
V [1.1.0] 2020/10/08
CHANGE Removed doubles
CHANGE Quad Topology
CHANGE Reset Scales on the meshes
CHANGE Re-Centered Armature Origin to mounting point
REMOVED Vertex Weight Groups
ADDED IK Chain
ADDED Parenting Connectors (to parent to the models wrist bones)
ADDED Rig Shapes
ADDED Drivers and Controls for Opening/Closing
ADDED Material Controls
ADDED Modifier Controls
ADDED Unwrap
V [1.0.0]
---
Rig Controls
---
Close Main / Close Sub
These two sliders open and close the cuffs. Slide the slider towards the center to close.
You can move the track (the shape surrounding the dragger) into any position that suits you.
Wrist Parent
This Bone exists so you can attach a ChildOf Constraint to it, that will fix the cuff to a bone in your target armature You can do the same with the IK handle for the other arm.
The cuffs will then follow the bound figures wrists. Convenient.
FK Chain
Gives you FK controls for the chain links.
Main Cuff is the Root of that chain. Make sure the FK / IK Slider is in the FK position to use it.
IK Chain
Holds the IK handle.
To use IK controls, slide the FK / IK Slider into IK position.
Cuff Main
Has a controller that allows you to rotate the Main Cuff into place.
Cuff Sub
Has a controller that allows you to rotate the Sub Cuff into place.
Root
Parent of all other bones. Can be used to scale, rotate and translate the whole rig.
Material Drawer
Allows you to control the material properties, like Diffuse Color, Metalness and Roughness
Modifier Drawer
Gives you control over the Modifiers. Subdivision and Bevel. Since both of them create additional geometry, I would advise you only turn them on at render time. You can make all your settings and then use the global toggle next to the modifier name to turn them off. This will give you much better performance.
Help & Documentation Drawer
Has a link to the project page, the Smutbase Discord Server, where you can chat with creators and other users and my twitter, in case something really breaks.
If you have problems with this file, read the below notes on this Project Page.
Should that not solve them, hit up the Smutbase Discord Server https://discord.gg/T2DBVzH
or tweet https://twitter.com/therealcrute
Please note that if your problem could have been solved by reading the Project Page and you still ask me because you did not read through it, you will suffer my displeasure.
FAQ
---
How to Link a Model
If you plan on linking a model, you should open the library file and hide the Armature of the rig contained within. This will avoid showing you overlapping armatures of the linked object and the Proxy Armature that you need to pose it.
I do not hide the Armature by default, because that makes people opening the files go: "Hey, there are no bones! Why isn't this rigged." I apologise for this inconvenience, please educate people about this weird behavior so we can in the future hide all our shameful rigs in our library files.
Remember: Conceal it, don't feel it. Don't let it show.
To link a model from a different blend file, place your 3D-Cursor where you want it to spawn in. Then go to File > Link
Browse to the blend file that contains your desired models and double click it
The browser will now show you the Data Blocks that make up that file. From these, chose "Collections". From the list of available collections, chose the one that has the name of the object you want, for instance, the collection that contains the rig for the Armature.Handcuff is named just that. Deactivate the "Instance Collections" Checkbox in the right side Properties Panel, then hit the "Link" Button.
Your model is now in the scene, but you will not be able to pose it. To achieve this, select the linked object and run Object > Relations > Make Proxy.
In more complex models, this will bring up a list of objects to make the proxy off of. From these you will select an Armature Object. For these models in this pack there is only one choice, so pick it and you will have a posable Proxy Armature.
If you link in your file and the rig panel is NOT appearing, do not be alarmed, this is a security thing.
You will have to reload the script manually.
There are 2 ways of doing this:
The first is to save the Scene File and then running File > Revert. This will reload everything that is a dependency of the file, which includes the script.
The second way is to switch the Outliner Panel to "Blend File" Mode, Locating the linked File that is to be reloaded and right-clicking it, then selecting "Reload".
One more important thing to mention about Linked Content is this: Any change that is not keyframed in your Scene File will be overwritten with information from the Linked Library File. So if you link a character and pose it, but you do NOT keyframe the bones' Location, Rotation and maybe Scale, those changes will, on re-loading the scene file, get lost and your pose will be reset to the rig's Rest Pose.
---
How to Append a Model
Luckily, Appending is nowhere near as complicated as Linking a model. Basically, Appending is just glorified Copy'n Paste. Just like with Linking, go to File > Append. From the Browser select the same Data Blocks, the Collection named after the model you want to append. As before, keep the "Instance Collections" Checkbox unchecked. And that is it.
---
No Rig UI in the Side-Panel
To open the Properties Panel (also known as the N-Panel) Press N or click the small arrow icon on the right side of the 3D-View Window. The Rig UI should be in the Item Tab If it is not there, this is most likely due to your Automatic Python execution being disallowed. This is a safety default.
To run the python file that creates the rig panel, either go to your Preferences > Save & Load > Blend Files > Auto Run Python Sripts and enable this, then reload the file by going to File > Revert and confirming that, or
Opening a Text Editor Window, selecting the Rig_UI python file from the dropdown that lists the text files in the current .blend and then Running Script. This will manually execute the code and build the Rig Panel.
SmutBase is a free service. However, it costs about $0.03 to deliver you a 1GB file. With over 20TB of traffic every month and growing, SmutBase needs your help. If only 1% of our users each gave us $5 for a single month, we could keep the site running for several years.
Filename
Downloads
Created
Filesize
Files
handcuffs_1_1_0.blend
5365
2020-10-09 21:44:30
659.51 KB