Adult content
This content is marked as Adult/NSFW content. You can toggle your preferences regarding this content type in your account settings.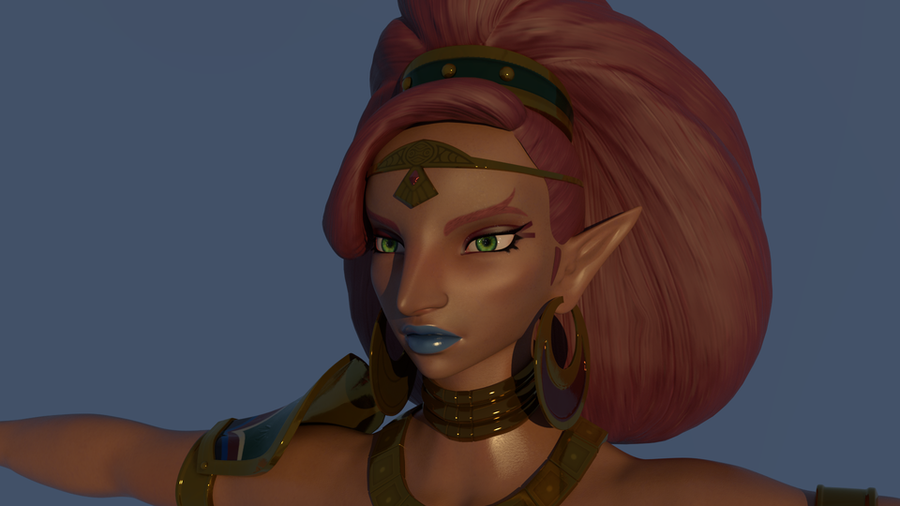 Show more
Description
Retopologized custom futanari model with modified clothing and face improvements.
• Fully IK Rigged (Maya)
• Various Face & Body Blendshapes
• Custom 2K Textures (UDIM compatible)
• Ncloth Breast, Chain & Cloth Physics ready
• Game Export FBX file with rig for anyone interested enough to convert this to blender
• * Unused Female version with pussy not textured/rigged for future update
Anyone using Blender/Other software can download the main base model Urbosa_E.fbx with blendshapes Urbosa_Blends.fbx, or the rigged version containing both model, rig & blendshapes Urbo_Rigged.fbx
If you decide to use this consider giving me an @ on twitter <3
SmutBase is a free service. However, it costs about $0.03 to deliver you a 1GB file. With over 20TB of traffic every month and growing, SmutBase needs your help. If only 1% of our users each gave us $5 for a single month, we could keep the site running for several years.
Filename
Downloads
Created
Filesize
Files
Urbo_Rigged.fbx
3255
2020-09-25 12:43:51
7.16 MB
Urborosa_Exports.ma
1663
2020-09-25 12:43:52
16.55 MB
Urbosa_Blends.fbx
2366
2020-09-25 12:43:53
31.94 MB
Urbosa_E.fbx
1776
2020-09-25 12:43:54
3.26 MB
Urbosa_Textures.rar
2666
2020-09-25 12:43:58
81.78 MB
File contents:

Urbosa/UrbosaFuta_HP_Metalness.1006.png
Urbosa/UrbosaFuta_HP_Roughness.1011.png
Urbosa/UrbosaFuta_HP_Roughness.1012.png
Urbosa/UrbosaFuta_HP_Normal.1001.png
Urbosa/UrbosaFuta_HP_Metalness.1015.png
Urbosa/UrbosaFuta_HP_Roughness.1006.png
Urbosa/UrbosaFuta_HP_BaseColor.1012.png
Urbosa/UrbosaFuta_HP_Metalness.1008.png
Urbosa/UrbosaFuta_HP_BaseColor.1002.png
Urbosa/UrbosaFuta_HP_Roughness.1001.png
Urbosa/UrbosaFuta_HP_BaseColor.1013.png
Urbosa/UrbosaFuta_HP_Normal.1006.png
Urbosa/UrbosaFuta_HP_BaseColor.1015.png
Urbosa/UrbosaFuta_HP_Normal.1005.png
Urbosa/UrbosaFuta_HP_Roughness.1014.png
Urbosa/UrbosaFuta_HP_Normal.1004.png
Urbosa/UrbosaFuta_HP_Metalness.1002.png
Urbosa/UrbosaFuta_HP_Roughness.1013.png
Urbosa/UrbosaFuta_HP_Metalness.1003.png
Urbosa/UrbosaFuta_HP_Normal.1013.png
Urbosa/UrbosaFuta_HP_Metalness.1004.png
Urbosa/UrbosaFuta_HP_BaseColor.1011.png
Urbosa/UrbosaFuta_HP_BaseColor.1001.png
Urbosa/lashextra.png
Urbosa/UrbosaFuta_HP_Metalness.1005.png
Urbosa/UrbosaFuta_HP_Roughness.1004.png
Urbosa/UrbosaFuta_HP_Roughness.1015.png
Urbosa/UrbosaFuta_HP_BaseColor.1004.png
Urbosa/UrbosaFuta_HP_BaseColor.1007.png
Urbosa/UrbosaFuta_HP_Roughness.1005.png
Urbosa/UrbosaFuta_HP_BaseColor.1005.png
Urbosa/UrbosaFuta_HP_Roughness.1003.png
Urbosa/UrbosaFuta_HP_Metalness.1011.png
Urbosa/UrbosaFuta_HP_Normal.1008.png
Urbosa/UrbosaFuta_HP_Normal.1011.png
Urbosa/lashlinkvar.png
Urbosa/UrbosaFuta_HP_Normal.1014.png
Urbosa/UrbosaFuta_HP_Roughness.1002.png
Urbosa/UrbosaFuta_HP_BaseColor.1008.png
Urbosa/UrbosaFuta_HP_BaseColor.1003.png
Urbosa/UrbosaFuta_HP_Normal.1012.png
Urbosa/UrbosaFuta_HP_Metalness.1012.png
Urbosa/UrbosaFuta_HP_Normal.1002.png
Urbosa/UrbosaFuta_HP_Normal.1015.png
Urbosa/UrbosaFuta_HP_Normal.1007.png
Urbosa/UrbosaFuta_HP_Metalness.1001.png
Urbosa/UrbosaFuta_HP_Roughness.1007.png
Urbosa/UrbosaFuta_HP_BaseColor.1006.png
Urbosa/UrbosaFuta_HP_Normal.1003.png
Urbosa/UrbosaFuta_HP_Metalness.1014.png
Urbosa/UrbosaFuta_HP_Metalness.1007.png
Urbosa/UrbosaFuta_HP_Roughness.1008.png
Urbosa/UrbosaFuta_HP_BaseColor.1014.png
Urbosa/UrbosaFuta_HP_Metalness.1013.png