Furry content
This content is marked as Furry/Anthro content. You can toggle your preferences regarding this content type in your account settings.
Adult content
This content is marked as Adult/NSFW content. You can toggle your preferences regarding this content type in your account settings.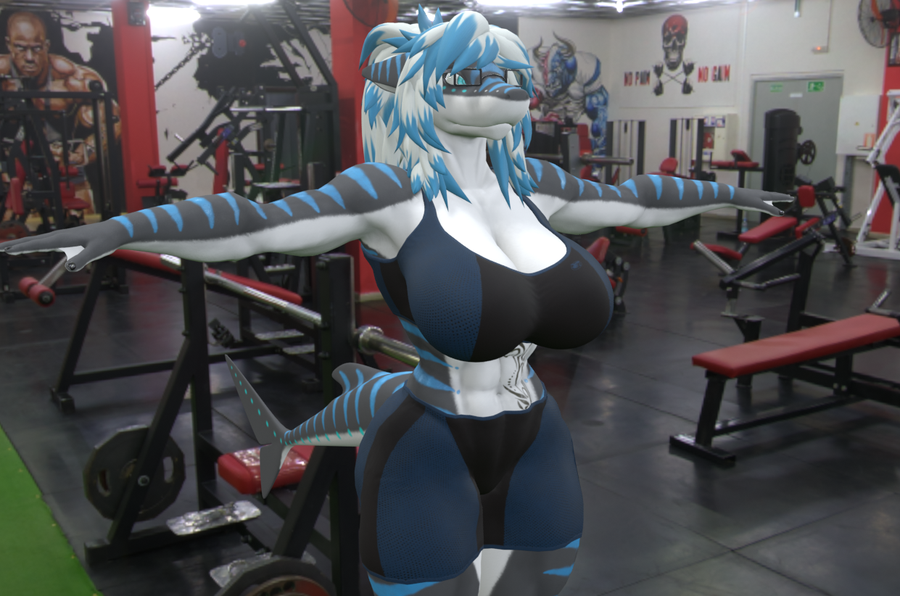 Show more
Description
While I wasn't initially planning on posting a blender version of this version of the model so soon, there has been enough interest in a blender release that I've decided to reverse course on that decision. Unfortunately, my blender rigging knowledge is more or less non-existent beyond the basic knowledge needed to prep and modify a character for porting, and I still have some work left on the SFM release, so I'm not quite at the stage where I can justify investing time into fitting the character with a metarig and more smoothed out weight painting. So, consider this release something of a compromise that can be used as a starting point for either Blender use or re-compiling for SFM.
I've made a few tweaks to make Blender artists' lives a bit easier when it comes to basic posing and rendering, but beyond that, this is a very raw release intended for the Blender users that REALLY want to work with the model, and don't mind either posing a raw armature in FK, or setting up their own rigging features and controls. The readme file included goes into more detail on the changes made, and what needs to be adjusted if you plan on compiling your own SFM updates.
Also, if anyone wants to upload a version of this blender model with a metarig/IK/eye tracking, I went ahead and released this under a CC license that allows for sharing of derivative models. If someone ends up releasing a proper blender update, drop me a comment on this post and I'll include a link to your version on any public postings I make for this project. Because it's been developed for SFM's ancient version of Source engine, it should also be a good candidate for modification or porting into other games and engines with minimal issues, and I would like to encourage those projects as well. All we ask is that if you share any ports or modifications, do so as a free model for non commercial projects only, and include proper attribution to those that were involved in the initial project (me, Warfaremachine, and Nik).
The best way to get in touch with me if you have any issues is to send me a note on Furaffinity or DeviantArt: https://www.furaffinity.net/user/annoad/
https://www.deviantart.com/annoad
"Nika Akulova" character provided by NikaSharkeh on FA:
https://www.furaffinity.net/user/nikasharkeh
Original Nika V1 model developed in collaboration with Warfaremachine:
https://sfmlab.com/project/26881/
https://www.furaffinity.net/user/mrwarfaremachine
11-17-22 UPDATE: I'm adding a packed blender IK rig file that was donated by Reptilligator. Reptilligator's socials and gallery links can be found here: https://reptilligator.com/
Alternatively, if you're looking for a standard Rigify setup, you can find a rigify IK rig here by Sir_Gynn: https://smutba.se/project/34324/
12-9-22 UPDATE: Small QOL update to remove HDR maps from both files. Silly reason to bump the file up the list again, but it is what it is ¯\(ツ)/¯
SmutBase is a free service. However, it costs about $0.03 to deliver you a 1GB file. With over 20TB of traffic every month and growing, SmutBase needs your help. If only 1% of our users each gave us $5 for a single month, we could keep the site running for several years.
Filename
Downloads
Created
Filesize
Files
Nika_for_SFM_V2_Source_File.zip
774
2022-12-09 13:50:45
323.55 MB
File contents:

Nika for SFM V2 Source File.blend
README.txt




Nika_Blender_IK_Public_GDzlTzw.blend
1463
2022-12-09 14:00:32
306.58 MB