Adult content
This content is marked as Adult/NSFW content. You can toggle your preferences regarding this content type in your account settings.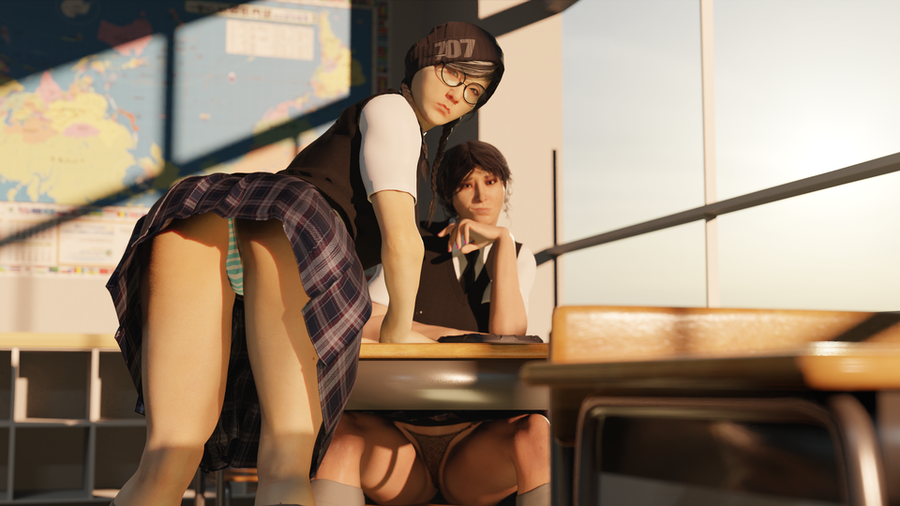 Show more
Description
Dokkaebi! Probably the most ambitious model I have made! Lots of options for you to play with Rigged hair and wow!
CONTENT
Original Uniform
18 outfits!
dedicated UI with outfit selector (Thanks MusatrdSFM) Pussy openings! and Anal openings and Stomach and Deepthroat Bulges Evee Ready INSTRUCTIONS (COPY PASTED FROM MUSTARD AS I USE THE SAME TOOLS )
Rigged Hair!
Bulge Sliders
!!IMPORTANT!!
Upack Both textures 1 and textures 2 into a folder called "Textures" and place they folder and the .blend into a folder together.

It's mandatory to install the Blender addon rig_tools.zip provided in this release (remember to restart Blender before using the model), which enables the IK rig, etc.. The UI will check this and raise a warning if the addon is not correctly installed and enabled. If you are not sure how to install the addon, google it!

All the custom properties are in the new UI. A tutorial is available at: https://github.com/Mustard2/MustardUI/wiki/Tutorial

To enable the UI after appending the model in another file, see the tutorial (link above or in the UI Links tab).

The model uses Corrective Smooth modifiers. If you find some odd clipping while posing the model, try to disable them in the UI.
UPDATES
V2.0 Added a School Girl outfit
UPDATES
V4.0 Fixed the tongue and the Fingers being noodley
UPDATES
V4.0 Fixed the vagina not following body (whoops)
Textues V2- Fixed the textures!
N OTES
follow me on Twitter: https://twitter.com/OkazakiTime
ITAlessio27 for inspiring me! MustardSFm for helping me with Rigging, Mesh and UI support Admin For porting the model
SmutBase is a free service. However, it costs about $0.03 to deliver you a 1GB file. With over 20TB of traffic every month and growing, SmutBase needs your help. If only 1% of our users each gave us $5 for a single month, we could keep the site running for several years.
Filename
Downloads
Created
Filesize
Files
Textures_V2.zip
3819
2021-01-18 14:14:23
668.43 MB
File contents:

textures/IslaBikini01N.jpg
textures/CHR_707_Dokkaebi_HeadGear_SpecularMap.png
textures/XF-BellaBottom_OpacityB.jpg
textures/acce_diffuseout.dds
textures/Metal28_displace_xtm.jpg
textures/XF_top_N.jpg
textures/Homebody Hoodie Diffuse.png
textures/XF_top_D07.jpg
textures/Nude_Face_d.png
textures/TekSportsBra03_Normal.png
textures/Sokk Chest D.png
textures/Writing Test.png
textures/vest_normalout.dds
textures/vest_diffuseout.dds
textures/JoyUndies_N01.jpg
textures/eyes.png
textures/MO Chelsea Normals 02 alt.jpg
textures/JillTorso_NM.jpg
textures/CHR_707_Dokkaebi_Vest_NormalMap.png
textures/vest.jpg
textures/Dokk Arms.png
textures/Lovely Hair_O.tga
textures/CHR_707_Dokkaebi_Arms_NormalMap.png
textures/SHmShort_blck.jpg
textures/MO Shorts Normals 01.jpg
textures/Top N.jpg
textures/CHR_707_Dokkaebi_Legs_DiffuseMap.png
textures/1001_Base_Color.jpg
textures/damage_00_alba.texout.dds
textures/CHR_707_Dokkaebi_Acce_MASK.png
textures/SHmAnkleSocks.jpg
textures/XF-PSocks_D02.jpg
textures/hsvivyhairnormal.png
textures/LFSV_Jacuzzi_Bodytowel_01.jpg
textures/XF-BellaWaistGarter_OpacityB.jpg
textures/IslaBikini04.jpg
textures/arms_diffuseout.dds
textures/CHR_707_Dokkaebi_Hair_SpecularMap.png
textures/JoyUndies_Tr01.jpg
textures/Lovely Hair_T07.jpg
textures/XF_boots_shoe_lace_D02.jpg
textures/Hair 02.jpg
textures/CHR_707_Dokkaebi_Vest_SpecularMap.png
textures/BodyM1O3.jpg
textures/CHR_707_Dokkaebi_Hair_NormalMap.png
textures/Metal28_roughness_xtm.jpg
textures/straps_diffuseout.dds
textures/TekSportsBra01_BaseColor.png
textures/JillLegs_NM.jpg
textures/JillTorso_NM_Scar.png
textures/HSVivyHairHairop.png
textures/MO TopA Normals 01.jpg
textures/XF_pants_leather_D13.jpg
textures/CHR_707_Dokkaebi_Badges_NormalMap.png
textures/PantiesG8F_TR.jpg
textures/XF-PSocks_N.jpg
textures/damage_00_nrmr.texout.dds
textures/Lovely Hair_N.tga
textures/JillArms_NM.jpg
textures/XF-BellaTop_D01.jpg
textures/BigTeezPantyT2.jpg
textures/FGOA_Overalls_Overalls_albedo2.jpg
textures/XF-BellaWaistGarter_N.jpg
textures/XF-PBottom_N.jpg
textures/XF-BellaStockings_N.jpg
textures/CHR_707_Dokkaebi_Legs_NormalMap.png
textures/CHR_707_Dokkaebi_HeadGear_NormalMap.png
textures/Black.jpg
textures/XF-PSweater_N.jpg
textures/__default_flat_spec
textures/fabric-seamless-texture-normal-map-d-texturing-programms-can-be-used-as-130540016.jpg
textures/FGOA_Overalls_UpperButtons_albedo.jpg
textures/DokkaTablet.psd
textures/FG REC Shirt_albedo.jpg
textures/XF-BellaStockings_D01.jpg
textures/CHR_707_Dokkaebi_Straps_SpecularMap.png
textures/CHR_707_Dokkaebi_Acce_NormalMap.png
textures/XF-BellaTop_N.jpg
textures/pants.jpg
textures/Bra_NO.jpg
textures/BodyM2MF.jpg
textures/CHR_707_Dokkaebi_Head_NormalMap.png
textures/Metal28_diffuse_xtm.jpg
textures/Hair 01.jpg
textures/KPG2_top_texture_nrm.jpg
textures/CHR_707_Dokkaebi_Pouches_NormalMap.png
textures/XF-PBottom_D01.jpg
textures/1001_Normal_OpenGL.jpg
textures/CHR_707_Dokkaebi_Acce_SpecularMap.png
textures/XF-BellaTop_OpacityB.jpg
textures/Top_Albedo.jpg
textures/CHR_707_Dokkaebi_Badges_SpecularMap.png
textures/OP.png
textures/XF_boots_leather_N.jpg
textures/pouches_diffuseout.dds
textures/CHR_707_Dokkaebi_Head_SpecularMap.png
textures/KPG2_shorts_texture_nrm.jpg
textures/CHR_707_Dokkaebi_Legs_SpecularMap.png
textures/Nomad Casual - Panties_Stripes.png
textures/Hair 02_Opacity.jpg
textures/CHR_707_Dokkaebi_Arms_SpecularMap.png
textures/Metal28_normal_xtm.jpg
textures/JoyUndies_B01.jpg
textures/CHR_707_Dokkaebi_Straps_NormalMap.png
textures/BigTeezPantyB.jpg
textures/SHmShort_nrm.jpg
textures/MO TopA Color 04.jpg
textures/CHR_707_Dokkaebi_HeadGear_DiffuseColorMap.tga
textures/FC_Tshirt-D01.jpg
textures/Dress_N.png
textures/Amelie_Mouth_N.png
textures/TekYogaPants03_BaseColor.png
textures/XF-BellaBottom_D01.jpg
textures/XF_jacket_leather_D13.jpg
textures/Metal28_metal_xtm.jpg
textures/XF-BellaBottom_N.jpg
textures/Variable Hair O.jpg
textures/Feather_Opacity.jpg
textures/FG REC Shirt_normal.jpg
textures/Thong Lace 01.jpg
textures/legs_diffuseout.dds
textures/Jacuzzi_Bodytowel_Normal.jpg
textures/Pansu n.jpg
textures/Amelie_Mouth_D.png
textures/Ma.png
textures/XF_pants_leather_N.jpg
textures/Feather.png
textures/TekYogaPants07_Normal.png
textures/MO Chelsea Color 01.jpg
textures/Hair 02_N.png
textures/__default_flat_normal.png
textures/Hair 01_N.png
textures/BTPanty_Red.jpg
textures/XF-BellaStockings_Opacity.jpg
textures/TorsoNM_new.bmp
textures/Dress.png
textures/Bra_TR.jpg
textures/FC_Tshirt-D02D.jpg
textures/SHmAnkleSocks_nrm.jpg
textures/Dokk Legs.png
textures/Homebody Hoodie Normal.png
textures/XF_boots_metal_D03.jpg
textures/FC_Tshirt-N01.jpg
textures/RealFitOnePieceSwimsuit01_Normal.jpg
textures/MO Shorts Color 01 B.jpg
textures/KPG2_top_texture.jpg
textures/XF_jacket_leather_N.jpg
textures/RealFitOnePieceSwimsuit15_Diffuse.jpg
textures/Ma_r_2.png
textures/KPG2_shorts_textura.jpg
textures/chr_sat_slicer_hair_diffusemap_chrtmout.dds
textures/CHR_707_Dokkaebi_Badges_DiffuseMap.png
textures/Hair 01_Opacity.jpg
textures/XF-PSweater_D02.jpg
textures/CHR_707_Dokkaebi_Pouches_SpecularMap.png
textures/CHR_707_Dokkaebi_Arms_DiffuseMap.png
textures/Variable Hair_Tap.jpg
textures/Homebody Shorts Normal.png
textures/FGOA_Overalls_Bump.jpg
textures/CHR_707_Dokkaebi_Hair_DiffuseMap.png
textures/XF-BellaWaistGarter_D01.jpg
textures/CHR_707_Dokkaebi_Vest_DiffuseMap.png




Dokk_Nude_v5.zip
3752
2021-01-18 14:14:26
74.54 MB
File contents:

Dokk Nude_v4.blend




Dokk_Nude_v2.zip
2824
2020-05-28 12:04:15
74.5 MB
rig_tools_ZATyo5R.zip
2924
2020-05-21 09:10:32
17.65 KB
Dokk_Nude_v4.zip
2691
2020-09-01 03:54:48
83.33 MB
File contents:

Dokk Nude_v4.blend