Adult content
This content is marked as Adult/NSFW content. You can toggle your preferences regarding this content type in your account settings.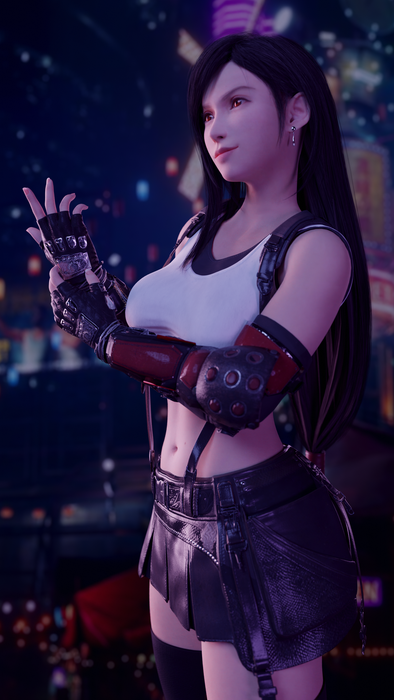 Show more
Description
Content of this release
original FF VII Remake outfits, plus some additional outfits
original rigged hair styles
dedicated UI with outfit selector and materials/mesh properties
dedicated bones for the genitals (shape keys to open them)
breasts and butt physics via UI
Alternative versions
You can find alternative versions:
Requirements
Blender 2.83 (it might crash on previous versions!)
For this model you will need at least 8 Gb of RAM (working on further optimizations)
Instructions
It's mandatory to install the Blender addon rig_tools.zip provided in this release (remember to restart Blender before using the model), which enables the IK rig, etc.. The UI will check this and raise a warning if the addon is not correctly installed and enabled. If you are not sure how to install the addon, google it!

All the custom properties are in the new UI. A tutorial is available at: https://github.com/Mustard2/MustardUI/wiki/Tutorial

To enable the UI after appensing the model in another file, see the tutorial (link above or in the UI Links tab).

Some shape keys are available for opening the genitals.

The model use Corrective Smooth modifiers. If you find some odd clipping while posing the model, try to disable them in the UI.

I decided not to implement the physics myself because there are tools which are way better than any attempt I could make. :)
Some examples: https://github.com/dskjal/Rigidbody-Bone https://blenderartists.org/t/wiggle-bones-a-jiggle-bone-implementation-for-2-8/1154726 While I do not provide technical support for these tools, I'm happy to help setting up basic physics if you need help.
If you have any problem, try to check
https://sites.google.com/view/mustardsfm/support/instructions https://sites.google.com/view/mustardsfm/support/faq If you can't find the solution to your problem, or you would like to report a bug, you can contact me (contacts at the end).
Final notes
Credits
a huge and special thanks go to Vinny for the cleaning of all the mesh (https://twitter.com/Vinny_arts)
ITAlessio for the Tifa Suit outfits https://twitter.com/ITAlessio27
ProGamer000900 for the xps model
Arhoangel for some outfits
Higadpatingsu (Discord) for some of the poses in the Pose library
nagoonimation for the droplets textures
all the people who reported the bugs (Strauzek, Jul3D, IceDev - let me know if I forgot someone)
Changelog
Version 8 (30/07/2020)
added skin micro-details
added additional suit by ITAlessio, with two textures (thank you again!)
added dirt slider
update UI to 0.11.0 (https://github.com/Mustard2/MustardUI/wiki/Changelog)
improved wet effects with droplets (thanks to nagoonimation)
fixed wet values
fixed stockings sistance from the skin in FF VII Standard outfit
fixed clipping errors in various outfits
fixed leg bending behaviour
fixed seam in the texture on the left leg
cleaned up unused materials
Version 7 (11/06/2020)
Note: more custom options will be added. Consider this as a preview of the new UI functionality.
added experimental body shape tool via lattice deformations
fixed presence of corrupted action
fixed Tifa Suit naming and mesh modifiers
fixed a lot of other small bugs
Version 6 (01/06/2020)
updated UI to 0.8.0
added experimental physics to the model (no outfit physics at the moment)
fixed cowgirl outfit ribbons (again)
fixed eyelashes material complaining for the lack of UV map (the material will render the same)
fixed cowgirl hair texture
Note: the original outfit was supposed to be used with the hat, and therefore Square Enix is to blame for the original bug! I tried to fix in the best way I could. But from now on only the version with the hat will be supported.
fixed textures in Texture mode of Solid mode viewport
Version 5 (23/05/2020)
updated UI to 0.6.4 (fixed an error that might prevent the UI to correctly run after appending the model)
added new suit (thanks to ITAlessio: https://twitter.com/ITAlessio27)
Version 4 (14/05/2020)
added China dress
added eyebrows mesh
fixed eyelids color
Version 3 (13/05/2020)
cleaned node structure of body materials
pubic hair are disabled by default
Note: this object can greatly impact the viewport performance. Enable it for previews and final rendering only.
Note: you can now disable auto smooth normals for the body and the oufits separately, for an additional performance improvement (up to 20% in viewport).
some additional performance optimizations
Note: disabling some useless stuffs, I gained a modest improvement of 15% in viewport.
Version 2 (first public release, 12/05/2020)
SmutBase is a free service. However, it costs about $0.03 to deliver you a 1GB file. With over 20TB of traffic every month and growing, SmutBase needs your help. If only 1% of our users each gave us $5 for a single month, we could keep the site running for several years.
Filename
Downloads
Created
Filesize
Files
rig_tools.zip
8914
2020-07-30 20:14:25
18.33 KB
tifa_v8.zip
15926
2020-07-30 20:12:24
361.79 MB
tifa_v7.zip
5006
2020-06-11 19:20:55
275.27 MB
tifa_v6.zip
3049
2020-06-01 17:46:09
275.25 MB
tifa_v5.zip
3170
2020-05-23 19:00:44
271.17 MB
tifa_v3.zip
3422
2020-05-13 19:00:46
236.99 MB
tifa_v2.zip
3071
2020-05-12 15:51:00
236.98 MB