Adult content
This content is marked as Adult/NSFW content. You can toggle your preferences regarding this content type in your account settings.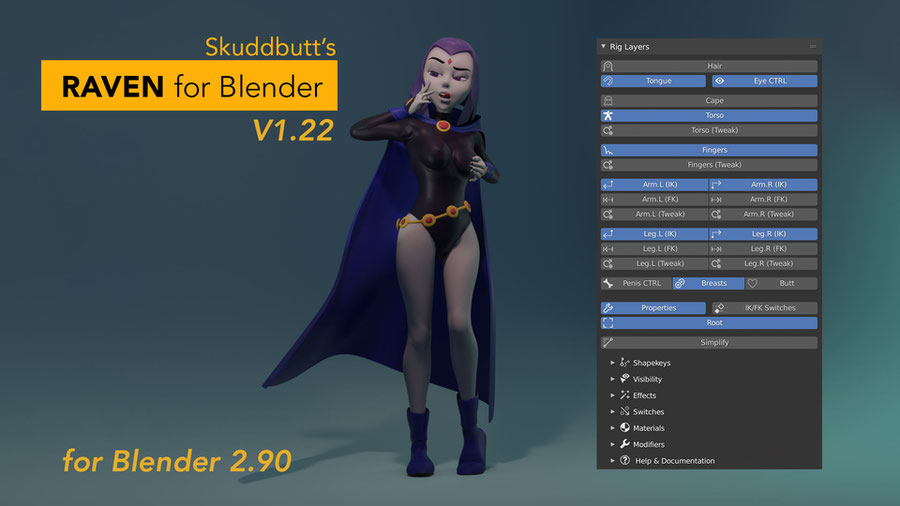 Show more
Description
Skuddbutt's Raven
If there are any bugs, please notify me on Twitter
@BDAnimare and @Skuddbutt on twitter so we can see what you make!
Features
---
Rigify FK/IK Rig Base (IK/FK & FK/IK Follow/Snap, Rubber Tweak Bones, Pole Switch)
Custom UI Panel
Optimised for Subdivision
Shapekeys accessible from Rig UI
Switchable Penis
Eye Glow Controls
Material Controls
Costume Selector
Skin Selector
Modifier Control
All rig settings can be customised in the Rig UI Panel. This Panel can be found in the N-Panel in the 3D-View. Go to the Item Tab to see it.
If the panel does not load automatically, check the FAQ below on how to do it manually.
The IK/FK related settings like FK/IK follow, snapping, rotation isolation can be found in the Switches Drawer
Eye Color and Glow Intensity are located in Effects
Changing the Outfits and the Outfit Colors is done in the Materials Drawer
Modifier Controls like Subdivision, Corrective Smooth and Solidify, live in the Modifiers Drawer. The Global Checkbox in front of the part name allows you to disable all modifiers at once.
Shapekeys, like Mouth Shapes, Body Proportion Adjustments, Belly Bulges, Pregnancy are all sorted into the Shapekey category.
If you have problems with this file, read the below notes on this Project Page.
Should that not solve them, hit up the Smutbase Discord Server https://discord.gg/T2DBVzH
or tweet https://twitter.com/therealcrute
Please note that if your problem could have been solved by reading the Project Page and you still ask me because you did not read through it, you will suffer my displeasure.
FAQ
---
My Viewport is all pink
The model's environment texture is not packed in with the file to save space. You would normally link or append this model from the library into your scene file, which will override these settings anyway.
You can simply assign one of blenders default environment maps, if you want to look at the model in varying lighting conditions. In a default install you will find these in Blender\2.XX\datafiles\studiolights\world\. Look for EXR files.
---
How to Link a Model
If you plan on linking a model, you should open the library file and hide the Armature of the rig contained within. This will avoid showing you overlapping armatures of the linked object and the Proxy Armature that you need to pose it.
I do not hide the Armature by default, because that makes people opening the files go: "Hey, there are no bones! Why isn't this rigged." I apologise for this inconvenience, please educate people about this weird behavior so we can in the future hide all our shameful rigs in our library files.
Remember: Conceal it, don't feel it. Don't let it show.
To link a model from a different blend file, place your 3D-Cursor where you want it to spawn in. Then go to File > Link
Browse to the blend file that contains your desired models and double click it
The browser will now show you the Data Blocks that make up that file. From these, chose "Collections". From the list of available collections, chose the one that has the name of the object you want, for instance, the collection that contains the rig for the Armature.Handcuff is named just that. Deactivate the "Instance Collections" Checkbox in the right side Properties Panel, then hit the "Link" Button.
Your model is now in the scene, but you will not be able to pose it. To achieve this, select the linked object and run Object > Relations > Make Proxy.
In more complex models, this will bring up a list of objects to make the proxy off of. From these you will select an Armature Object. For these models in this pack there is only one choice, so pick it and you will have a posable Proxy Armature.
If you link in your file and the rig panel is NOT appearing, do not be alarmed, this is a security thing.
You will have to reload the script manually.
There are 2 ways of doing this:
The first is to save the Scene File and then running File > Revert. This will reload everything that is a dependency of the file, which includes the script.
The second way is to switch the Outliner Panel to "Blend File" Mode, Locating the linked File that is to be reloaded and right-clicking it, then selecting "Reload".
One more important thing to mention about Linked Content is this: Any change that is not keyframed in your Scene File will be overwritten with information from the Linked Library File. So if you link a character and pose it, but you do NOT keyframe the bones' Location, Rotation and maybe Scale, those changes will, on re-loading the scene file, get lost and your pose will be reset to the rig's Rest Pose.
---
How to Append a Model
Luckily, Appending is nowhere near as complicated as Linking a model. Basically, Appending is just glorified Copy'n Paste. Just like with Linking, go to File > Append. From the Browser select the same Data Blocks, the Collection named after the model you want to append. As before, keep the "Instance Collections" Checkbox unchecked. And that is it.
---
No Rig UI in the Side-Panel
To open the Properties Panel (also known as the N-Panel) Press N or click the small arrow icon on the right side of the 3D-View Window. The Rig UI should be in the Item Tab If it is not there, this is most likely due to your Automatic Python execution being disallowed. This is a safety default.
To run the python file that creates the rig panel, either go to your Preferences > Save & Load > Blend Files > Auto Run Python Sripts and enable this, then reload the file by going to File > Revert and confirming that, or
Opening a Text Editor Window, selecting the Rig_UI python file from the dropdown that lists the text files in the current .blend and then Running Script. This will manually execute the code and build the Rig Panel.
Changelog
---
V [1.32] 2021/09/20 (Blender 2.93)
V [1.31] 2021/09/05 (Blender 2.93)
ADDED Driver to Mask Modifier to automatically enable/disable Leotard
V [1.30] 2021/08/17 (Blender 2.93)
CHANGED Controller display on hands simplified. Should make things easier to click.
ADDED Leotard Mesh
ADDED Long Leotard Texture (Selectable in Materials > Skin Options)
FIXED Creasing on belt, hair and shoes
V [1.29] 2021/06/25 (Blender 2.91)
FIXED IK/FK Snap Buttons
CHANGED Updated Rigify Version to 2.8+
CHANGED Object Viewport Colors to look closer to Textured View
CHANGED Label on Follow Arm and Follow Leg Sliders to "Isolate Limb"
CHANGED Shoulder Bone location
CHANGED Breast Bone location
CHANGED Breast Weights to have less influence on chest
CHANGED Shoulder Weights to have less influence on chest
ADDED Properties are now Library Overridable
ADDED Shrinkrap Modifiers to fix Wristbands to Arm Surface (OFF by default)
V [1.28] 2021/05/23 (Blender 2.91)
FIXED Shapekeys Lids clipping
FIXED Broken Lid UVs
CHANGED Visibility Menu is now on top of the stack
V [1.27] 2021/05/23 (Blender 2.91)
FIXED Shapekeys moving Lids
FIXED Emission Drivers on Eye Glow Effect
FIXED Reconnected HSV Controls for Eye Color
ADDED Solidify Modifier for Cape
ADDED Script for unscaling the rig (resets Stretch To Constraints)
ADDED Corrective Shapekeys for Shoes
CHANGED Hard Gear Parts Creased
V [1.26] 2021/05/15 (Blender 2.91)
FIXED Spine Rotation Errors zeroed out
CHANGED Butt Bones parented to Hips Bone
CHANGED Spherical Eyes replacing Latticed ones
CHANGED Eyes Tracker Bones zeroed out
FIXED Shapekeys clipping through eyeballs
ADDED Pregnancy Shapekeys
V [1.24] 2021/05/15 (Blender 2.91)
FIXED Knee IK Pole Target enabled by default
V [1.23] 2021/02/02 (Blender 2.91)
FIXED Knee IK Pole Target enabled by default
V [1.22] 2020/10/24 (Blender 2.90)
FIXED Removed Anus from Clothed Texture
V [1.21] 2020/10/24 (Blender 2.90)
FIXED Penis Texture hooked up to shader node
FIXED Driver Curve on Body Subdivision
CHANGED Integer Sliders in UI back to stepped ones. Avoids oversliding sliders and hanging Blender.
V [1.20] 2020/10/12 (Blender 2.90)
CHANGED Eye Lattices Modified (should curb clipping)
CHANGED Rigify Code updated to 2.8+ specs (would not show Rigify Operator Panel)
CHANGED Reflex removed from eye
CHANGED Topology Modifications (Unpoling, Removed critical Triangles, Recreated back of Head, Added Rectum)
CHANGED Textures dilated to work with subdivision
CHANGED Textures include lower hair piece, colonary wall, sharper eyelids
CHANGED UV Layout to give more space to the eyelids and the colon
CHANGED Spellchecking on Tooltips
CHANGED Mesh symmetrised
CHANGED Changed Diamond to Rimless Style
CHANGED Hair Creased to withstand Subdivision
REMOVED Old textures
ADDED Anal Shapekeys added
ADDED Automated Corrective Shapekeys to improve deformation on Wrists, Ankles, Knees, Ellbow and the Butt
ADDED Remaining Properties added to RigPanel
ADDED Eye Roughness control added (for Shininess)
ADDED Eye Glow can now be color picked
ADDED Dropdown Menus for Outfit Switching
ADDED Modifier Controls (Subdivision, Corrective Smooth)
ADDED Added Simplify Button to Rig Panel
ADDED Help & Documentation Panel
ADDED Textures now packed with .blend File
V [1.12] 2020/09/11 (Blender 2.90)
Added ShapeKeys to the Rig Panel. You can now drive them from there.
Minor cleanup of the .py file to make it compatible with 2.8 conventions.
V [1.11] 2020/08/01 (Blender 2.83)
Added Jaw Bone, it sits in the Tongue Layer. The Tongue Bones are parented to it. It is limited in rotation by a constraint, you get 1° Up, 30° down and 15° to each side. If that is not enough, you need to tweak the constraint values on the CTRL.Jaw Bone.
V [1.10] 2020/06/15 (Blender 2.83)
Butt Bones parented to Torso Bone
IK activated by default
Arm Parent Bones scaled up for better visibility
V [1.09] 2020/06/12 (Blender 2.83)
New shoulder controllers
Added Bone Layer Visibility Controls to Rig UI (the Rigify one), you now have toggles for: Hair Tongue Eye Controllers Cape Penis Breasts Butt Properties IK/FK Switches
Iconised Panel
V [1.08] 2020/05/29 (Blender 2.82)
Fixed Clipping on Brow Shape Keys
Re-Colored Bone Groups for better Visibility and side differentiation
Mouth-R-Smile Shape Key added (was missing)
Enlarged Head Controller
Shrunk Arm Poles
Jawbone Unhidden
New Head Layer for Headcontrols added
V [1.07] 2020/05/29 (Blender 2.82)
Added Nodes that make roughness map unnecessary. Thanks to Varenta.
Fixed the rest of the shape keys.
Fixed seam on body center by extending bake margin.
Cape Controllers repositioned
Corrective smooth modifier for cape added. Controls on Properties Bone
V [1.06] 2020/05/28 (Blender 2.82)
Added Roughness map to Skinsuit (Skin #0). Control on the Properties Bone.
V [1.05] 2020/05/26 (Blender 2.82)
Rigify Controllers fit to mesh. Rig should now be usable without having to put it in "In Front" mode.
V [1.04] 2020/05/26 (Blender 2.82)
Fitted new Rig Shapes that are outside of the geometry
Body Mesh made unselectable to prevent accidental selection while animating
Fixed Texture Artifact where part of the costume was visible on nude body textures
Calf Controllers tighter
FK Feet rotation fixed
V [1.03] 2020/05/12 (Blender 2.82)
Rig UI added
Locked Down Finger Rotation Axes
Switched Finger Rotation Modes to Euler Locked Down Palm Rotation Axes
V [1.02] 2020/05/08 (Blender 2.82)
Eye Shapekeys Unclipped. Hopefully.
V [1.01] 2020/05/07 (Blender 2.82)
Make the diamond on her head not subdivided
Add drivers to control glow intensity
Rig Shapes on Properties to.... Properties
Rig Shapes on hair to circles
Shaders need to be added on to. Possible latex version.
Add drivers to more easily control suit/cloak colour
Rig Shapes on penis to circles
Skin Selectors added
Costume Selectors added
Visibility drivers for clothes added
Visibility drivers for Dick added
Butt bones weighted. Manual only, but they work.
Eye Armature unified with Raven Armature
Fixed eyes...somehow. (Lattices)
V [1.00] 2020/05/04 (Blender 2.82)
---
Credits:
SmutBase is a free service. However, it costs about $0.03 to deliver you a 1GB file. With over 20TB of traffic every month and growing, SmutBase needs your help. If only 1% of our users each gave us $5 for a single month, we could keep the site running for several years.
Filename
Downloads
Created
Filesize
Files
Raven_Blender_1.32.blend
12758
2021-09-20 17:29:53
43.09 MB
Raven_Blender_1.29.blend
2950
2021-06-26 15:17:18
38.08 MB
Raven_Blender_1.12.blend
2684
2020-09-11 16:11:59
7.73 MB
Textures.zip
14146
2020-05-07 04:48:21
14.13 MB