Adult content
This content is marked as Adult/NSFW content. You can toggle your preferences regarding this content type in your account settings.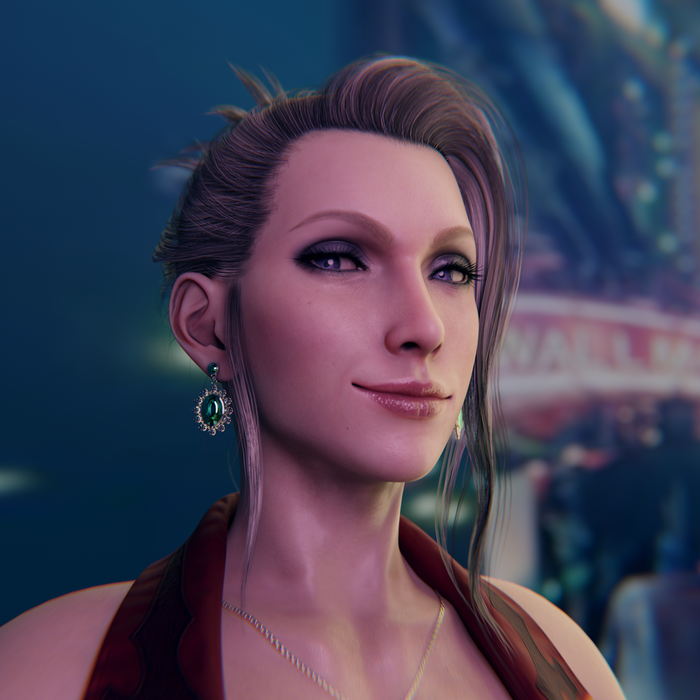 Show more
Description
This model is a completely rigged version of the model made by mavixtious:
https://smutba.se/project/29682/ Please credit him first if you use the model!
Content of this release
original Final Fantasy VII Remake character face and outfits (by mavixtious)
dedicated UI with outfit selector and materials/mesh properties
dedicated bones for the genitals (shape keys to open them)
rigged hair
Instructions
It's mandatory to install the Blender addon rig_tools.zip provided in this release (remember to restart Blender before using the model), which enables the IK rig, etc.. The UI will check this and raise a warning if the addon is not correctly installed and enabled. If you are not sure how to install the addon, google it!

All the custom properties are in the new UI. A tutorial is available at: https://github.com/Mustard2/MustardUI/wiki/Tutorial

To enable the UI after appending the model in another file, see the tutorial (link above or in the UI Links tab).

Some shape keys are available for opening the genitals.

The model use Corrective Smooth modifiers. If you find some odd clipping while posing the model, try to disable them in the UI.

I decided not to implement the physics myself because there are tools which are way better than any attempt I could make. :)
Some examples: https://github.com/dskjal/Rigidbody-Bone https://blenderartists.org/t/wiggle-bones-a-jiggle-bone-implementation-for-2-8/1154726 While I do not provide technical support for these tools, I'm happy to help setting up basic physics if you need help.
If you have any problem, try to check the next section. If that doesn't help, you can contact me (contacts at the end).
Troubleshooting
The textures are all blocky/there are some strange shadows.
The problem is called Terminator Effect, and it is not necessarily a problem. When you render, subdivider modifiers are activated and the shadows should be smoothed. You can preview this enabling the Subdivision modifier in the mesh you want to test. Note that this modifier can impact the performance of your viewport rendering. Thus, after you test its behaviour, remember to disable it (only in the viewport)! Another solution, if the above does not not work, is to adjust the lights. A single point light can generate more artifact that several lights with a bigger radius. Unfortunately there's no exact prescription, and I would advise you to experiment with the lights before making the final render.
The hair are rendered with strange black zones.
This problem is due to the intersecting mesh with alpha textures. To solve it, increase the default value of Transparency max bounces in the rendering settings. A x3 value, from 8 to 24, should be sufficient.
The viewport mode lags a lot while I pose the bones.
Check Optimization part of the UI Tutorial (link above or in the UI Links tab).
Final notes
Credits
Changelog
Version 2 (04/05/2020)
now proper body/outfits shape keys are activated as you hide/unhide specific pieces of clothes
the hair rig is now merged with the main armature
fixed some clipping occurrences
fixed hair armature visibility layer switcher
cleaned drivers and animations keys
Version 1 (first release, 04/05/2020)
SmutBase is a free service. However, it costs about $0.03 to deliver you a 1GB file. With over 20TB of traffic every month and growing, SmutBase needs your help. If only 1% of our users each gave us $5 for a single month, we could keep the site running for several years.
Filename
Downloads
Created
Filesize
Files
rig_tools_Xt7ttAt.zip
4808
2020-05-04 17:46:44
18.33 KB
Scarlet_v2.blend
9251
2020-05-04 17:46:05
280.63 MB
Scarlet_v1.blend
1948
2020-05-04 12:46:05
281.32 MB