Adult content
This content is marked as Adult/NSFW content. You can toggle your preferences regarding this content type in your account settings.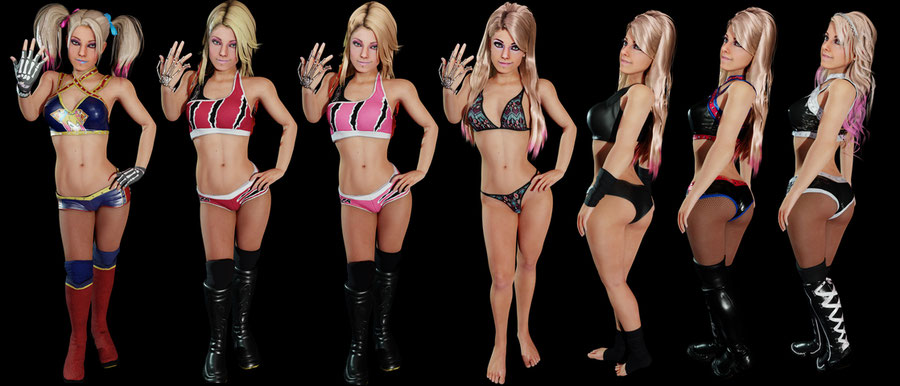 Show more
Description
THIS MODEL IS VERY OUTDATED AND WON'T GET ANY MORE SUPPORT/UPDATES. CHECK OUT THE NEWER VERSION HERE: https://smutba.se/project/34110/
About this model:
-Auto Rig Pro armature
-Multiple hairstyles and attires (2k17/18/19/20). All selectable through Mustards UI menus.
-Genitals shapkeys (controlled by bones)
-Detailed bump maps for body skin.
Changelog:
Update: V4_1
-Added AO slider (eevee).
-fixed minor weighting issues.
-Fixed smoothing for abdominal area-
Update: V4
-Updated UI menu script and options (make up, outfits extras) preserve volume option etc.
-Added modifiers to fix rotation on limbs (more noticeable if you turn preserve volume off)
-Added "Pain" custom outfit to match her current one
-Tweaked and updated shaders
-Added Cycles extra shaders for more "realistic looking" hair (bool box to check on hair menu)
-Fixed model and rig to match her actual height
-Updated weights in the legs and crotch area, fixed minor weighting problems in the face and head
Update: V3
-Updated Mustard UI, added makeup option to the rig menu (if append the model, click the armature for the menu to show)
-Added "Goth" 2021 makeup
-Added fishnet leggings
-Added 2k18 gloves
-Added 2k17 attire
-Added extra twin tails hair style
Update: V2 (10/28/2020):
-Added 2k20 attire.
Requirements:
-Blender 3.1
-Rigtools
Instructions and notes:
- This model is compatible with Blender 3.1 and newer versions, loading it in any of
- Allow (Mustard_UI.py script if you haven't yet to have access to the UI menu). 
- Extract the textures in the same folder as you saved the this blend file. 
the previous version may not work.
- To view the UI menu when appending the model in other projects, you need to 
click on the armature for it to show up on the right side tool bar.
- The Rig tools add-on is required to have access to the "head/neck follow lock" and "IK-FK",
snapping settings for limbs in the active workspace and tool menu. 
(If you have the full version of Auto-rig pro don't install this, this is only     
required for animators that don't own the full version)
- Install rig-tools like any add-on (preferences>Add-ons>Install>select zip(press the check box to activate.)






Obviously, thanks to mustardSFM for the help with the script and tools.
Twitter: https://twitter.com/MokujinH
Deviantart: deviantart.com/mokujinhornywood Feel free to alter this model to your liking.
SmutBase is a free service. However, it costs about $0.03 to deliver you a 1GB file. With over 20TB of traffic every month and growing, SmutBase needs your help. If only 1% of our users each gave us $5 for a single month, we could keep the site running for several years.
Filename
Downloads
Created
Filesize
Files
Alexa_v4_1.blend
1135
2022-04-01 01:04:03
35.25 MB
textures_v4_1.zip
1021
2022-03-31 18:27:50
304.44 MB
File contents:

textures/aml_hair_def_v00_set_1_type_129_dx10_TEST.png
textures/Tex_0937_0.png
textures/Tex_0303_9.png
textures/Tex_0306_4.png
textures/Opacity.png
textures/TS_144_37x30_peresabcod_deviantart.png
textures/Tex_0207_0.png
textures/VisionBikini_BraT05.jpg
textures/Tex_0305_3.png
textures/Tex_0926_0.png
textures/Tex_0968_13.png
textures/Tex_0172_8.png
textures/Tex_1091_14.png
textures/Tex_0368_8.png
textures/Wet.png
textures/Tex_0171_7_a.png
textures/Tex_0921_4.png
textures/TS_127_60x32_peresabcod_deviantart.png
textures/Tex_0917_0.png
textures/Tex_0910_0.png
textures/Pain.png
textures/Tex_0171_7.png
textures/pl1370_QueenBee_Hair_ALBA.png
textures/p3d_SchG3Hair_CapB.jpg
textures/Torso_NM.jpg
textures/Tex_0083_7.png
textures/p3d_SchG3Hair_TailsB.jpg
textures/pl1370_QueenBee_Hair_ALBMSC.png
textures/aml_hair_def_v00_set_1_type_129_dx10.png
textures/Tex_0291_4.png
textures/Tex_0911_1.png
textures/skin_n.png
textures/Tex_0049_8.png
textures/Tex_0990_9.png
textures/Tex_0086_0.png
textures/Tex_0995_14.png
textures/Gen (2).png
textures/Tex_1092_15.png
textures/Tex_0045_0.png
textures/Hair_Spec.jpg
textures/Tex_0273_1.png
textures/Tex_0309_15.png
textures/PlayGlove.png
textures/p3dNighmareG8F_Top_B.jpg
textures/Tex_0225_14.png
textures/Tex_0083_7pink.png
textures/Normal.png
textures/Tex_0059_7.png
textures/TS_040_108x38_peresabcod_deviantart.png
textures/Tex_0929_3.png
textures/Tex_0941_4.png
textures/Tex_0939_2.png
textures/Tex_0965_0.png
textures/Hair_color01.jpg
textures/TS_048_100x58_peresabcod_deviantart.png
textures/Tex_0008_9.png
textures/Tex_0920_3.png
textures/fgl_hair_def_base_set_1_type_129_dx10.png
textures/DMFnSgloves1B.jpg
textures/torso.png
textures/ArmsS.jpg
textures/DMFnSsocks1B.jpg
textures/Tex_0273_14.png
textures/Tex_0060_8.png
textures/Color.png
textures/p3dNighmareG8F_Shorts_B.jpg
textures/ArmsB.jpg
textures/Tex_0214_3.png
textures/Tex_0967_2.png
textures/p3dNighmareG8F_Shorts_N.jpg
textures/VisionBra_Normal.jpg
textures/Tex_0310_3.png
textures/Arms_NM.jpg
textures/Tex_0292_0.png
textures/p3d_SchG3Hair_CapTR.jpg
textures/OD_Bmp01.jpg
textures/cotton03_dtl.texout.dds
textures/Tex_0285_3.png
textures/Tex_0930_4.png
textures/faceWrinklesN.png
textures/fgl_hair_def_base_set_0_type_3_dx10.png
textures/Tex_0084_8.png
textures/TorsoB.jpg
textures/Tex_0006_7.png
textures/DMFnSsocks1N.jpg
textures/DMFnSshorts1N.jpg
textures/FaceFun.png
textures/Tex_0321_4.png
textures/Tex_0163_17.png
textures/DMFnSsocks1.jpg
textures/aml_hair_def_v00_set_0_type_3_dx10.png
textures/Tex_0367_7.png
textures/TS_016_66x105_peresabcod_deviantart.png
textures/Tex_0353_7.png
textures/p3d_SchG3Hair_TailsTR.jpg
textures/DMFnSgloves1.jpg
textures/Tex_0295_3.png
textures/p3dNighmareG8F_Stockings_TR.jpg
textures/Tex_0038_9.png
textures/08_Base_Color.png
textures/Tex_0964_9.png
textures/Tex_0244_13.png
textures/Tex_0224_9.png
textures/FaceS.png
textures/Tex_0276_4.png
textures/p3dNighmareG8F_Shorts_TR.jpg
textures/Tex_0178_12.png
textures/Tex_0308_14.png
textures/TS_058_64x64_peresabcod_deviantart.png
textures/pl1370_QueenBee_Hair_NRMR.png
textures/Torso_NM.png
textures/Legs_NM.jpg
textures/fgl_hair_def_base_set_1_type_129_dx10_TEST.png
textures/Tex_0272_0.png
textures/Hair_op.jpg
textures/Tex_0050_9.png
textures/Tex_0025_8.png
textures/Spec.png
textures/Tex_0290_3.png
textures/arms.png
textures/p3dNighmareG8F_Top_TR.jpg
textures/Tex_0320_3.png
textures/Tex_0171_7_hn.png
textures/Tex_0283_1.png
textures/Tex_0287_0.png
textures/Tex_0307_0.png
textures/_Normal.png
textures/Tex_0261_14.png
textures/p3dNighmareG8F_Top_TX.jpg
textures/Hair_bump.jpg
textures/Tex_0241_14.png
textures/Tex_0275_3.png
textures/pl1370_QueenBee_Hair_ATOS.png
textures/p3d_SchG3Hair_TailsTX.jpg
textures/Tex_0236_9.png
textures/Tex_0377_17.png
textures/Tex_0063_11.png
textures/DMFnSshorts1B.jpg
textures/Tex_0282_0.png
textures/Tex_0307_13.png
textures/Tex_0161_15.png
textures/DMFnSshorts1.jpg
textures/DMFnStop1.jpg
textures/ShirtNormal.png
textures/DMFnStop1B.jpg
textures/TS_034_120x67_peresabcod_deviantart.png
textures/n.png
textures/Tex_0061_9.png
textures/Tex_0220_9.png
textures/aml_hair_def_v00_set_2_type_130_dx10.png
textures/legs.png
textures/Tex_0354_8.png
textures/Tex_0940_3.png
textures/Tex_0171_7_d.png
textures/Tex_0158_12.png
textures/Tex_0296_4.png
textures/Tex_0302_0.png
textures/fgl_hair_def_base_set_2_type_130_dx10.png
textures/p3dNighmareG8F_Stockings_N.jpg
textures/Tex_0011_0.png
textures/VisionPanty_BraT05.jpg
textures/VisionPanty_Normal.jpg
textures/Tex_0024_7.png
textures/Tex_0994_13.png
textures/Tex_0871_4.png
textures/Tex_0288_14.png
textures/texture-silver-grad.jpg
textures/LegsS.jpg
textures/Tex_0245_14.png
textures/Tex_0319_2.png
textures/Tex_0224_13.png
textures/Tex_0287_13.png
textures/DMFnSgloves1N.jpg
textures/Tex_0311_4.png
textures/Tex_1090_13.png
textures/VisionBikini_BraB01.jpg
textures/Hair_color02.jpg
textures/DMFnStop1N.jpg
textures/p3dNighmareG8F_Top_N.jpg
textures/Gens_N.png
textures/Tex_0026_9.png
textures/Tex_0288_1.png
textures/Tex_0256_9.png
textures/Tex_0914_4.png
textures/AlexaShirt.png
textures/p3d_SchG3Hair_CapTX.jpg
textures/Tex_0260_13.png
textures/Tex_0969_4.png
textures/skin_h.png
textures/VisionPanty_BraB01.jpg
textures/Tex_0028_11.png
textures/TorsoS.jpg
textures/Tex_0289_15.png
textures/OD_Clothing_normals.jpg
textures/Tex_0052_11.png
textures/Tex_0303_1.png
textures/Tex_0014_0.png
textures/Tex_0913_3.png
textures/Tex_0869_2.png
textures/Tex_0293_1.png
textures/p3dNighmareG8F_Shorts_TX.jpg
textures/Tex_0317_0.png
textures/Tex_0870_3.png
textures/Tex_0087_11.png
textures/OD_Tex01.jpg
textures/Tex_0867_0.png
textures/Tex_0024_7Pink.png
textures/LegsB.jpg
textures/Tex_0763_14.png
textures/Gen.png
textures/Tex_0286_4.png




rig_tools.zip
2165
2020-10-28 07:51:08
18.33 KB
File contents:

rig_tools/reset_all_controllers.py
rig_tools/auto_rig_datas.py
rig_tools/__init__.py
rig_tools/rig_functions.py
rig_tools/rig_prefs.py