Furry content
This content is marked as Furry/Anthro content. You can toggle your preferences regarding this content type in your account settings.
Adult content
This content is marked as Adult/NSFW content. You can toggle your preferences regarding this content type in your account settings.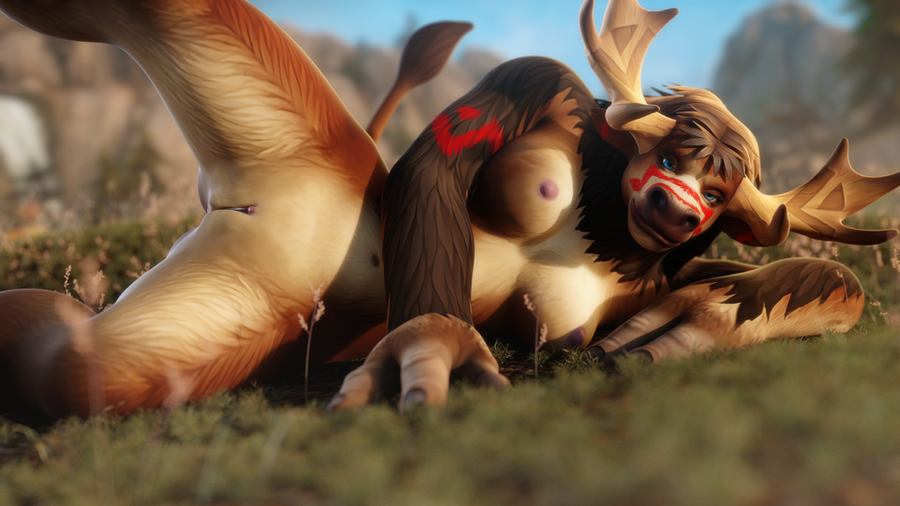 Description
Another OC, Sheila, protection warrior and partner of Rodann!
Remember to ping me if you find issues with the model! Can reach me on Tumblr, Twitter, Discord if you can find me! I copied part of Enuleth's support rig to this model, only around the hips though, none for the arms or lower legs, should be okay without them ( ' - ')b
Stuff:
Standard IK setup thingy
Several adjustment bones for help with posing
Support rig for the hips to preserve volume better
Finger controllers!
Face controlled via original game bones
Original mesh from WoW heavily edited by moi
Custom hands with nails
Boobs and butt have 6 bones each for better deformation abilities!
A pretty primitive facial control rig, can currently only smile, frown, and open/close her mouth, might work more on it in future, might not!
Her arms and legs have IK/FK switching abilities, first time I ever tried it so I maybe didn't do it the best way, put the armature into object mode to access the custom properties in the 'N' menu
Also socket controls for making the FK arm chains follow her torso or be independent from it! Controls also accessed in the viewports 'N' menu
Once again, I didn't set her up with modularity in mind, with the edits I think it would be tough to swap in other textures and stuff, but if you have the know-how feel free to use him as a basis for your own characters!
Known issues:
There is a slight normal map seam down her centre, it'd quite subtle but it's there
Vagoo deformations can be funky in some poses
Eyes don't seem to be perfectly aligned to the view target when looking directly at the camera
The support rig for the hips only works using extrapolate, meaning the bones have the opposite effect when the legs are rotated back, which can lead to weird and undesirable deformations, idk how to fix it tho (. - . )
Credits:
Blizz for beef
Me for doing all the work ( ' - ')
SmutBase is a free service. However, it costs about $0.03 to deliver you a 1GB file. With over 20TB of traffic every month and growing, SmutBase needs your help. If only 1% of our users each gave us $5 for a single month, we could keep the site running for several years.
Filename
Downloads
Created
Filesize
Files
Sheila_FBX.rar
2686
2018-05-15 22:20:47
11.57 MB
Sheila_Final2.blend
3988
2018-05-15 22:22:32
12.45 MB